Watergate salad is an light and easy dessert that is perfect for the summer and can be made in just about 5 minutes.
Jump to Recipe
Watergate salad is a creamy and delicious dessert salad that makes for the ultimate sweet summer dish to pass! This old-fashioned recipe can be made in less than 5 minutes and is a total throwback to your childhood picnics and potlucks!
What is Watergate Salad
Watergate salad is an easy dessert created by mixing together a packet of pistachio flavored Jell-O, crushed pineapple and mini marshmallows. Folded in with creamy whipped topping. And finally, topped off with crunchy pecans.
Watergate Salad, also known as Green Fluff and Pistachio-Pineapple Delight, is a light and fruity dessert salad. This Watergate Salad recipe is creamy and refreshing. It's the perfect side for your summer potlucks and putting it together could not be easier.
This has become one of my favorite dessert dishes to make for our family gatherings and potlucks, especially during the summer months. The light and fluffy texture make it a perfect summer treat because it's not overly heavy or rich. It's very refreshing on a hot day.
I am a sucker for anything that has pistachio flavor. The pistachio pudding mixed with crushed pineapple in Watergate salad is genius. The whipped topping gives it a fluffy texture. You are going to love it.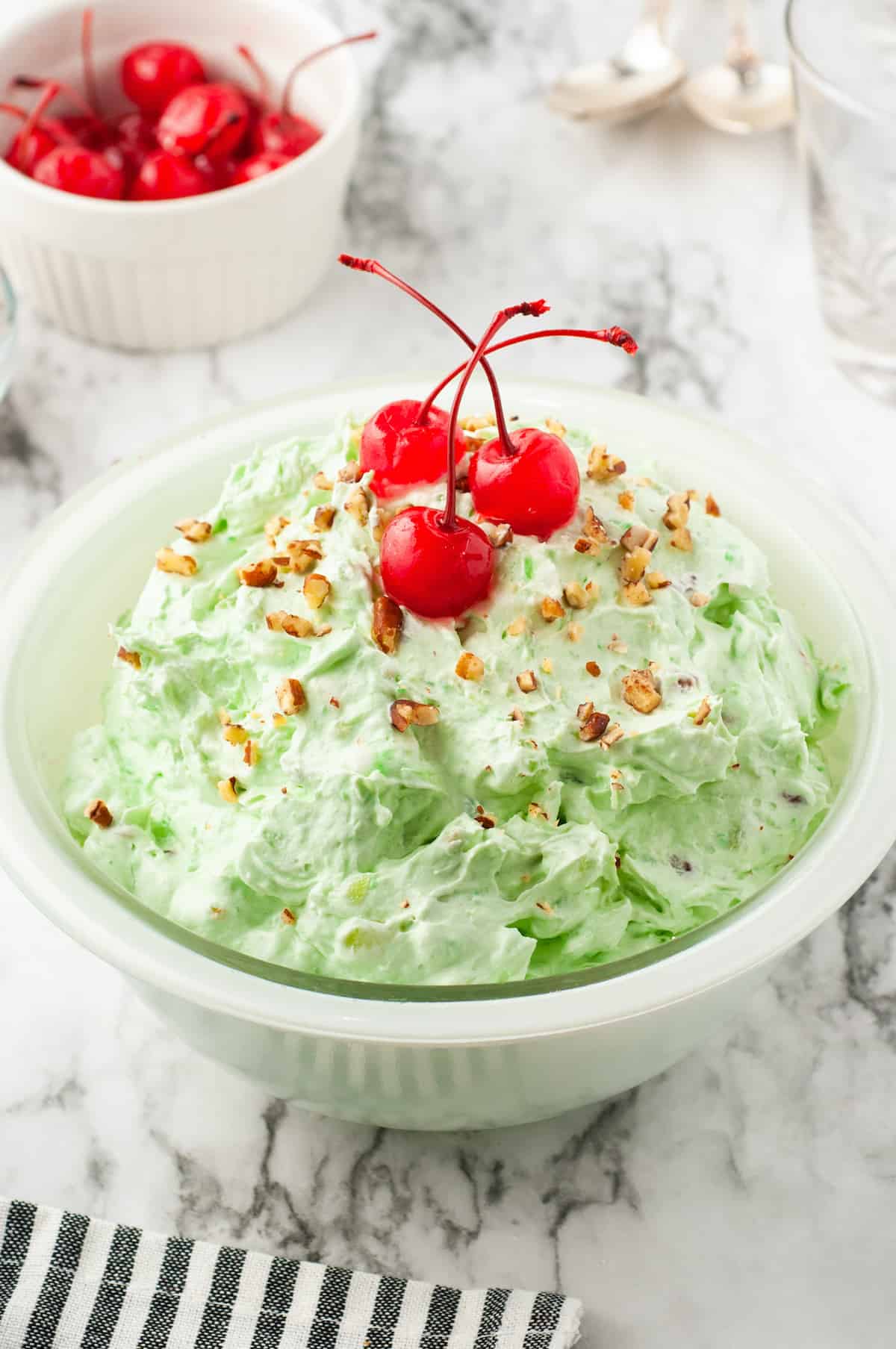 Why is it called Watergate Salad?
Now, you may be wondering where the unique name for this dessert salad comes from. While there is no clear answer to that question, there are few fun theories. There's no proof that the name actually has anything to do with the 1970's Watergate scandal.
Some say it's as simple as the idea that pistachio was Nixon's favorite flavor. Others say the salad became a regular menu item at the Watergate hotel. However, one of the most common explanations is that the ingredients are "covered up" by whipped cream.
Watergate Salad Recipe Ingredients
2 boxes of pistachio pudding mix
1 large can of crushed pineapple
12 ounces of whipped topping (you can use Cool Whip or try our homemade whipped topping!)
½ chopped pecans
1 ½ cup of white mini marshmallows
Chopped pecans and maraschino cherries for garnish
OPTIONAL: 1 cup shredded coconut if desired
Optional Ingredients and Substitutions for Water Gate Salad
Shredded coconut: The shredded coconut on top is completely optional. It offers a nice crunch and the flavor compliments the pineapple and pistachio wonderfully. If you are a coconut fan, you've got to try adding it.
Nuts: While we are using pecans in our recipe, you could opt for a different type of nut. I've seen many recipes that use walnuts instead.
How to make Watergate Salad
MIX pineapple and pudding mix together
STIR in the other ingredients (except whipped topping)
FOLD in the whipped topping.
TOP chopped pistachios and cherries.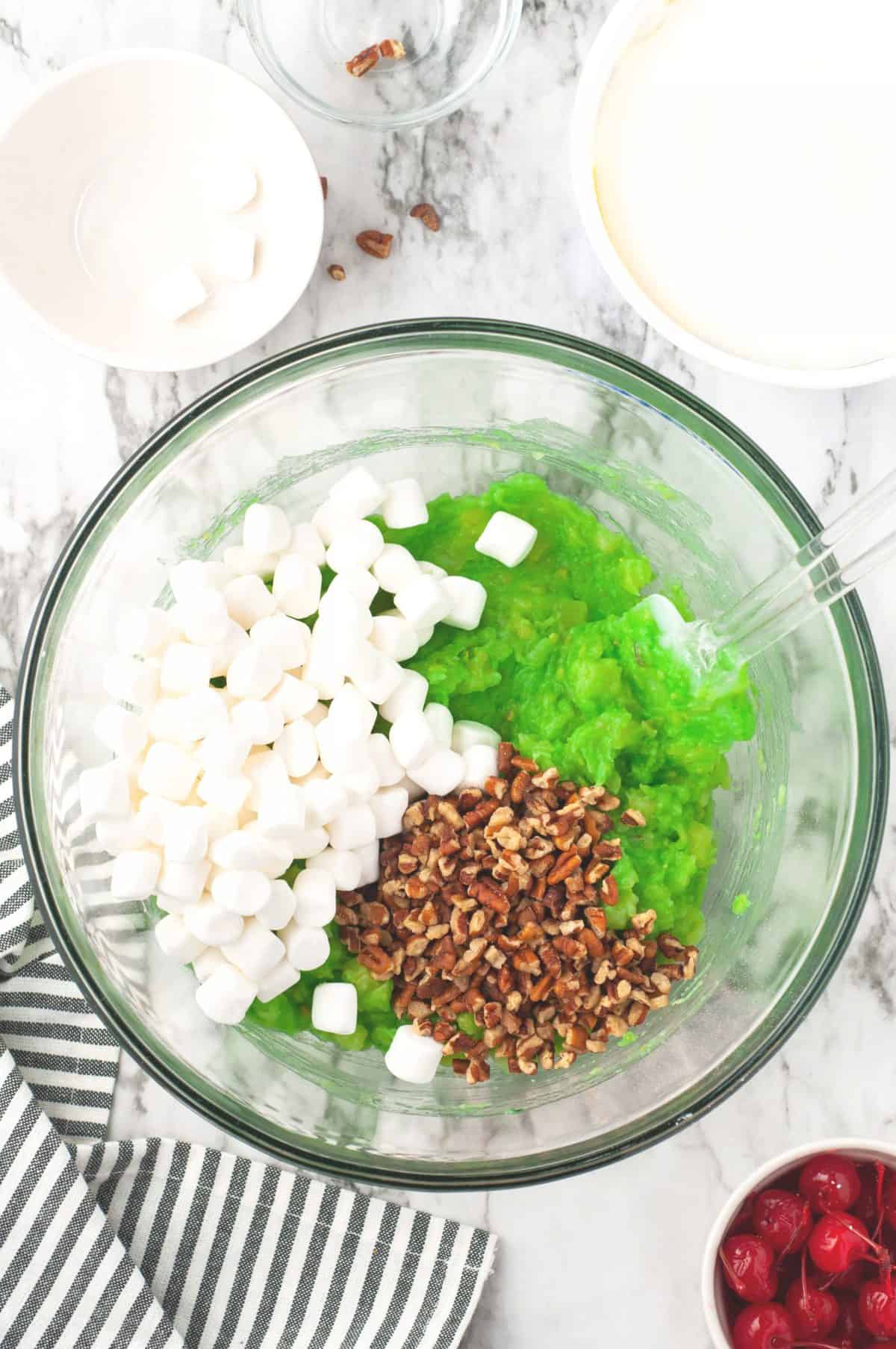 Can I make this Pistachio Salad Recipe ahead of time?
You can most definitely make Watergate Salad ahead of time. In fact, I recommend making it the night before you plan to serve it. That way it can sit in the refrigerator and the flavors can blend together.
It also allows the marshmallows to soften up a bit. Be sure to store your salad in the fridge in an airtight container. It will stay good in the fridge for 2-3 days.
STORING THIS WATERGATE SALAD RECIPE
Does Watergate Salad need to be refrigerated?
Yes, it should be refrigerated for up to 2 days.
Can I freeze Water Gate Salad?
You can freeze Watergate Salad and it will keep for about 3 months. Be aware that the texture of the marshmallows won't be the same once they've thawed out. Since this is such an easy recipe to make, it's best to make it fresh.
Another fun idea is to use your leftover salad to make Watergate popsicles, using a popsicle mold. You can also spread it in a baking dish and scoop it up like ice cream, once it freezes. It's so yummy this way.
Chocolate Lasagna Recipe | Eclair Cake | No-Bake Peanut Butter Balls| Oreo Cream Pie |Cotton Candy Ice Cream (No Churn)|Not Yo' Mama's Banana Pudding Recipe | Broken Glass Jello | Orange Creamsicle Salad | Cherry Fluff
Watergate Salad Recipe
Watergate salad is an light and easy dessert that is perfect for the summer and can be made in just about 5 minutes.
Ingredients
2

boxes

boxes of pistachio pudding mix

1

large can

crushed pineapple

12

ounces

whipped topping

½

cup

chopped pecans

1 ½

cup

white mini marshmallows

chopped pecans and maraschino cherries for garnish

1

cup

shredded coconut

*Optional
Instructions
In a large bowl, mix pineapple and pudding mix until mix has completely dissolved and the pineapple is thick.

Stir in other ingredients, then fold in whipped topping.

Transfer to serving bowl and top with chopped pistachios and cherries.
Jenn's Notes
If using shredded coconut, add in when combining pecans and mini marshmallows.
Nutrition Info
Calories:
272
kcal
|
Carbohydrates:
35
g
|
Protein:
3
g
|
Fat:
15
g
|
Saturated Fat:
9
g
|
Cholesterol:
1
mg
|
Sodium:
72
mg
|
Potassium:
197
mg
|
Fiber:
2
g
|
Sugar:
31
g
|
Vitamin A:
67
IU
|
Vitamin C:
7
mg
|
Calcium:
48
mg
|
Iron:
1
mg
Watergate Salad is so delicious and easy to make. With its pistachio and pineapple flavors, mixed with creamy whipped topping, and topped off with crunchy pecans. This light and refreshing dessert salad is a great summer side.