This post may contain affiliate links. Read my disclosure policy here.
What is a Chaffle? A chaffle is a low carb, keto-friendly waffle made from eggs and cheese! These two-ingredient Chaffles are a tasty, low-carb play on waffles that can be enjoyed savory or sweet and are perfect alternative to bread and to curb your bread cravings.
Low-Carb Waffles
Just eggs and cheese is all you will need to make this quick and easy recipe. Chaffles are a delicious waffle inspired food that is super low-carb and keto friendly. Top them off with syrup like a traditional waffle, or use them as bread to make a sandwich. Either way, they are sure to be a hit.
What is a Chaffle?
If you haven't yet heard of this viral and tasty food hack, then let me fill you in! Chaffles are a low-carb and keto-friendly version of a waffle that are made by combining eggs and cheese. Then, they are baked like any other waffle batter, in a waffle maker. They can be used in a number of different ways.
Top them off with some fruit and syrup and you have a breakfast that the kids will love, and you will love it, too because it's totally diet-friendly (perfect for a low-carb lifestyle). I can't wait for you to give these a try.
Why is it Called a Chaffle
Simply put, it is a waffle made with cheese – so we remove the "w" and add the "ch" (and some egg of course!)
Why We Love This Recipe
Quick and easy to make
Simple 2-ingredient shopping list
Only 1-net carb per serving!
Low carb and keto diet-friendly
A versatile food item that can be enjoyed a number of ways
Perfect keto-bread or bread substitute
No flour, baking soda or any other ingredients
Can be made sweet or savory
Do Chaffles Taste Like Waffles?
If you are looking for a low carb Belgium waffles substitute, then no, this isn't for you. They are a great carb substitute, perfect to satisfy the bread craving for a sandwich and make a great bun for a burger, but no, they are not going to taste like those delicious, carb filled, sugared-up restaurant style waffles.
While these are delicious, if you can spare a few more ingredients, adding in a 1 teaspoon of coconut flour and a 1/4 teaspoon baking powder will give you more of a bread like consistency.
What Type of Waffle Maker to Use for Making Chaffles?
Hands down, this is my go-to mini-waffle maker! I love this Dash mini-waffle maker and literally use it every, single morning! It cooks consistently and you cannot beat the price!
Ingredients/Shopping List
This makes 2 mini chaffles!
1 large egg
½ cup shredded mozzarella
How to Make Chaffles
If the two ingredient shopping list didn't already sell you on this recipe, then the easy instructions below, will. This is seriously such an easy to make food item!
Spray waffle make with non-stick spray and let it heat up.
Stir together egg and mozzarella cheese.
Pour 1/2 of the mixture into the waffle maker.
Cook for 3-5 minutes and repeat.
When you are pouring the batter into the waffle maker, you want it to be a bit heavier in the middle and lighter around the edges so that it doesn't overflow when cooking.
The Secret to a Crispy Chaffle
Let them cool for a minute or two after removing from the waffle iron to let them crisp up. If you want them even crispier – pop them in the toaster oven or air fryer for a few minutes!
I have read if you want to add even more crispiness – sprinkle some cheese on the waffle iron before you add the batter!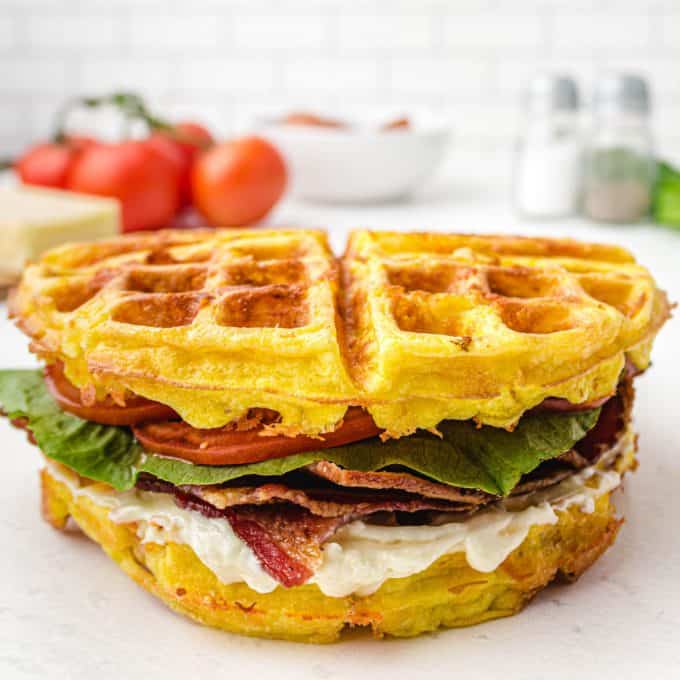 Make Different Flavor Chaffles!
Add in seasonings: to add a bit of flavor, stir in about 1/2 tablespoon of parmesan cheese and a dash of garlic powder and Italian seasoning into the raw mixture before baking.
Sweet chaffles: Spray with a little bit of spray butter and sprinkle on a bit of cinnamon sugar for a little bit of a sweeter way to enjoy!
Everything But The Bagel Chaffle: If you know me, you know this is one of my all-time favorite seasonings! I love my chaffle with a wedge of Laughing Cow Spreadable Cheese Wedges (there are a ton of flavors) and sprinkles with Everything But the Bagel seasoning! It's like eating a bagel!
Chaffle sandwich: Another delicious way to enjoy this recipe is to use these as bread for a sandwich. One of my go-to's is to make a BLT out of them. It's so yummy.
Waffle Chaffles: If you are going for the traditional waffle taste, smear a little bit of butter on them and enjoy with some sugar-free syrup!
Pizza Chaffle: Top with a little bit of pizza sauce and some shredded cheese (you can even add some turkey pepperoni!) and put in the toaster oven or air fryer to melt the cheese and crisp the chaffle up!
BLT Chaffle: Just like it sounds! Add some bacon, lettuce and tomato to enjoy your favorite classic sandwich!
How to Make My Chaffles Taste Less Like Eggs
Some people complain that their chaffles taste to eggy… well, they are made mostly of eggs, but there is a trick for this.
Let your chaffle cool completely, then put it in the toaster oven or air fryer to crisp them up.
You can also give them a bit more of a "bread-like" consistency by adding 1 teaspoon of coconut flour and 1/4 teaspoon baking powder.
How to Store Chaffles
I like to make a bunch of chaffles at a time and store them in the fridge or freezer so I can make a quick breakfast or lunch.
Store leftovers in the refrigerator in a sealed food storage container for 3-4 days or freeze with parchment paper or wax paper between them.
How to Reheat
Reheat chaffles by placing in the toaster, air fryer or oven. I don't recommend microwaving to reheat (they get soggy).
More Low-Carb Recipes
Egg Roll in a Bowl|Cauliflower Fried Rice |2-Ingredient Bagels |Simply the Best Cauliflower Pizza Crust | Cauliflower Mac and Cheese
Chaffle Recipe
A delicious 2-ingredient low carb and keto-friendly bread substitute! All you need are eggs and shredded cheese and 5 minutes!
Prep Time: 3 minutes
Cook Time: 5 minutes
Total Time: 8 minutes
Course: Breakfast, lunch
Cuisine: American
Servings: 2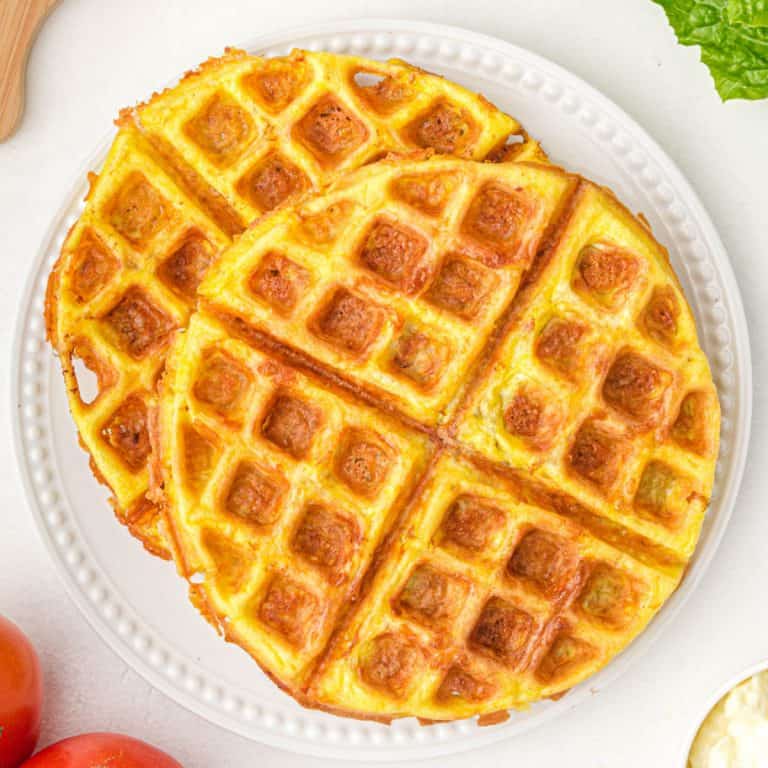 Ingredients
1 large eggs
½ cups shredded mozzarella
Instructions
Spray waffle maker with non-stick cooking spray and let heat up.

Stir together eggs and mozzarella.

Pour ½ of the mixture into waffle maker (heavier in the middle, lighter around the edges so that it doesn't overflow when cooking.)

Cook for 3-5 minutes until chaffle is golden brown. (Let it rest for a minute or two and it will crisp up more!)

Repeat steps for the second waffle.
Recipe Notes
To give it a bit more "bread-like" consistency, add 1 teaspoon of coconut flour and 1/4 teaspoon baking powder.
Store leftovers in the refrigerator in a sealed food storage container for 1-2 days – toast to reheat.
Nutrition per serving
Calories: 115kcal | Fat: 8g | Saturated fat: 4g | Cholesterol: 104mg | Sodium: 207mg | Potassium: 52mg | Carbohydrates: 1g | Sugar: 1g | Protein: 9g | Vitamin A: 308% | Calcium: 154% | Iron: 1% |
Keyword: Cheese, Eggs, keto, low carb
Sign up for the Princess Pinky Girl Newsletter and automatically receive our latest & greatest delivered right to your inbox! Follow Princess Pinky Girl on Facebook, Twitter, Pinterest and Instagram for all of the newest recipes, crafts, travels and updates!
If you make a Princess Pinky Girl creation make sure you take a picture and share it on Instagram with @princesspinkygirl ! I love seeing your masterpieces!