This post may contain affiliate links. Read my disclosure policy here.
Halloween Door Decorating Ideas are a great way to add some Halloween magic to your house. These easy Halloween front door ideas will give you the best looking porch on the block!
Frighteningly Fun Halloween Door Decorating Ideas.
Having a house that is all decked out and welcoming for trick or treaters is so much fun. We even love to take a ride at night to look at Halloween decorations that run from so cute to really spooky.
It is so much fun for the kids and they are only little for so long. So I say go all out!
Today I am sharing some really creative and beautiful ways to decorate your front door for Halloween. These are not just a wreath or spiders on a door… they are over-the-top crazy fun and downright stunning Halloween decor ideas.
Love it! Pin It to your DIY Board or Halloween Board on Pinterest and SAVE it!
Follow Princess Pinky Girl on Pinterest for more Food, DIY, Travel & MORE!
Halloween is the perfect time of year to channel your inner creative. Get the whole family in on the process and create a door or front porch that will have your neighbors stopping at your house first on Halloween night!
More Great Halloween Recipes and Ideas:
Lets see those frighteningly fabulous Halloween Door Decorating Ideas…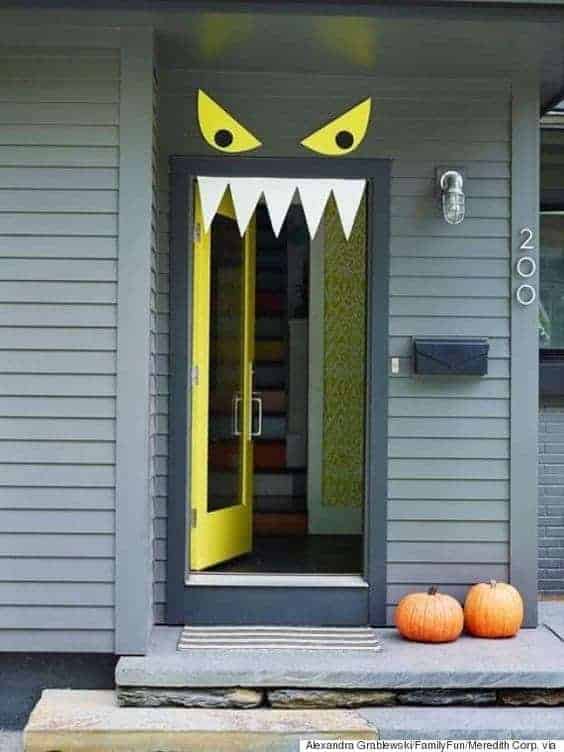 Huffpost
This monster door is ready and waiting for all of those who enter to get gobbled up! I love that this idea is so simple and easy to do. Two eyes, a string of teeth and you have your door decorated with this cute monster
I love something that is simple and even the kids can help with this one!
Spiders are always a fun thing to decorate with for Halloween. This front door boasts of a large spider web with a few little friends. Personally, I love the big guy over to the left. How fun is he?
This is a not-to0-spooky idea that you can put together with items from the craft store.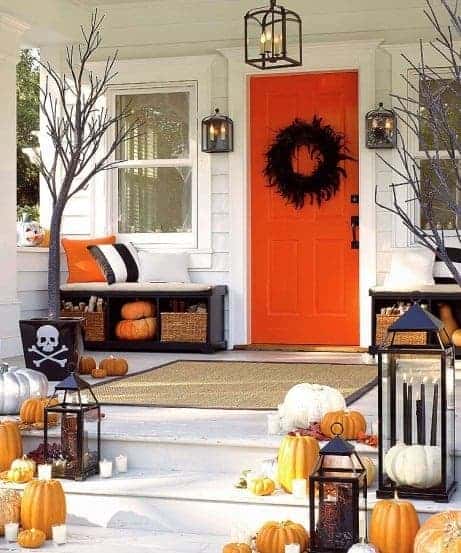 I think I have loved this Halloween porch for years. I need an orange front door in my life from October 1st until after Thanksgiving. It looks amazing.
We also have to talk about the amazing accessories used here, too! The combination of that door, those striped pillows and the pirate planter… I have a total crush!
Head out to the party store and grab everything you need to create this fun display. I love that you can use a simple skeleton and it makes the entire scene come alive!
I love the cauldrons with the sprayed branches and those paper fans and tissue poms are insane. This is so classic!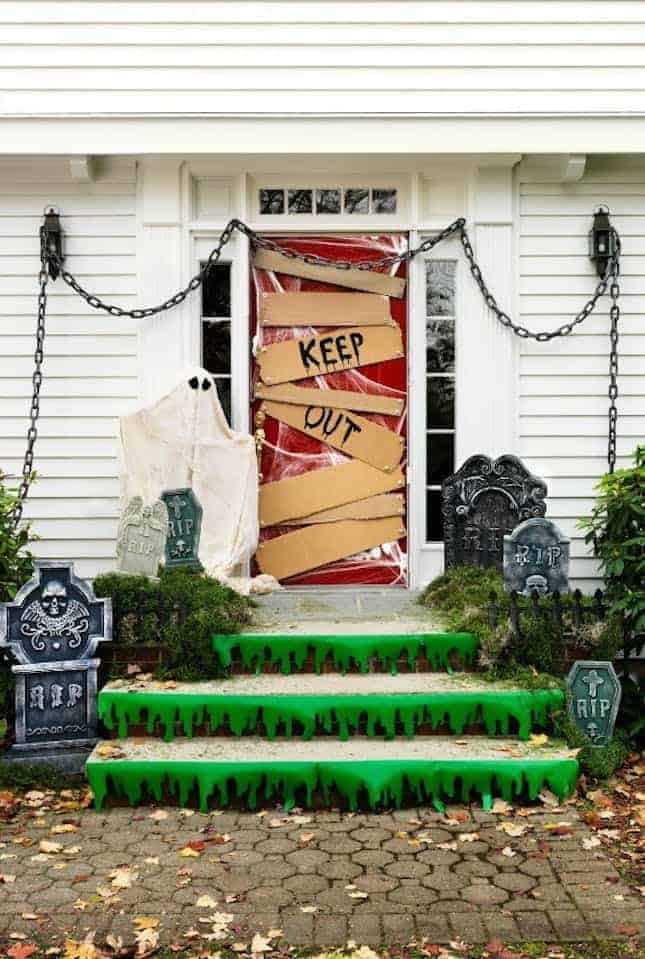 If you want to add a little spook to your front porch this is a fun idea.
This door is decorated with makeshift boards and a keep out sign that the entire family can make together. I love the ghost graveyard and the slime pouring off the steps is awesome. So much creativity!
If you prefer a more streamlined decor option this is it. The black and white decor pattern here makes me swoon. I don't know if it is the monogram, the branches or the pop of orange on those pumpkins, but it all melds together perfectly.
Now all I need are some black urns and a few fun pumpkins! Wrap some spider webbing around those branches and add a few spiders and webs around the door and you are set.
I love this mummy door. It is so fun and I think every child would love it to pieces!
This would be such fun to make with the kids and it is such an easy project, but boy it packs a punch. I love the orange lights at the top!
Time to start wrapping the door!
There have been so many versions of a door flanked with bats, but I absolutely never get tired of it. I love how these guys begin in the tree and then cover the door.
Bats sure can be spooky, but to me they are always beautiful when added to your Halloween decorations.
This ghost is so adorable. I love that she is large enough to make an impact on the door, but simple enough to demand attention.
That sweet purple bow is the perfect final touch and sets off the entire door display.
Total cuteness!
If you want to turn your front door orange without the commitment of paint, grab some crepe paper!
This is a super fun project that only takes a little bit to do and is so inexpensive. Just crepe paper and a jack o' lantern face cut from poster board.
This would also make a fun classroom door at a school.
The witching hour scene. This is so bright and fun. The elements alone are so simple, but when you put them together you have a stunning display.
That totem pole of pumpkins is crazy cute, too! I've also wanted to do the floating witch hats for years. Maybe this will be the year!
That blue door is beautiful and makes the perfect backdrop for the entire scene. I love it!
These decorations are just your ordinary run of the mill party store decor. When you put them all together, they look so fabulous.
Those floating ghosts had me at hello in the doorway.
Be sure to pin these fun Halloween Door Decor Ideas for later…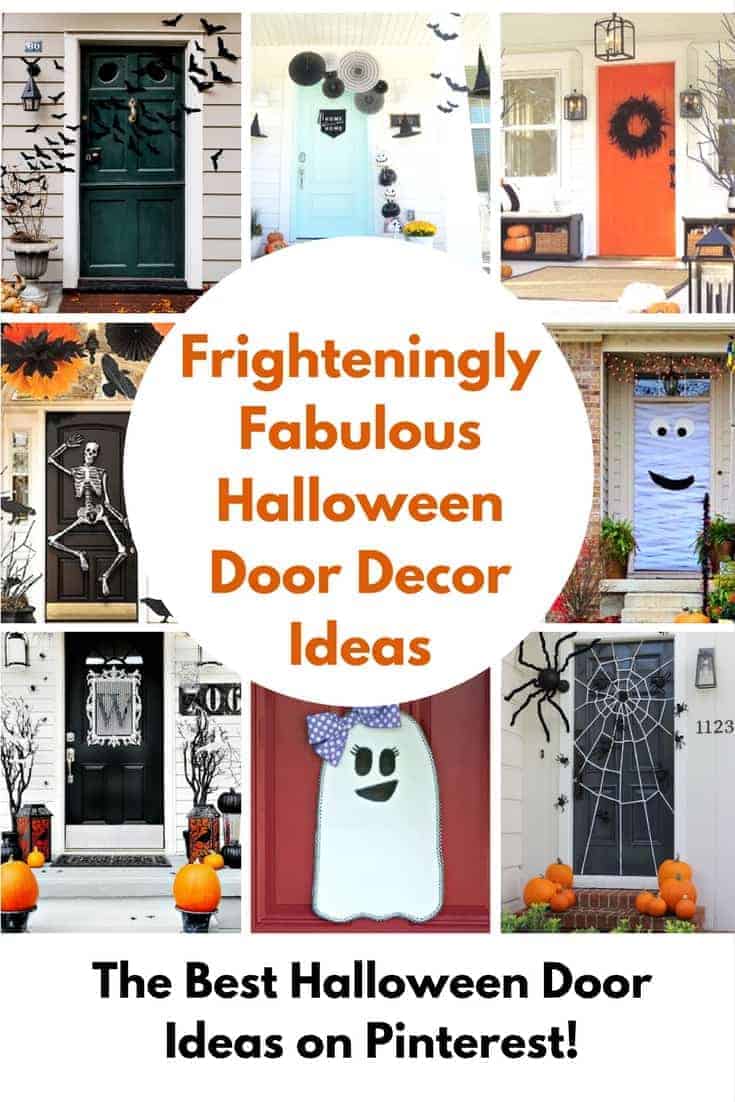 Other Easy DIY Halloween Decor ideas that you may like…
Quick and Easy Halloween Decorations
Sign up for the Princess Pinky Girl Newsletter and automatically receive our latest & greatest delivered right to your inbox! Follow Princess Pinky Girl on Facebook, Twitter, Pinterest and Instagram for all of the newest recipes, crafts, travels and updates!
If you make a Princess Pinky Girl creation make sure you take a picture and share it on Instagram with @princesspinkygirl ! I love seeing your masterpieces!