Looking for some super easy Halloween Decorations? Look no further. These DIY Halloween decor are not only easy, but super spooky too!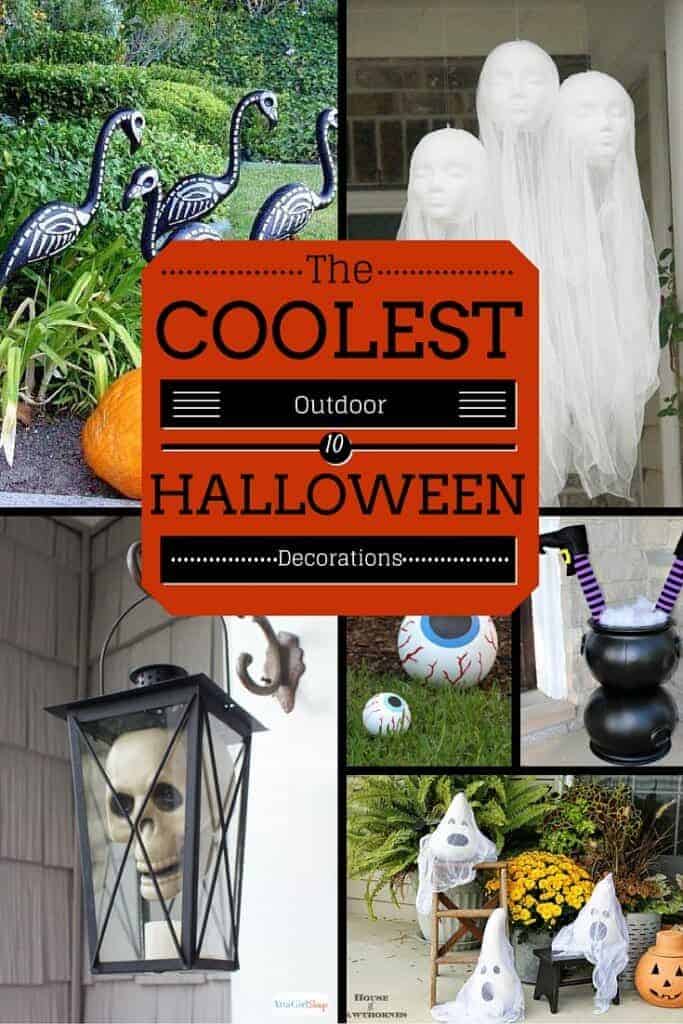 So, Halloween is right around the corner! We absolutely LOVE to decorate our yard for Halloween and we are always looking for new DIY Halloween decor ideas to use. This year, we scoured the internet to find some super easy Halloween Decorations that we could easily create.
It doesn't have to cost a fortune to make a super spooky Halloween House – you just need some good ideas and a good glue gun and you are good to go!
Let's see those awesome outdoor Halloween decoration ideas…
This Spooky Witches Halloween Garage Door Silhouette can be made from some plywood and Halloween lights! You can find the full how to instructions from Instructables here!
Don't have a garage door to mount it to, not to worry, you can mount it to a wall or stake it in the lawn!
My Halloween Witch Cauldron was used for a Halloween party centerpiece. After I was done with it, it made a great porch decoration. I put some lights in the cauldron and illuminated it at night- by Princess Pinky Girl
A Skull Hanging Lantern is a great way to transform your porch for Halloween by Atta Girl Says
Take some flamingos and make them into Skel-A-Mingos!! Featured on About Home
These Climbing Halloween Skeletons will for sure freak out your trick or treaters! Be sure to throw some lights around them to really create an eerie mood! Featured on Instructables
My Spooky Tomato Cage Ghosts were on of my first DIY Halloween projects!
They are super easy to make and I use them year after year.
They look great when they are illuminated at night! Always a neighborhood favorite! See the full how to instructions here – Princess Pinky Girl
Make some Scary Eyeball Halloween Decorations from some old exercise balls or beach balls by DIY Network
These bloody footprints will give your guests the chills. You can easily make them by using washable red paint and some bare feet from the DIY Network!
Slithering Snake Doormat – an easy, but effective Halloween welcome for your guests featured on BHG
So, these Floating Head Hanging Ghosts would totally and completely freak me out!! By Simply Designing
Goulish Ghost Gourds by House of Hawthornes. What a cute way to decorate your front porch!
Giant PVC Spider by Sew Crafty Girl . I honestly don't know if I could have this guy in front of my house! I hate spiders!
You may also like these awesome ideas…
10 Quick and Easy Halloween Decorations