Looking for some EASY Halloween Decor? These super easy DIY Halloween decorations are were so doable that I even did them! You don't have to be Martha Stewart to pull these off!
I love Halloween! Halloween is totally my holiday… I love the candy. I love the costumes. Most of all, I love decorating! Halloween decorations are much more fun when you make them yourself! So I pulled together some of the very best and easy DIY Halloween Decor!
Did you know that Americans spend more than $8.0 billion each year on Halloween! This has become a huge industry.
The best thing about Halloween decorating is that it is easy! You don't have to be Martha Stewart to do some of these DIY decorations.
Trust me…. if I can do it, you can too. Check out some of these super easy Halloween Decorations….that I can even make!
The first project was one of my first DIY attempts from Pinterest. It was not only my first Pinterest DIY – it wasn't a Pinterest fail – it was a total winner!
I was SUPER proud, I must have posted it on Facebook fifteen times! These Tomato Cage Floating Goasts are crazy easy, cheap and super cute!
Click here for the full (and easy) tutorial
! In short, all you need is a tomato cage, king-size pillowcase, sharpie and some string lights (white, orange, purple, etc.) Once you figure out what a tomato cage is (buy at Home Depot or Lowes) and which way to place it (small end on top) it is easy from there.
Wrap the cage with the lights (one set per ghost). Make a cut about 1/4 way up both sides of the pillowcase and use your sharpie to color some eyes and a mouth. Slip the case over the cage – and presto – you have floating ghosts!!!! Want a step by step? Here are the
FULL INSTRUCTIONS
!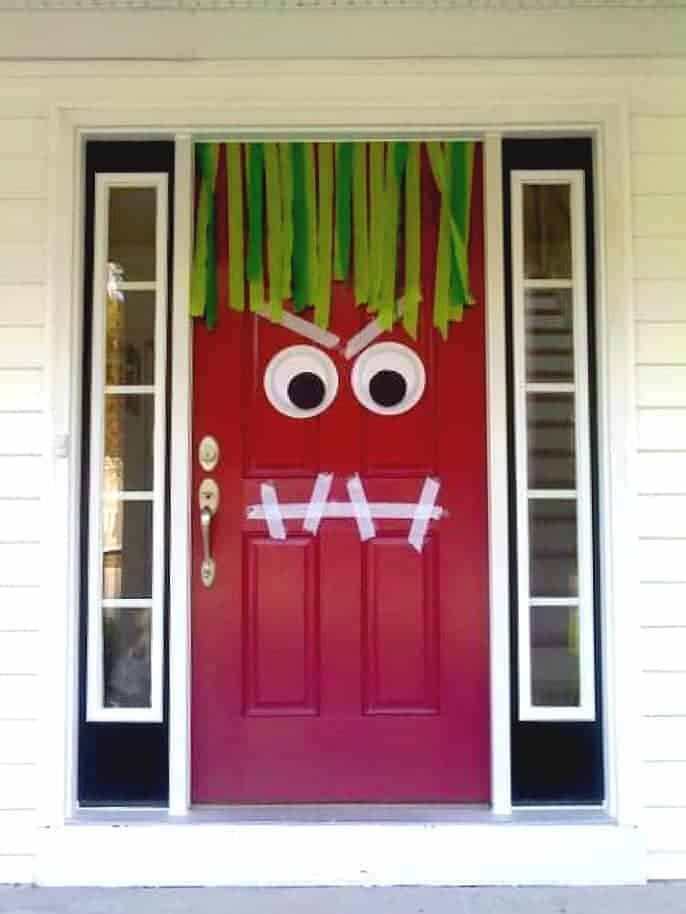 I love this guy!! This one I am for sure doing this year!
All you need is 2 paper plates, a glass, crepe paper and duck tape (although I may use painters tape so it doesn't pull off the paint from my door).
Source -Jen T By Design
This one couldn't be easier – all you need is some empty, clean milk jugs, a sharpie marker, craft knife and a bunch of clear Christmas lights.
Eyes in the Bushes
Easy and creepy!! Start saving your toilet paper roles – I don't know about you, but that with five of us, we will have lots to spare!!
Basically, all you are doing here is cutting eye holes in the rolls and putting either a glow stick (do different colors for fun) or string Christmas lights through.
Throw some duck tape over the ends of the rolls so the glow sticks don't fall out and there you go…. creepy eyes looking at you from the bushes!!
Source – Click here for some more detailed instruction!
Source: thriftycraftygirl.com
House-O'-Lantern
I love this one! It is so cool and super easy! You just need corrugated cardboard, craft knife, painters tape, glue stick, markers and orange tissue paper!
There are an endless number of cute things you could do with this project…. have fun with it!!
Click here for detailed instructions
Source: spoonful.com
So these are just a few ideas that I am going to try this year! Do you have a great Halloween decoration that I can try and post about (remember, it has to be easy!!)
Can't wait for a fun and spooky Halloween!!!
Looking for some more fun Halloween ideas? Click on the pictures below:
Halloween Hacks!