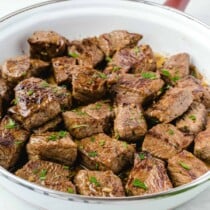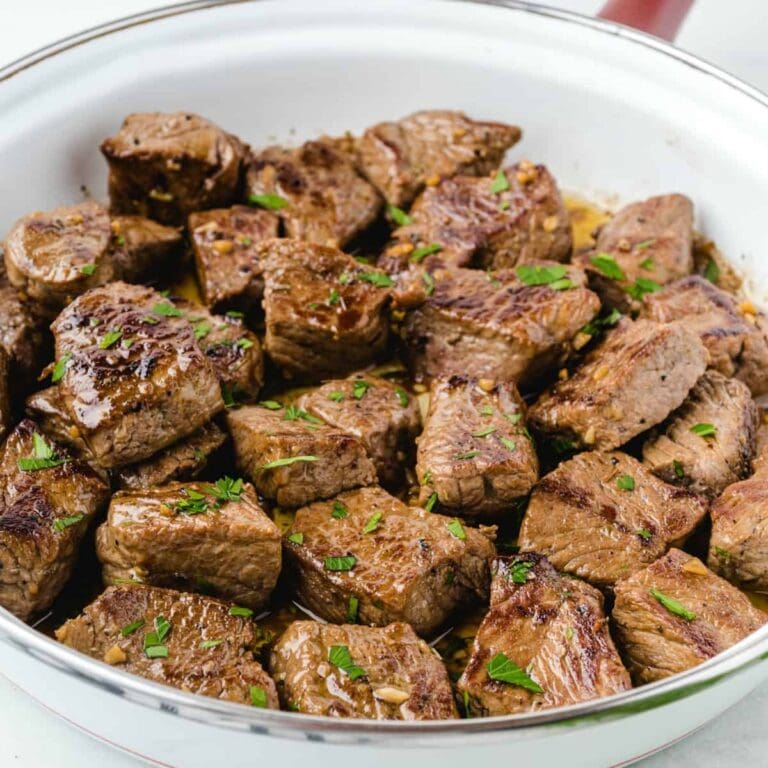 Sirloin steak bites seared to perfection and packed with mouth-watering flavor. An easy dinner or appetizer and ready in just about 15 minutes!
Jump to Recipe
Garlic Butter Steak Bites are sirloin steak bites seared to perfection and packed with mouth-watering flavor. An easy dinner or appetizer and ready in just about 15 minutes!
But wait… there is something else super awesome about our steak bites! They are all made in one pan!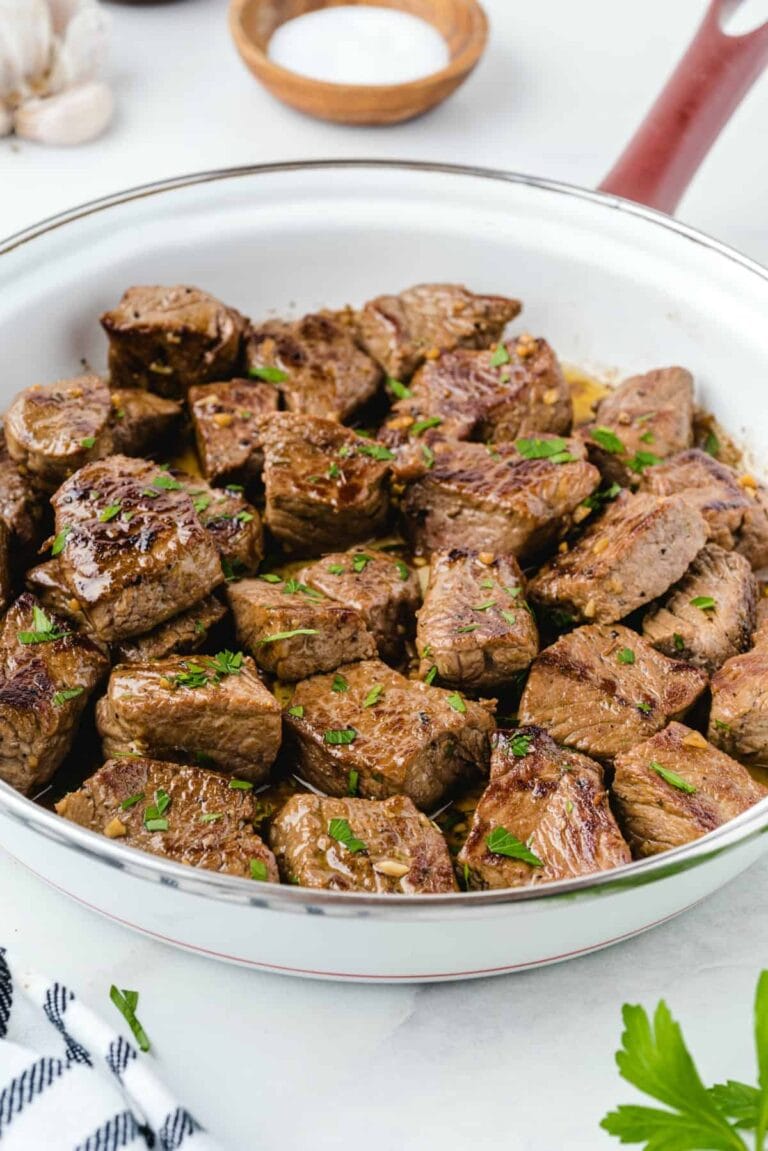 Our tasty garlic steak bites recipe needs to be the next thing on your dinner menu. The garlic butter mixture enhances the sirloin steak tips in such a flavorful way that they drip in flavor. Served alongside a salad or potato, you have an easy, yet hearty and delicious, meal.
Whether you are looking for a new way to prepare steak or need an easy appetizer, these steak bites are the perfect option! They are bursting with flavor and offer a super simple way to prepare your steak dinner. The butter sauce that they are tossed in is mouth-watering good.
The perfect easy dinner or spear them with a toothpick and put them on a platter for a game-day appetizer! Either way, they will be gone in minutes!
Why you'll love Butter Garlic Steak Bites
Quick and easy dinner (ready in 15 minutes).
Only need one pan – easy clean up.
Great as a dinner, but also an easy appetizer, just serve on a platter with toothpicks.
Serve on top of mashed potatoes or rice.
Family friendly and picky eater approved.
Ingredients for Butter Steak Bites
Steak – We used sirloin steak cut into small squares.
Oil – Olive oil is best for this recipe.
Salt & pepper – You can adjust to your preference but I used 1/2 teaspoon of salt and 1/2 teaspoon of cracked black pepper.
Butter – I typically use unsalted butter in most of my recipes. If you only have salted butter you will want to pull back on the additional salt you add to the recipe.
Garlic – you can either use garlic cloves, but many times I will make it easier and buy the minced garlic in the jar (I know it is cheating!)
Italian Seasoning – pick your favorite brand! They are all pretty delicious!
Parsley – Go fresh and finely chop it.
Additions & Substitutions
Steak: Sirloin steak works best for these bites. However, you can also use strip steak, flank steak, chuck or filet as well.
Garlic: You can buy fresh garlic and mince it yourself. This is really easy if you use a garlic press. Alternatively, you can buy a jar minced instead.
Red Pepper Flakes: If you like things with a kick try sprinkling these with red pepper flakes.
SEE FULL PRINTABLE RECIPE CARD BELOW
How to make Garlic Butter Steak Bites
Toss the cubed steak in the salt and pepper.
In a large frying pan, heat olive oil over high heat and place a single layer of steak in the frying pan.
Fry steak in batches for about 4-5 minutes. Remove and set aside.
In the same frying pan, add butter, garlic, and Italian seasoning over medium-high heat. Cook for about 2 minutes.
Pour the butter mixture over the steak bites and toss to coat.
Sprinkle parsley over the top to garnish and serve!
Tips for Buttered Steak Bites
Tip 1: You don't want to add all of the steak to your frying pan all at once. Work in batches so that you are cooking single layers of steak and continue this until all of the steak is cooked.
Tip 2: You can cook the steak to your preferred temperature. I like my steak bites more on the well-done side, but my husband prefers them medium. I usually cook one batch well done for me and one batch medium for him.
Tip 3: To make for a super easy clean up I recommend using the same frying pan for cooking your steak and making the butter mixture. This means there are only a couple of dishes to clean up!
How to serve Steak Bites with Garlic Butter
These can be enjoyed a variety of ways. To keep it simple, you can serve them as an appetizer to a meal. They are the perfect flavorful and light snack to begin any meal.
As I mentioned above, if you are serving them as a party appitizer, just throw them on a platter and stick some toothpicks in each one! The perfect finger food!
Alternatively, you could serve them as protein on a hearty salad (this is my favorite!) You could also serve them as the main course for a meal with a side such as mashed potatoes.
How to store Garlic Steak Bites
Store your bites in an airtight container in the fridge for 3 to 4 days. Be sure to pour all of the garlic butter in with the leftovers as well.
It's best to store in a container that can be reheated. That way, you can simply place the entire container in the microwave to reheat it and make sure you get all of the delicious garlic butter as well.
More Easy Dinner Recipes
Potato Chip Chicken Tenders | Korean Beef Bowl | Lasagna Casserole – Lazy Lasagna!| One-Pot Chicken Parmesan Pasta | Sheet Pan Quesadillas | Meatball Parmesan | Chicken Pot Pie Skillet | Garlic Butter Steak and Potato Skillet | Smothered Pork Chops | One Pot Chicken and Rice | Unstuffed Cabbage Roll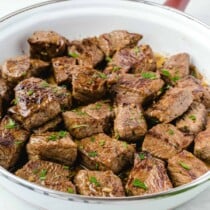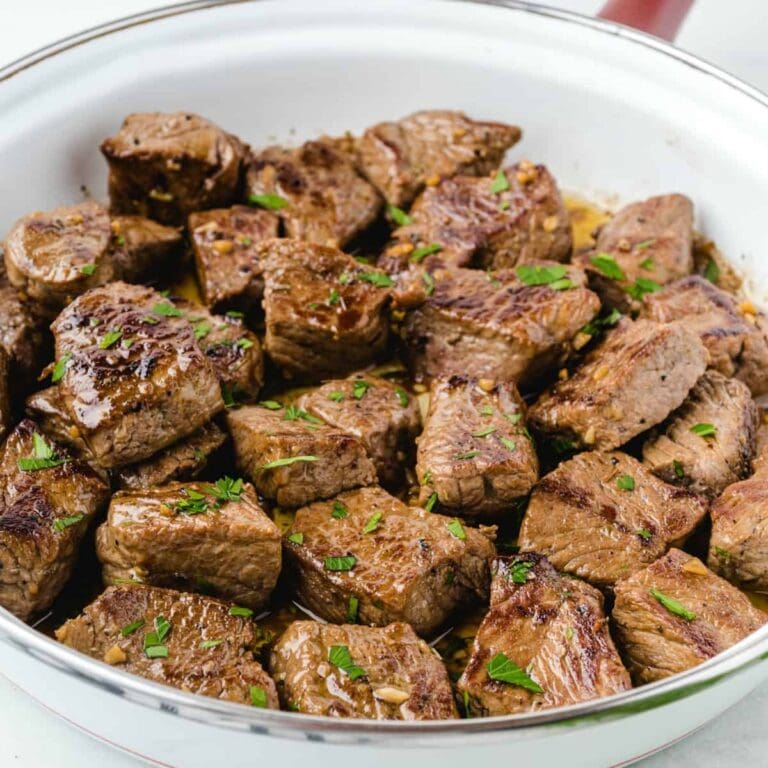 Garlic Butter Steak Bites Recipe
Sirloin steak bites seared to perfection and packed with mouth-watering flavor. An easy dinner or appetizer and ready in just about 15 minutes!
Ingredients
2

pounds

sirloin steak

1

tablespoon

olive oil

½

teaspoon

cracked black pepper

½

teaspoon

salt

¼

cup

unsalted butter

5

cloves

garlic

minced

½

teaspoon

Italian seasoning

1

tablespoon

fresh parsley

finely chopped
Instructions
Chop steak into cubes about 2 inches in size. Toss steak in salt and pepper.

Place olive oil in a large frying pan and heat over high heat.

Place some steak in frying pan – only until you have a single layer of steak. Don't add all of it at once – work in batches so that you're cooking single layers until all the steak is cooked. Fry each batch for about 4-5 minutes until thoroughly cooked. As each batch is cooked, place in a serving dish.

Once all the steak is cooked and in the serving dish, use the same frying pan to prepare the butter mixture. Place butter, garlic, and Italian seasoning into frying pan over medium-high heat and cook until melted and garlic is slightly browning (no more than 2 minutes).

Pour butter mixture over steak bites and toss to coat evenly. Sprinkle parsley over to garnish.
Nutrition Info
Calories:
446
kcal
|
Carbohydrates:
2
g
|
Protein:
50
g
|
Fat:
26
g
|
Saturated Fat:
12
g
|
Cholesterol:
169
mg
|
Sodium:
423
mg
|
Potassium:
791
mg
|
Fiber:
1
g
|
Sugar:
1
g
|
Vitamin A:
439
IU
|
Vitamin C:
3
mg
|
Calcium:
78
mg
|
Iron:
4
mg
Five simple steps is all it takes to make these delicious sirloin steak bites. The garlic butter sauce that coats them is full of flavor and enhances the steak perfectly. It's a great new way to prepare your next steak dinner.