Your four legged friends are loads of fun and a lot of work, but these ideas for dog hacks are so smart and will help you tremendously!
Whether you are bringing home a new puppy, are training your four legged friend or just need some help with everyday tasks, these dog hacks are just so smart!
You guys know that I love a good hack, remember my favorite smell hacks and my famous iphone hacks?
These ideas and tips for dogs range from keeping doggie odor at bay, DIY ideas for all sorts of things and even the dilemma of cleaning up dog hair. Let's dive in and take a look at some genius dog hacks that are sure to save your sanity.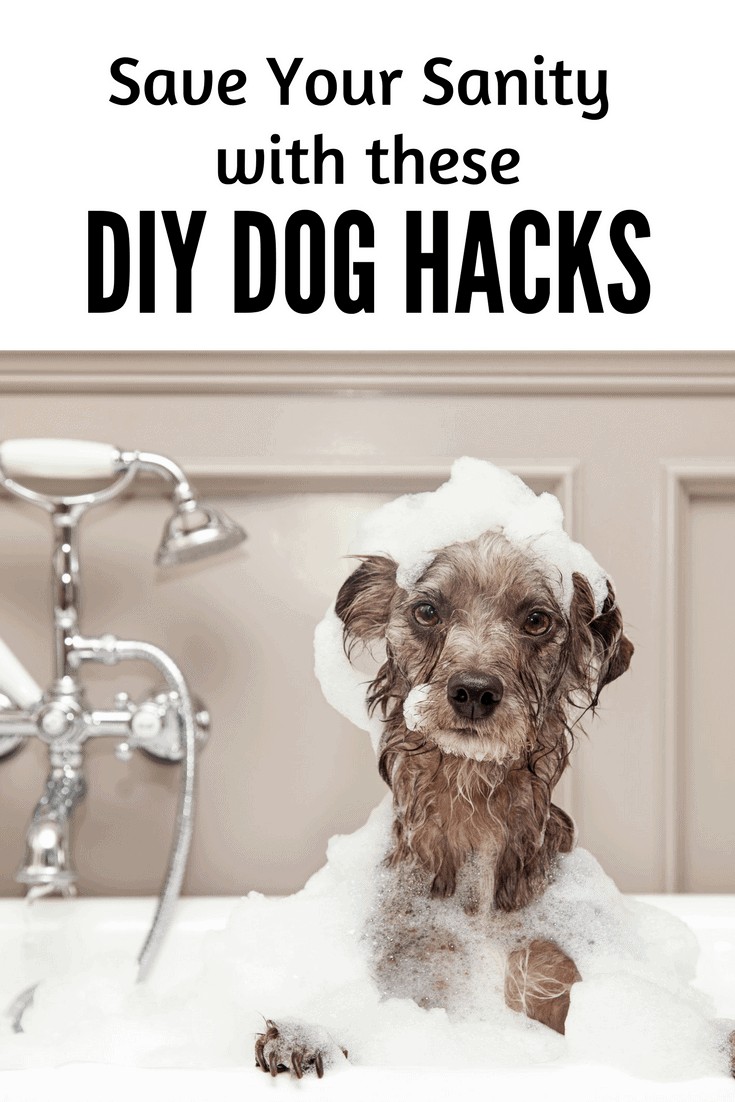 These helpful tips for bringing home a new puppy will rock your world.
Bringing home a new puppy can be so exciting, but it also comes with its fair share of work and problems. These ideas are so smart and will help ease the transition of your newest furry family member.
Crying puppy? These tips from Brilliant Family Dog will help you get some much needed sleep.
This new puppy checklist from Healthy Paws Pet Insurance sums it all up in one graphic!
Good Doggies has some great pointers for training your puppy not to bite. Check them out!
Keeping dog odors under control can be tricky.
I know so many of you can relate. We take such pride in our home and we love our pups, but the last thing we want is for our house to smell like a dog.
I've gathered up several ideas that will help in this department and I hope that you find a solution to your pet odor problem with on or more of these ideas.
Buh bye to stinky dog smell when you treat your favorite pal to their very own dog deodorant. It actually makes great sense. To learn how to make your own, take a look at this recipe on Ebay…
Dog owners… this is a great article from Dogington Post. It breaks down the cause of pet odors and gives you practical tips on how to combat each one. This is a must read article.
If there is one thing that dog owners really hate to experience it is skunk smell. This idea by Lynn's Kitchen Adventures is genius for removing the odor of your dog being sprayed by a skunk.
Dog hair can be really hard to deal with, but these dog hacks will show you how to clean the dog hair so it won't take over your life!
If there is one thing that a lot of pet owners struggle with, it is the endless amount of dog hair in their home. You feel like once you finally get it cleaned up, it just starts all over again. I have a feeling these tips will help you along the way and fight your way through this seemingly endless battle.
A few quick ideas:
Using a rubber glove and swiping across furniture to pick up pet hair.
A quick swipe of a lint roller will help pick up loose hair.
Vacuum, vacuum and vacuum some more!
Wash pet linens and beds weekly.
The Creek Line House has tackled this subject head on and her post about how to keep your home from being taken over by pet fur is a good one. There are simple tips to follow and you probably already have everything you need.
Hard wood floors can be kept pretty clean with a quick swiffer, but what about carpet? This trick by Thrifty and Chic will help you clean pet hair from carpet without a heavy vacuum and it is pretty nifty!
Does your dog ride in your car and leave their mark all over the seats? This idea featured on Buzzfeed will save the day! Check out this simple tip…
DIY Dog beds and Home Decor Solutions for Pets!
I think these ideas are so smart! They use spaces that are already in your home (some you don't even use) and transform them into a spot fit for your pup. They make unsightly dog beds a thing of the past and feeding stations super trendy.
Thrifty Decor Chick kept her dog in mind when she renovated her kitchen. How smart is this feeding station built into the kitchen island. Love it!
Created a pull out food center below your cabinets like this version from BHG.
This dog crate is a multi tasker. Not only is it a comfy crate for your dog, but it also does double duty as an end table. Thanks to this DIY idea from Heather's Handmade Life, your dog crate is now super stylish!
Does your dog like to sleep in your room? Create a bedside crate that also functions as a bedside table. Ikea Hackers came up with this solution and it is so stylish!
These pet organization tips are just so smart!
Like every member of our family, our dogs need a spot where all of their stuff is kept. Being able to find a leash, store dog food and keep toys and accessories is so important. These are some really inspiring ideas.
The HGTV Green Home had a set of industrial shelving in the garage that holds all of the dog equipment that you own. It is drool-worthy.
Traveling with your pet soon? This diy travel organizer ( aka cosmetic bag) for dogs is such a smart dog hack! Check out these essential road trip tips from BarkPost.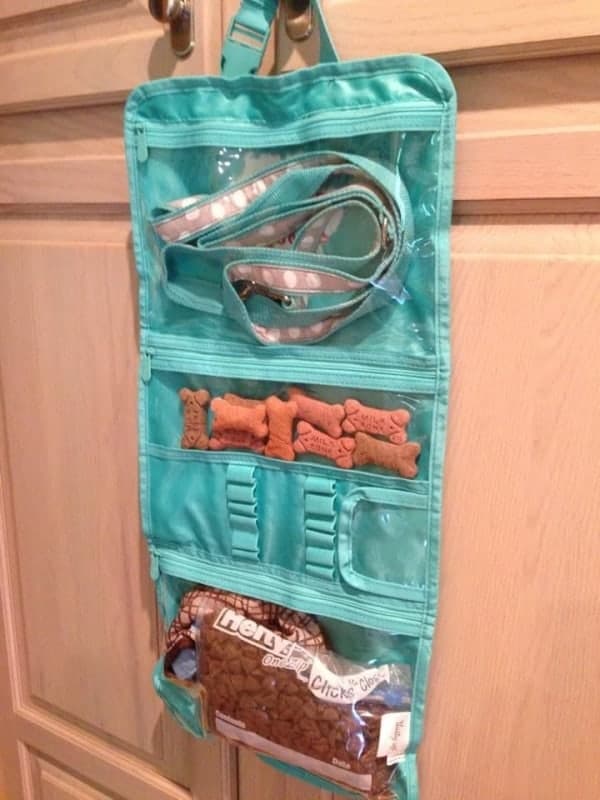 For even more home organization ideas for dog parents, check out this post by Proud Dog Mama.
Your dog will go crazy over these homemade dog treats.
These DIY Dog Project Ideas and Treats for your Favorite Pup – these homemade dog treats will have your pooch wagging their tails!
I think you'll also love these ideas for hacks. They are life savers!
As parents, we need all the help we can get in so many areas of our life. Check out these fabulous parent organization hacks for solutions to life's everyday dilemmas.
Most of us would love to give away the task of doing laundry, but that isn't an option, right? These laundry hacks will make the unloveable chore more manageable. Some of the ideas are just brilliant.
Raise your hand if you feel like you are in your car most of the day. Me, me! These car organization hacks are a lifesaver for busy families. Check them out!