Smell Hacks are and tips and tricks that will help things that don't smell good a thing of the past. These great hacks will have your house smelling amazing in no time at all!
Smell Hacks that will leave your home smelling amazing!
Love it! Pin It to your DIY Board on Pinterest and SAVE it!
Follow Princess Pinky Girl on Pinterest for more Food, DIY, Travel & MORE!
I searched around and found some awesome smell hacks that helped me when I really need it. Keep these in mind for the next time you need your home to smell great. These would be perfect if you will be entertaining, too!
Let's see those super helpful smell hacks…
I love the smell of fresh coffee and this sweet hack will have vanilla and coffee wafting through your home. Smart Schoolhouse shows us that by pairing coffee beans with a tea light, your home will smell like a coffee house in a matter of minutes.
I love this simple idea and can't wait for fall to get here. I plan to try this one a good bit and can't wait to enjoy the aroma of fresh coffee all around the house.
Boy Smell. If you have a boy or have visited the home of someone with boys… you know exactly what I'm talking about.
The Happier Homemaker to the rescue with her foolproof formula for how to get rid of that horrid boy smell. She even shares her secret weapon to help us rid this pesky smell from our homes and lives forever.
I think I hear the heavens singing or at least an extremely large choir of boy moms!
You guys know I love essential oils. Do you remember the DIY Lotion Bars that I shared? Any natural remedy is always a good choice for my family.
Kids Activities Blog uses essential oils to get rid of the stinky feet smell that we all can be responsible for. This post gets down to the nitty gritty and deals with the cause of these horrible smells and then gives some great ideas on how to reduce the odor that our smelly feet can cause. Our feet are to blame for stinky shoes after all.
I promise this is a good one and I hate to enter any room and smell feet. It is the worst!
Have you ever made your own air freshener? One Crazy House has her own recipe for making a homemade air freshener that is sure to get rid of all of the stinky smell in your kitchen. I really enjoy cooking, but sometimes the odor from certain foods can kill the environment in your home due to smell.
This DIY Air Freshener ,with a combination of lemon and parsley, will help to get rid of household odor. I can just envision all of the lovely ethnic food that I'm going to be able to whip up now.
As I just mentioned, I love spicy food. Most recipes that are spicy also come with a helping of onion. It is a wonderful flavor, but I really hate chopping it. For me, the worst part is that I feel like my hands smell like onion for days. Seriously, even after cutting just a few slices, I feel like I am a walking onion.
Thank goodness for Gluesticks and Gumdrops! They are sharing a few really great tips on how to get the onion smell off of your hands. Some of their ideas are so incredibly easy and I can't wait to try out their first tip. So smart!
I know this looks like a stain removal post. It is! What's Up Fagans has a great post about how to remove urine stains from a mattress. The best part, it also does a fabulous job with removing the odor, too!
I think kids wetting the bed is a rite of passage for any parent and it can be super frustrating. This method will at least have your mattress in good shape after the fact. This promises to remove stains and the smell that urine can leave.
Do you ever notice a musty smell coming from your towels. I really dislike that happening and feel like I carry that odor with me all day long. Bummer for those of us just trying to keep all of the plates spinning, right?
Tidy Mom has a great solution for these how to remove the mildew smell from towels. I love that it is a simple step that will have your towels staying fresh. If you use this tip as a part of your normal laundry routine, you'll never have to worry about it again!
I love this picture. I can't help but channel my inner Phoebe from Friends when I see this.
Smelly cats are a big problem for families with indoor cats. This post from Sunny Day Family shares some great tips that will keep your home from smelling like a giant litter box.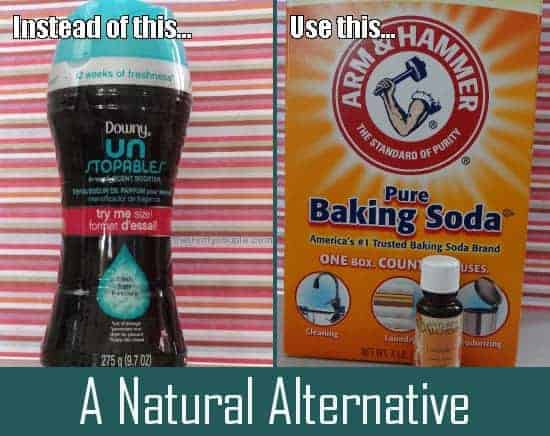 I have a major confession to make… I love the smell of laundry. If I could pick any scent that I want my home to smell like, it is laundry detergent. You really would think I'd like to do laundry more, but it is just the fragrance that I love.
If you are a laundry scent fan like me, you probably love Unstoppables. They smell so good, but I love natural alternatives to store bought items. One Thrifty Couple has shared her recipe for DIY laundry scent booster. It looks super easy to do!
The refrigerator is one area in the home where it can be super difficult to keep odors at bay. When you store so many different flavor combinations in one place, it can be really smelly. I hate it when that happens and I really don't want my salad to taste like leftover pizza.
Kenarry has a great tip for a homemade refrigerator odor remover. I really want to try this one out. I've found that a box of baking soda just doesn't cut it sometimes.
Working out really helps to keep my life well balanced. The one thing that I don't like is when my gym clothes begin to smell like the gym, even after they've been washed. I feel like everyone around me can tell, too.
Maybe I Will has a great way to remove the oder from workout clothes and to help keep those odors at bay. Thank goodness!
Be sure to Pin these great smell hacks for later…
You will also love these great hacks…