Car Organization Hacks will help you big time!
Do you dream of being that mom who has a clean car and is prepared for anything that can happen. While I don't promise these things will save you in every situation, these car organization hacks will make your day to life much easier and could save the day in an emergency. Again, I am so amazed and in awe of the creativity of others. Get ready for may "why didn't I think of that?" moments. You can also prepare yourself to be armed with great ideas to get your vehicle organized and ready to roll!
Let's see those cool car organization hacks…
This is such a simple idea, but imagine how much space these back seat hooks would save? You could fit groceries, your purse, backpacks… you name it! This would come in very handy when it is my time to do the carpool! Find here!
One Good Thing by Jillee was genius when she used a plastic cereal container for a trash can in the back seat. I'm totally going to do this! Find it here!
This idea from Confetti and Other Fun to use a file organizer is so smart! No more searching through everything in the glove box when you need the important stuff. Find it here!
This is so smart. Instructables shows us how to create a pop up shelf for your trunk. Imagine the possibilities… more space, no squished groceries, stinky sports gear separated from the rest of the car… I can think of so many ways this would be helpful!
This Mom's Emergency Kit by I'm an Organizing Junkie is the bomb when it comes to being prepared for almost anything. Throw this in the glove box or in the trunk and you are good to go!
This side car seat organizer puts everything in reach. I love that you can put your cell phone, gum, really anything and it is all within arms reach. Find it here!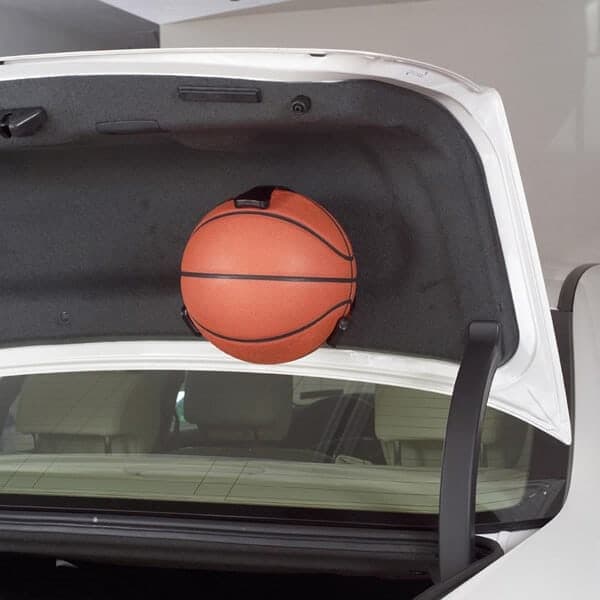 The ball claw might be my new favorite gadget. If you have kids who travel with balls to practice or just for fun, there is nothing more annoying than balls rolling all around and even falling out when you open the back of the car. Just saying! Find it here!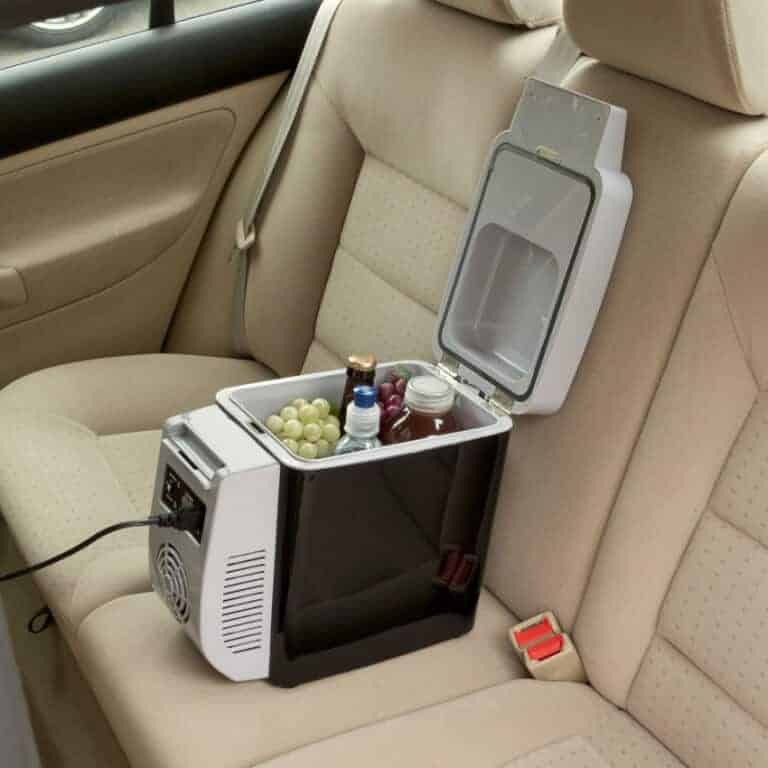 How about a portable fridge to keep snacks cool? Perfect for road trips. This is cooler than your average cooler! Find it here!
If the portable fridge is too pricey for you, this backseat organizer with cooler will absolutely do the trick! Your kids will have everything they need from head phones, a drink holder and a cooler full of snacks. Find it here!
This is such a smart idea! Side caddies that wedge beside your seat. No more lost items and you score some extra storage space. Find it here!
The Krazy Coupon Lady has some great ideas for car organization, but my favorite of hers is using silicone cupcake molds to line your cup holders. Just take them out and wash for spills and crumbs. So smart! Find them here!
This idea featured on HGTV takes dollar store items and uses them for portable lunch totes. Find it here!
Grey House Harbor really is a smart lady. She uses suction cup shower caddies to organize her kids stuff in the back seat. Find them here!
Looking for more amazing hacks? I've got you covered!