These DIY Stress Relief Tips are Amazing! From stress balls, to essential oils to fidget spinners. These stress relieving techniques will help put your mind at ease.
Stress Relief Tips and Techniques that will ease your mind, body and soul
Love it! Pin It to your DIY Board on Pinterest and SAVE it!
Follow Princess Pinky Girl on Pinterest for more Food, DIY, Travel & MORE!
Stress can rear its ugly head in just a matter of moments. We pack our schedules so tightly, that one thing changing could cause mass hysteria.
We have meetings, games, gatherings, ceremonies, parties, competitions… you name it and they can leave you feeling frazzled. Between kids, aging parents, spouses, neighbors and friends, our commitments and responsibilities can really take a toll on our mental, emotional and physical health.
There have been stress relievers out there for years. My earliest memory was the balls that you could squeeze to get rid of that excess cortisol.
Today, I want to share some DIY Stress Relievers and some great products that can really help you relax. So get ready for some great ideas on how to keep that stress level low and your mind at rest!
Let's see those DIY Stress Relievers and Products…
These DIY Rainbow Glitter Bottles are really cool. Little Bins for Little Hands shows us how to make our own.
She refers them as calm down bottles for kids, but I think all ages can benefit from these.
They can be very mesmerizing which makes them a great alternative for a time out, time in, or just a break from the stress of the day.
These peppermint bath salts made from essential oils are sure to help ease the tension of your day.
Pamper yourself with an at-home spa like treatment that will leave you feeling relaxed and totally refreshed!
Do you use essential oils? I really love them and this Sandstone Essential Oil Diffusing Necklace allows you to add a few drops of your favorite oils and be on your merry way.
The stone is very porous and will absorb the oil quickly, but the scent will be super effective and you can use your favorite brand and oil with this necklace.
Or Checkout this Aromatherapy Necklace from Esty! It works the same way as the diffusing necklace above, but comes in many different shapes and sizes!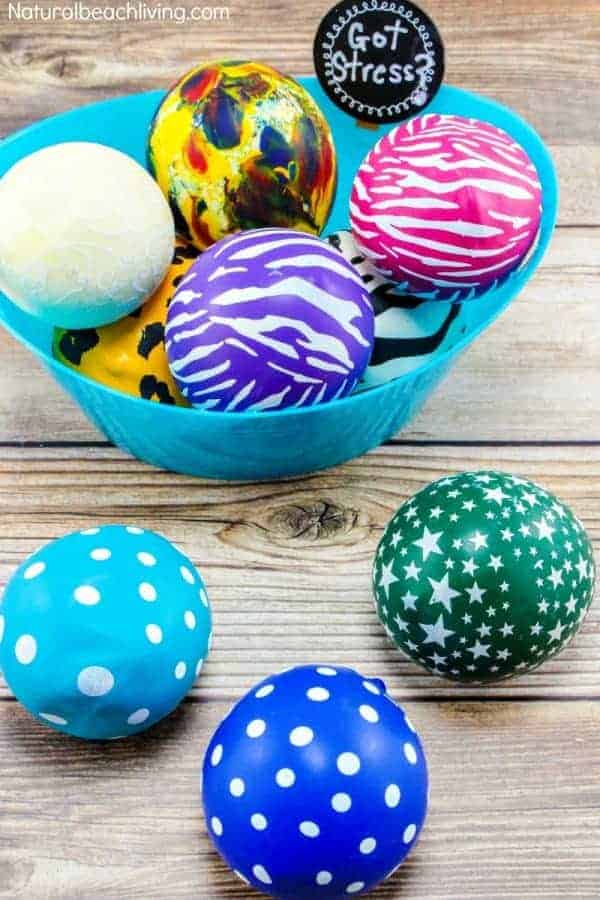 Natural Beach Living shares her version of making these super fun and colorful stress balls.
These super cool squishy balls are perfect for fidgeters, children with Autism, Sensory Processing Disorder, Anxiety and probably every child and adult we know. They stretchy and squeezy and oh so much fun!
I love this Lavender Bath Soak. The lavender scent is known to be soothing and calming and can eliminate stress from the moment it reaches your skin.
The flower contains antiseptic qualities that can reduce any inflammation, aches and pains-all naturally. Combined with oatmeal and Epsom salt, this is truly a power-packed soak.
Oatmeal soothes dry, irritated, and itchy skin while cleansing at the same time. Epsom salt helps with aches, relaxes the nervous system, and releases toxins from the body.
Have you ever tried using a scalp massager?
It is an amazing experience and can really help calm and settle your nerves. Using a scalp massager increases circulation and blood flow.
It also helps to relieve stressed muscles that can relieve aches and pains. Many say it can produce deep relaxation and help to relieve stress.
I love that it is compact and has no odor if you have anyone that is especially sensitive to smells in your home or office.
Sunny Day Family shares from her ancestors an easy way to create your own DIY Zen Garden.
Zen gardens have been thought to be a natural stress reliever by quieting the mind with this relaxing activity. I've never tried one, but this really has me wanting to check it out.
It looks like the sky is the limit as far as what you want to add to make a zen garden that is all your own. That sounds like half the fun!
Mom on the Side shared a round up of how to make your own Fidget spinners.
She describes their purpose perfectly, too! "If you are wondering what Fidgets Spinners are, they were designed to be stress-relievers for children. They have since become a hot "toy" for kids and teens across the country.
I choose to have my son leave his fidgets at home when going to school, but he does use them to calm his anxiety and emotions at home. Whether kids are using them for the intended purpose or as a toy, I think they are a great idea and something fun the kids are into beyond video games and smartphones. " I have to agree!
The internet is full of slime making videos, tutorials and there are tens of hundreds of recipes out there.
Lemon Lime Adventures has made something totally different. It is Calming Glitter Slime and it has so many benefits!
Since this slime is extremely resistant and thick it provides a great deal of deep pressure and joint compressions. As you squeeze, fold, roll, and even pull the slime, you are sending signals to your brain that are calming and organizing! It also calms your mind.While you twist, turn and roll the slime in your hands, you mind is almost immediately taken off guard.
By providing a sensory stimulus, you brain is now thinking that you are not in danger and there is no reason to be stressed and alarmed. So very cool! I definitely would love to try out this recipe.
Do you guys have any great tips or products that are good stress relievers? I know we'd all love to hear about them!
Be sure to pin this post for later when you are in stress mode…