Summer is almost here and we are all ready for those long summer days and warm summer nights. Here are some great DIY backyard ideas that will get your backyard all ready to celebrate summer!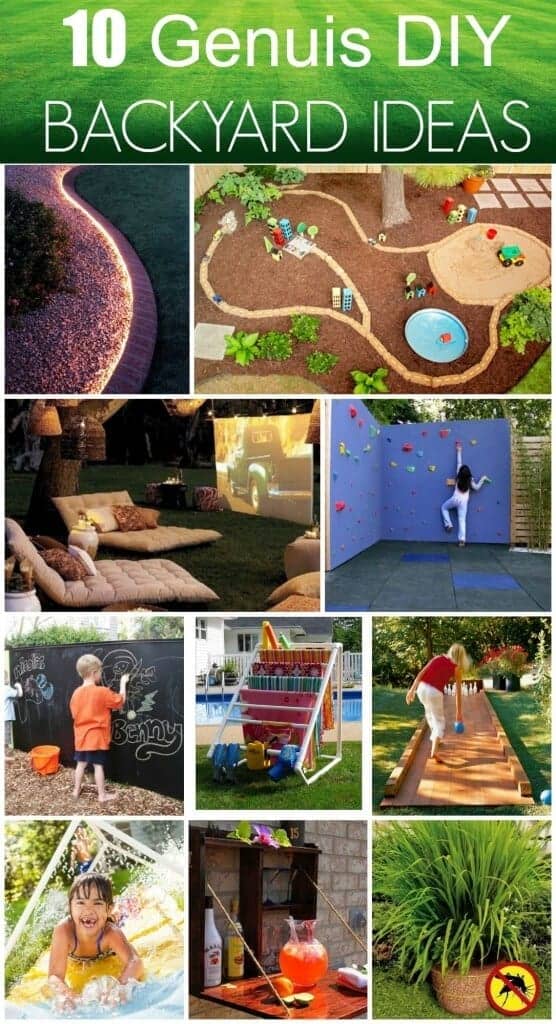 Are you ready for summer? Well I am and I am ready to transform my backyard with these amazing DIY Backyard Ideas. These easy DIY backyard ideas will totally transform your backyard into an oasis that you will never want to leave and will make your house the envy of your neighbors.
I love any easy DIY idea and this DIY Backyard Tightrope from Kids Activity Blog is such a great idea to spruce up your backyard into an awesome activity focused play area for the kids!
I mean, come on – what kids (or adult) would immediately want to play this Giant Backyard Game Board. Those HUGE dice would be so fun to roll! Such a fun and fantastic idea from The 36th Avenue!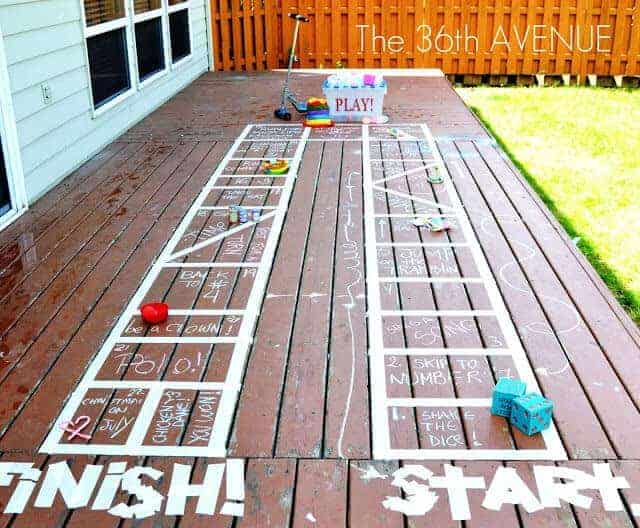 Use rope light to line walkway or edging. Not only is this great to create an illuminating ambience that will make your backyard glow, but it is also great for safety at night!
Plant lemongrass to repel mosquitoes from Buzzfeed. I have tried this and it works!! Lemongrass is an inexpensive and effective way to chase away mosquitoes. It is also great way to decorate your yard!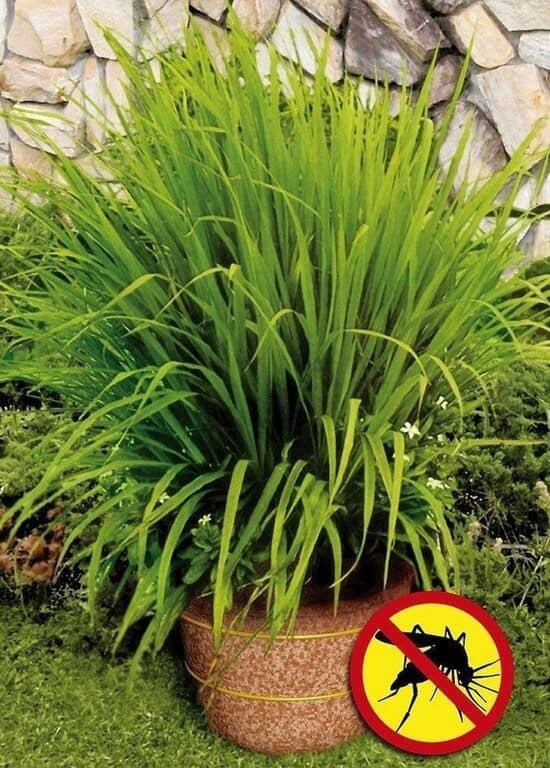 Build your own backyard rock climbing wall from TSM Interactive. How great would this climbing wall be in your yard? I know my kids would love it! It is also so great to keep them active and exercising!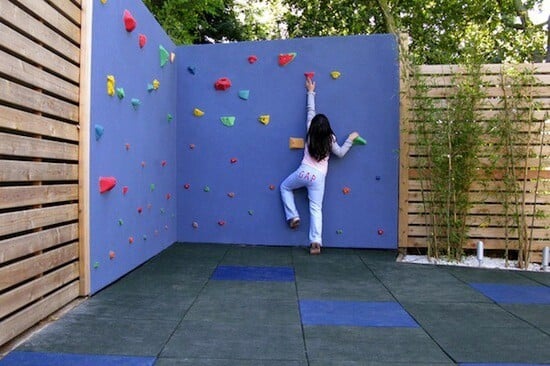 Make a PVC pool towel rack from Towelmaid . Anyone who has a pool can understand the need for this DIY towel rack! I hate having wet towels left all around the pool deck and this would give a great place for them to dry out. The pool noodle storage in the back is a total added bonus! (Bonus: Don't want to make your own, Towelmaid will make it for you! Click here to order one now and for more information!)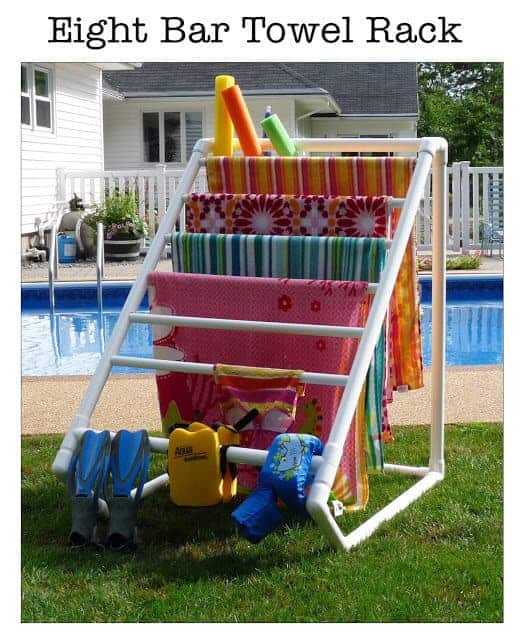 Build a backyard bar from Turtles and Tails. No matter how much space you have, there is just never enough counter and serving space. What I adore about this bar is how it nicely folds up and doesn't take up valuable backyard space.
Build a backyard movie theater from Momtastic. I mean seriously, what isn't better than a warm summer night, hanging outside with friends, (with a glass of wine for the adults), popcorn for the kids – all watching a movie on a huge screen! My kids would go crazy over this!
Interested in making your own Backyard Movie Theater – here is everything you need to know about Making your Own DIY Outdoor Movie Theater
Build a backyard bowling alley. There are so many fun games you can play outside, but who would have ever thought of bowling!! This would rock my world!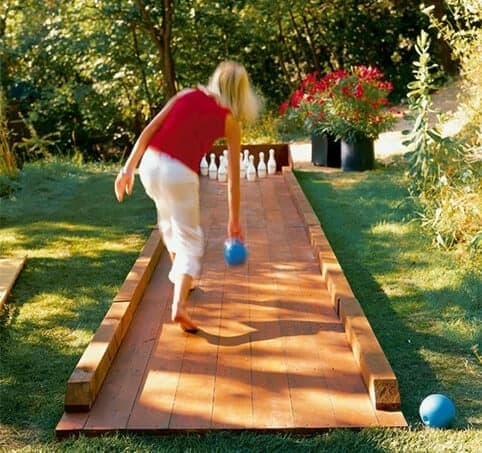 Make an outdoor chalkboard from My House and Home. Keep the mess of the chalk dust outside and use the rain to clean off the board – genius!
Tunnel of Fun Water Sprinkler from Lowes. The only thing better than a slip and slide is a slip and slide with water come from all sides! This is an easy DIY project that will keep the kids cool and busy on those hot summer days!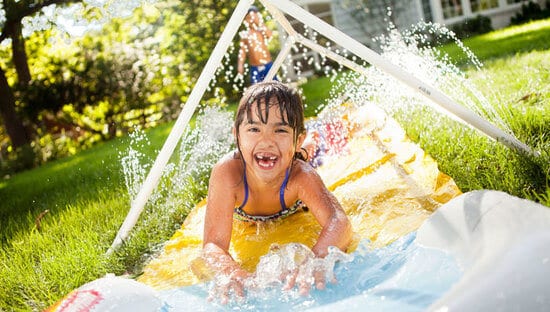 Fun backyard play area from Lowes. Who said a backyard had to be all grass to have fun. I would have gone nuts playing with this easy to create backyard play area!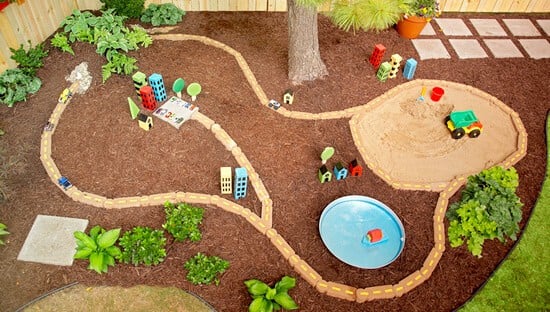 This outdoor playhouse has it all from Crafty Morning. I mean, I can't even!! This has it all!! I mean chalkboard wall, sandbox, activity wall and it is all covered to keep bad weather or harsh sun away from your little ones!
Looking for some other fun ideas – click on the pictures below:
DIY BACKYARD HACKS – Who doesn't love a good hack? Well, these are not only good, they are GREAT!
DIY BACKYARD WATER PARK – It is getting hot outside and these awesome ideas will help keep you nice and cool!
More Fun Backyard Ideas – Love all of the ideas in this article – well here are some more!