The DIY backyard movie theater is becoming all the rage! There is something totally magical about sitting outside on a warm summer night, with the stars shining above you, with all of your friends sitting on picnic blankets and watching a movie on the big screen.
Learn everything you need to know about creating your own DIY Backyard Movie Theater in no time at all!

DIY Outdoor Movie Theater
There is nothing as wonderful as a warm summer night! Now, imagine sitting in your backyard, under the stars, in a cozy chair, with all of your friends, watching a classic movie at your own Backyard Movie Theater!
Something is totally magical about sitting outside on a warm summer night, with the stars shining above you, with all of your friends sitting on picnic blankets and watching a movie on the big screen.
That's right! Now, creating your own outdoor movie theater isn't just for the rich and famous. Follow these easy steps and you too can have a Movie Theater in your own back yard – and it doesn't have to break the bank!!
Maybe it is reminiscent of the times when I was really little and we still went to drive in movies. Whatever it is, there is just something about watching a movie outside that I love.
So, how can you create your own DIY Outdoor Movie Theater? It is easy…you only need a few simple things:
An outdoor movie screen
An outdoor movie projector
Comfortable seating
GREAT MOVIES TO WATCH! (be sure to scroll down, because I have a great list for you!
Looking for some other GREAT BACKYARD IDEAS – You must see my post on Backyard Games!
Finding the right Outdoor Movie Screen for a backyard theater!
There are many options out there for your outdoor theater screen. But first you need to decide between buying it or DIY'ing it!
DIY backyard movie theater screen – Don't be scared…you can do it!
Dave Banks, from Wired, has an amazingly detailed tutorial on how to make your own DIY Outdoor Movie Theater Screen for $122!! His instructions are amazing and it honestly doesn't look that hard to make!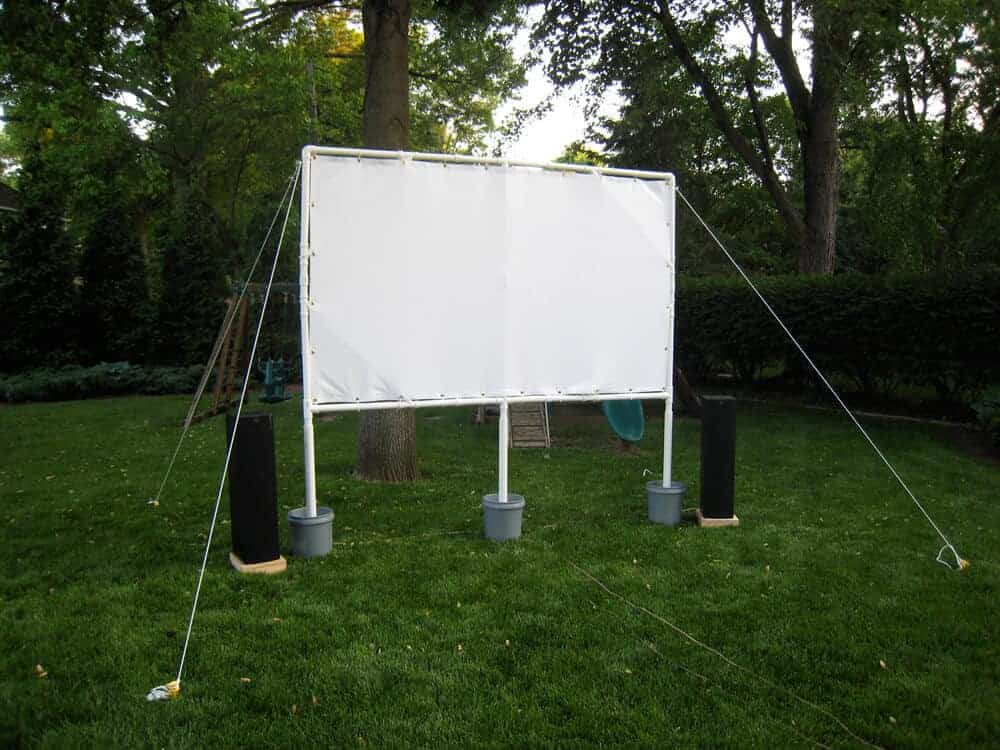 Don't want to chance it and make your own movie screen – not to worry! You can buy one – AND they aren't very expensive. This inflatable Outdoor Movie Screen is very reasonably priced and deflates down to nothing so it is great for easy storage! There are a ton of options out there to purchase. See some great screens here!
How to choose an outdoor movie projector for a backyard theater?
There are so many projectors out there, but it is important to not cheap out on it. From what I understand, it is all about the lumens (this is the amount of light that a device projects). Basically, the more lumens, the better. The larger the screen, the more lumens you will need.
Here are a few good options that I found:
This ViewSonic projector is a mid range model that is both affordable and gets amazing reviews!
This ViewSonic projector is on the more expensive side. It has 3D capabilities and full HD resolution. This also gets amazing reviews, but expect to pay top dollar for this model.
This Epson projector is an Amazon Best Seller and won't break the bank! People rave about it in their reviews and it seems to be a good solid option for a great price!
What are the best Outdoor Speakers?
When setting up your outdoor movie theater, you will need something to provide the sound. Outdoor speakers used to be a fortune, but now they come in all shapes and sizes and are very affordable. You can get a whole lot of sound, in a variety of speakers.
The Wonderbook Waterproof Bluetooth Speaker is a great option. It is super easy to pair and you can link more than one speaker to your audio source (and it comes in a whole bunch of cute colors!)
Another great option is the Bluetooth Rock Speakers from Sound Appeal. They get great reviews and blend into your landscape!
The Photive Hydra Wireless Bluetooth Speaker has tons of amazing reviews and it is extremely reasonably priced. This speaker is small, powerful and priced just right!!
Setting up your Outdoor Movie Theater
Obviously, one of the important things to plan for is the dark! Regardless of how great of a screen and projector you use, you need it to be dark out for optimal viewing!
You will also want to know how to connect your devices to your projector! It is easy to do and should only take a few minutes! You can connect most of them to your smartphone, iPhone, laptop, speaker and TV!
Then, you need to make sure you have some great seating! you can go with the foldable lawn chairs option (source: The Awesomer)!
Or get a little more campy with the bonfire (source unknown)
I adore these DIY Backyard Theater seats from Not Just a Housewife – they are a great DIY project and they look super easy to make!!
10 Great Movies to Watch Outdoors in your Backyard Movie Theater!
Now…. the most important part! THE MOVIE!!! Fire up your Netflix, because they have the Best Movies to Watch at your Outdoor Movie Theater Party!!
What I love about Netflix is their amazing search engine! You can select the type of movie you want and then even drill down farther based on who is in your audience.
There are so many great movies available, but these are our top ten list of Movies to Watch in our Outdoor Movie Theater for this summer!
E.T. The Extra Terrestrial – A sure fire classic! Break out the Reese's Pieces!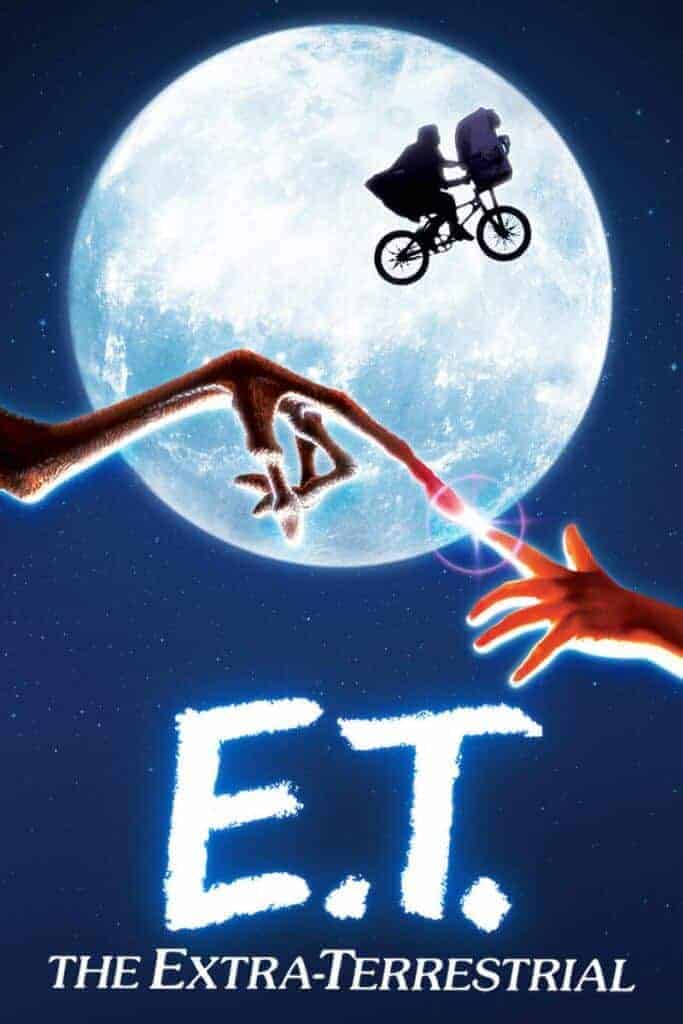 2. Forrest Gump – Tell me you don't get sucked into this one every time it is on!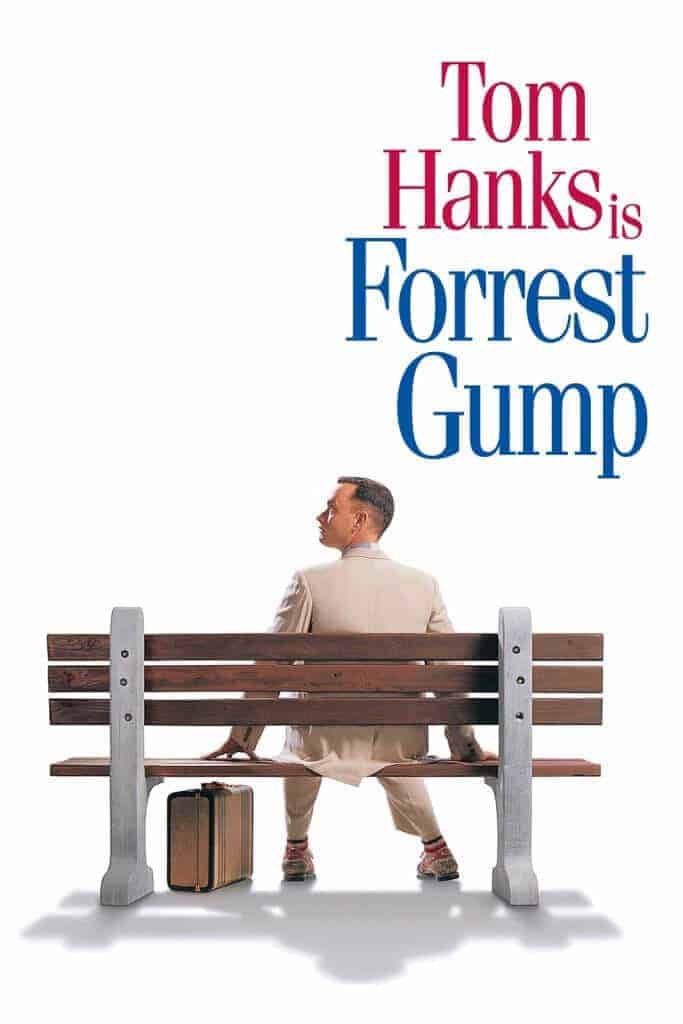 3. Pirates of the Caribbean – It is hard not to love this movie – especially the brilliant performance by Johnny Depp
4. The Jungle Book – This live action version remake of the animated classic is a family favorite. The all star cast is amazing!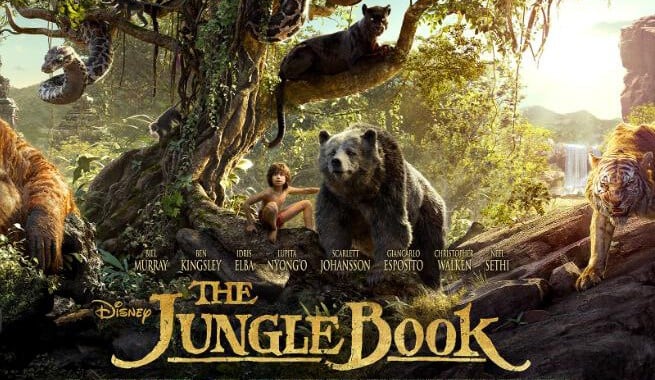 5. Captain America – Civil War – Because super hero movies are fun!
6. High School Musical – Your older kids won't be able to resist and your younger kids will become obsessed and you won't be able to not hum along!!! "We're all in this together….".
7. Gremlins – Nothing better than Gremlins! Just don't feed them after midnight!!!
8. Minions – Who can resist these guys? Seriously, who?
9. Adventureland – this "R" rated film may not be for the little one's, but it will bring you back to the summer of '87!
10. Grease – Need I say more?
Now, tell me your favorite Netflix movie to watch? We are always looking for some suggestions!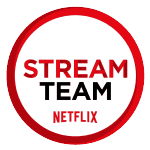 I am very excited to be a member of the Netflix Stream Team! That's right – I am a lucky girl – Netflix provides me with their amazing streaming services and I get to tell my kids "sorry, I can't help you right now, I am working", while watching The Crown!! #STREAMTEAM
Disclosure – This post is part of a sponsorship partnership with Netflix – all opinions are 100% my own.