Cruise Ship Scavenger Hunt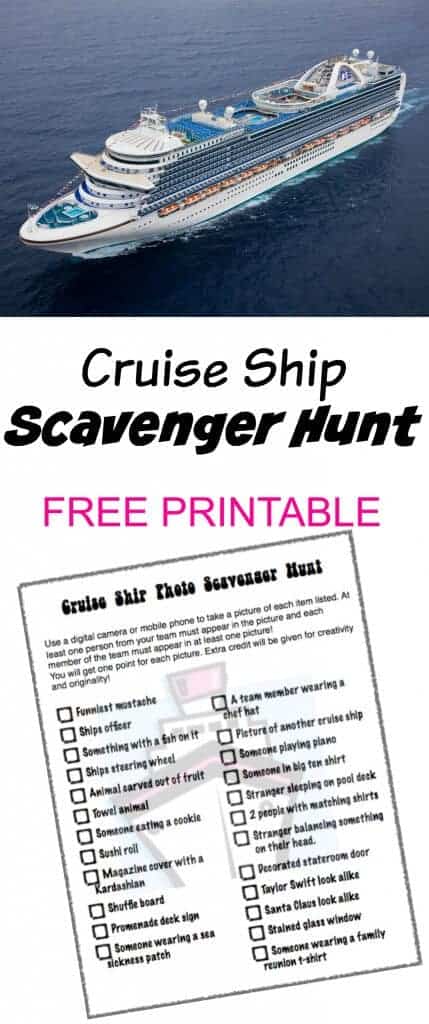 We have taken a lot of cruises, some with our kids and some just the two of us – we just love them! There is so much to do and so much going on. We recently returned from a week long Alaska Cruise on the Ruby Princess. It was beyond amazing! An Alaskan cruise is a little different from a Caribbean cruise. On a Caribbean cruise, you are either busy at a port or enjoy the beautiful weather by the pool. Cruising to Alaska, the weather can be a bit unpredictable – there were some days that we were up on deck in a tank top and shorts and others were even in the pools – not what you would normally expect being surrounded by snow capped mountains and glaciers. There were some other days that were cooler and a little on the dreary side.
The good news is even on the days where the weather wasn't ideal, there was a ton of things to do. We loved the TRX classes in the wonderfully appointed fitness club. The spa was amazing and we each got incredible massages (click here to see the Lime Ginger Body Scrub that I created based on this great spa treatment). There were a ton of activities, like martini making lessons, bingo, movies and I am always happy to find a nice quiet place to curl up with my book!
While we didn't bring our kids, there were a ton of kids on board. Princess offers a really nice kids area with great programs for all ages. When Adam and I got to talking about one day wanting to bring our kids on a cruise to Alaska, we starting brainstorming things we would do with them on the cruise days. We thought it would be really fun to do a family cruise ship photo scavenger hunt at sea! So while we were there, we created this one in anticipation of our next cruise!
Printable Cruise Ship Photo Scavenger Hunt
(click on the picture below & print)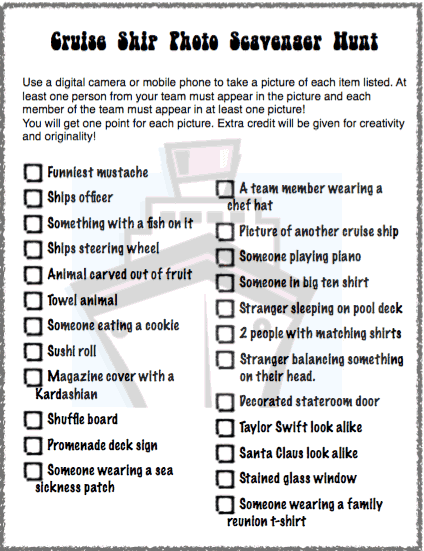 Disclaimer: This post is part of my partnership with Princess Cruise Lines – all opinions on Princess Pinky Girl are always my own!!
Check out some of my other posts on cruising to Alaska (click here) including my helpful packing list and exursions to book!! (or click on the pictures below)