Fact or Fiction – Copycat Neiman Marcus Chocolate Chip Cookies
Regardless…they are amazing!
You may have heard the story where a woman was at Neiman Marcus for lunch and had their amazing chocolate chip cookies. She asked the waitress for the recipe and she was told that it would cost her "two-fifty".  Well, $2.50 seemed reasonable for a recipe, so she said okay. When she got her credit card bill, she was charged $250 and they would not refund her – so now she has made it her mission to spread the recipe to all ends of the earth to get her money's worth.  Neiman's has responded that this story is no more than an urban legend and there is no truth to it.
So the other day, me and some girlfriends went out to celebrate our friends birthday and we had a wonderful lunch at Neiman Marcus – it really was wonderful – such a special place to celebrate a special occasion. So this story came up and we HAD to order the cookies – OMG, let me tell you, they really are crazy good – I know why people everywhere are trying to copycat them.
My girlfriend, Erica, and I decided we had to try this – we had to try to make copycat Neiman Marcus chocolate chip cookies! Erica is one of my best cooking buddies – she taught me to make Grandma Gail's Ice Cream Cake and the very loved Left Over Candy Cookie Skillet (biggest problem here is who ever has candy left over!) So Erica and her adorable son, Brandon (who was off of school) came over and we got to work. Let me tell you, we nailed it! These cookies were amazing and the best news is that I have a new cookie tester – Brandon owned that job!!!
Here is what you need:
1 cup butter (take out about 30 minute before to let it warm up)
1 cup sugar
1 cup brown sugar (well packed!)
2 eggs
1 teaspoon vanilla
2 cups flour
2 1/2 cups old fashioned oatmeal
1/2 teaspoon salt
1 teaspoon baking powder
1 teaspoon baking soda
3 Hershey chocolate bars grated (or approx. 4 ounces of any type of chocolate)
2 cups semi sweet chocolate chips
1 1/2 cups chopped walnuts (optional)
Here is what you do:
Preheat oven to 375 degrees.
Grease your cookie sheet.
Blend oats into a fine powder (I used a blender, but a food processor will work too!)
In a large bowl, cream together butter and both sugars.
Beat in one egg in at a time and then add the vanilla.
In a medium sized bowl, combine the oatmeal, flour, salt, baking powder and baking soda.
Slowly add this to the large bowl and beat until combined.
Stir in grated chocolate, chocolate chips and optional walnuts.
Drop heaping teaspoons onto greased cookie sheet.
Bake for 8-10 minutes (all ovens cook differently, you will want to remove them when the edges begin to brown)
Enjoy!
Looking for some other amazing copycat recipes? Click on the pictures below: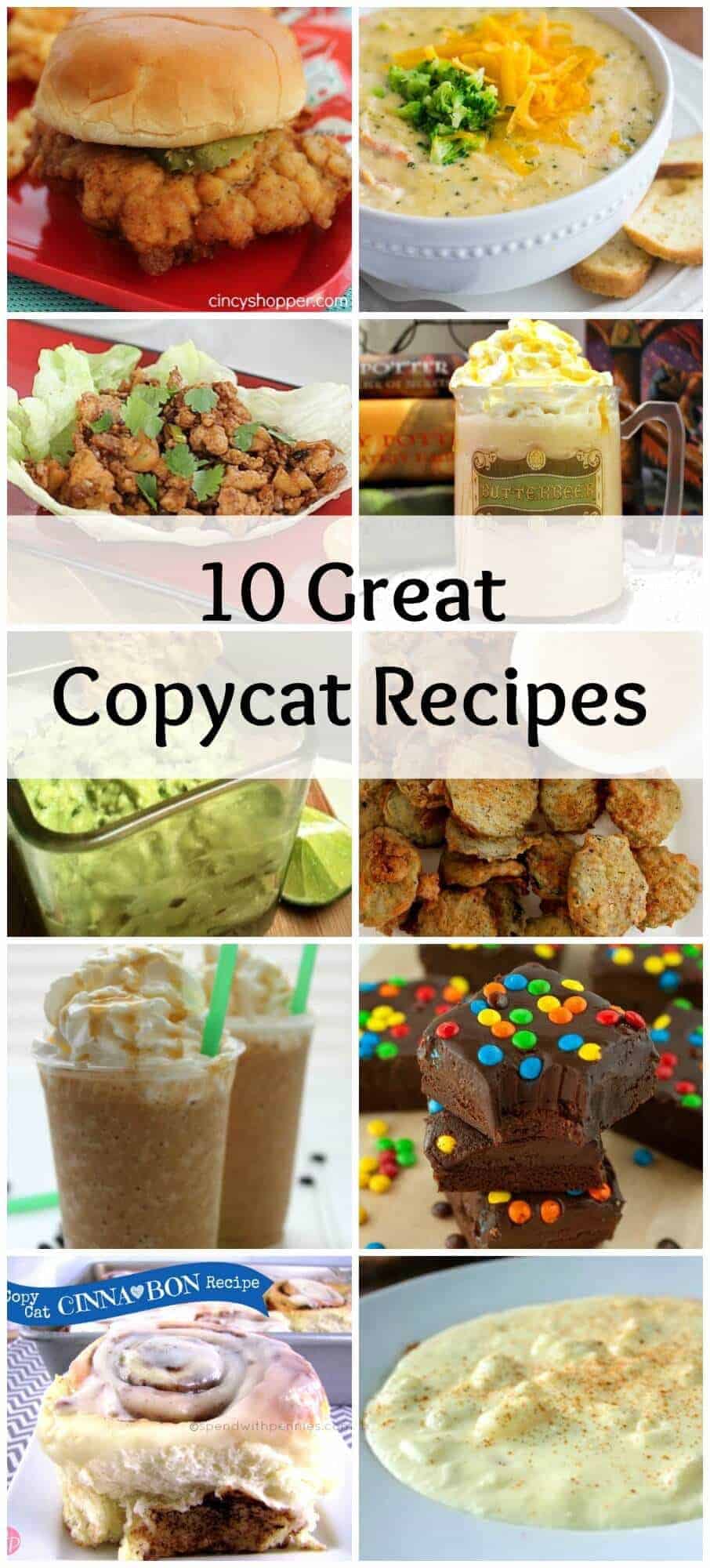 Sign up for the Princess Pinky Girl Newsletter and automatically receive our latest & greatest delivered right to your inbox! Follow Princess Pinky Girl on Facebook, Twitter, Pinterest and Instagram for all of the newest recipes, crafts, travels and updates!
If you make a Princess Pinky Girl creation make sure you take a picture and share it on Instagram with @princesspinkygirl ! I love seeing your masterpieces!