This post may contain affiliate links. Read my disclosure policy here.
This Caramel Apple Coffee Cake is the perfect Fall treat. With a butter base and deliciously sweet cinnamon crumb caramel apple topping, it will make you swoon.
Fall is the time for apple recipes and we have a ton! We hope you will enjoy some of our favorite apple recipes like our Overnight Stuff Apple Pie French Toast, Mini Apple Pie Bites and our Caramel Apple Dump Cake!

Best Caramel Apple Coffee Cake
Are you a lover of all things fall? Do caramel apples in any combination make your mouth water? Then grab a cup of coffee (or tea or hot chocolate) and a slice of this delicious Caramel Apple Coffee Cake and get ready for something drool worthy!
Hey Folks! Jackie here from The Seaside Baker, and I am back with a breakfast cake that is perfect for those chilly Fall mornings.
Living in Southern California definitely has its advantages, but for someone who love the seasons, it also has it drawbacks. After having lived in Switzerland for many years, I long for cold mornings and the visible changes of the seasons.
Love it! Pin It to your Dessert Board on Pinterest and SAVE it!
Follow Princess Pinky Girl on Pinterest for more Food, DIY, Travel & MORE!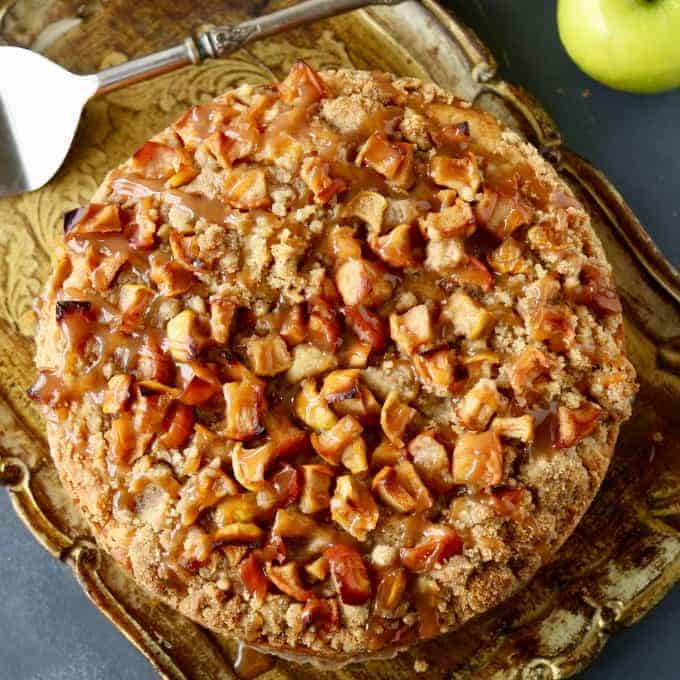 In order to get into the Fall/holiday mood, I actually have to do it manually. I light my holiday scented candle and turn on my Christmas music.
Yes, even in August I do this. There's just something about the holidays that gets me in a good mood and my creative juices flowing!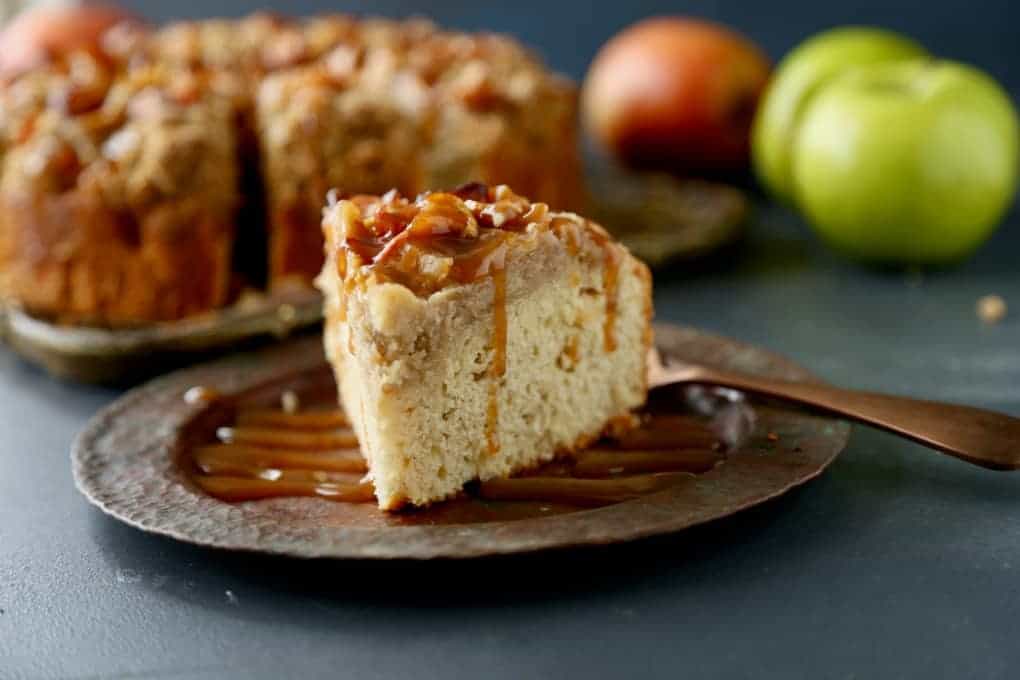 I clearly have passed this onto my children as well as their mood can be manipulate with the perfect scent as well.
On morning when I have a bit of extra time, I try to make a nice breakfast. It is really hard to wake up in a bad mood when you smell sweet cinnamon apples slowly baking into a brown sugar crusted buttery cake.
This Caramel Apple Cake is a sure way to get everyone out of bed with a smile on their face!
This cake can be also served as a dessert. Eat as is with a decadent drizzle of caramel, or top it with a scoop of vanilla ice cream for a delicious sundae a la mode.
This time of year I love baking with cinnamon and apples. For more recipes, check out my Fresh Apple Bundt Cake (where I talk again about how we use our senses), Apple Pie Sugar Cookie Bars, and Baked Apple Crisp.
AND, don't miss out on Princess Pinky Girl's most famous recipe, Caramel Apple Crisp Bites – I dare you to try to eat just one!
Ingredients needed for the BEST Caramel Apple Coffee Cake
Flour
Sugar
Baking Powder
Salt
Unsalted Butter
Eggs
Milk
Vanilla Extract
Brown Sugar
Ground Cinnamon
Apples
Caramel Topping
Caramel Apple Coffee Cake
This Caramel Apple Coffee Cake is the perfect Fall treat. With a butter base and deliciously sweet cinnamon crumb caramel apple topping, it will make you swoon.
Prep Time: 15 minutes
Cook Time: 45 minutes
Total Time: 1 hour
Course: Breakfast, Dessert
Cuisine: American
Servings: 12 slices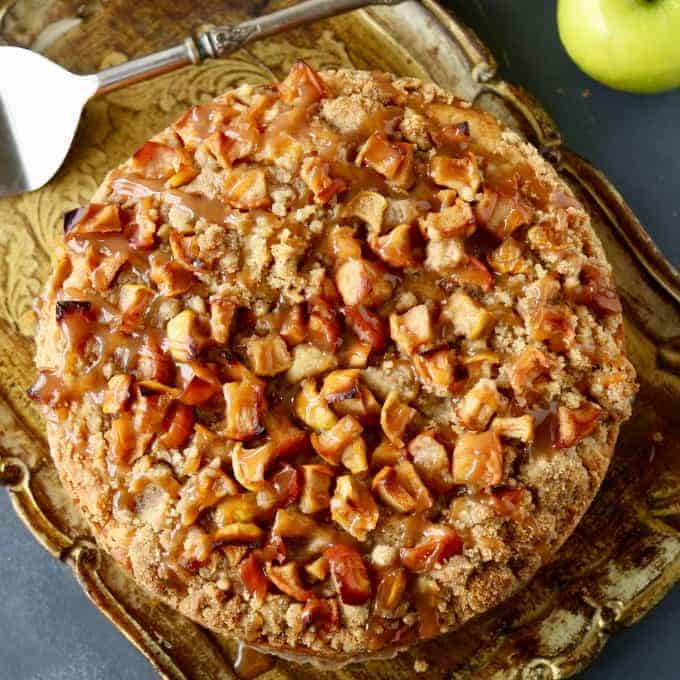 Ingredients
3 cups all-purpose flour
1 cup granulated sugar
3 teaspoons baking powder
1 and 1/2 teaspoon salt
8 tablespoons unsalted butter (melted and cooled slightly)
2 large eggs
1 cup milk (room temperature)
2 teaspoons pure vanilla extract
Topping
1/2 cups all-purpose flour
3/4 cup light-brown sugar (firmly packed)
2 teaspoons ground cinnamon
1/4 cup unsalted butter (melted)
2 apples (cored and chopped coarsely)
Caramel Sauce (for garnish)
Instructions
Preheat oven to 325 degrees. Spray a 9inch round baking pan with nonstick cooking spray.

In in a bowl combine flour, sugar, baking powder, and salt.

In the bowl of your mixer, beat 8 tablespoons melted butter, eggs, milk and vanilla extract until combined.

Stir in flour mixture.

Pour batter into baking pan.

To make the topping, combine the flour, melted butter, brown sugar, and cinnamon. Mix until small pea-sized clumps form.

Combine with chopped apples.

Sprinkle topping over the batter.

Bake for 45-50 minutes or until a knife is inserted and comes out clean.

Cool for 15 minutes before serving.

Drizzle with caramel sauce if desired.
Nutrition per serving
Calories: 392kcal | Fat: 13g | Saturated fat: 7g | Cholesterol: 59mg | Sodium: 317mg | Potassium: 227mg | Carbohydrates: 64g | Fiber: 1g | Sugar: 34g | Protein: 5g | Vitamin A: 440% | Vitamin C: 1.4% | Calcium: 95% | Iron: 2.1% |
Keyword: Apple, Fall desserts
Sign up for the Princess Pinky Girl Newsletter and automatically receive our latest & greatest delivered right to your inbox! Follow Princess Pinky Girl on Facebook, Twitter, Pinterest and Instagram for all of the newest recipes, crafts, travels and updates!
If you make a Princess Pinky Girl creation make sure you take a picture and share it on Instagram with @princesspinkygirl ! I love seeing your masterpieces!