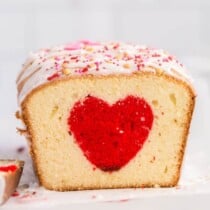 A delicious pound cake with a heart peekaboo-ing in the center! 
Jump to Recipe
Our Valentine's Day Cake has a wonderful surprise inside when you slice into it! A delicious pound cake with a heart peekaboo-ing in the center!
This cake is super easy to make and can be adapted for any occasion!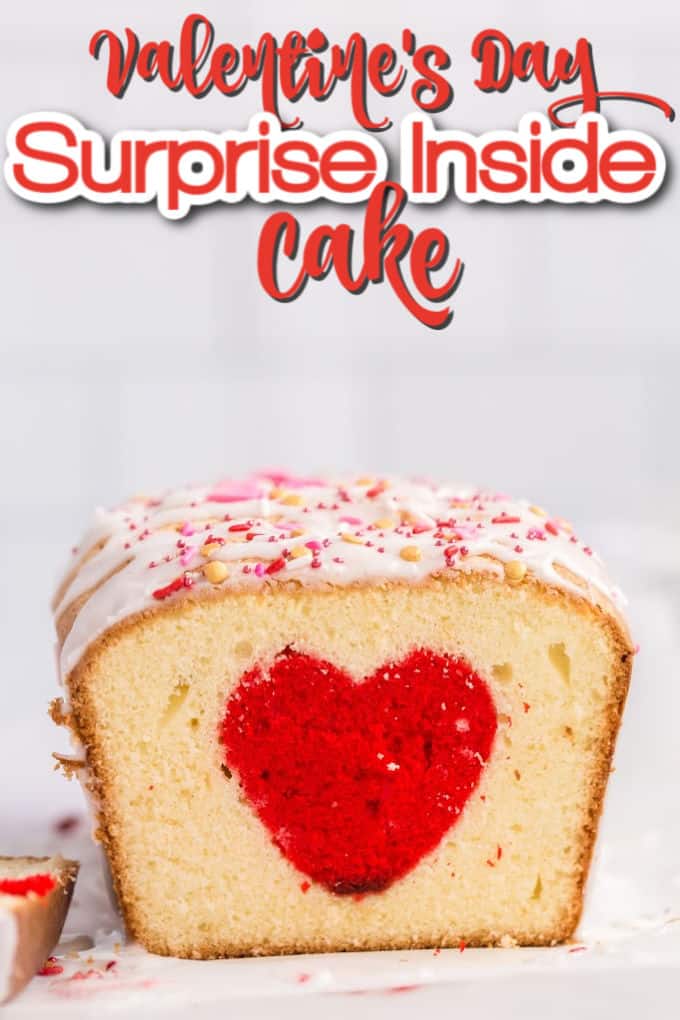 Valentine's Surprise Inside Heart Cake
Your friends and family are going to go crazy for this adorable Valentine's Day dessert. We absolutely love the yummy pound cake and the peekaboo heart in the middle of the cake will be the perfect Valentine's Day surprise treat.
Best of all, while this may look complicated, it is actually a super easy recipe using a boxed cake mix.
This cake was inspired by the queen of all cakes, I Am Baker. I obsessed over her surprise inside cakes for years and am so excited to have perfect my own version!
Surprise Inside Cake Ingredients
Eggs
Butter
Water
2 boxes Betty Crocker Pound Cake Cake Mix
Red gel food dye
Powdered sugar
Milk
Valentine's sprinkle mix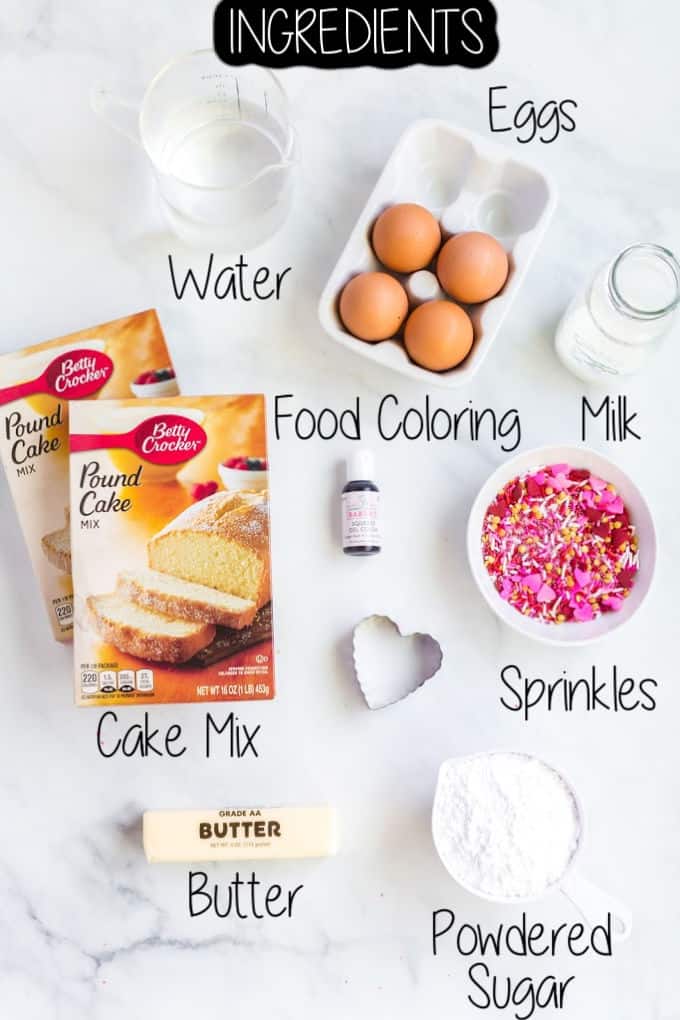 Tools Needed
2 ¼ inch heart cookie cutter
9×5 loaf pan
Baker's Joy
Note: An exact 9×5 pan is a MUST for this recipe. I did not start with a 9×5 pan and my batter overflowed (The top opening of the loaf pan should measure exactly 9×5 inches.)
How to Make A Suprise Inside Cake
We are basically making 2 cakes and merging them together!
Mix your first cake batter with your gel food coloring and bake it.
Cut that cake into slices and cut out the hearts from the slices using your cookie cutter.
Place the cut out hearts standing upright along the loaf pan in one straight line (see photo).
Make the second pound cake and gently pour it around the sides of the heart cut outs and over the top.
Bake and then let cool.
Once cooled, glaze the top and add sprinkles!
How to A Make Cake Glaze
Mix 1 cup of powdered sugar.
Add milk 1 tablespoon at a time until you've reached your desired thickness.
I generally like my glaze to be really thick so it stays in place on whatever you are glazing.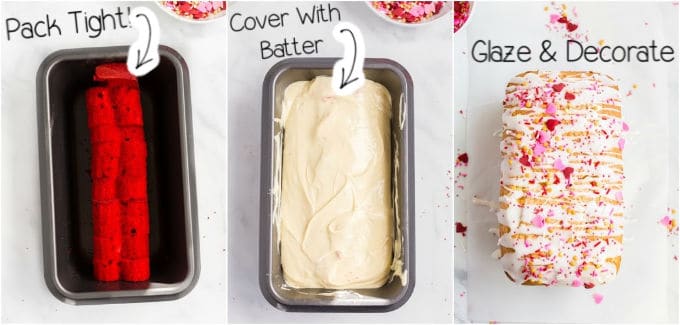 Frequently Asked Questions
Can I use a homemade pound cake recipe?
While I haven't tried it, I've seen a couple of other people who have used a homemade pound cake with good luck.
Why did my batter overflow?
It's imperative that you use a 9×5 loaf pan for this recipe. Any pan remotely smaller will result in an overflow.
How do I know if my loaf pan is 9×5?
Use a tape measure to measure the top part of the loaf pan. It should be 9 inches by 5 inches exactly. I used this pan from Target
Do I have to use gel food coloring?
To get a deep vibrant red, I highly recommend using gel food coloring, purchased in the cake supply department or craft store versus the gel found in the regular baking aisle.
Where did you get your gel food coloring?
I prefer to buy gel food coloring in a squeeze bottle, versus buying the kind in the jars. It's much easier to squeeze out the gel instead of scooping it out a little at a time. I like this kind!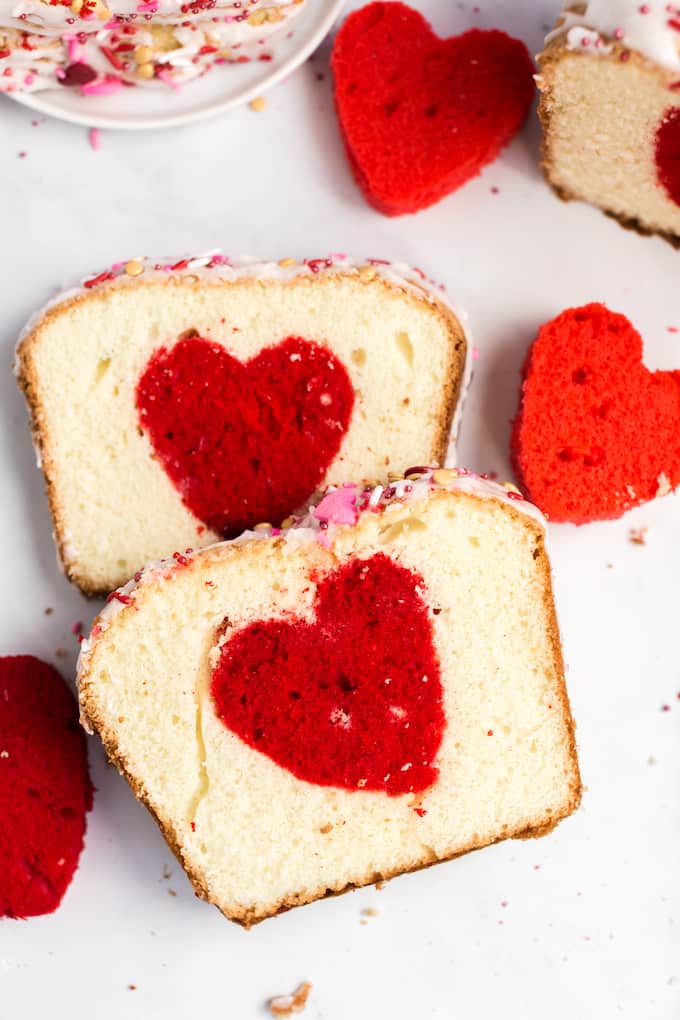 I have a 3-inch heart cookie cutter. Can I use that one?
I started out with a 3-inch cookie cutter, but as I was cutting out pieces from the red loaf, a 3 inch was too big to cut out the hearts from the end pieces. Using a smaller cookie cutter meant that I could get a heart from each slice of the loaf. And because they were smaller, I didn't have to worry about this sticking out above the batter.
I searched high and low for the right size heart cookie cutter and finally bought this set from Walmart. I used the smallest heart in this set (it was 2.2 inches according to the product information).
Why did my hearts rise to the top?
Make sure your hearts are packed in tight in the pan before pouring in the batter.
I trimmed off the ends of one loaf I made and found that in doing so, I left too much space between the hearts as it baked. It caused the hearts to move around and to the top. So don't cut off the ends, even just a little bit. Pack 'em in there!
What is Baker's Joy?
Baker's Joy is my best friend when I'm baking! It's a combination of non-stick spray and flour! It works like a charm! If you don't have Baker's Joy, you can line the pan with parchment paper.
DRINKS: Cotton Candy Champagne Cocktail | Cotton Candy Mocktail
DESSERTS: Chocolate Covered Strawberry Ladybugs | Chocolate Chip Cookie Hearts | Valentine's Day Snack Mix | Valentines Day Cookie Cups
CLASSROOM GIFTS: DIY Heart-Shaped Crayons | Love Bug Snack Cup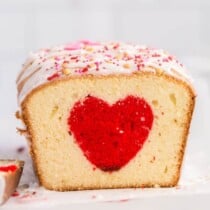 Valentine's Surprise Inside Heart Cake
Cook Time
1

hour
25

minutes
Total Time
1

hour
55

minutes
Ingredients
4

eggs

½

cup

butter

1 ⅓

cup

water

2

boxes

Betty Crocker Pound Cake Mix

1-2

teaspoons

red gel food dye

1

cup

powdered sugar

1-2

tablespoons

milk

Valentine's sprinkle mix
Instructions
In a medium bowl, add one box of cake mix, 2 eggs, ¼ cup butter, 2/3 cup of water and 1 teaspoon red gel food coloring.

Mix on low for 30 seconds and then turn the mixer up to medium and mix for another 1-2 minutes, until batter is smooth. Add additional food coloring if needed.

Spray a 9x5 loaf pan with Baker's Joy and pour red batter into the pan.

Bake at 350 for 45 minutes.

Remove from the oven and let cool for 1 hour in the refrigerator.

Remove the cake from the refrigerator and turn out onto a clean surface.

Using a bread knife, cut ¾ inch thick slices. Use the heart cookie cutter to cut out a heart out of each piece. Set the hearts aside.

Make the second pound cake, mix butter, water, eggs and cake mix until smooth.

Spray a clean 9x5 loaf pan with Baker's Joy and place the hearts in the bottom of the pan. (To keep the hearts from falling over, I used a scrap piece of cake to wedge in the end to keep the heart pieces in place. See photo for example).

You can also pour a little of the 2nd batter into the pan before putting the hearts in, as a base.

Gently pour the prepared pound cake batter onto the sides of the cake and then over the top. Gently shake the pan to make sure the batter settles around the hearts. Remove the "wedge".

Bake at 350 for 40 minutes or until a toothpick inserted into the side comes out clean. (All ovens bake differently, It doesn't need to bake the full amount this time. Keep your eye on it and remove when done).

While the cake is cooling, make the glaze. Mix 1 cup of powdered sugar. Add milk 1 tablespoon at a time until you've reached your desired thickness. I generally like my glaze to be really thick so it stays in place on the loaf.

Remove from oven and let cool.

Glaze and add sprinkles. Let set before slicing and serving.
Jenn's Notes
Note: The ingredient list contains what you need to make both boxes of cake mix.
An exact 9x5 pan is a MUST for this recipe. I did not start with a 9x5 pan and my batter overflowed (The top opening of the loaf pan should measure exactly 9x5 inches.)
Nutrition Info
Calories:
129
kcal
|
Carbohydrates:
10
g
|
Protein:
2
g
|
Fat:
9
g
|
Saturated Fat:
5
g
|
Cholesterol:
75
mg
|
Sodium:
91
mg
|
Potassium:
20
mg
|
Sugar:
10
g
|
Vitamin A:
316
IU
|
Calcium:
12
mg
|
Iron:
1
mg