This post may contain affiliate links. Read my disclosure policy here.
These Valentine's Day DIY Heart Crayons are the perfect homemade Valentine's Day project and gift to hand out at your child's classroom party
Are you looking for an easy DIY Valentine's Day or Halloween class gift? Something non-candy, no sugar, peanut free and all of that? These Valentine's Heart Shaped Crayons will be a classroom party favorite!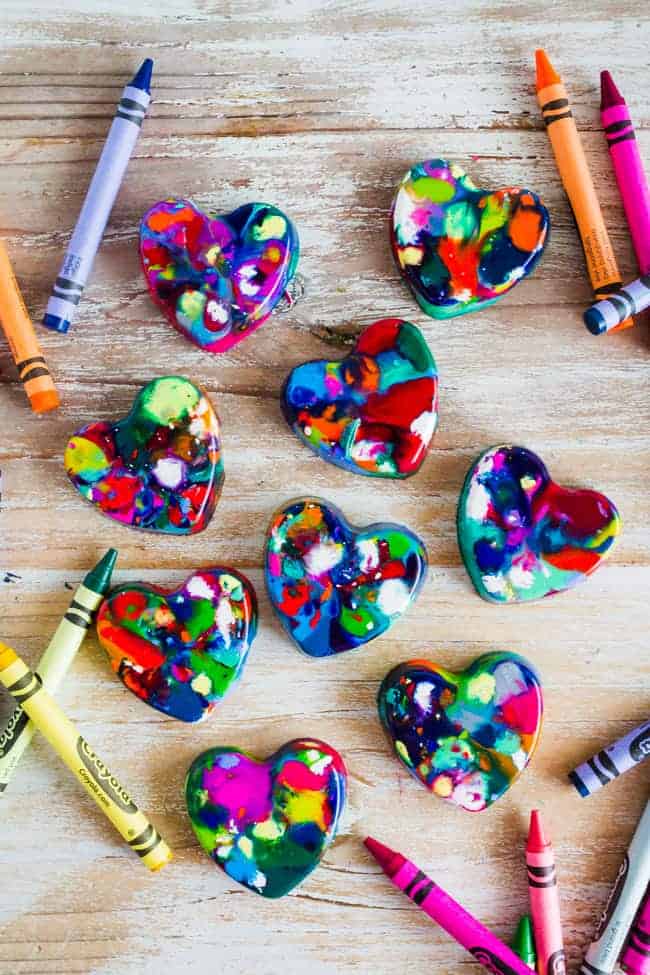 Valentine's Day is coming and I don't know about you, but I am always looking for creative ideas to give out for my kids Valentine's treats that aren't candy!
Many schools now restrict any type of food treats in the classroom, so I am always looking for some non-candy Valentine's Day treats.
These Valentine's Day Heart Crayons are simply perfect!! If you are looking for some other great Non-Candy Valentine's Day treats and gifts – check out some of these!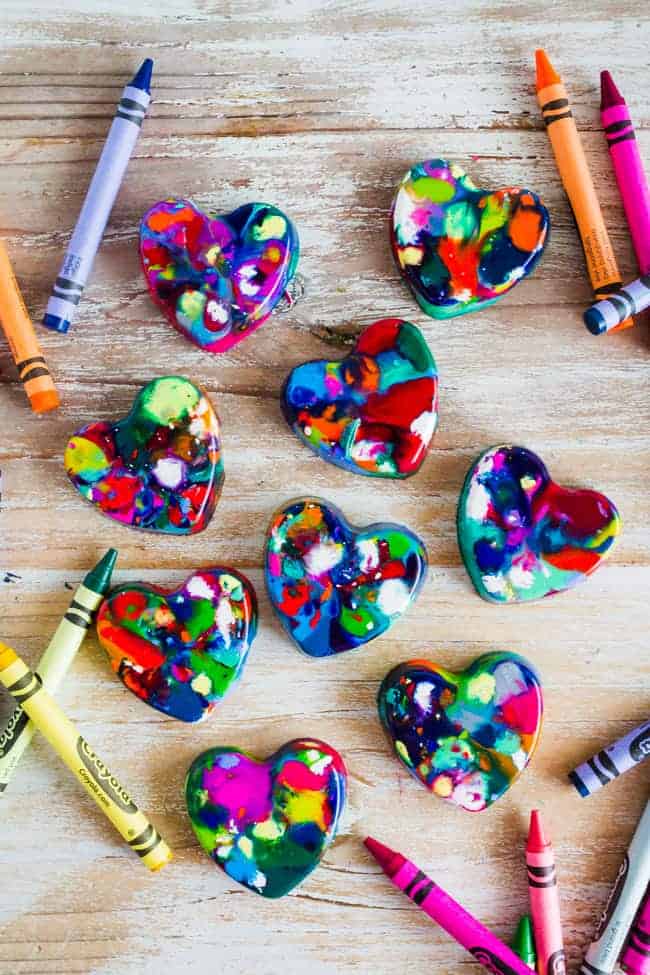 Also, if you are a ROOM PARENT looking for a great Valentine's Day Classroom project, I have a huge round-up of some fantastic ideas – be sure to check them out!!
These Valentine's Day Heart Crayons are super easy to make. We have a ton of broken crayons laying around the house. This is the perfect use for them AND the more broken the better!!!
This is also a great project to work on with the kids – let me tell you, taking the paper off the crayons, is probably the most time consuming part. My recommendation is using a super sharp knife to slice the paper off. Just be careful!
What are some other ways to get the paper off of the crayon? Some readers mentioned some other great ways to get the paper off easily. One said to soak them in water for a few minutes and they peel right off. Like I said, I used a super sharp knife to slit a line done the crayon and it came right off (obviously, be very careful – don't want any knife accidents)
How to make Homemade Heart Shaped Crayons
See this video for a step by step how to or the instructions below:
Steps to make your own Heart Shaped Crayons
Preheat oven to 250 degrees
Peel the paper off of all of the crayons and break into small pieces
Place different color pieces in each of the heart molds (I like to make sure to have some light colors and some dark colors in each. I try to put at least a small piece of white in each one). Some people like to separate the crayons in like color categories. Up to you…have fun with it!
Place on a cookie sheet in the oven for about 12 minutes. Please note: all ovens cook differently. You will want to watch for the crayons to melt completely, but take them out before all of the colors mush together too much!!
Take out of the oven and let them cool completely. The crayons should pop right out of the molds!
Want to make other adorable shaped crayons? You could use any of these molds and the same method: (affiliate links)

Looking for some other Valentine's Day treats – just click on the pictures below:
These Easy Valentine's Day Projects are great to work on with the kids!
Looking for a super easy and delicious Valentine's Day treat? These Valentine's Day White Chocolate Oreo Hearts barely involve any "cooking" – it is more like melting!! They are great and if you put them in a cute little bag, they make a super Valentine's Day gift!
Have any Lego fans? Then I have the perfect Valentine's Day treat for you! Jolly Rancher Lego Valentine's. Again, no baking, just melting! They are seriously the easiest thing to make and your kids will literally flip over them!! 
Sign up for the Princess Pinky Girl Newsletter and automatically receive our latest & greatest delivered right to your inbox! Follow Princess Pinky Girl on Facebook, Twitter, Pinterest and Instagram for all of the newest recipes, crafts, travels and updates!
If you make a Princess Pinky Girl creation make sure you take a picture and share it on Instagram with @princesspinkygirl ! I love seeing your masterpieces!