THE BEST Valentine's Day Crafts, Treats and Projects!
Valentine's Day is the best! It is so nice to take this day and tell those special people in your life how amazing they are – with candy (and Valentine's Day crafts too – cannot forget the projects!!!)
I could celebrate Valentine's Day all year round! I love all of the hearts, candy and of course, the pink! This year, I search Pinterest for the best of the best – these were the Valentine's crafts, Valentine's treats and Valentine's Day classroom projects that were the top pinned on Pinterest – here is what I found!
/div>
Treats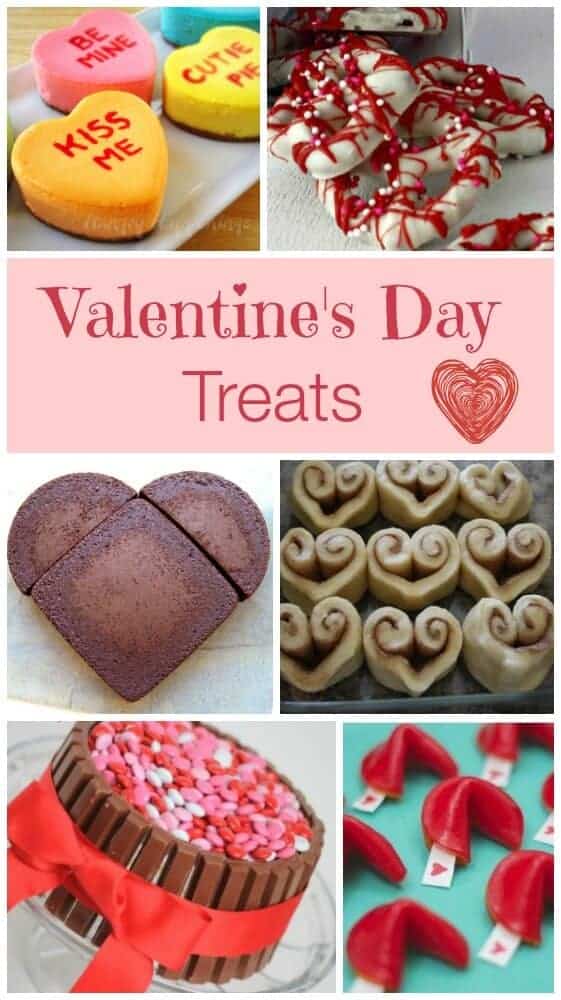 Let's be honest – Valentine's Day treats are what it is about – I mean who doesn't love something yummy in the shape of a heart? Right? Now, there are so many tools to help you be successful in your Valentine's Day dessert efforts – I live for these heart silicon baking molds – I use them for EVERYTHING – I just made these super cute and easy VALENTINE'S DAY CHOCOLATE HEART BOWLS – that's right, you can actually EAT The bowl!! – check them out if you get a chance – you will for sure wow your Valentine with these bowls!

Chocolate Heart Bowls (these were the bowls I was telling you about!!) – they are easy to make and sure to impress your special Valentine!
Chocolate Covered Pretzels from The Rebel Chick
Valentine's Day Bowl from Time 2 Save Workshops
Heart Shaped Cinnamon Rolls from Poppies at Play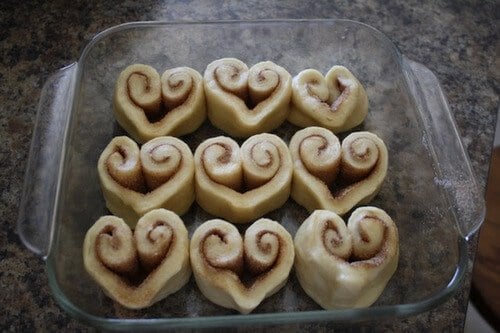 Conversation Hearts Cheesecakes from Hungry Happenings
Heart Shaped Cake (without a heart shaped pan!) from BetterRecipes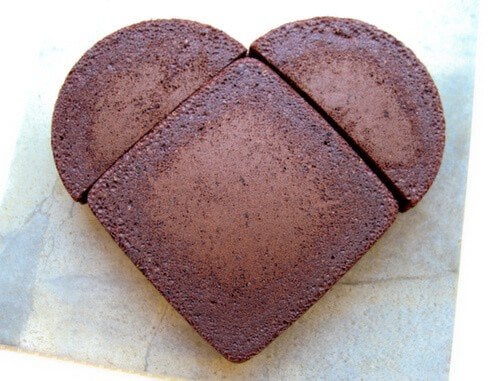 Fruit Roll Up Fortune Cookies from She Knows
Crafts:
Valentine's Day is for sure fun for all of those yummy treats and desserts, but we also love it in my house for the crafts! It is a great weekend activity to start decorating the house for Valentine's Day with all of those hearts and of course, crafts where you can place your chocolate and candy in! Valentine's Day crafts are fun for the whole family – I love crafting with my kids and girlfriends and it is especially great on those cold winter days when you are looking for something to do! So get the kids off that Xbox, Wii or Playstation – and give them some scissors, glue and glitter (glitter makes everything better)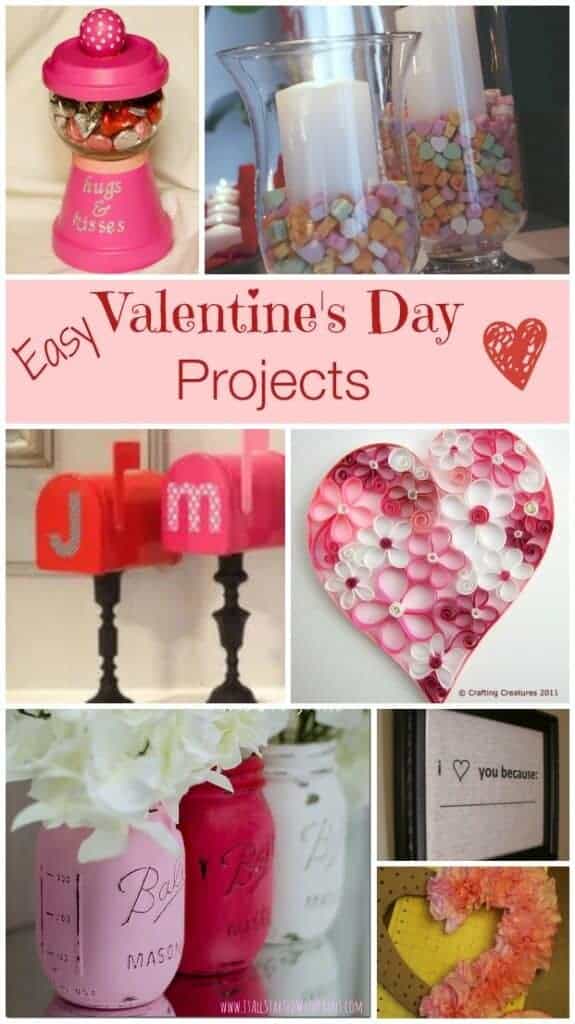 Coffee Filter Valentine's Wreath from Bye Bye Soccer Mom
Valentine's Day DIY Gumball Machine from Joy Unexpected
I Love You Because Wipe Board from Super Savings Blog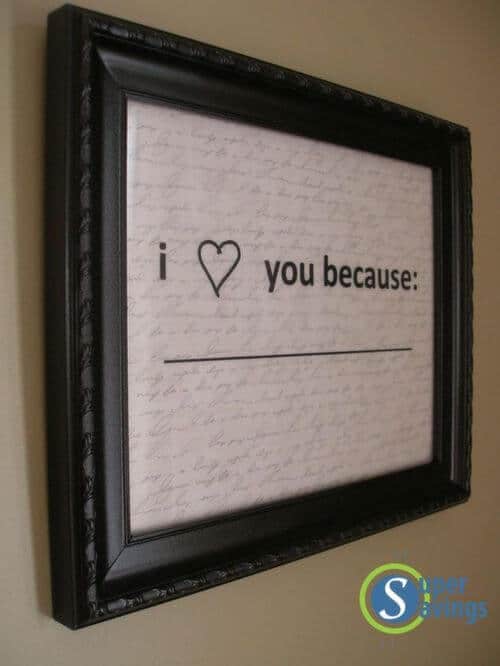 Heart Full Of Flowers from Crafting Creatures
Valentine's Painted Mason Jars from It all Started with Paint
Conversation Heart Vase from It's the Little Things That Makes a House a Home
Classroom Party Ideas:
Having been a room mom for so many years, I have spent countless hours trying to find the perfect Valentine's Day Classroom Party projects and crafts. Valentine's Day Projects are so fun for the kids, but it is important to find the right one for the right age. You don't want something that is too easy and only takes a few minutes. But, at the same time, you don't want something that takes up your whole allotted time – I mean there must be time for the treats and games…right!
Some really nice ideas for Valentine's Day crafts are one's that can be give to the parents as DIY Valentine's Day gifts – all parents love those handmade cards and projects and this is an excellent time to do that!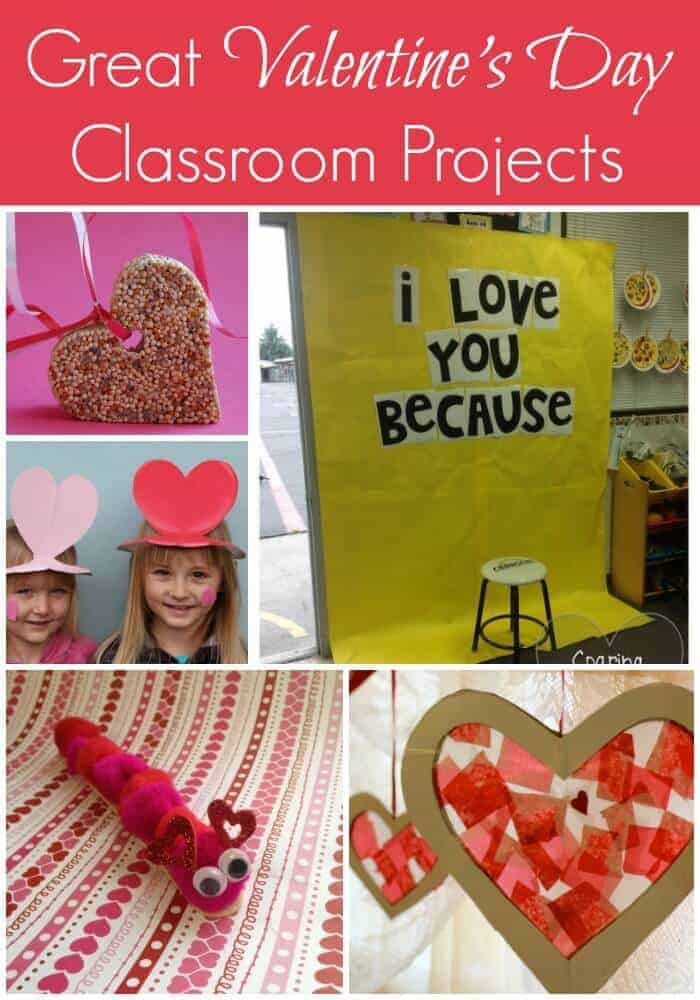 I Love You Because Backdrop from Soaring Through Second – This one requires a little more time, but how adorable is this. Have each child write why they love their parents (or grandparents, sibling, aunt) on a dry erase board. Bring in a color printer and take the pictures with your Smart Phone – print them right there and then. Go to the dollar store and grab some inexpensive frames and let the kids decorate them – BAM! You have a picture, handmade gift and a great keepsake!! LOVE this idea!
Paper Plate Hats from Alpha Mom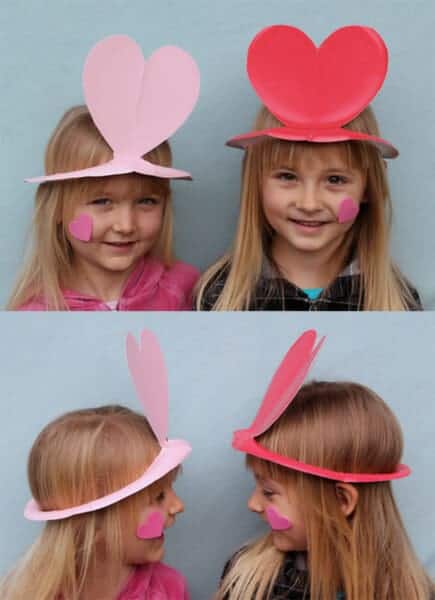 Valentine's Day Suncatcher Craft from Makobi Scribe
Valentine's Day Bird-feeder from Wine and Glue
Looking for some other great Valentine's Day ideas – click the pictures below!
Easy Valentine's Class Party Crafts
Non Candy Valentine Class Gifts