I am sure each one of you has asked yourself "What's a girl to do with all of those extra mini candy canes that she found on sale for 90% off at Target after Christmas?" – Well, fear not my friends – I have a project for you!! Candy Cane Valentine Suckers!!!
I originally found this idea from Sprinkle Some Sunshine (their's came out much cuter than mine, so check them out!! They also have some other great ideas!!). They did a great job walking me through how to create this adorable Valentine's treat. If you are even the least bit hesitant, don't be – this is a super easy, on the easy to hard scale. I did it on my first shot (which says a lot for me!) I know these will be a huge hit with my 3rd graders classroom this Valentine's Day!
What you need:
Mini candy canes
Candy Melts
Sucker sticks
Sprinkles
Preheat over to 350. Line a baking pan with parchment paper and lay the sucker stick out on the pan staggered (after doing a few trays, I found staggering and flip floping the hearts helped with space – see three pictures below). Take two mini candy canes at place the on either side of the stick to make a heart.
Put the pan in the oven for about 2-5 minutes – it depends on your particular oven. Mine took a little longer – but my oven stinks! Watch for them to get soft. You don't want them melted, just soft enough to manipulate. They will start to get a little shiny and then give them a try.
Pinch the bottom of the heart together and to the stick and the top of the two pieces together and to the stick. You have to work fast… if they begin to cool down, just stick them in for a few more minutes. Let them cool completely.
Place the candy melts into a microwave safe dish and and heat on 50% power for 1 minute and stir. Heat in 30 second intervals and stir until the candy is melted (be really careful not to overheat). Use a teaspoon to spoon the candy into the center of the heart. Add the sprinkles to the melted candy while it is still soft.
Let cool completely. ALL DONE!! THAT'S IT!!! It is that easy!!
I took little clear bag and some ribbon to create a cute little Valentine's gift!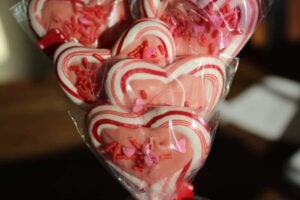 Looking for some other Valentine's ideas – check out these posts:
Non-Candy Valentine Gifts for Classrooms
Valentine's Day Crafts
Valentine's Day Treats