This post may contain affiliate links. Read my disclosure policy here.
Three things I love – Valentine's Day, cookies and silicon molds. I kid you not, silicon molds are my newest obsession to bake and craft with!
This is why these Valentine's Chocolate Chip Cookie Hearts is the trifecta of perfection!! Not to mention, they are incredibly easy to make and pretty much "mess up" proof for those of you like me who can be cooking challenged!
As you know, Valentine's Day pretty much revolves around the ability to provide a yummy treat to your favorite Valentine. That is why Valentine's Day cookies are a guarenteed win!
The best news – you really don't even have to do much more "cooking" than putting them in the oven. You can use pre-made cookie dough and then turn out fabulous (or if you are extra motivate, use your favorite make them from scratch chocolate chip cookie recipe)!!
They also would be great with sugar cookies or any other type of cookie you and your Valentine love. Get your kids to help you and great creative with the decorations and these Valentine's Day Chocolate Chip Cookie Hearts can make a fun kids activity!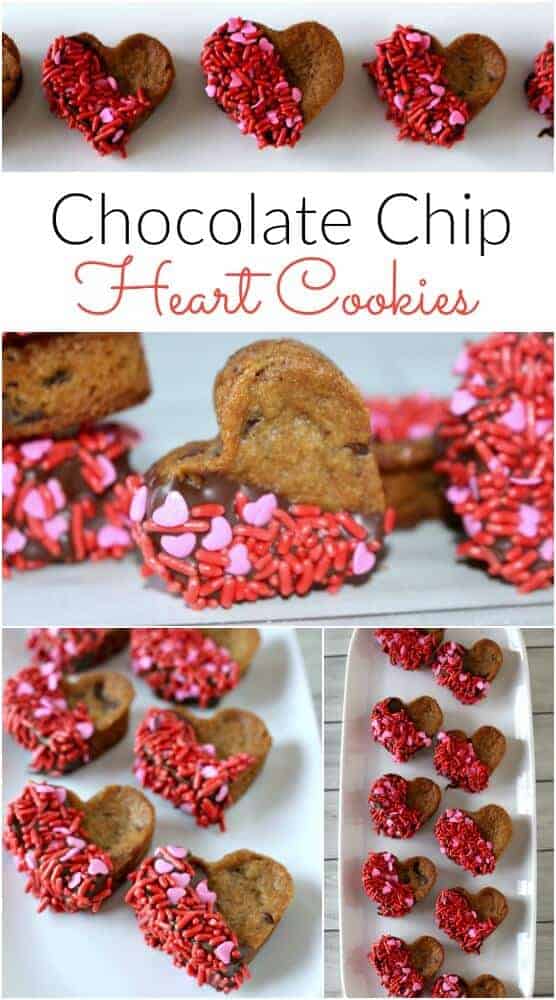 These Chocolate Chip Cookie Hearts not only make a really yummy treat, but they also make a super cute little Valentine's gift for your friends and family!
See the how to video and instructions below:
Here is what you need:
Heart shaped silicon mold (I got mine here)
Refrigerated cookie dough (or you can make your own!)
Dipping Chocolate (see here)
Sprinkles! (There are a ton to choose from – see some here)
Wax paper
Here is what you do:
Preheat oven to 350 degrees.
Fill each heart shaped cavity firmly with the cookie dough (about 3/4 full). Make sure it is pressed down nice and tight.
Place the mold on a cookie sheet and place in the oven for about 10-13 minutes or until sides begin to get golden brown.
Take out of oven and let cool COMPLETELY!
Loosen the edges of each heart mold and gently pop out. (mine popped out without even loosening – I did not grease the molds before)
Place the sprinkles in a small bowl and lay out the wax paper.
Melt the dipping chocolate according to instructions on the packing.
Dip half of the cookie in the chocolate and then immediately in the sprinkles and lay on the wax paper until the chocolate hardens.
Enjoy!
Looking for other great Valentine's Day treats – just click on the pictures below:
These Valentine's Day White Chocolate Oreo Heart Bark is a favorite in my family. The great thing is, if you have the heart mold already, you can use it for this too!
Different types of bark have become my new favorite and go to dessert. This Sweet and Salty White Chocolate Popcorn Bark is the perfect combination. Put it in a cute tin or bag and serve it up for a yummy (and easy to make) Valentine's Day Treat!!
Not really sure exactly what type of treat you want to make for Valentine's Day – no worries – here is a great round-up of some of the most popular Valentine's Day treats around – check them all out and let me know which one is your favorite!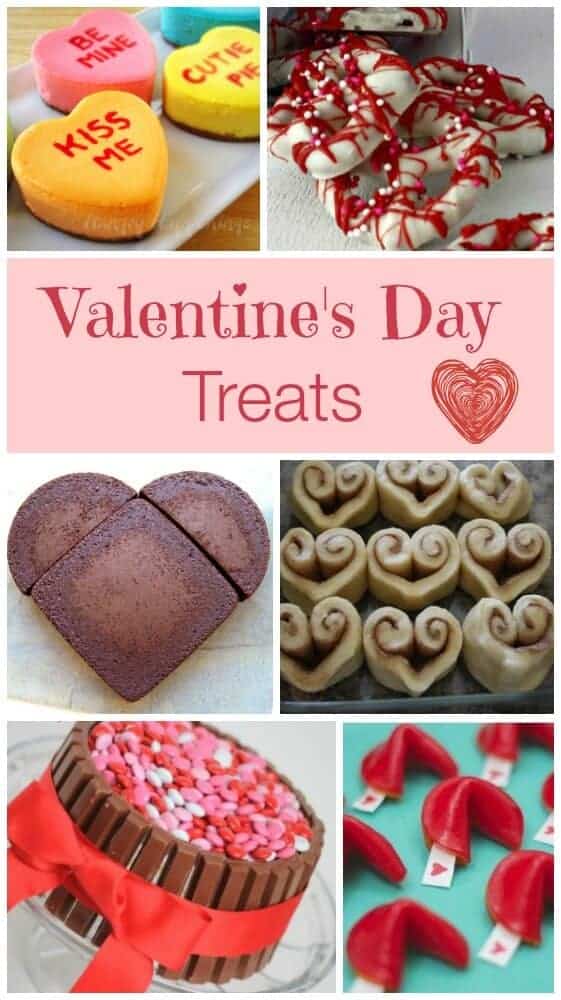 Sign up for the Princess Pinky Girl Newsletter and automatically receive our latest & greatest delivered right to your inbox! Follow Princess Pinky Girl on Facebook, Twitter, Pinterest and Instagram for all of the newest recipes, crafts, travels and updates!
If you make a Princess Pinky Girl creation make sure you take a picture and share it on Instagram with @princesspinkygirl ! I love seeing your masterpieces!