Cozy Coupe Makeovers are so fun! With garage sale season around the corner, find some great DIY toy car upcycling ideas!
If you've been around Princess Pinky Girl for long, you know that I love toy makeovers. It should come as no surprise that I think these cozy coupe makeovers are the cutest toys around for kids these days.
These fun ride on toy redo's are so creative and so fun. All you need is a working cozy coupe and you are ready to make a masterpiece.
The ideas are endless for making the crazy coupe into your child's own personalized dream car. They may love Minnie, princesses, Teenage mutant ninja turtles, ice cream or just about anything and you can turn a cozy coupe into the toy they never knew they always wanted!
Fun Facts about Cozy Coupes
photo via Apartment Therapy
Here are a few fun facts about the Crazy Coupe by Little Tikes…
Did you know that the cozy coupe had been around since 1979? That is right… this adorable plastic mobile was created forty years ago and its popularity is still going strong! It was designed by Jim Mariol, a former car-parts designer for Chrysler. I can see now why it works so well!
The car's design has been described as a cross between a Volkswagen Beetle and Fred Flintstone's vehicle. It was a simple plastic molded car that was designed to be used with foot power and no pedals were implemented.
According to NPR, "in 2009 while Chrysler and GM struggle through bankruptcy, there's another American automaker that's doing quite well, thank you. Little Tikes is based in Hudson, Ohio, and despite the recession, demand for the company's Cozy Coupes has shown no signs of a slowdown." That is just incredible when you see statistics like this.
The 30th anniversary cozy coupe available now even has a cupholder for the kids and a handle on the back for parents to guide the coupe when the kids are learning. The floorboard is removable, too!
Where to Buy a Cozy Coupe
You can find a new Little Tikes cozy coupe in lots of places these days. They sell them in store and online at places like Target and Walmart. You can even order them online at Amazon. You can get several models that are gender specific, too like this princess cozy coupe.
If you are planning to make over a cozy coupe, check out your local Goodwill or thrift store. So many people donate these cars and they are easy to spot right when you walk in.
If you have any children's consignment sales in your area, these are fabulous spots to pick one up. Just make sure that the wheels are in great working condition and the plastic is in good shape, as well.
Better yet…garage sale season is right around the corner! Get to them nice and early and you may be able to score a used one for next to nothing!
You can even purchase vinyl kits on Etsy where you can makeover your own coupe with paint and just add the vinyl stickers. Check out this awesome Ghostbusters Cozy Coupe here…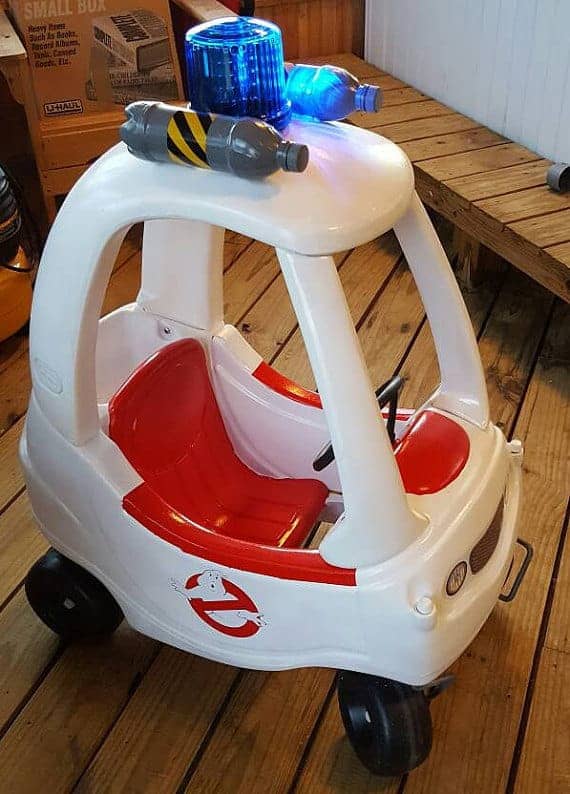 We purchased a used cozy coupe on a for sale group on Facebook. It lasted through two little ones and was still in great condition when we donated it to our local thrift store.
I wish that we would have done a makeover before we donated it, but I'm hoping it has been well loved since then by another family.
Cute Cozy Coupe Makeover Ideas
Get ready for an amazing amount of creativity. Your kids will certainly thank you for it. If you've dreamed of remodeling that old cozy coupe that you have sitting around, you will be truly inspired with so many fun ideas.
Be sure to read the posts, they are full of helpful tips and tricks for what type of paint to use and what ideas work the best. There is nothing better that information from someone who has done it and can tell you all about it.
Let's see those cozy coupe ideas….
John Deere Cozy Coupe Makeover by Mom Made
Little Girls Bat Mobile via Instructables
Little Tikes Police Car Re-do by Our Pinteresting Family
The Elsa Coupe by One Crafty Thing
Batmobile from a Cozy Coupe by Sweet C's Designs
Cozy Coupe Convertible by Little Bits of Sunshine
Lil' Miss Whippy Cozy Coupe Makeover by Giggleberry Creations
Cozy Cooper by Go Team Wood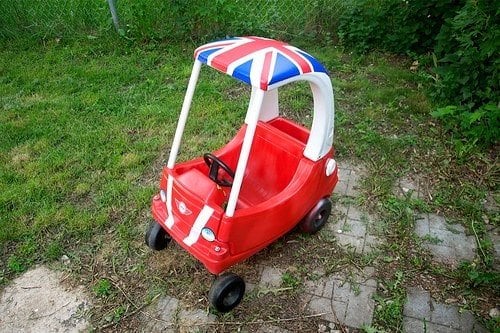 Minnie Mouse Cozy Coupe by Pink When
VW Bug Cozy Coupe Makeover by DIY Nightmare Before Christmas Props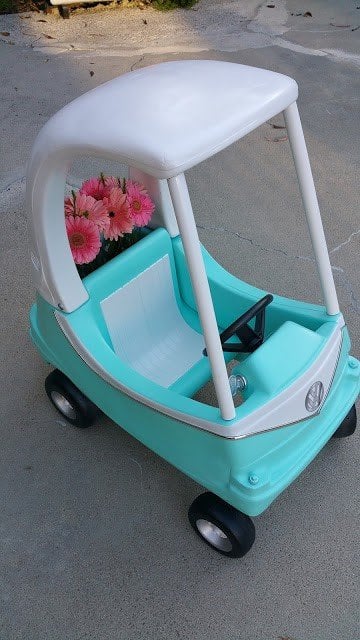 Cupcake Delivery Truck Cozy Coupe Makeover by Dwellings by Devore
Be sure to pin this post for later…
You may also love these fun ideas…
If you love cozy coupe makeovers, then you will absolutely love all of these ideas! You are going to want to rush to your nearest thrift store to get toys to revamp.
Birthday Party Hacks for Kids and Adults
If you are hosting a party any time soon, check out this post. There are some clever hacks and solutions for your next entertaining adventure. Lots and lots of why didn't I think of that moments on this one and some really cute and inexpensive ideas for decor, too! You really like this post.