How to create a great photo wall display and photo gallery wall. Photo walls look complicated, but they don't have to be with these useful tips and templates!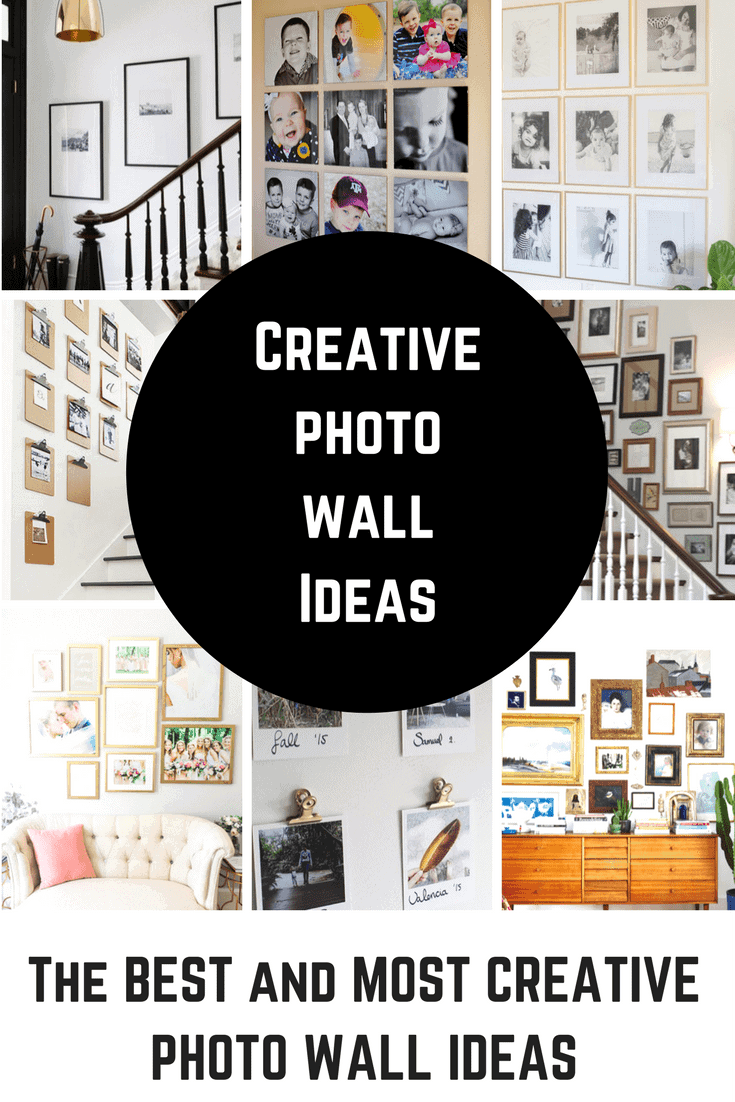 I really enjoy creating a beautiful home and I'm not afraid to try a DIY project either. One of my favorite decor elements is family pictures, but I don't love having frames cluttering every surface of my home. That would involve more dusting and that just isn't in the cards for this girl. The solution… photo gallery walls!
A photo wall gallery can instantly transform and any room and when you use your favorite family photos, it also is an inexpensive option for wall art, too!
Today I want to show you how to create a great gallery wall, some great examples of photo walls and share some great tips and tricks along the way. By the end of this post, you will be ready to tackle a gallery photo wall all on your own.
Decide on a Location for Your Photo Gallery Wall
A photo wall can be created just about anywhere in your home. You may already know of where you would like to create your wall art gallery, but here are a few to get your creative juices flowing!
This photo wall from Forever Cottage is perfection. She decided that her stairwell was the perfect spot for her photo collage wall and she incorporated lots of different elements.
I love how beautiful it is and than lamp adds the perfect amount of feature lighting.
Right above the headboard is the perfect spot for a gallery wall in a bedroom. Jamie Delaine used a few framed photos to make a really pretty focal point in her master.
I love her choice of eclectic frames and the use of black and white mixed with color photographs.
Pick a Theme for Your Photo Wall
There are lots of ways that you can style a photo wall. Sometimes it can be helpful to decide on a theme for a collage of photos.
You might have a special trip with photos that you love or an occasion that was important in your life. Many families use an annual family photo or school pictures, even just a favorite snapshots of everyday life.
Here are a few examples for you…
This home featured on Southern Living Weddings is a stunning newlywed home, but this photo collection from their wedding is so on point.
This is a great example of using a special occasion, the upside is that your colors and photos will all match!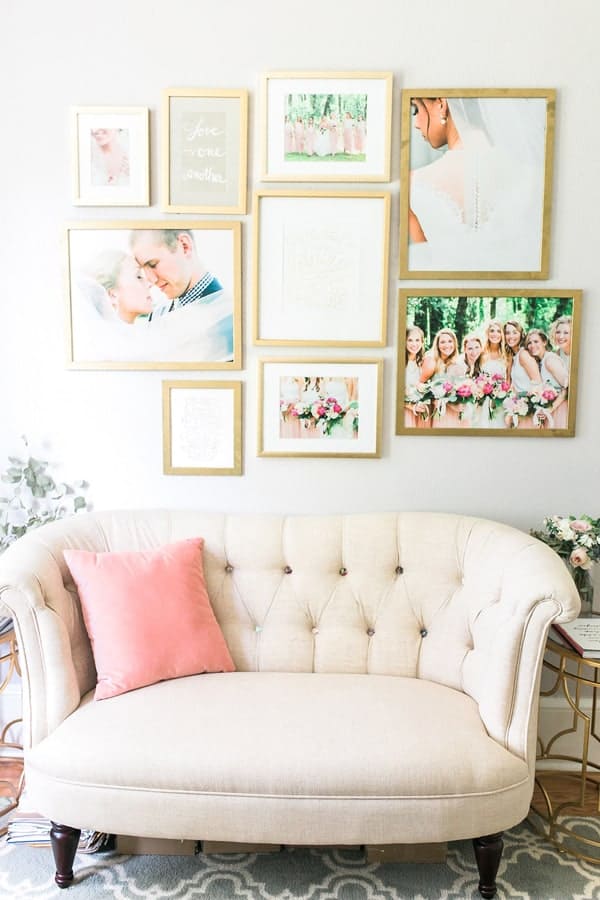 I love the theme of family. Five Heart Home has chosen some of her favorite family photos and had them blown up for quite an impressive wall collage.
She used black and white and color photos, as well. The size of the photos ties them all together. Love this wall collage idea!
Choose a Layout for Your Gallery Wall
Deciding on a layout for a photo call can seem daunting, but there is so much inspiration out there.
A certain layout may be determined by the size of the space, what frames you want to use, how large your pictures are and the like.
Here is a little layout eye candy to get you inspired…
I love a grid style gallery wall. It has clean lines and makes planning super simple when you remove the guess work of which frame goes where.
Making Home Base shows us how to create this gorgeous and well-balanced idea. Just make sure your photo frames are all the same and that your photos are all the same size and you are ready to go.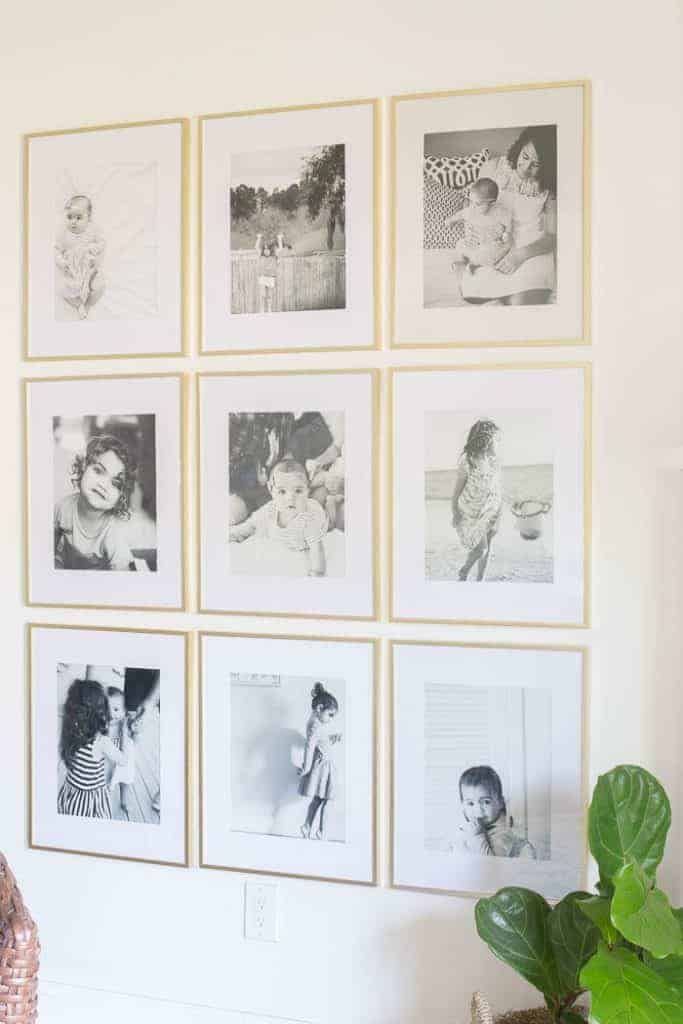 An eclectic mix of frames can also serve as a fun layout. This idea from Cup of Jo blends so many fun frames and colors. If you have lots of things to mix, try out something similar to this.
Start with your larger pieces and then fill in around them. Also try tracing all of your frames on paper and cutting them out to serve as samples to use while you work out your plan. This is such a great idea!
Go big! Choosing larger frames can make planning a gallery layout simple as pie. The Everygirl chose a handful of her favorite photos and hung them in large frames in her stairwell. This makes a huge statement and can be put together in no time.
More Creative Photo Wall Ideas
I just had to share these really cool ideas. They aren't exactly your traditional gallery wall, but they are just so unique and creative that they earned their place in this grand line up!
Creative wall idea inspiration…
Photo Wall of Living With Kids shared on Design Mom
Black and White is always a classic and when you fill an entire wall full of black and white photos it makes quite an impact! This is such a knock out powder room found on Decor Pad.
Your guests will enjoy looking at all of the pictures while they are washing up.
The use of clipboards make this gallery wall so easy to change out.
You can update pictures as your family grows, use seasonal items or just what is making you happy at the moment. It is such a fun idea that is featured on BHG.
Speaking of clips, how about this collection of photos that are simply held with office clips. This idea, featured on Decoratoo, is a no-fuss photo gallery wall for sure!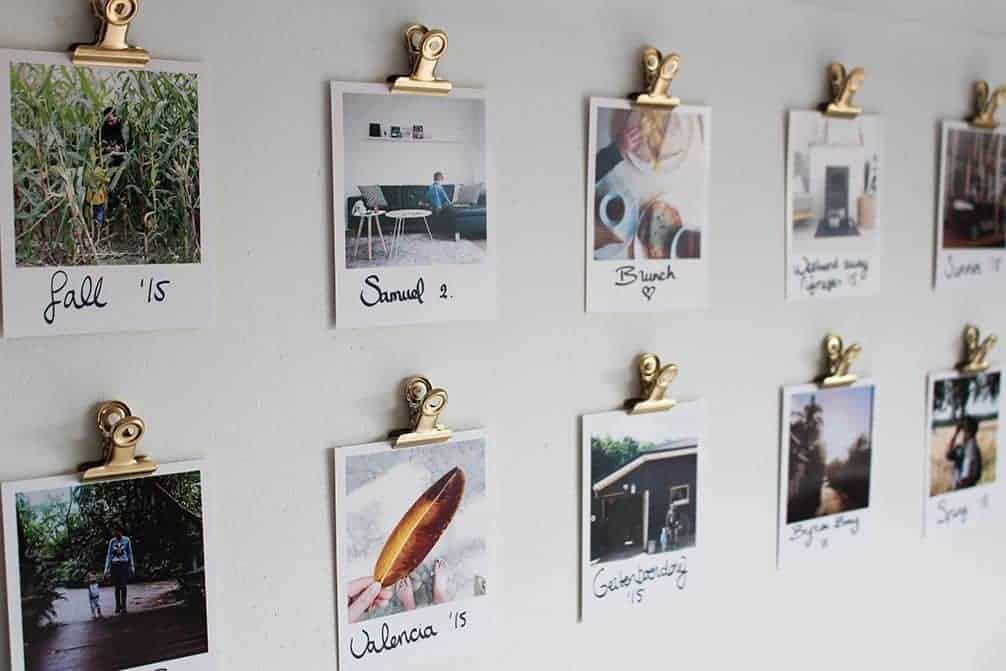 Need more inspiration and handholding? Pottery Barn created these great templates for How to Create A Gallery Wall!
Be sure to pin this post for when you are ready to created your own photo wall…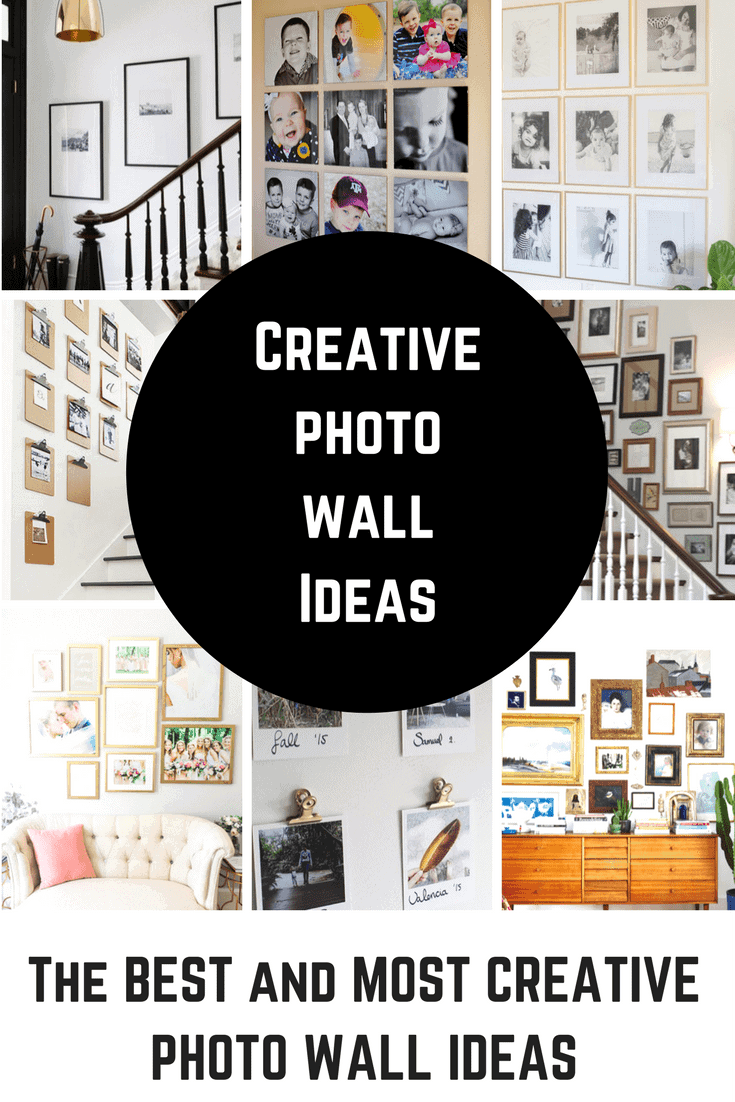 You will also LOVE these ideas for your home…
Home DIY that you can Actually Do!