I came home to the most wonderful surprise today! One of my very closest friends and neighbor, Maria, left a wonderful treat on my kitchen table – a holiday giving plate filled with the most scrumptious cookies! Yummy cookies aside – the plate is the most lovely thing ever!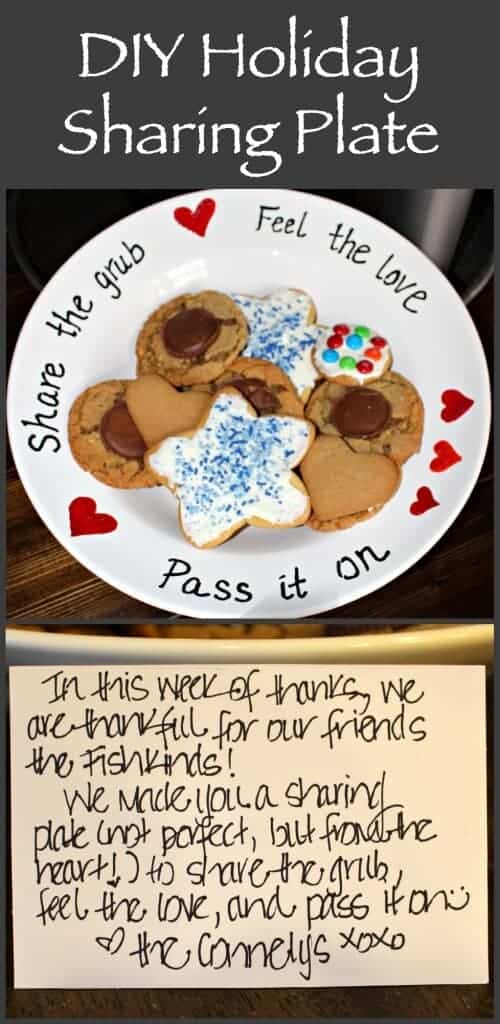 So here is the how it works
You bake some delicious cookies or other treats
Fill the plate up
Write a nice note
Surprise your friend with this wonderful treat
Tell them to enjoy the treat then pass it on
Here are the issues – First, I ate an awful lot of cookies today. Second, I don't want to give the plate away!
Here is how you can make your own Holiday Giving Plate (courtesy of Maria!)
Step One – Purchase a super cute plain white plate, platter or bowl – this was microwave and dishwasher safe – you want something you can bake in the oven (this one is from World Market – click here)
Step Two – Using ceramic paints, write your cute message on the plate
Step Three – Let dry for 24 hours
Step Four – Bake at 350 degrees for 30 minutes
Step Five – Write a nice little note to put with the treat!
Check out some other super cute and easy DIY holiday gifts