Healthy Kids Snacks that can be fun AND a filling and healthy option! After School Snacks don't have to be either healthy or delicious! With these great snack ideas, your kids can have both!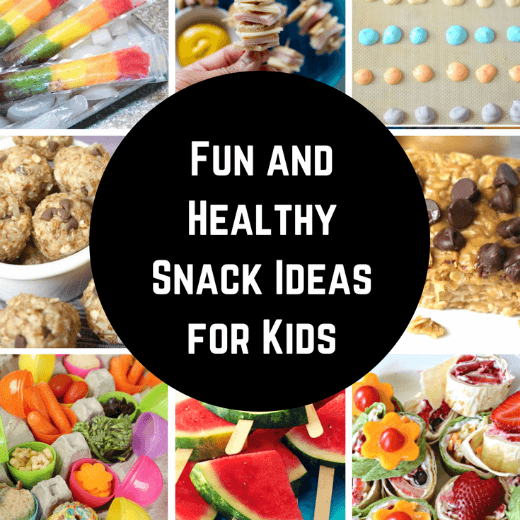 Healthy After School Snacks for Kids
Fun AND Healthy Kids Snacks Ideas – You heard that right… kids snacks can be healthy and also be so fun that they don't mind eating them at all!
Today I am going to share several ideas that I have found that I know my kids would definitely eat and they would be getting a snack that is both filling and healthy.
This is so important with how active our kids are today. They need wholesome snacks to power them through long days at school and whatever their passion is after school.
For my kids, they do a little of everything, but they are so active their bodies need protein and healthy foods to operate at their maximum potential.
I have a feeling you can relate to me that when I pack of bag of carrots, it may not get eaten. Now if I pack them in a creative way or cut really cute with a dip, they get gobbled up every time!
(Looking for some great make ahead breakfast ideas for those hectic mornings? We have some great ideas to share with you too!)
Let's see those healthy kids snack ideas…
Caramel Apple Chips – A thin coat of caramel baked right into the apple and we're left with a crispy apple chip that has a baked in hint of caramel.
You can make a batch of these and keep them in a sealed container! They are not only terrific for after school snacks, but great for school lunches as well!
These No Bake Monster Cookie Oatmeal Energy Balls will feel like a special treat, but are actually a healthy after school snack!
They have all kinds of good stuff in them. The peanut butter not only is delicious, but helps to keep those afternoon hunger pains away.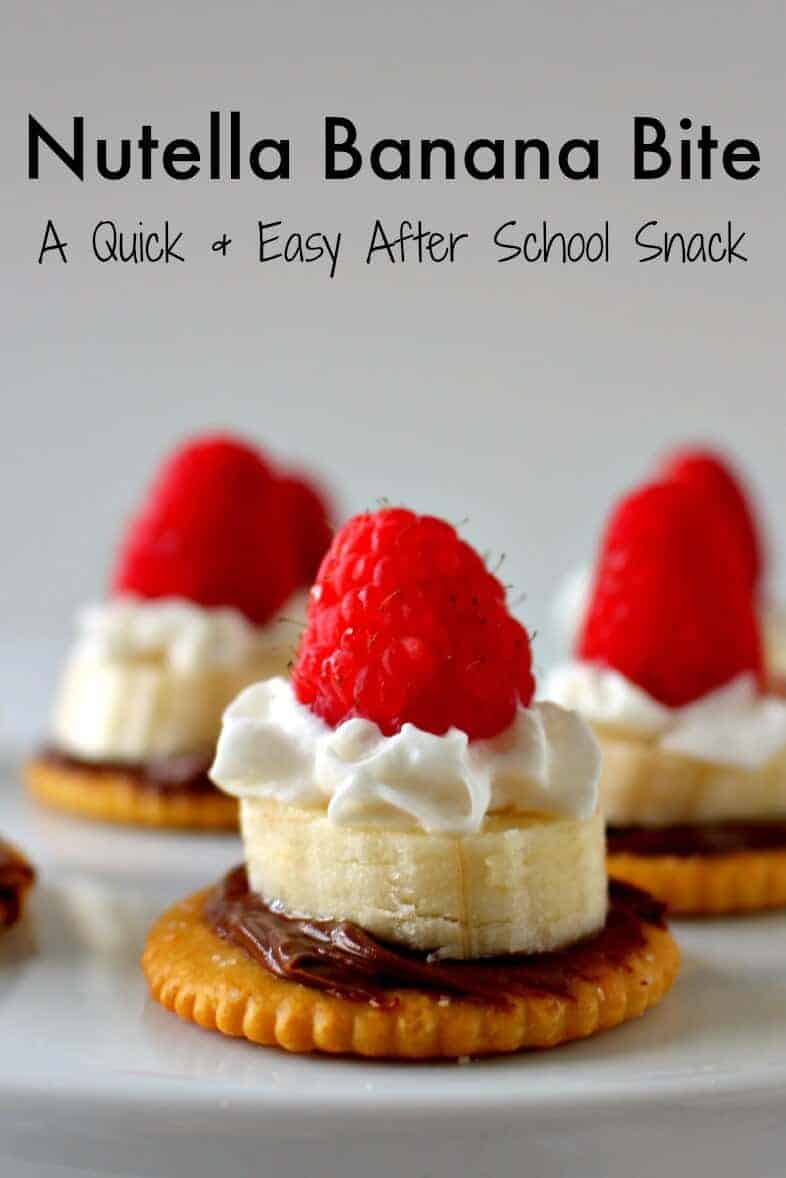 Nutella Banana Bites are a quick after school treat that will have your kids asking for more! Sure, there is some sugar involved, but it is better than munching on chips or a pop tart!
How can you not love this popsicle recipe from The Idea Room! No kids says no to a popsicle and this one is made with loads of healthy ingredients including yogurt, fruit and granola.
I also happen to think it looks stunning, too which is a total game changer when trying to get your kids to choose healthy options for a snack. Perfect for warm weather, too!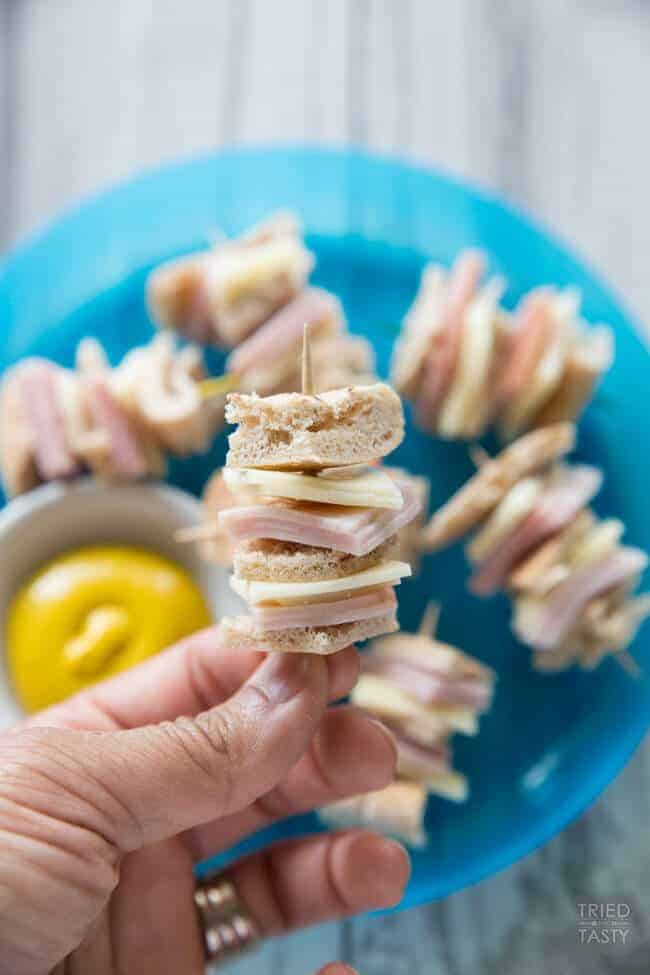 I shared this recipe for ham and turkey kabobs on Princess Pinky Girl a while back and this is still a favorite at my house.
Just grab lean deli meat, cheese and small cubes of bread and you have a total twist on the ordinary sandwich. They are also just SO fun, too!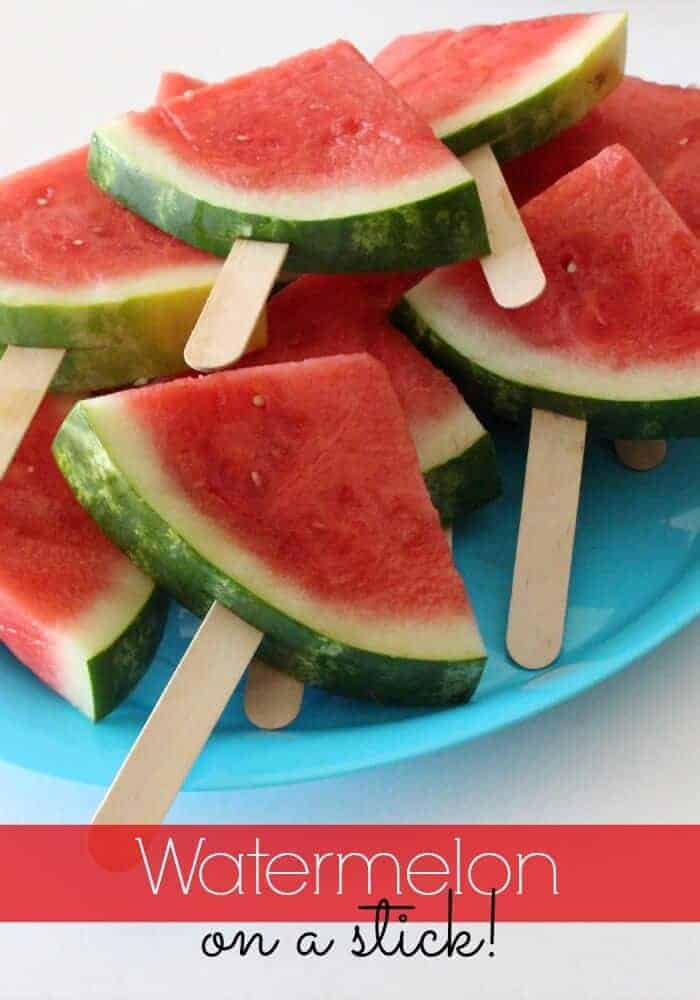 It really doesn't get any easier than this folks. Somewhat Simple shared her idea for Watermelon on a Stick. Can a healthy snack be as simple as a sliced triangle of watermelon on a popsicle stick? YUP…sure can!
Anything on a stick makes fruit totally fun and in this case totally easy to eat. Watch summer… Watermelon on a Stick is going to be served in all sorts of homes!

Another favorite recipe that my kids love. These No-Bake Peanut Butter Oatmeal Bars don't last long at my house, but they are such a great treat.
They are healthy, filling and the kids think of this as dessert, but they are getting lots of good fiber and protein!
In all my years of parenting, I have discovered that kids love to eat anything rainbow colored. She Knows shared a rainbow smoothie pop recipe that will have your kids eating all types of healthy foods disguised in a rainbow of fruit flavors.
This would feel like the ultimate treat as the days become warmer!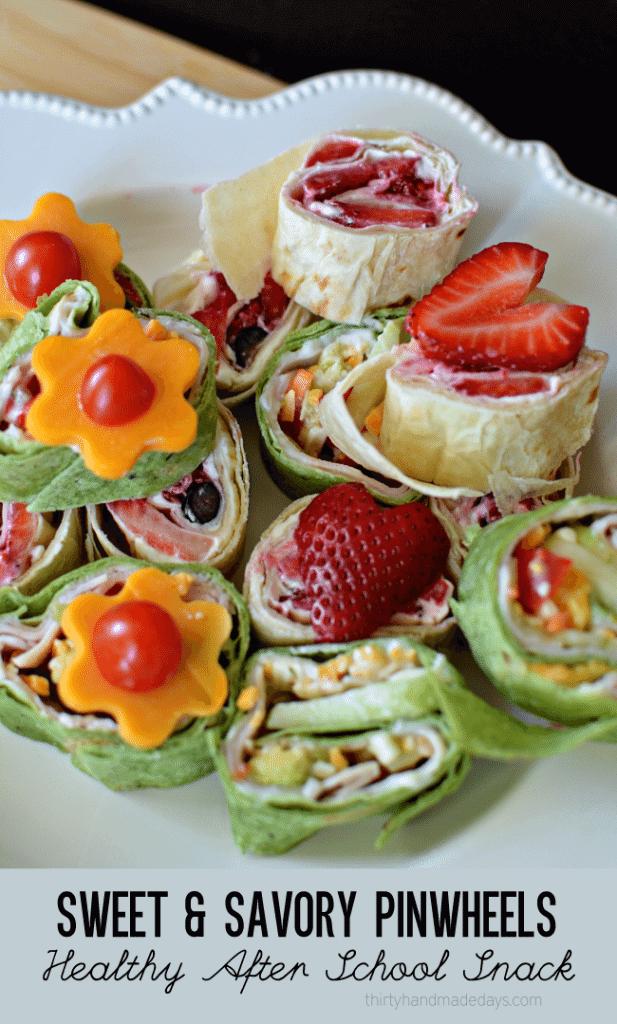 How cute are these sweet and savory pinwheels by Thirty Handmade Days. These are packed with protein with meats, veggies and fruits. It also doesn't hurt to break out the cookie cutters and make some simple flowers.
Seriously so easy… just use a cookie cutter with cheese and slice a grape tomato in half. Your kids will think you are the coolest and most creative mom on the block.
The other great thing is that your kids will be full and ready for homework and after school sports and activities when they have eaten this healthy snack.
Healthy No-Bake Almond Joy Candy Bar Snack Bites look so yummy that I think I want to make these this weekend.
Two Healthy Kitchens shares all sorts of delicious and healthy snack options. This one in particular, I thought the kids would love especially when you call it a "candy bar " snack bite. It has a certain indulgence to it, right?
I adore this idea of an Easter Egg Lunch by Kailo Chic Life. It may say lunch, but this is also the perfect snack idea that your kids will go crazy over!
It is almost a treasure hunt mixing adorably shaped foods, some sweet treats and some super healthy veggies and fruits, too! I think this is cool any time of year, too!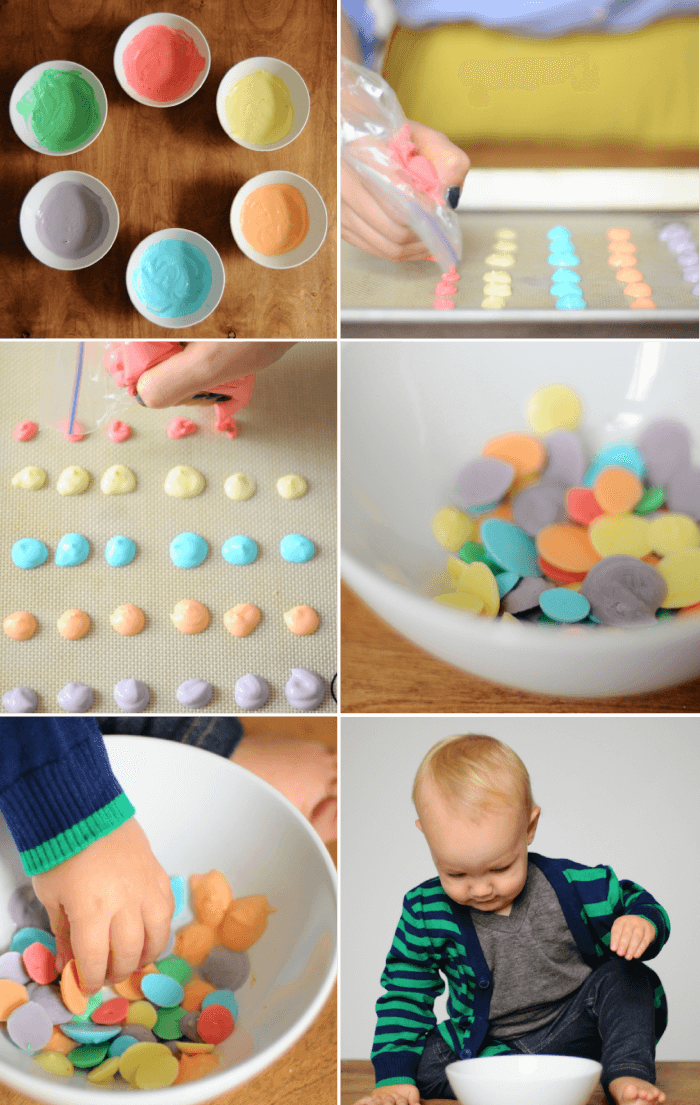 This is a much healthier version of a certain Ice Cream Chain that sells ice cream in the form of pellets.
Just grab some yogurt, food dye and a ziploc bag and you are ready to create a rainbow of delicious yogurt that your kids are going to gobble up. Remember my thoughts on rainbow food? Totally applies here, too! Small Fry totally nailed it with this one!
Chocolate Covered Caramel Apple Energy Balls really do rock! They may look unhealthy, but trust me they are not.
These mini chocolate covered caramel apple that's totally acceptable to enjoy as a nutritious snack. And as a bonus, not only are the gluten free, but you can also use vegan chocolate.
Skip the little dip in crushed peanuts to make them into a treat that almost anyone can enjoy! Plus they are super simple and super yummy!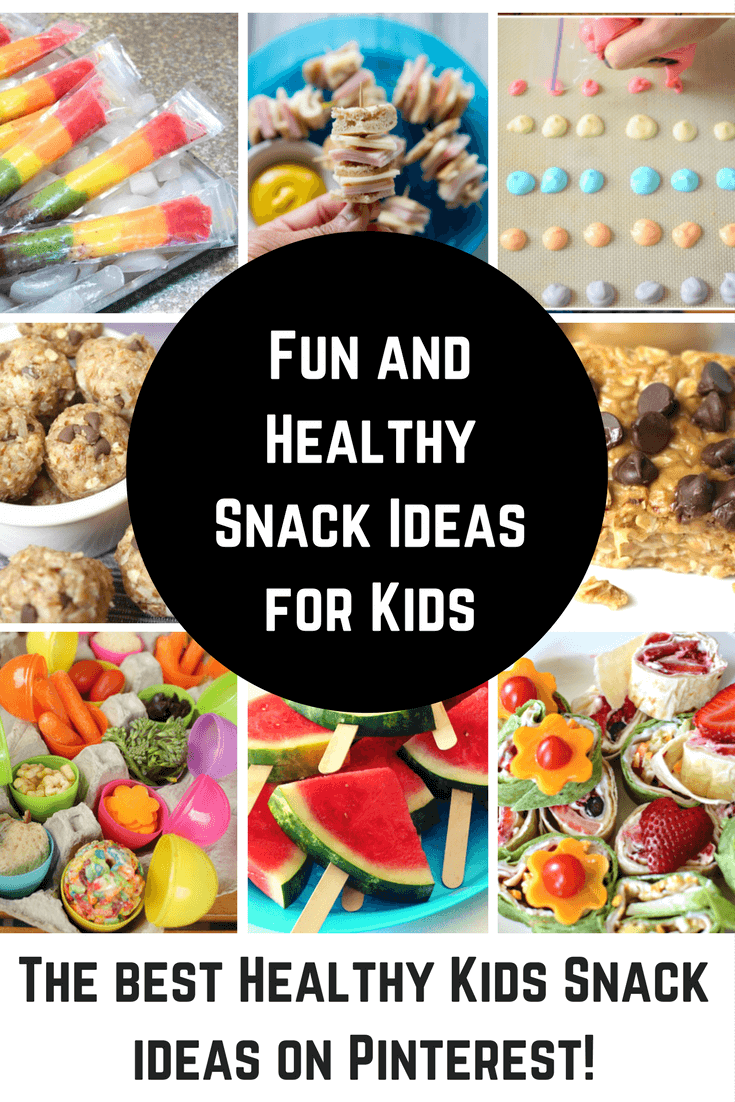 Now it is your turn to share some of your favorite healthy snacks ideas! I'd love to hear them, so leave a comment so we can all increase are arsenal of healthy and super fun snacks!