Quick and easy 10 minutes Chicken Stir Fry recipe.
Jump to Recipe
This quick and easy chicken stir fry recipe is going to be a new staple in your family dinner routine. Stir-fried chicken with your favorite vegetables and mixed with a delicious teriyaki sauce – best of all it is ready in under 10 minutes.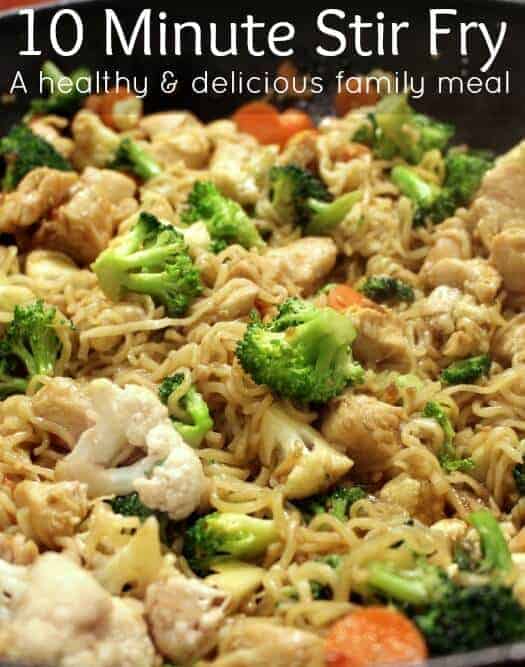 /div>
Happy Dance Time! Last night all five of us ate the same exact meal! No variations, no complaining (well there was complaining, but not about the food!!!)
My youngest gave it a ten out of ten, my middle asked for leftovers for his lunch and my oldest….well, he grumbled something about it being good before he got annoyed by his brothers and went back to his room. This 10 minute stir fry is nothing new in my house, but what was new were the noodles….for some reason, although 2 of my kids love rice, the noodles over rice made all of the difference.
This is easy, mostly healthy (although I am sure there are ways to make it much healthier -I will let the health gurus chime in on some advice here!), but best of all, it is a great weeknight meal that can be ready in minutes!
Here's what you need:
Chicken, steak or tofu – I used 1 1/2 pounds for 6 of us
Veggies – any will be great – we love broccoli, cauliflower, carrots, portobello mushrooms (these all soak in the sauce really nicely)
Ramen noodles – I used three packages – do not use the flavor packet
Stir fry sauce – my absolute go to is Soy Vay Very Very Teriyaki – it never disappoints!!
Olive oil
Minced garlic
Wok
Here's what you do:
Cut up the chicken, steak or tofu in small chunks
Cut up the veggies – or if you want the super fast version, buy them already cut up!
In the wok, heat up the olive oil on medium to high heat – I use about 2 tablespoons
Place a heaping tablespoon of minced garlic – adjust to taste preference
Add your meat or tofu – stir fry the meat until fully cooked, stir frequently
Meanwhile, cook the Ramen Noodles according to direction and drain excess water. Do not add the flavor packet!
Once the meat is fully cooked, drain the excess fat and add your stir fry sauce – the amount is going to depend on what sauce you choose and how much flavor you like.
Let the sauce simmer with the meat for 1 minute and then add in your veggies. Cover and steam veggies for 1 -2 minutes (depending on how soft your like your veggies – we are more the crunchy type, so we let them cook for about a minute)
Add in the noodles and coat with some more sauce and mix
Serve immediately
Enjoy!
Chicken Stir Fry
Ingredients
1½

pounds

Chicken

3

cups

Cut up vegetables

cauliflower, carrots, portobello mushrooms (these all soak in the sauce really nicely)

3

packages

Ramen noodles

do not use the flavor packet

1

bottle

Stir fry sauce

my absolute go to is Soy Vey Very Very Teriyaki – it never disappoints!!

2

tablespoon

Olive oil

1

tablespoon

Minced garlic
Instructions
Cut up the veggies – or if you want the super fast version, buy them already cut up!

In the wok, heat up the olive oil on medium to high heat – I use about 2 tablespoons

Place a heaping tablespoon of minced garlic – adjust to taste preference

Add your meat or tofu – stir fry the meat until fully cooked, stir frequently

Meanwhile, cook the Ramen Noodles according to direction and drain excess water. Do not add the flavor packet!

Once the meat is fully cooked, drain the excess fat and add your stir fry sauce – the amount is going to depend on what sauce you choose and how much flavor you like.

Let the sauce simmer with the meat for 1 minute and then add in your veggies. Cover and steam veggies for 1 -2 minutes (depending on how soft your like your veggies – we are more the crunchy type, so we let them cook for about a minute)

Add in the noodles and coat with some more sauce and mix

Serve immediately
Nutrition Info
Calories:
421
kcal
|
Carbohydrates:
43
g
|
Protein:
19
g
|
Fat:
20
g
|
Saturated Fat:
6
g
|
Polyunsaturated Fat:
3
g
|
Monounsaturated Fat:
10
g
|
Trans Fat:
1
g
|
Cholesterol:
41
mg
|
Sodium:
966
mg
|
Potassium:
436
mg
|
Fiber:
6
g
|
Sugar:
1
g
|
Vitamin A:
6088
IU
|
Vitamin C:
14
mg
|
Calcium:
50
mg
|
Iron:
3
mg