Christmas season is here and that means decorating time. We have some super Easy Christmas Decorations to DIY your house! No need for expensive decor, we have tons of inexpensive and adorable ideas!
Holiday decorations don't have to cost you a fortune! Your kids will fall in love with our Felt Christmas Tree that they can decorate! Our Peppermint Candy Bowl is also always a huge hit!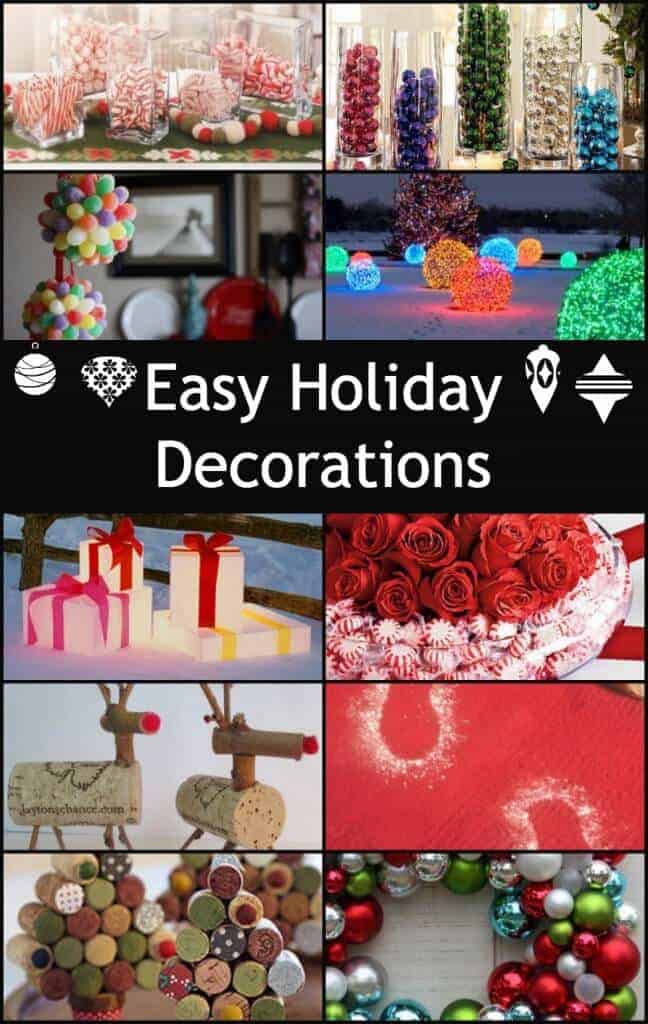 There are SO many great ideas out there for easy holiday decorations – it was difficult to narrow it down as to which to highlight! When I look for DIY projects, I always look for ideas that even I can make! What's great about these is that almost all of them require very little time and many are made from items that you will already have around your house.
Nothing says Christmas like colorful ornaments! This easy to make ornament wreath will welcome your guests with a jingle! Literally, if you add a few jingle bells to the wreath!
Don't you think these Christmas light balls just look magical! They have a full tutorial on their site, but it really comes down to getting creative with chicken wire!
I just love how warm and festive it looks!
Repurposed Vases from the Field of Flowers
We all have tons of vases sitting around the house – well, it is time to pull them out and cute them up!
This is such a great idea – I love the different colored ornaments and all of the different peppermints. What's great is that this can be done for any holiday – imagine how cute this would be for Valentine's Day!
Gumdrop Ornaments from My Blessed Life
Edible ornaments – genius! (and soooo pretty!) So basically, she used styrofoam balls and hot glue gunned gumdrops to them. Add a hook and some string and there you have it!
Enjoy a bottle of wine and make these cute reindeer. As the holiday's get closer I can see a lot of these around my house and a lot of empty bottles of wine!
Okay, so I know I am "cork-focused" in this post, but we must be responsible and use our old corks – there is a cork shortage after all!
This is actually easier than it looks and will be adorable out on the front yard! You just take ready-made plastic boxes and an outdoor light and hot glue some bows on top! Super cute, super cheap and super easy!
Peppermint Candy Centerpiece from Southern Living
I love how simple and beautiful this peppermint candy vase is. Just place a low bowl of roses in a larger bowl and fill the space with candy. It doesn't get much easier than that!
Santa Footprints from The Party Artisan
This is genius and hilarious!! A little baking flour and a pair of boots and you have caught Santa red-handed!
Wire-Wrapped Trees
Simply wrap the wire around a foam cone to make these pretty Christmas trees! Another easy and inexpensive holiday decoration! These would be really pretty on the mantel.
PVC Pipe Candy Cane by DIY Showoff
If you like these decorations – be sure to check out my other post: Cute & Easy Holiday Decorations – there are some great ideas on there too, like: