Looking for something to keep your toddler busy during the holiday's… this DIY Felt Christmas Tree will do the trick!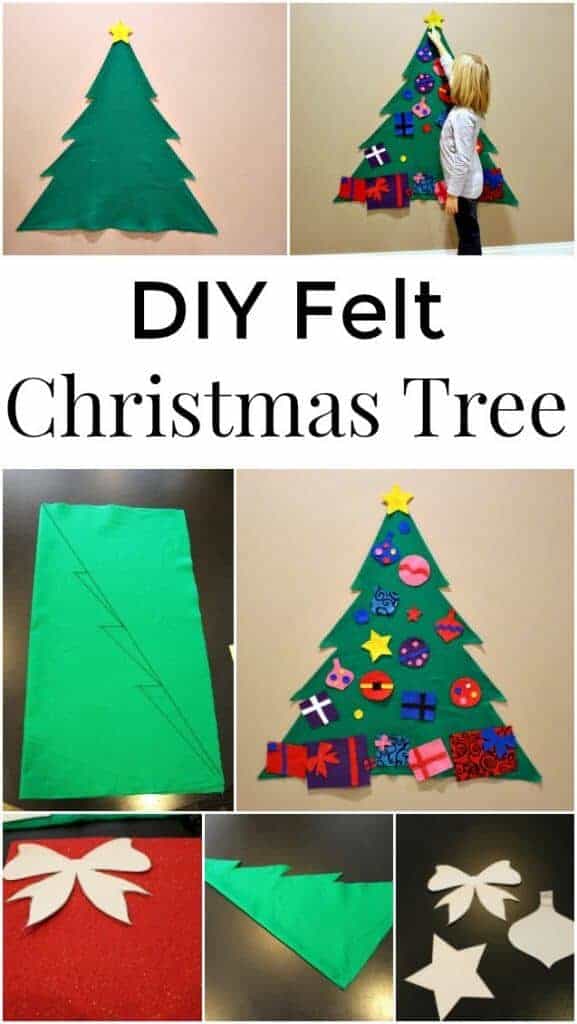 The holiday's can be a hectic time for everyone. You may need a few minutes to clean, wrap presents, cook, visit with friends or just relax!
This DIY Felt Christmas Tree will not only entertain your toddler for hours, but it is a super easy Christmas craft and costs less than $10 to make!!
We all know that it is impossible to keep the little one's from touching the family Christmas tree, so why not give them one of their own that they can go to town on decorating!
As I said this project is super easy – all you need is:
A 42 inch x 42 inch square of green felt
Various smaller sheets of different color felt
Craft scissors (I like these)
Glue gun
Sharpie marker
Ruler
Double sided poster tape (safe for walls)
See full how-to DIY Felt Christmas Tree video and instructions below:
This is what you do (see pictures for reference):
Fold the green felt in half
Draw a horizontal line from one corner to the opposite corner – we will refer to this as the "base line" (we used a broom handle to draw the straight line)
Measure 13 inches down on the base line, then draw a line 1.5 inches in towards the center of the fold)
From that line, measure 10 inches down (meet up with your original base line) and then draw a line 2.5 inches in
From that line, measure 10 inches down (meet up with your original base line) and then draw a line 3 inches in
Draw the final line to meet up at the bottom corner of your base line and cut out tree
Cut out various ornaments, stars, presents and other shapes to decorate your tree. If you are decorating the shapes with felt on them, use a glue gun to adhere the felt to the felt (I tried fabric glue and it didn't stick well) – I printed out some patterns to use to trace the shapes.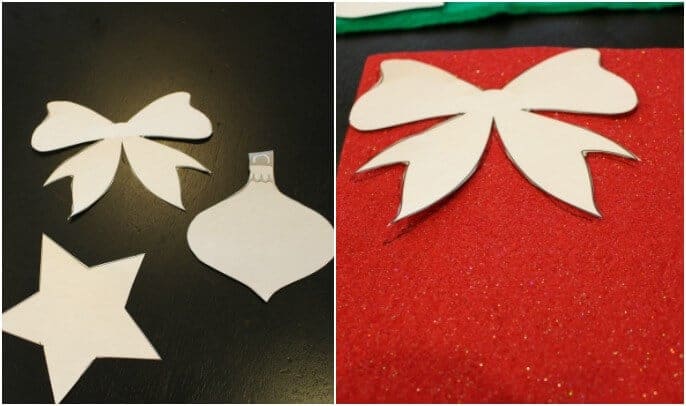 Place a few pieces of double sided poster tape to the back of the tree and adhere to wall (please test the tape in a discreet location on your wall first to make sure the paint or wall covering does not get damaged). DON'T FEEL LIKE DIY'ing! You can purchase one HERE!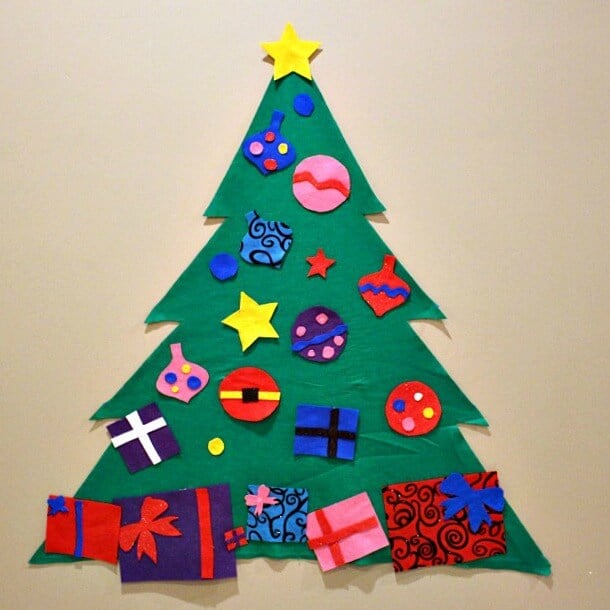 Looking for some other great Christmas DIY ideas? Click on the pictures below: