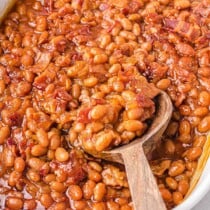 Sweet, savory and smokey! This homemade Baked Beans recipe offers an easy way to make hearty baked beans with bacon in the oven.
Jump to Recipe
Our homemade Baked Beans are a little bit sweet, a little bit smokey, and a whole lot of delicious! This easy recipe is made in the oven using classic ingredients like bacon, brown sugar, mustard, and ketchup. It's a simple way to enhance a can of beans and add loads of savory flavor to a family favorite!
This is the Best Baked Beans Recipe!
I never just serve my baked beans straight out of the can, I like to jazz them up a bit. I've come up with the easiest and most delicious recipe to make baked beans in the oven. No cookout, barbecue, or potluck with be complete without this side dish!
Using a can of your favorite beans as the base means that there is nearly no prep time at all for this recipe. And while the beans are baking in the oven, you can work on preparing the main course!
This will be a great recipe to have in your arsenal for summer cookouts and family dinner nights.
Why we love this Easy Baked Beans Recipe
Easy to make
Delicious side dish
Perfect for potlucks and barbecues
Can be frozen and saved for later
Quick prep time
Sweet, savory, and simple
Simple shopping list with many pantry staples
Easy Baked Beans Ingredients
1 pound bacon
1 medium white onion
4 cans (398ml each) pork & beans
¼ cup ketchup
½ cup BBQ sauce
½ cup brown sugar
2 tablespoons yellow mustard
1 tablespoon Worcestershire sauce
SEE FULL PRINTABLE RECIPE CARD BELOW
How To Make Baked Beans
Using a can of baked beans as the base means this recipe is super quick and easy to put together. The prep takes nearly no time at all, and while it's cooking in the oven, you can get other things done, like preparing the main dish.
Cook the bacon and chop it into small pieces.
Pro-tip: If you prefer to cook the bacon in a pan in the oven, you can! I like to cook it on the stovetop because then you can use the grease to saute your onions. If cooking in the oven you will want to use butter or oil to saute the onion. (see our easy How to make Oven-Baked Bacon)

Cook onions, using the same pan.

Add ketchup, BBQ sauce, brown sugar, mustard, and Worcestershire sauce to cook.

Pour beans into a prepared baking dish, add the frying pan contents. Stir well to mix.

Cover with lid or foil and bake at 350 degrees in the oven for 45 minutes. Uncover and bake for 15 more minutes.

Easy Baked Bean Recipe Variations
BEANS: The question about what type of beans to use in your baked beans is totally up to you. I find that using Beans with Pork and Tomato sauce makes it super easy and provides great flavor, but you can use a different brand or flavor if you prefer.
BBQ SAUCE: I tend to use Sweet Baby Ray's BBQ sauce, because it's usually what I have on hand. But, you can use any brand that you like or even make a homemade BBQ sauce of your own.
ONIONS: The onions in this recipe are totally optional. I am aware that not everyone is a fan, so if that's you, you can certainly leave the onions out on this one!
What to serve with the Best Baked Beans
Baked beans go great as a side dish with just about anything! Especially when it comes to summer barbecues or potlucks.
These are the perfect pair with my Potato Chip Chicken Tenders and they go great with Slow Cooker Pulled BBQ Chicken Sliders. So hearty and delicious!
FAQs for How to Make Baked Beans
How do you spruce up a can of baked beans?
Start by adding some diced onion and garlic to the pan before you add the beans. This will give your dish a nice savory flavor that complements the beans perfectly. You can also add some fresh herbs such as rosemary or thyme for an extra special touch.

Another way to make your baked beans more exciting is to add some smoky flavors into the mix. Try adding some bacon, smoked sausage or even smoked paprika to the beans for an extra punch of flavor. You can also add chili powder for a spicy kick!

Finally, you can add some sweetness to your dish by stirring in some honey or brown sugar. This will balance out the savory flavors and give your baked beans a nice sweet and savory finish.
How long should I cook baked beans for?
For our recipe, cook your beans for 45 minutes.
How to serve Homemade Baked Beans
Homemade baked beans are the perfect side dish for any summer BBQ, picnic or family dinner.
Should you cook bacon before putting it in beans?
Yes.
Storing The Best Baked Beans Recipe
Store leftover in the refrigerator in a sealed food storage container for 3-4 days. Baked beans can be frozen and saved for a later date.
Make sure the beans are completely cooled, then place them in an airtight/freezer-safe container.
Baked beans will keep in the freezer for 1-2 months.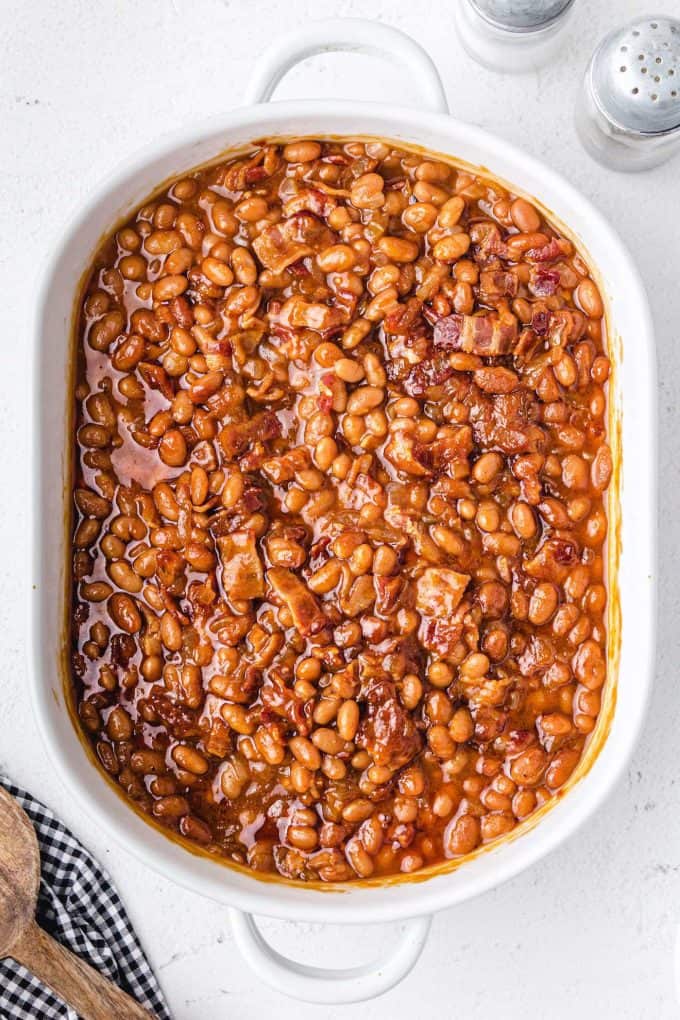 Other Easy Side Dish Recipes
7-Up Biscuits | Feta and Bacon Green Beans | Mashed Potato Casserole | Roasted Cauliflower Popcorn | Mexican Corn Salad | BLT Pasta Salad | Elote – Mexican Street Corn | Cucumber Salad | Grilled Potatoes | Twice Baked Potato Casserole | Parmesan Corn on a Cob | Garlic Green Beans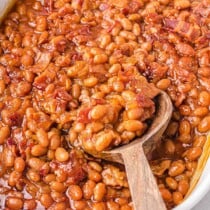 BEST BAKED BEANS RECIPE
Sweet, savory and smokey! This homemade Baked Beans recipe offers an easy way to make hearty baked beans with bacon in the oven.
Cook Time
1

hour
15

minutes
Total Time
1

hour
25

minutes
Ingredients
1

pound

bacon

(about 36 regular strips)

1

medium white onion

diced

4

cans

pork & beans

(398 ml each)

¼

cup

ketchup

½

cup

BBQ sauce

½

cup

brown sugar

2

tbsp

yellow mustard

1

tbsp

Worcestershire sauce
Instructions
Preheat the oven to 350F.

In a large (12 inch) frying pan, cook bacon.

Remove cooked bacon from the frying pan and chop into small pieces. Set bacon aside for now. Leave about 1 tablespoon of bacon grease in the frying pan and discard the rest of the grease.

Cook onion in the frying pan over medium-high heat until tender (about 5 minutes).

Add in ketchup, BBQ sauce, brown sugar, yellow mustard Worcestershire sauce and bacon to the frying pan and simmer over low heat for 5 minutes.

Spray a 9×13 baking dish with non-stick cooking spray. Place the 4 cans of beans in the dish and remove ½ cup of the liquid that came out of the cans. Add in all the contents of the frying pan. Stir well to mix.

Place the lid (or aluminum foil) over the baking dish and bake for 45 minutes. Remove cover after 45 minutes and cook for an additional 15 minutes. Let sit for 20 minutes before serving to give the sauce a chance to thicken a bit.
Jenn's Notes
If you are making baked beans in the summer and want to keep the house from overheating when turning on the oven you can also make your baked beans on the grill! Just place them on the grill next to whatever meat is cooking, and let them cook the whole time the meat is on.
Nutrition Info
Calories:
606
kcal
|
Carbohydrates:
84
g
|
Protein:
23
g
|
Fat:
23
g
|
Saturated Fat:
8
g
|
Trans Fat:
1
g
|
Cholesterol:
52
mg
|
Sodium:
1869
mg
|
Potassium:
1170
mg
|
Fiber:
18
g
|
Sugar:
17
g
|
Vitamin A:
83
IU
|
Vitamin C:
8
mg
|
Calcium:
191
mg
|
Iron:
6
mg