For all of you who love modern farmhouse decor and are hooked on fixer upper style, these modern farmhouse kitchens are going to knock your socks off!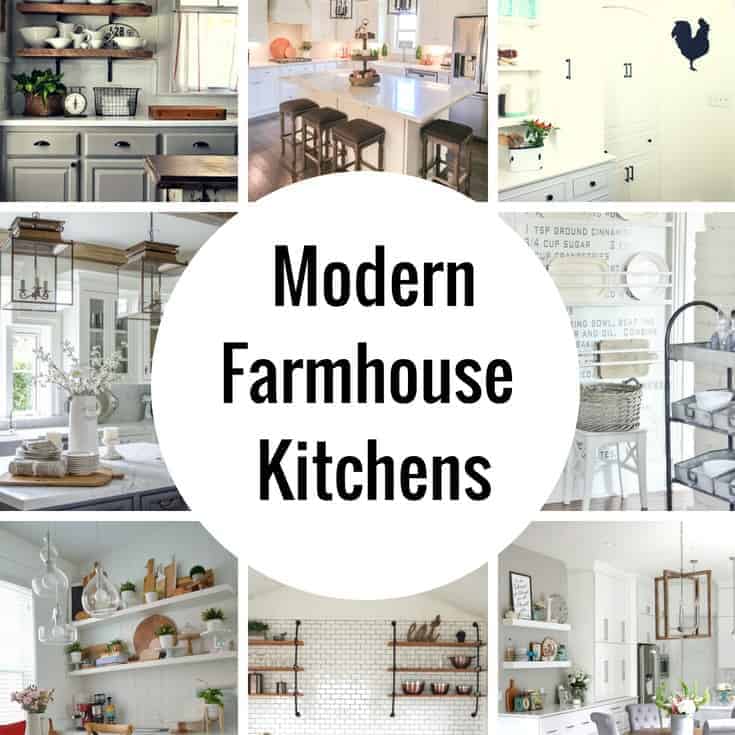 Farmhouse decor is one of my favorite decor styles. I love everything about it, but do you know what I love even more… modern farmhouse decor! It is the more fun younger sister to farmhouse decor and I love the fresh take on a classic style of decorating.
Let's chat about how you can get a modern farmhouse kitchen of your own, what makes this style unique and you'll see some drool-worth kitchens that are sure to inspire!
Modern Farmhouse Kitchens Paint Colors
If there is one thing that all modern farmhouse kitchens have in common, it is their gorgeous colors that are part of their signature style. Whites, grays and soft blues come together to create a fresh backdrop that is both classic and so serene. I love the light bright cabinets and stunning countertops that leave you feeling renewed.
Let's take a look at some of my favorite modern farmhouse kitchens where the paint color is a hit…
This kitchen went from totally drab to totally fab. Living Locurto proves that a little white paint can transform any kitchen into a modern farmhouse dream!
The cabinets are so sleek and the gray accent wall completes the space just perfectly. You need to check out what this kitchen looked like before… such a pretty makeover!
I love white cabinets. They are the quintessential farmhouse kitchen element.
The cabinet knobs on this kitchen featured on Hoosier Homemade are such a stand out. It is hard to pick my favorite part, but that white ceiling is just heavenly!
There is not a day that goes by on Pinterest when I don't see this lovely kitchen in my feed. Our Vintage Home Love has captured every thing that is amazing about modern farmhouse style.
This shows us that even a tiny hint of darker paint can warm up a kitchen, but it still has the ultimate farmhouse feel. The accents are perfection and those natural shades just pull it all together.
This kitchen is truly a favorite of so many and I am in complete agreement!
Modern Farmhouse Kitchen Details
It is said over and over again that truly beautiful design is seen in the details. With modern farmhouse kitchens, this is SO true.
Adding a bit of shiplap to a display, a favorite collection, warm wood tones and industrial decor can make a room into a real showplace.
Let's see those modern farmhouse decor details…
This kitchen wall display by Tatertots & Jello was made with under $40. Can you believe it?
It has modern shelving, but the backdrop wall is so stunning. I am more than a tad jealous of her wooden cutting board collection. Can you even?! This is the perfect example of farmhouse with an edge. It was impeccably executed, too.
This classic farmhouse kitchen by Grace and Good Eats has all of my favorite details. White subway tile, a little industrial piping with the shelves combined with warm wood and perfect decor pieces.
I love it all and that beautiful ceiling, too! Can we also just take a moment to admire that fabulous cabinet color and the faucet on the sink. I'm in love!
This recipe wall and plate rack by Thistlewood Farms looks like it could be an original installation from decades past, but it is a clever DIY project that is so this century.
Combined with the galvanized cart, is the perfect mix of new and old and pretty much everything in between.
Modern Farmhouse Kitchens Lighting
I think lighting makes the most impact when it comes to setting apart a country farmhouse kitchen and modern farmhouse kitchens. A
dding a sleek light with an industrial style appeal can bring a farmhouse kitchen into the present in no time at all. They make such a statement in the room and I love how changing a light can completely change the style of a room in seconds.
Let's take a look at some of my absolute favorite ideas for modern farmhouse kitchen lighting…
This sleek lighting design from The Sunny Side Up Blog is just gorgeous!
I love how she uses a double set of pendants to give ample task lighting. The design of these lights is traditional farmhouse in nature, but the chrome finish sets them apart and brings them into the modern age.
The rest of this kitchen is equally as stunning and I'm pretty much in love with every part of it. You should see the rest of the house.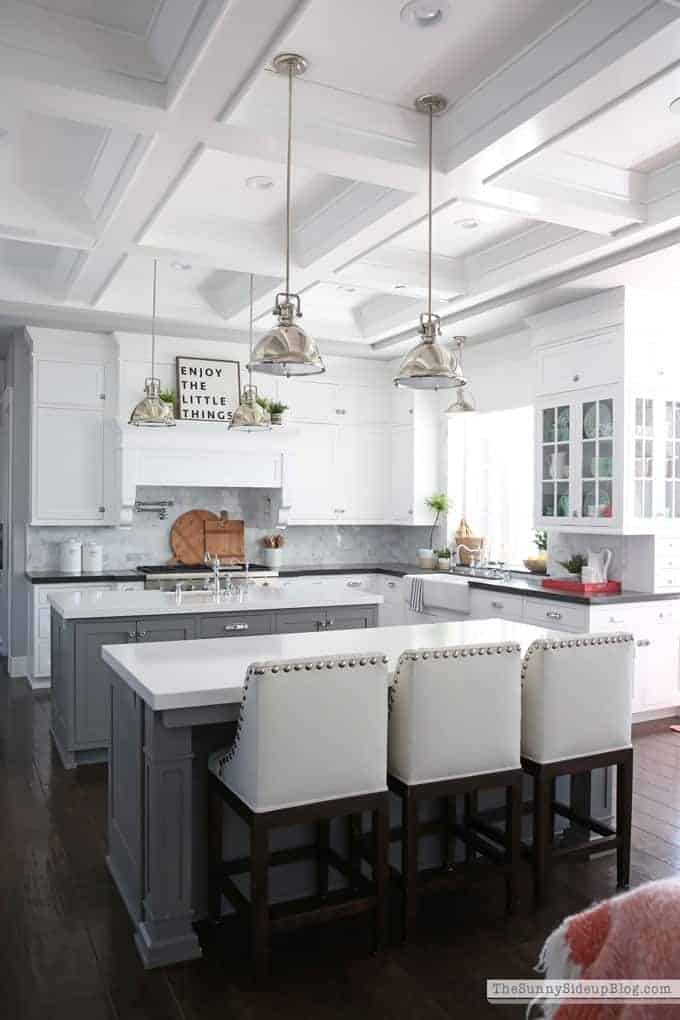 How about a little bit darker and using the element of wrought iron lighting?
I love how this kitchen by Unskinny Boppy is totally grounded by these duo of wrought iron lights.
They add a hint of color amongst the backdrop of white and really do help to warm up the room. This modern farmhouse lighting can be so easily achieved in your own kitchen. How about those beams? Incredible!
I love a lantern in just about every room inside and outside of a house, but this kitchen lighting is just spectacular. Sanctuary Home Decor added these glass lanterns over the kitchen island for a grand display.
I love every little detail about these lights. They are bold and delicate at the same time. Love, love, love!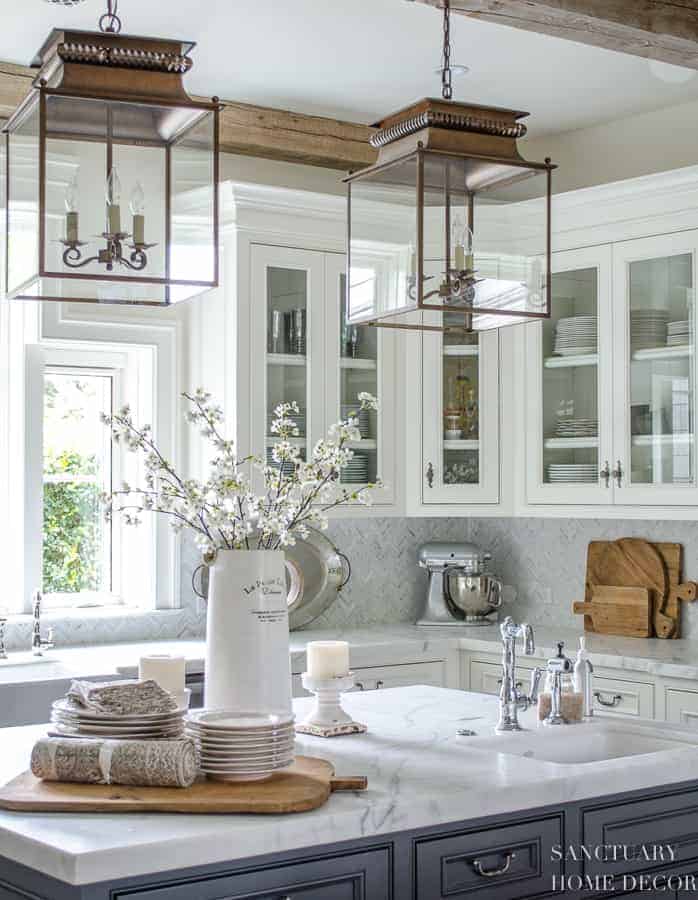 If you have dreams of creating your own modern farmhouse kitchen, I hope that this post has inspired you.
The perfect paint color, key decor pieces and stunning lighting will have you well on your way to having the kitchen you've always wanted. What are you waiting for?
Be sure to pin this post for later… you know you'll want to!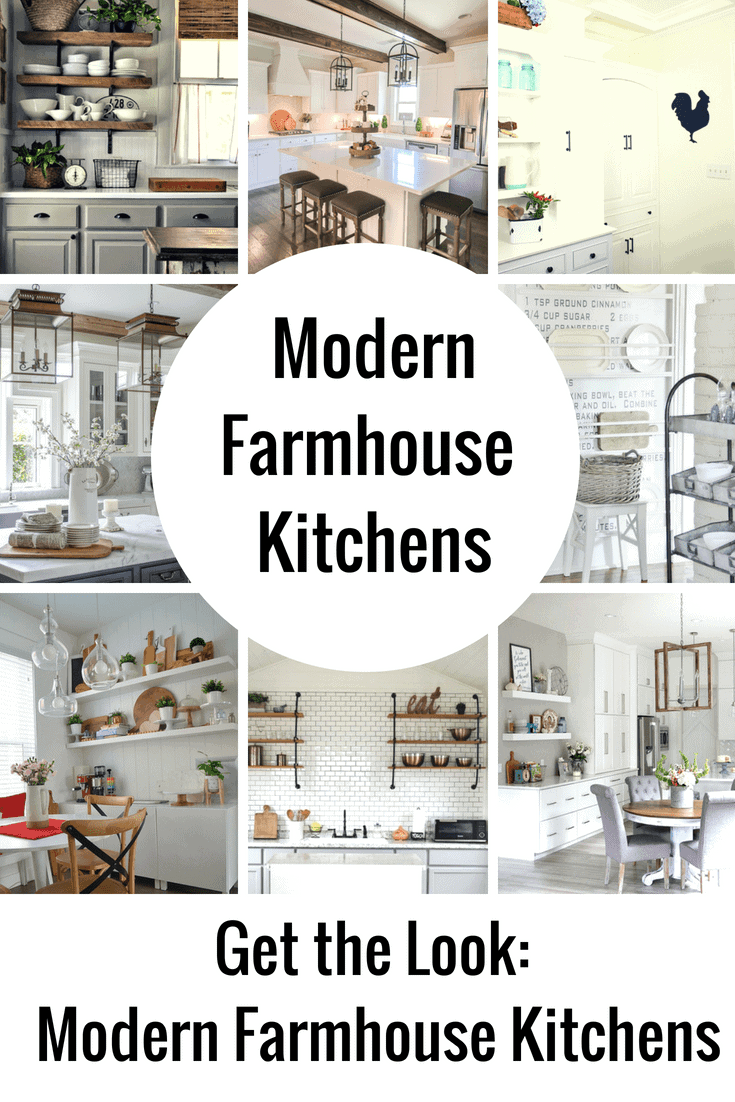 You may also love these great posts…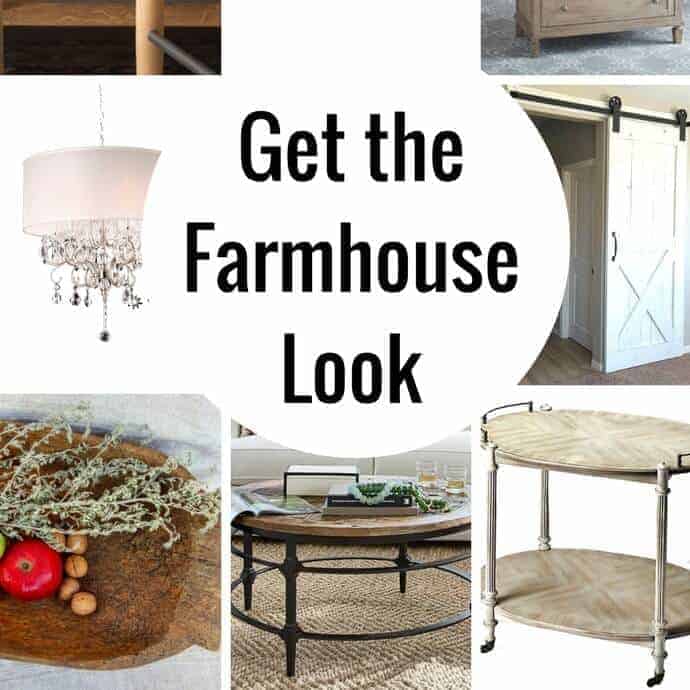 DIY Farmhouse Decor Projects for Fixer Upper Style