Farmhouse Decor is so popular right now! Reclaimed wood, beamed ceilings, warm fireplaces – rustic, minimal and cozy – I can't get enough!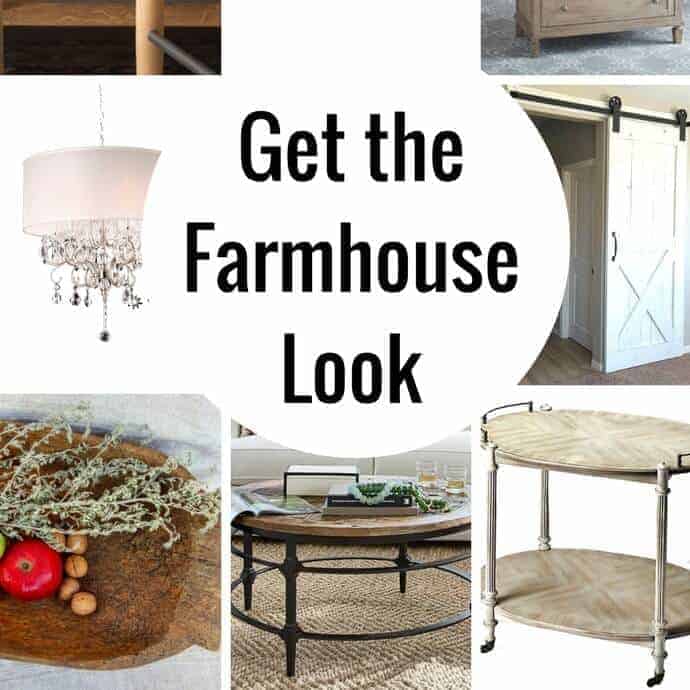 Farmhouse decor has become a decorating sensation from barn doors to shiplap walls. Most of this can be credited to the HGTV show, Fixer Upper.
This showcases an adorable couple, Chip and Joanna Gaines and how they transform an ordinary home into a beautiful modern farmhouse dream home.
You can't deny that this trend is here to stay for a while, especially if you shop for decor items.
I have done a little ground work for you and found some great farmhouse decor items that I love and I know you will, too. Don't worry, I'll show you exactly where to find them, too! Also, be sure to see my DIY Farmhouse Decor post for those of you who want to save a few bucks and do it yourself!
Who is ready to gussy up their home a bit with some farmhouse finds? Let's go!
Let's see those beautiful farmhouse decor items…
I have to admit that when I saw this table, it was love at first sight.
I love how large it is. I love the gorgeous reclaimed wood and the shape. I love that it has that industrial touch, but still is casual and inviting.
What do you guys think? I really feel like Pottery Barn hit the nail on the head with this Parquet table it is perfection!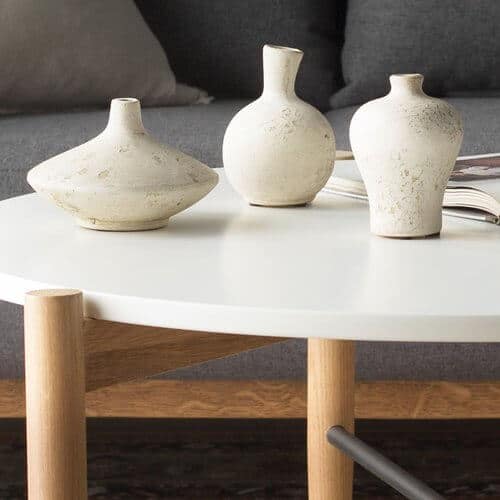 I love this 3 Piece vase set. It is a great way to dip your toes into the farmhouse style look without completely transforming everything in your home.
My favorite part? It is instant coffee table decor. Place the trio on the table and boom! you are done. No fuss decor that done in a minute.
Perfect for those of us who have trouble deciding exactly how to decorate a coffee table. Now don't worry this beautiful vase trio will look great in other places of your home and I think they would be perfect on a bookshelf!
If I've learned anything about farmhouse decor, it is that there is a tray for just about everything!
I love this wooden two-piece set. The handles really drew me in, they aren't too country, but the rich wood brings just enough rustic to any room.
You can use these for just about anything, too. They can be used to serve food, house jewelry, stack your favorite books, or be the perfect zone for your favorite collections.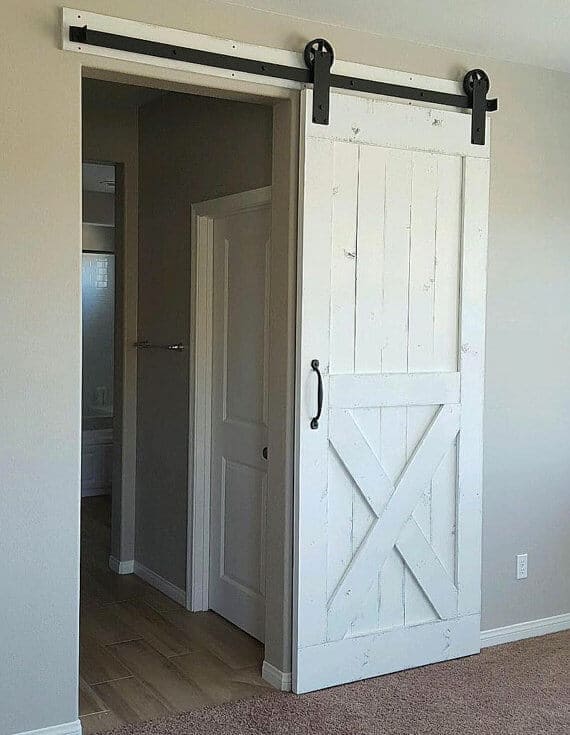 We can't talk about farmhouse decor without showcasing barn doors.
They are the quintessential piece that ties every farmhouse together and they every where you look when it comes to this style of decor.
This particular door I found on ETSY and I love that it is bright white, the hardware is spot on and it can serve such a great purpose.
You can close an entire area of your home off if you'd like with a quick pull. Priceless for pets and little ones.
I have seen this chandelier in so many spaces online and I have to tell you that I never get tired of it!
I think it has just a little bling that is set off by a beautiful white drum shade that makes it just right in the land of balance in decor. The white drum shade can easily bring a casual, but upscale brightness to any room. It is a favorite of mine, for sure.
I love this tall Sausalito Dresser from Pottery Barn. The wood is just stunning, but I love how it is accenting with silver pulls that are a bit on the industrial side. This is great for the farmhouse look, but also lends itself to the coastal trend, too. At any rate, it is so pretty and casual and it would brighten up any bedroom.
The Clint Reclaimed Wood Side table is perfect for those of you who happen to adore the industrial farmhouse trend. I love it!
This side table is made with reclaimed wood and is such a great size. You can really put this guy to work and the fact that it has a shelf underneath makes it work double time for you.
I love how sleek, but soft it is. How they could come up with that combination is pure genius!
When it comes to bar cart crushes… this Rachel Brass Bar Cart had me at hello. Just look at those fine details.
I love that the hardwood bar cart rests on caster wheels with two stacked shelves and a distressed finish against cherry veneers. I need this in my home!
We absolutely cannot leave the famous dough bowl out of a post about farmhouse decor.
This one would be great on a kitchen table or island. I can house fruit, decor, really anything you want!
It is over two feet long. They are so versatile.
This particular bowl is an antique bowl made of one-piece tree. This large wooden bowl has adorable weathered surface and solid walls. A true vintage gem if you ask me.
Baby gates or dog gates are a necessity, but they don't have to mess with the integrity of your home decor. Especially with this adorable barn door baby gate. I honestly wouldn't mind having it in my house even if I didn't need it!
Not only are they VERY reasonably priced, they can pretty much custom make what you want in terms of color and size!
Be sure to pin these great farmhouse decor ideas for later…
Are you one who loves to DIY? These ideas are for you…