Follow this tutorial to make a DIY Snow Globe! Make your own mini glass jar snow globe. This mason jar winter scene is perfect for an easy DIY Christmas and winter decor.
Do you love holiday DIY projects as much as we do? Then you must try to make this easy DIY Snow Globe this holiday season!
Hi guys! I'm Aimee, and I blog over at The Crazy Craft Lady where I strive to make everyday creative with simple crafts, easy family-friendly recipes, organizing solutions, and DIY decor projects.
Thanks so much to Jenn for letting me stop in today and share this guest post – a pretty (and simple) winter scene mini glass jar snow globe. I hope you all enjoy it!
While you are here – be sure to check out Jenn's (aka Princess Pinky Girl) Snow Globe Cookies! They are so adorable and have a candy glass cover you can eat!!
Keep scrolling down for the
FULL DIY Snow Globe Tutorial
Every December, I struggle with my decor just a bit.
See, I want to decorate for Christmas, but you don't get to enjoy it for very long. You get much more reward for your decorating efforts when you decorate for winter, instead of just Christmas.
That's exactly what this craft today is all about. You can display this little snow scene glass jar with your Christmas decorations. Then after December 25th, you can still enjoy it through the rest of the winter.
If you love simple and inexpensive seasonal decor as much as I do, you'll love these budget-friendly winter pillow covers and easy DIY boxwood wreaths. They're all perfect for changing up your decor after Christmas has passed, just like this snow globe craft.
Love this DIY SNOW GLOBE?
Tag us!

If you make our DIY Snow Globe, snap a pic and hashtag it #princesspinkygirl — We love to see your creations on Instagram, Facebook, & Twitter!
Supplies needed for this Snow Globe Craft
Scrap card stock or cardboard
Pen
Scissors
Hot glue gun and hot glue sticks
Fiber fill (pillow stuffing) or other fake snow material
A snip of green garland
Mini winter figurines (like deer) – found in any craft store
Directions: how to make a DIY Snow Globes – Mini glass jar snow globe
Step 1:
Cut a small circle of cardboard, just smaller than the opening of the jar. This will serve as the base of your snow globe scene.
Step 2:
Hot glue the plastic deer to the cardboard base. You could also use a snowman or little red truck. So cute!
Step 3:
Trim a small sprig of faux garland (I buy my garland at the dollar store!). Trim the top, so that your spring of garland is in the shape of a tall triangle, resembling an evergreen tree.
Step 4:
Hot glue the bottom of this garland piece to your cardboard base. You will need to hold or prop the garland piece in place while the hot glue dries.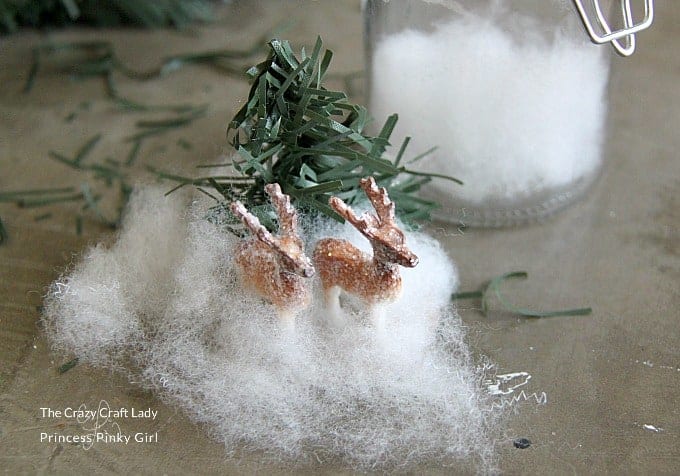 Step 5:
Add a little bit of batting around the base of the figurines and garland. Flatten it with the blunt end of a pair of scissors, so that the figurines aren't half "buried" in snow.
Step 6:
Line the bottom of the glass jar with a thin layer of batting. Then gently slide the winter scene and cardboard base into the glass jar. Use the blunt end of a pair of scissors again to poke down the batting until the winter scene is level and your snow looks nice.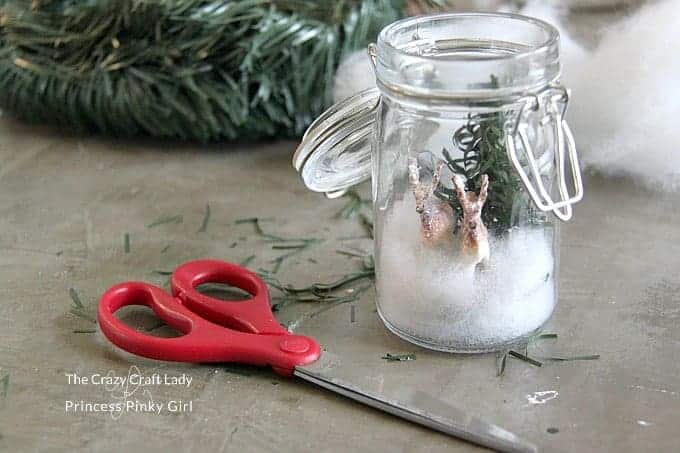 Step 7:
Close the jar. Then display and enjoy!
I chose to display my little glass jar snow globe on top of a candle stick along with my other Christmas mantel décor items. I think it's fun to use something other than candles on candle sticks. You should give it a try!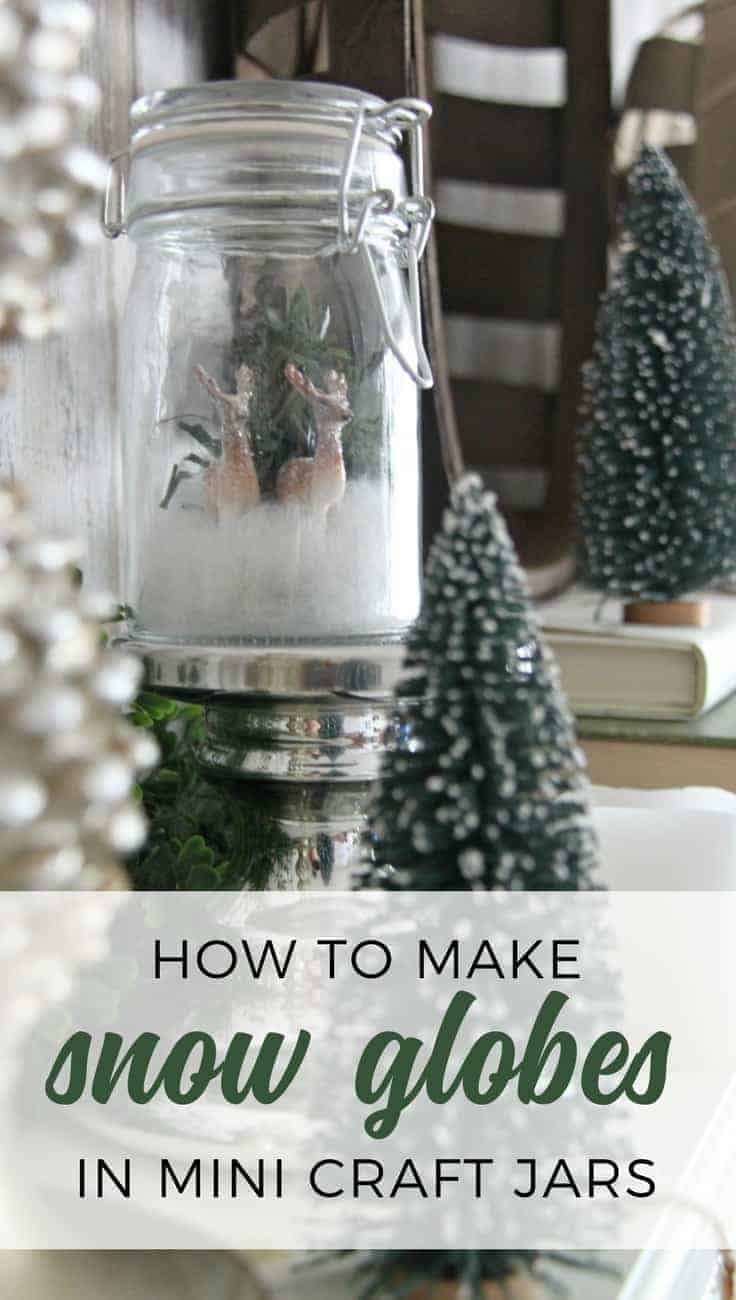 Looking for other great Holiday and Christmas Crafts? Check out some of Princess Pinky Girls Favorites!
Easy to make Candy Cane Sleighs – these make great DIY gifts and a fun project!
Also, try these Peppermint Candy Bowls – one of our all time favorites!