The Best Cruise Packing List – Not your average packing list. Important things to Remember to Bring on Your Cruise!
Cruising is so much fun – for my family it is one of THE best family vacations. The preparation for a cruise can be somewhat overwhelming. We have been fortunate to have gone on a number of cruises and have learned some good cruise packing tricks. We are going to share out best cruise packing tips with you today!
/div>
We absolutely love to cruise. We find that cruising makes a very easy vacation for everyone involved.
We have cruised with and without our kids. True, they are very different vacations, but either way, they have been some of our favorite trips of all time.
We have recently been on Princess Cruise Lines and traveled to Alaska and the Mediterranean. We have some great tips for packing for an Alaska cruise, as well as some other great tips for cruising to Alaska. We also have some good information if you are planning a Mediterranean cruise – be sure to check all of these articles out as well as our Mediterranean Cruise Packing List.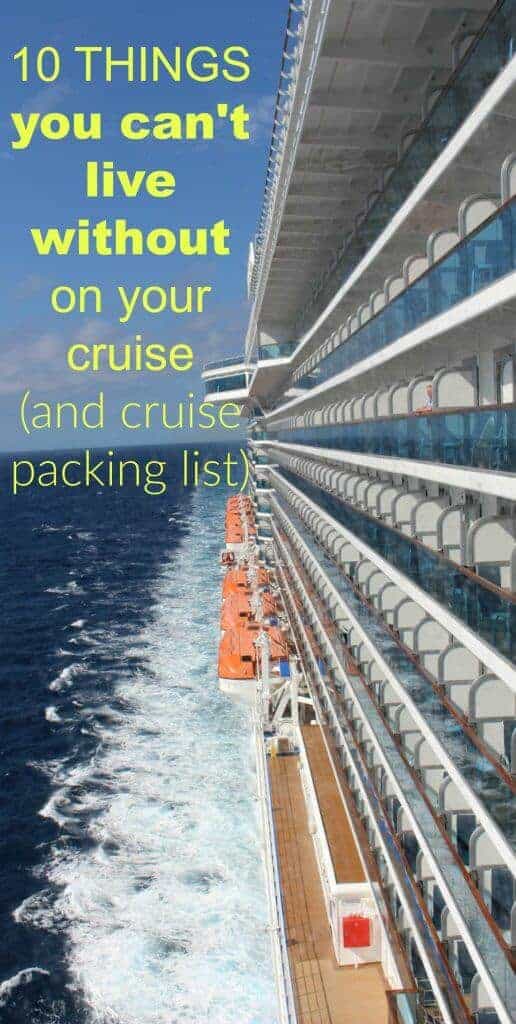 One of our favorite family-friendly cruise lines is Disney Cruise Lines. A Disney Cruise is great because it offers something for everyone in our group – ages 1 to 70-something! Disney knows how to do family vacations.
They bend over backward to make sure you and your family are having the time of their lives! There is something for everyone! Not sure which Disney Cruise Ship to book – this article may help on Choosing the Right Disney Ship – Disney Fantasy vs. Disney Magic.
I get asked all the time "what types of things should I pack for my cruise?" This cruise packing list is going to be your new best friend!
There are "standard" packing lists all over the web. This one isn't going to have your usual shirts, shoes, dresses, bathing suits, etc. This cruise packing list has the "extras"…. some are space-saving and some are just those items that make your life easier on board.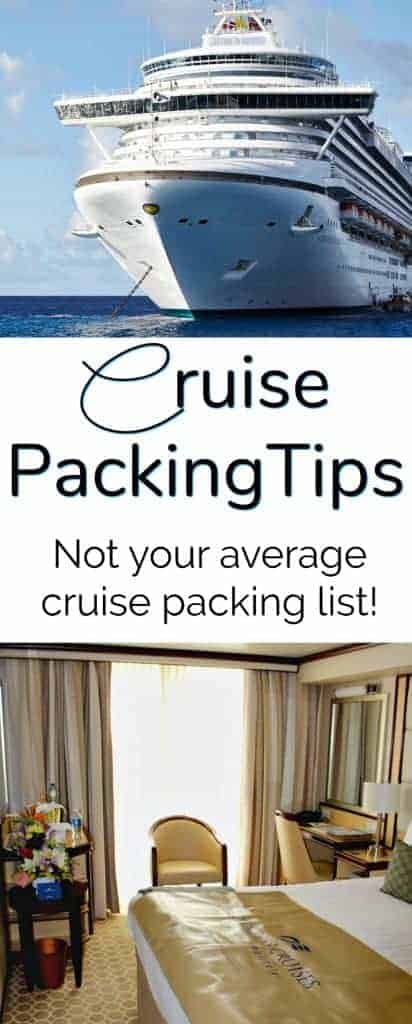 Cruise Packing – Space Saving Items
Like I mentioned before, cruises have something for everyone. However, there is one thing that is lacking on a cruise – space!
Not space around the ship – these mega-ships are enormous and amazing! There have been ships that I have been on for a week that I haven't seen the whole ship! What I am referring to are the staterooms.
The cruise industry has tried everything to maximize the space in the staterooms – some do it better than others (Princess and Disney do a pretty darn good job!) – but however you slice it, there just isn't a lot of room.
Shoe bag for bathroom – hang it on the back of the door and put your smaller toiletries in the pockets i.e. toothbrushes, toothpaste, razor, hairbrush, hairspray, mousse, etc.
Sweater bag for closet – this is great for the kids clothes, t-shirts, shorts, underwear, etc.
Soft sided luggage – pack in duffles or things that you can slide under the bed after you unpack.
Tip: ask your cabin steward for extra hangers – you can hang a ton of stuff up, but there isn't a lot of room in the drawers – hang your bulkier items and use the drawers for your smaller items.
Cruise Packing – SO Smart Items
Not one of the items below are "essential" by any means. They will just make your life easier on board!
Plug power strip – there are usually on a few outlets – this will give you plenty of extra outlets to charge all of those important devices. Some people say that certain cruise lines will not allow them, however, I have never run into any issues.
Clock – I have no clue why, but many of the ships do not have a clock in the room
Landyard with a card plastic holder – this is great to carry your room key (you can buy them here on AMAZON before you go for WAY cheaper than if you get them on the ship!)
Magnetic door sign – all of the doors look alike…. this will help you remember which is yours (I kinda love these magnetic white board sheets that you can leave messages for each other i.e. "Meet at breakfast at 10a.m."
Pillow case and fabric markers (Disney Cruise only – give this to the guest services desk when you get there and they will have all of the characters sign it and give it back to you the last day)
Motion Sickness Bands – JIC (just in case). Also, I prefer Bonine over Dramamine – it makes me less drowsy
Shampoo and conditioner – believe it or not, many do not provide these
Nightlight – the room gets REALLY dark at night – put a nightlight in the bathroom
Ziplock bags – we like our snacks! We will grab some stuff off the morning buffet and bring them off the ship when we are walking around. On Disney you can order PB&J sandwiches from room service and they will send you Uncrustables – these are GREAT to bring off the ship for a cheap and easy lunch. Also, we put our remote in a ziplock bag (I am a germaphobe)
Soft-sided coolor – also to bring snacks off the ship – like I said, I like snacks
Highlighter and Sharpie – don't ask why, but we always use it
Old hotel room key card – many of the cruises make you put your room key in a slot by the door to turn on the lights and the air conditioning. They are standard hotel room key size – if you have an extra you can just keep that on in there and then the room will still be cool when you come back from the hot sun!
Ducktape – just like the highlighter, for some reason, we always use it
Pack of sticky notes – great for leaving notes on the door or on the mirror to tell your family where you are (or maybe you prefer for them not to know!!)
Clips – i.e. towel clips or clothes hangers – it gets really windy on the pool deck… these will keep your towel from flying away!
Insulated cup with straw – I looooooveee these mugs!! They keep the ice from melting fast in the sun.
Lysol Wipes – because I am a little clean crazy and like to do an extra wipe down cleaning.
Hairdryer – this is a personal thing – I find the hairdryers in hotel rooms and cruise ships to be on the weaker side! If you are picky, bring your own!
Poo-Pourri – trust me…your roommate will thank you!
BUG SPRAY – the bugs on these beaches can be brutal!
Travel Steamer – who wants to iron??
Scout Beach Bag (I love the Pocket Rocket style) – Loooove this bag so much! They sand doesn't stick to it. It has great pockets for everything you need. AND it zips shut!! It is our GO TO and best beach bag ever!!
Inexpensive Inflatable Raft – you will find they are expensive to rent on the islands. Grab an inexpensive raft or two and leave them when you are done!
Anti Chafing Gel or Baby Powder – if it is really hot out, you will thank me.
Stain remover or Stain Wipes
UPDATED: I had some amazing suggestions from some of my readers that I am adding (thanks for all of the great ideas!)
If you have a little one bring an inflatable tub – many of the ships don't have bathtubs
Pack a swim suit in your carry on – you may not get your bags until after dinner
Plastic clothes pins – put them on the bottom of the shower curtain to keep it from blowing out
Keep copies of all important information in your safe (passport, credit cards, etc.)
Downy Wrinkle Release – many cruises don't allow irons in the cabin and sending it out can be very expensive
Plug Ins – to keep the room smelling fresh!
Binoculars – to watch for dolphins!
Collapsable hamper for your dirty clothes
A case of water
Wine! Many cruise lines will allow you to bring 1 bottle of wine per person. We brought screw top and would order appetizers and have happy hour on our balcony!
Waterproof camera
Inexpensive snorkel kit – you will probably pay less than renting it and you don't have to worry about where it has been…..ewwww.
Take a suction cup hook or two. You can hang you hat or cruise card etc near the door so you don't forget to take them with you when you leave the cabin.
Are there other items that you have found to make your cruising experience better? I am always looking for new ideas!