You are going to go crazy over these holiday treats!
This is definitely the most wonderful time of the year. One of my very favorite things is enjoying delicious holiday treats. I don't know about you, but I am always shocked and amazed that creative folks out there keep coming up with ideas that are so out of the box and so delicious for each holiday season. I even hop on the holiday treat train myself every once in a while and share some of my favorite holiday dessert ideas. I also love that you can make these treats and give them as gifts. They are the perfect gift idea if you need a simple hostess gift, something to show teachers how grateful you are, neighbor gifts…. really for anyone! Today I'm sharing some really fun ideas of my own, as well as some ideas that I've found to be super popular on Pinterest. I promise you will have so many ideas after seeing these that the only problem you are going to have is choosing which one (or five) you are going to make!
Let's see those holiday treats ideas…
A couple of weeks ago, I shared my recipe for Christmas Crack Chex Mix. It has been a hit and it couldn't be easier to make. I promise you friends, this holiday treat idea is a crowd pleaser! It satisfies with the mixture of sweet and salty flavors.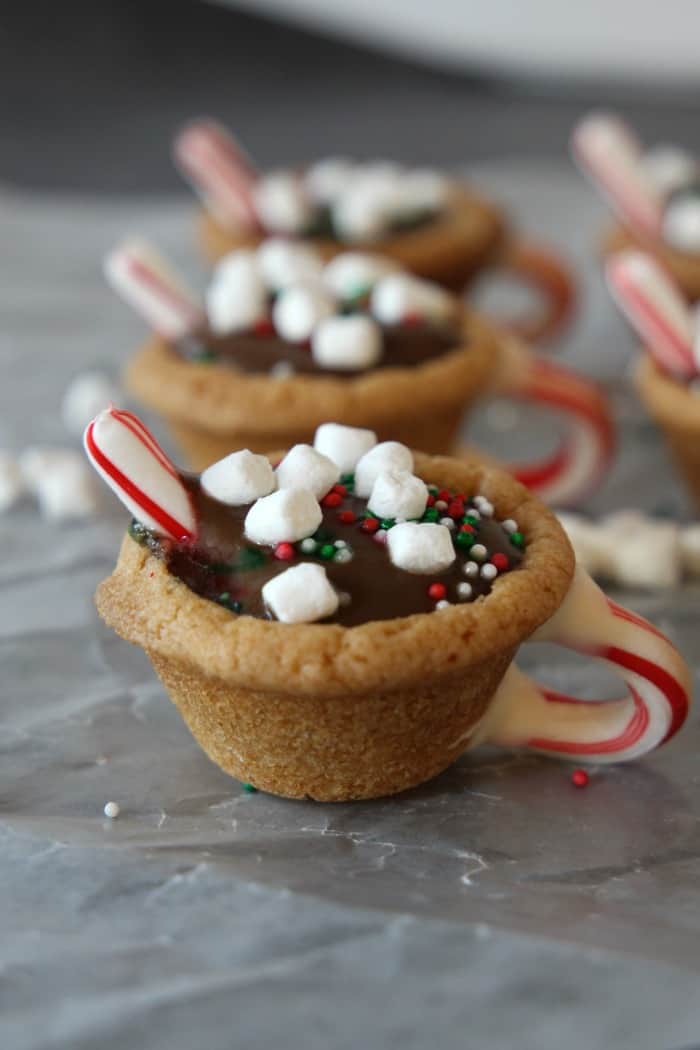 These Hot Chocolate Cookie Cups are my newest favorite Christmas Cookie Recipe! They are super cute and really easy to make!
Our Chocolate Peanut Butter Balls are always a huge hit! They are a great no-bake dessert and perfect for cookie swaps!
These Christmas Tree Brownies are so creative and actually very easy to make. One Little Project was genius showing us how to make these treats.
The 36th Avenue just shot the cuteness factor of holiday treats way, way up. She created these for holiday classroom treats and they actually look rather simple to make. They are just so adorable, too!
This is one of my favorite holiday treats that we have made together as a family. Come see the step-by-step video on how to make our fun and creative melted snowman bark. Your kids will really get a kick out of this one!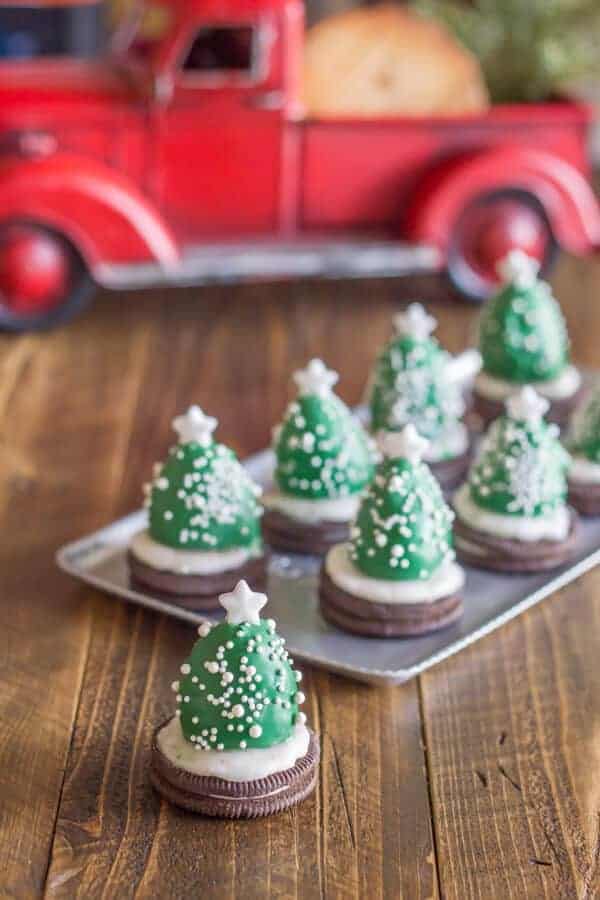 Lovely Little Kitchen whipped up a batch of chocolate covered strawberry Christmas trees on an oreo base. How adorable and I think the mix of the cookie and strawberry mixed with the chocolate is out of this world delicious!
This holiday treat is actually a present! Meaningful Mama shows us how to create a rice krispie treat gift box that can actually hold edible treats. I am in awe of this idea and I love that the gift… is a gift!
Have you ever made truffles? These peppermint mocha truffles are a cinch to make, but they taste so decadent and delicious. Put them in a gift box and you have a fantastic gift for teachers and friends.
Kitchen Fun with My Three Sons is always up to something incredible and out of this world. She made these sweet holiday hot chocolate mug cookies and they are off the charts. I wish I could crawl into her head and have her level of creativity… it is insane!
These cornflake wreaths are really fabulous. They are so much fun for the whole family to make together. Spicy Southern Kitchen gave us a wonderful idea with these amazing little gifts.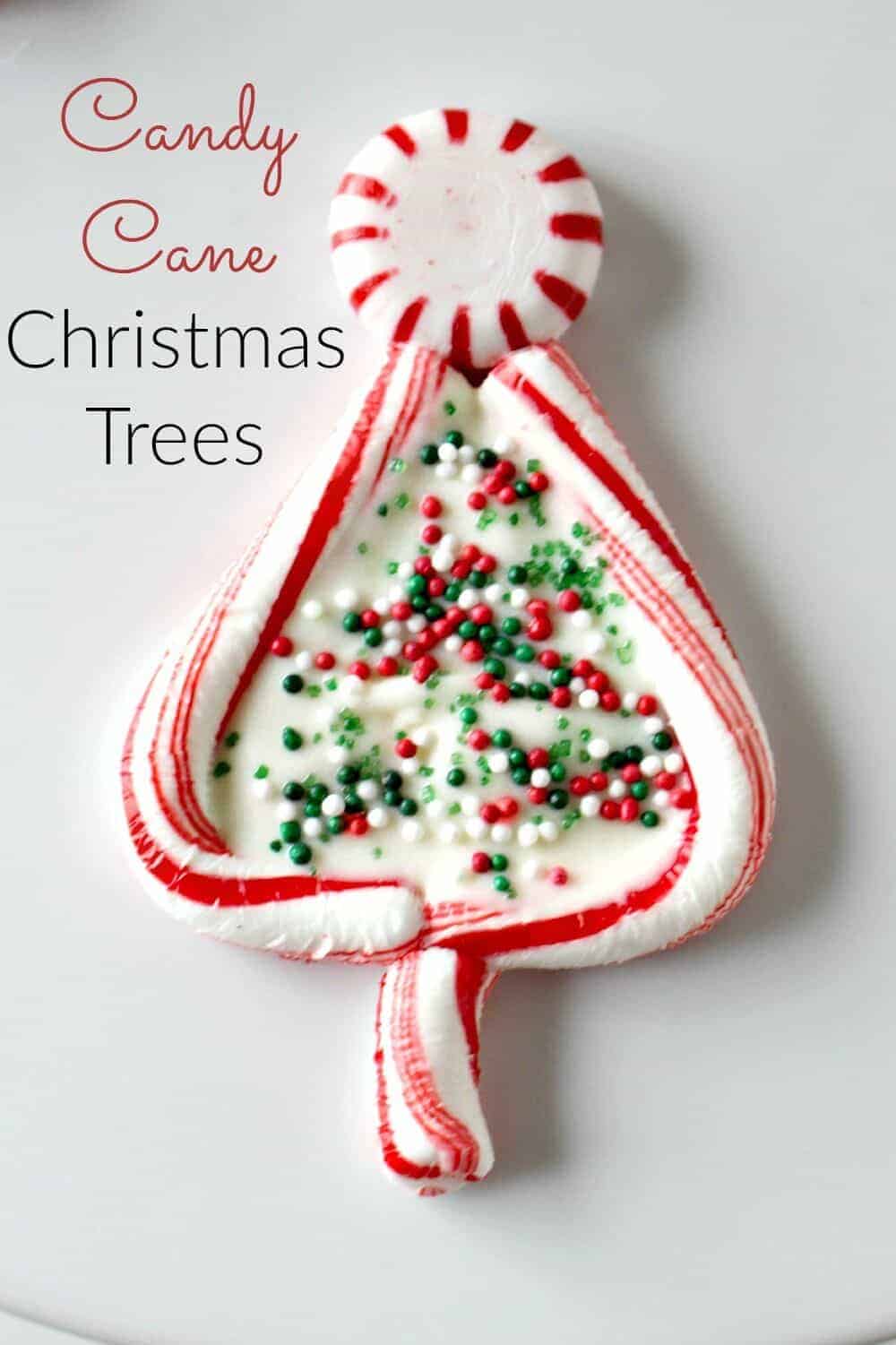 Last year I shared how to take candy canes and make these sweet Candy Cane Christmas Trees. They have been pinned over and over again on Pinterest and I have a feeling these may make another showing this year!
Mel's Kitchen Cafe shares her favorite recipe for creating peppermint patties. You'll never believe what she uses to make these… it is super smart and I can only imagine how delicious they taste!
Oh my goodness, have you ever seen cuter Oreos. Passion for Savings shared this recipe for how to take Oreos and make them into penguins and they are so sweet. I love their little headphones, too! I would have never thought to do that, but I love it!
Short on time or need something you don't actually have to cook? My No-Bake Santa Hat Cookies can be whipped up in no time and they are so yummy. The kids will love them, too!
Two Sisters Crafting just took marshmallow pops into a new dimension. They stacked and dipped and drizzled into the perfect holiday marshmallow treat. I can't wait to try this one this year!
Last, but certainly not least, I saved these adorable goodies for all of my fellow Disney fans. Living Locurto came up with the sweetest, cutest, most adorable Mickey and Minnie holiday cookies. I love how she used different sized Oreos and created these tiny masterpieces. Love!