Looking for totally different Christmas Tree Decorating Ideas? These Alternative Christmas Trees are going to blow you away!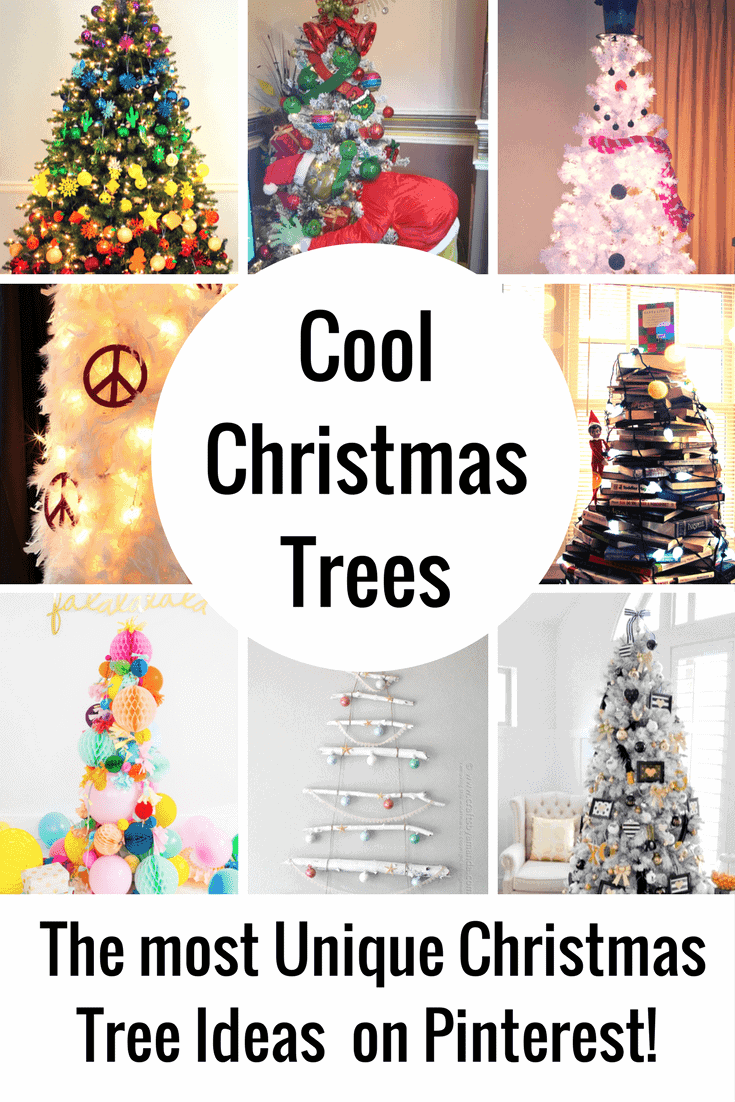 These Christmas Tree Decorating Ideas are so creative and so out of the box, not to mention beautiful. These are not your ordinary trees my friends. These are superstars, are standouts and are just downright cool.
Gone are the days of decorating your tree with only a paper chain and an angel. Tree decorating has morphed into a sport almost and so many look forward to this the most when it comes to holiday decorating.
There are oodles of pretty trees out there, but these are very special. They are anything but ordinary and these trees are sure to impress.
If you are looking to spice up your holiday decor this year and re-vamp your tree, you have come to the right place. I hope you enjoy these beauties as much as I have!
Love it! Pin It to your DIY Board on Pinterest and SAVE it!
Follow Princess Pinky Girl on Pinterest for more Food, DIY, Travel & MORE!
Let's see those cool and unique Christmas tree decorating ideas…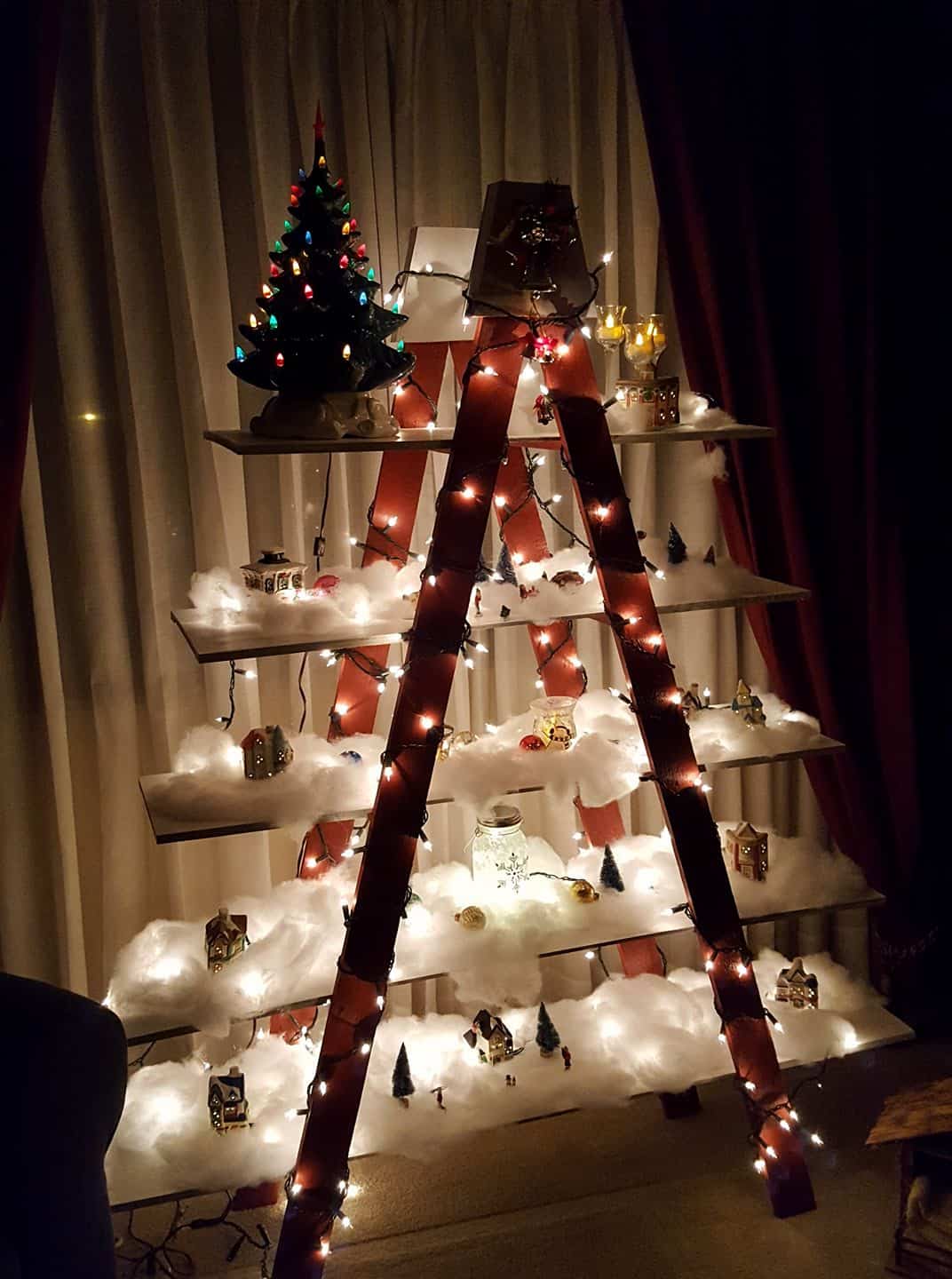 Looking for an alternative to the "usual Christmas Tree? I love this version submitted by one of my amazing Facebook readers. It is a great way to display special Christmas keepsakes and gives a beautifully warm and cozy glow.
Some things just make you so happy to look at. That is totally how I felt when I saw this DIY Pom Pom Christmas tree idea from Sugar and Cloth.
Hit the party store to gather all you need to make this fun-filled tree this holiday season. This tree seriously makes me smile every single time I look at it.
Every. Single. Time.
Alright all of you color fans… you are going to fall in love with this rainbow Christmas tree by Lines Across. Isn't she lovely?
I think it is so cool and think this would be so fun with modern decor or in a children's playroom. Really any room. This is for the child in all of us!
Channel your inner collector when you make a ladder tree. This Vintage Ladder Christmas Tree by Funky Junk Interiors is really so beautiful and perfect for the fixer upper or farmhouse decor fan.
I love it when old things find a brand new purpose, don't you? I really love it that she used burlap and hydrangeas, too. Such a fabulous combination.
Who doesn't love a sweet snowman? This cute snowman tree styled by Plum Crazy Coupons just might be the easiest tree you've ever decorated!
With only a handful of decorations, this little guy would light up any room. White trees are available so many places right now. You can even have one delivered to you like this one.
I think one of my main motherhood goals is to instill a love of reading with my kids. There is nothing like escaping the world with a great read. It also helps summer days fly by.
A Little Crunchy makes this awesome book tree each year. What a clever idea and conversation piece. She lovingly refers to it as her "My Mom is a Geek" tree. I think geek is chic and this tree rocks. Don't you love it?
When the cooler weather sets in, I find myself dreaming of the beach. This tree via Crafts by Amanda, will quickly transport you to your favorite vacation spot.
She combines driftwood with ornaments. trim and the perfect starfish tree topper to make this coastal sensation. I love that all you need is one nail and an entire wall is transformed into a beautiful holiday decoration.
Did I mention how much I adore the vintage trim garland? Just precious.
Here is another alternative to the traditional Christmas tree using books… the bookcase book tree. I found this gem at Toxel . I think this would be so easy to emulate, even if you only had one bookcase.
Be sure to check out the Apartment Therapy article… there are so many great ideas for an alternative tree that is environmentally friendly.
This is such a beautiful idea and so elegant. Uncommon Designs used an inexpensive, white pre-lit tree and covered it in feather boas to create a lush and full feather tree.
This could be done in SO many colors and the decorating ideas are limitless. I am already seeing a beautiful black tree for Halloween!
Kara from Kara's Party Ideas has designed a beautiful and modern take on the traditional tree. She combines a white tree, black and white accents with a touch of gold. I love this color combination.
This tree is bold and stylish and looks incredibly amazing in the home. I love white trees!
Oh my goodness… this tree is just a blast. Kitchen Fun with My Three Sons is always coming up with something creative and this is fabulous!
This grinch tree is simply fantastic and I love the giant guy inside the tree. I don't know if I could sleep with him in the house all the time.
Now this is such a fancy idea… a Christmas tree dress. This particular dress was on Bored Panda and I just love it. It was used in a window display at a shop.
Unique ideas like this one can really inspire someone to go out and create the extraordinary. This is particularly fitting for a bridal shop.
Make a DIY Felt Christmas tree. This wall tree idea will provide countless hours for your little one to play and this is super simple to put together.
I think you'll love doing this, but your kids are going to think you are super mom!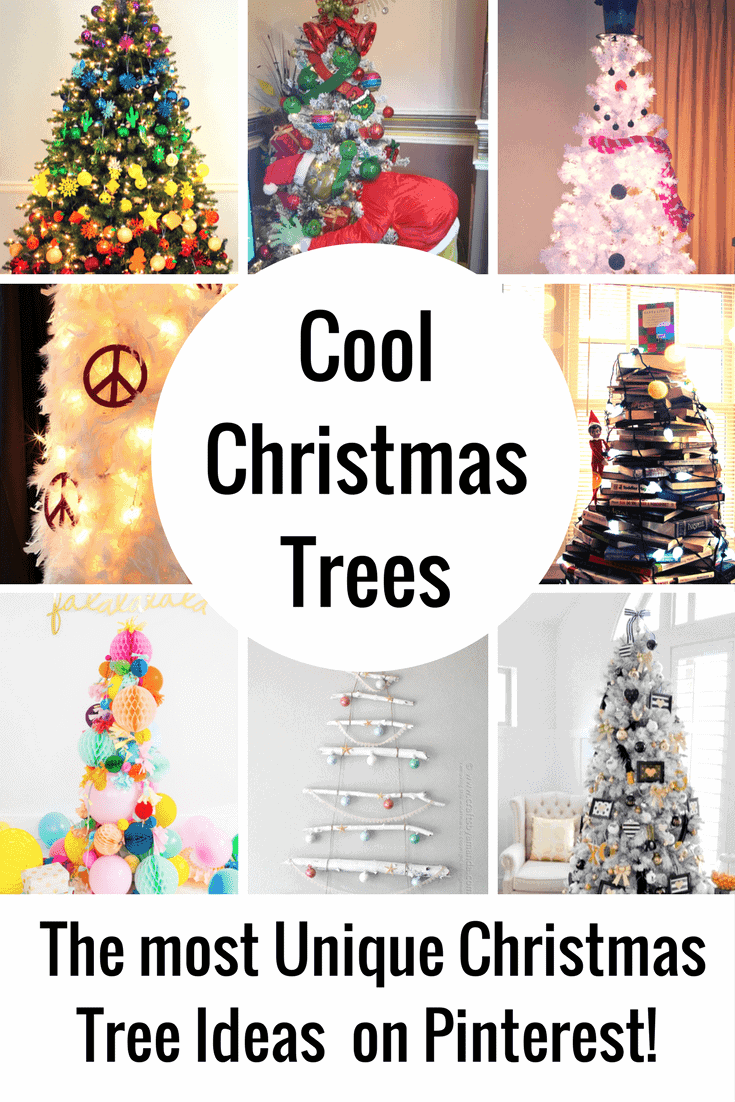 Looking for some other great Christmas DIY ideas? Click on the pictures below:
DIY Holiday Sharing Plate – great for a neighborhood gift!