Old Fashioned Chocolate Chess pie is a terrific treat.
The ingredients for this easy Chocolate Chess Pie are a staple in most pantries which makes it a go-to pie for holidays or anytime.
My name is Diane. I blog about easy recipes at Recipes for our Daily Bread. This Chocolate Chess Pie is a family favorite pie which is why I could not wait to share it with you. If you are looking for a terrific pie to celebrate the holidays, this pie is for you. I am going to teach you how to make it.
What is a Chess Pie?
Chess Pie is a Southern specialty. It has a simple filling of eggs, sugar, butter, and a small amount of cornmeal and flour. Yes, Cornmeal! Do not worry. You cannot taste the cornmeal and magically this pie comes out smooth and creamy. Chess pie is a cousin to Buttermilk Pie and Egg Custard Pie. If you have had either one of these pies, they have similar ingredients but with a slightly different taste and texture.
How easy is this pie to make?
To make this chocolate chess pie, you mix sugar, cocoa, flour, cornmeal, and salt. Use an electric mixer on low and gently combine these dry ingredients. Slowly add the eggs, buttermilk, melted butter and vanilla. Blend well. Pour into prebaked pie shell. Bake in 325-degree oven for 55-60 minutes until the center is set.
Chess Pie A Holiday Tradition For Decades
Every Thanksgiving and Christmas you will see a Chess Pie on our holiday table of desserts. Usually, my mother-in-law makes the pies. She typically prepares a Chess pie without the Chocolate. Floy, my mother-in-law, also makes her famous Pecan Pie. She grew up in Tennessee. Her mother, Ma Willie, who also grew up in Tennessee made these pies for her family. I grew up in South Alabama where we had plenty of pecans. You guess it. Growing up, pecan pie was a staple on our holiday table. Like Floy and Ma Willie, we had a chess pie too and I still love them today.
Making Chess Pie For My Family
When I started making chess pie for my family, being the chocolate lover, I am I added chocolate to the recipe. Chocolate Chess pie has become one of my favorite pies. It is full of chocolate and super creamy. If you live in the south, chances are you have had a chess pie. Chess pie is a Southern Tradition, and now you can taste why.
INGREDIENTS NEEDED FOR CHOCOLATE CHESS PIE:
Sugar

All-purpose flour

Yellow cornmeal

Salt

Cocoa Powder

Eggs

Butter

Buttermilk

Vanilla

Unbaked pie crust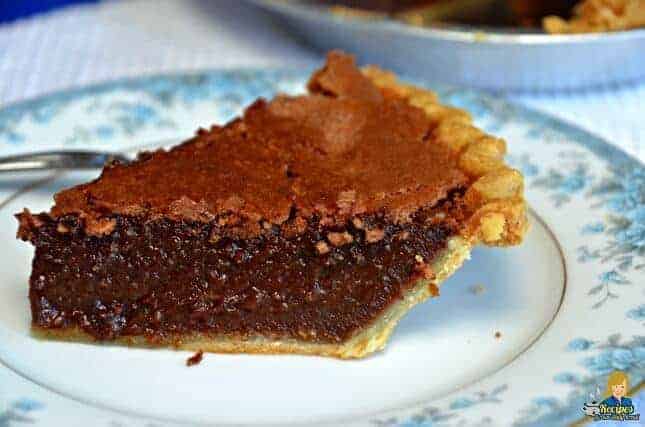 Sign up for the Princess Pinky Girl Newsletter and automatically receive our latest & greatest delivered right to your inbox! Follow Princess Pinky Girl on Facebook, Twitter, Pinterest and Instagram for all of the newest recipes, crafts, travels and updates!
If you make a Princess Pinky Girl creation make sure you take a picture and share it on Instagram with @princesspinkygirl ! I love seeing your masterpieces!