Flavorful homemade sauce and perfectly tossed over chewy Lo Mein noodles, tender chicken, and crunchy vegetables.
Jump to Recipe
This easy homemade version of Chicken Lo Mein is better than takeout and comes together quickly and easily. Flavorful homemade brown sauce and perfectly tossed over chewy Lo Mein noodles, tender chicken, and crunchy vegetables.
Easy Chicken LoMein
Chinese takeout is a craving that I get more times than I'd like to admit. It's just so darn good. Luckily, I've got a few recipes up my sleeve that can curb the craving such as my Better Than Takeout Fried Rice or Firecracker Chicken. And now, I can add this insanely delicious Chicken Lo Mein recipe to my arsenal.
This recipe comes together in no time…faster than you can order and receive a Chinese takeout delivery! And, this recipe for Chicken Lo Mein is even better than the version from your favorite restaurant, trust me on this! Plus, you'll feel good knowing it's all homemade and a healthier option.
What is Chicken Lo Mein?
Chicken Lo Mein is made by tossing together cooked Lo Mein noodles, a variety of vegetables, chicken, and a delicious sauce.
Lo Mein noodles are egg noodles that look like a thicker version of spaghetti noodles. They tend to be chewier than other similar-looking noodles, and they are delicious in any Chinese dish.
What is the difference between Lo Mein and Chow Mein?
Both Chow Mein and Lo Mein are made using long egg noodles that are cooked and tossed in sauce, but Lo Mein noodles tend to be a bit thicker and chewier.
Also, Chow Mein noodles will be boiled and then stir-fried, to give them a crispier outside, before tossing them in the sauce. Whereas Lo Mein noodles are boiled and then tossed in the sauce without the additional frying.
Why We Love Lo Mein Chicken
Easy to make
Kid-friendly and approved
Better than takeout
Healthy dinner option with lots of veggies
Can easily be made low carb with veggie noodles
Flavorful dish
Great when reheated as leftovers
Can be made with a variety of protein options
Easily made into a vegetarian version
Chicken Lo Mein Ingredients
I like to break the ingredients down into sauce ingredients and chicken and vegetable ingredients. It helps me stay organized. I've found that many of these ingredients will last for a long time, especially the sauce ingredients. So, when I make this recipe I always check my cupboards to see what I still have from last time, and what I need at the grocery store.
Sauce Ingredients:
Chicken broth
Soy sauce
Hoisin sauce
Oyster sauce
Cornstarch
Minced garlic
Light brown sugar
Ginger
Chicken & Vegetable Ingredients:
Vegetable oil
Sesame oil
Chicken breast
Carrots
White onion
Bell pepper
Broccoli
Snap peas
Green onion
Lo mein noodles
SEE FULL PRINTABLE RECIPE CARD BELOW
How to Make Chicken Lo Mein
This recipe will come together quickly and easily in just 45 minutes. It takes about 25 minutes to prepare everything and just 20 minutes to cook. Then, it's time to enjoy this flavorful dish.
Prepare the noodles.
Whisk together all of the sauce ingredients.
Cut and cook chicken breast until no longer pink.
4. Saute carrots and onions.
5. Add peppers, broccoli, peas, garlic and ginger and cook, stirring constantly.
6. Pour sauce over the vegetables and cook until it begins to thicken.
7. Add cooked chicken and lo mein noodles.
8. Garnish with green onion and serve!
Lo Mein Variations
VEGETABLE LO MEIN: To make this a vegetarian dish, simply leave out the protein and add in your favorite veggies until they are tender.
SHRIMP LO MEIN: Cook the shrimp after you've finished cooking the veggies and add the cooked shrimp in at the end when you toss the pasta with the sauce.
BEEF LO MEIN: Steak is a great option for a delicious Lo Mein. I recommend using flank steak, cut into slices and cooked. Then, simply add it in as you would the chicken.
VEGGIES: You can add or remove the vegetables in this recipe to your heart's content. Personally, I love cooked broccoli, so I always add extra. I also love adding in water chestnuts for a delicious crunch.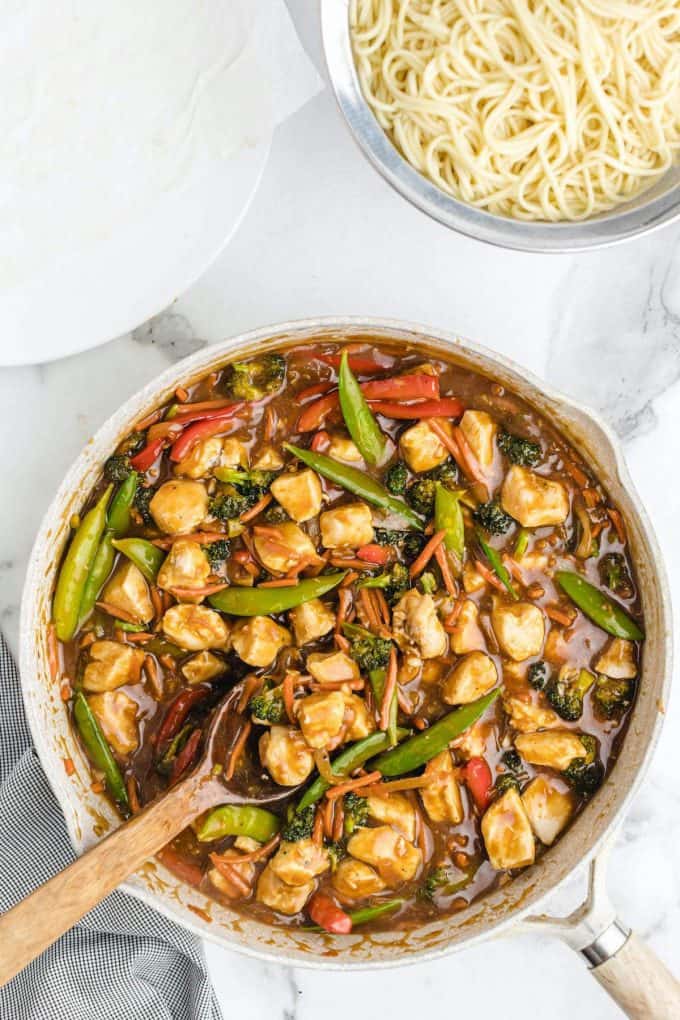 Tips for Making Lo Mein Chicken
Hands down, the best pan to cook any Asian dish in is a wok. It works great because you are able to cook everything quickly over high heat. Specifically the veggies. It softens them right up, while keeping them nice and crunchy. If you don't have a wok yet, I really suggest investing in one!
This recipe can easily be made low carb by swapping the Lo Mein noodles for veggie noodles, like zucchini or carrot. A little trick I like to use when subbing veggie noodles is to do half regular and half veggie, that way you get low carb, and still get the delicious chewy Lo Mein noodles.
How to Store Leftover Chicken Lo Mein
Store any leftovers in the refrigerator, in an airtight container for up to 3 days. This dish will reheat really well.
When reheating, I recommend adding a teaspoon of water, to keep the dish from becoming too dry.
This can also be kept in the freezer for up to 3 months.
More Great Dinner Recipes
Garlic Butter Steak Bites | One-Pot Chicken Parmesan Pasta | Korean Beef Bowl | Bang Bang Shrimp (Copycat Bonefish Grill) | Sheet Pan Quesadillas | Chicken Pot Pie Skillet | Meatball Parmesan | One Pot Chicken and Rice | Easy Sesame Chicken
Chicken Lo Mein Recipe
Flavorful homemade sauce and perfectly tossed over chewy Lo Mein noodles, tender chicken, and crunchy vegetables.
Ingredients
Noodles
12

oz

chinese style lo mein noodles

cooked according to the package directions
Sauce
1

cup

chicken broth

⅔

cup

soy sauce

6

tbsp

hoisin sauce

6

tbsp

oyster sauce

5

tbsp

cornstarch

2

tbsp

fresh minced garlic

2

tbsp

light brown sugar

packed

1

tbsp

fresh grated ginger

½

tsp

black pepper
Chicken and Vegetables
3

tbsp

vegetable oil

divided (1½ – 1½)

1

tbsp

sesame oil

1½

lb

skinless, boneless chicken breast

cut into 1 in cubes (4 cups)

1

small white onion

halved and sliced thin (1½ cup)

1

red bell peppers

seeded and thinly sliced

3

cups

fresh broccoli florets

1

cup

fresh sugar snap peas

1

tbsp

fresh minced garlic

2

green onions

sliced thin on the bias (optional garnish)
Instructions
Noodles
Prepare the noodles according to the package directions, drain and set aside.
Sauce
In a small mixing bowl, combine all sauce ingredients and whisk until completely combined.
Chicken and Vegetables
In a 12 in. skillet, over medium-high heat, add 1 ½ tablespoons of the vegetable oil. Add the cubed chicken breast and cook for 5-7 minutes, until it is no longer pink inside. Remove the chicken and set aside.

Keeping the heat on medium-high, add the remaining vegetable oil and the sesame oil. Add the sliced onions and carrots. Saute for 3-4 minutes, stirring constantly.

Add the sliced red peppers, broccoli florets, sugar snap peas, fresh minced garlic and grated ginger. Reduce the heat to medium, to keep the garlic from burning. Continue to stir constantly and cook for 3 minutes.

Whisk the sauce, and pour over vegetables. Cook for 1-2 more minutes until the sauce begins to thicken. Remove the pan from the heat.

Add in the chicken and cooked lo mein noodles. Using tongs, toss to completely coat the chicken and noodles. Garnish with the sliced green onions, and serve while hot. Store any leftovers in the refrigerator, in an airtight container for up to 3 days.
Nutrition Info
Calories:
824
kcal
|
Carbohydrates:
105
g
|
Protein:
53
g
|
Fat:
21
g
|
Saturated Fat:
10
g
|
Trans Fat:
1
g
|
Cholesterol:
110
mg
|
Sodium:
3987
mg
|
Potassium:
1229
mg
|
Fiber:
7
g
|
Sugar:
18
g
|
Vitamin A:
1739
IU
|
Vitamin C:
125
mg
|
Calcium:
109
mg
|
Iron:
3
mg