Make this fun Easter bunny handprint craft this spring. This kids handprint craft is perfect for Easter. Make these Easter bunny handprints to add to a spring flower bouquet, great for grandparent gifts!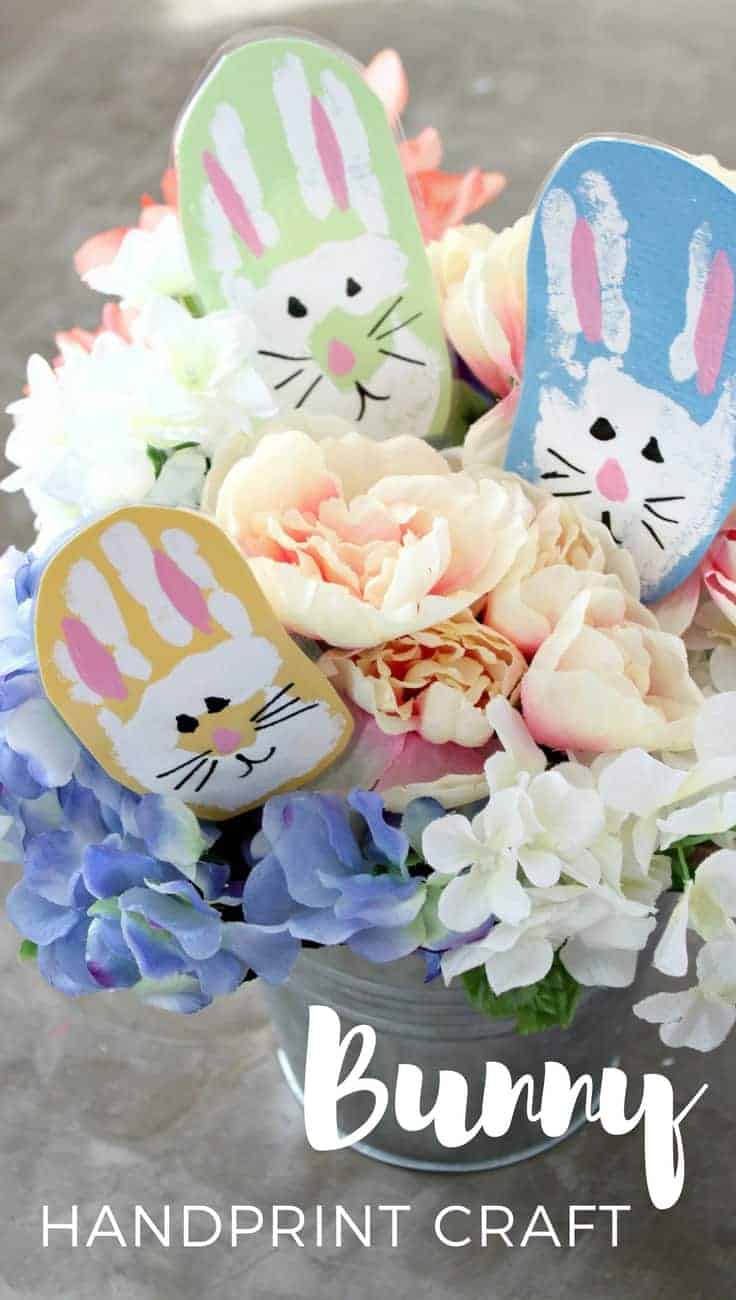 This fun Easter Bunny Handprint craft is the perfect decor for your Easter dinner table! Bring it to grandma and brighten her day!
Hey there! I'm Aimee, and I blog over at The Crazy Craft Lady where I strive to make everyday creative with simple crafts, easy family-friendly recipes, organizing solutions, and DIY decor projects.
Thanks so much to Jenn for letting me stop in today and share this guest post – a simple and fun Easter bunny handprint craft. Make this handprint craft to add to a spring flower bouquet. They would make a great grandparent gift or addition to your desk at work.
Looking for some fun Easter or Spring food crafts? Check out Jenn's Spring Flower Pretzels bites or her Bunny Butt Cookies!
If you and the kids are looking for more creative Easter inspiration, give these Painted Easter Treat Bags a try. And if you want candy-free Easter basket ideas, check out these Toddler-Approved Dollar Store Easter Basket Ideas.
Supplies Needed
(affiliate links included below)
A note on the laminator machine – If you have young children, this inexpensive craft machine (under $30) is well worth the investment. You can laminate artwork to save or give as gifts, as well as activity sheets that you want to re-use, chore charts, and more. We use ours all the time! If you don't want to go that route, self-laminating sheets are another great option.
Tutorial – How to Make an Easter Bunny Handprint Craft
Start with your little crafting helpers and white craft paint. Cover their palm and four fingers (NOT the thumb) with a generous amount of paint.
Then have the make white paint handprints on the colored cardstock craft paper. Let the white paint dry completely. Then cut out each handprint.
Grab pink and black craft paint, or a paint pen works too. Add a pink triangle for a nose, as well as two pink ovals for the bunny ears. Then add whiskers, eyes, and a mouth with black paint. Let all of the paint dry completely before laminating.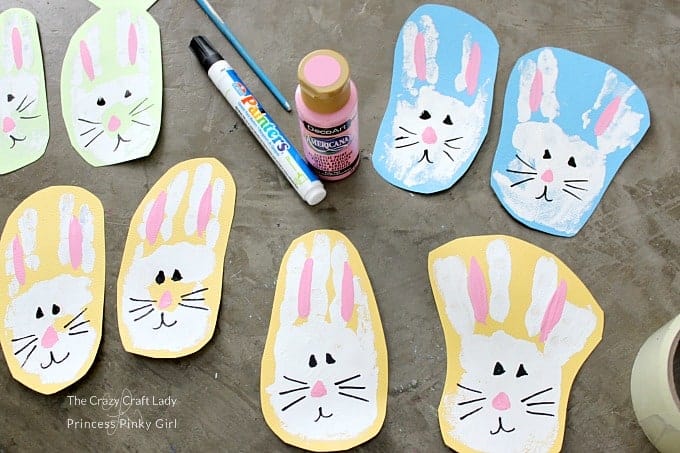 Run your bunny faces through the thermal laminator, or laminate with self-laminating sheets. I highly recommend protecting the bunny faces by laminating, especially if you plan on adding them to fresh flowers. You don't want your bunny faces being ruined by water!
Trim the laminated bunnies.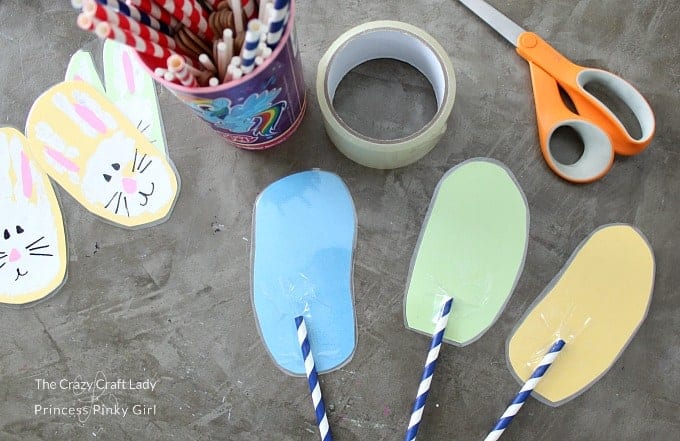 Using clear packing tape, attach a paper straw to the back of each bunny.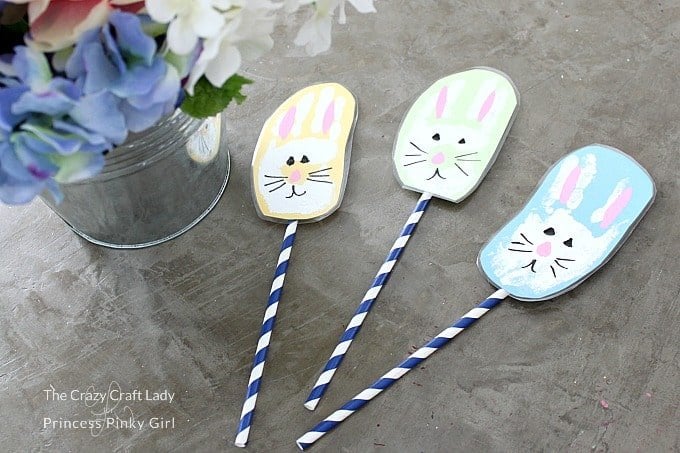 These handprint bunny sticks can be added to any spring flower bouquet. Pair the handprint bunnies with fresh flowers for a very special grandparent gift this spring.
You can even save the bunnies and keep them in a pen holder on your desk at work or in your home office. Be sure to write your child's name and the year on the back if you want to save these as keepsakes.
More Easter projects you'll love:
You won't be able to put this YUMMY snack mix down. Try Easter Chex Mix for an easy and tasty spring snack!