Teacher appreciation gift ideas have come a long way! These great handmade gifts will show your teacher how much you think of them!
When we were growing up giving a teacher appreciation gift was really quite simple. A nice note to the teacher, an apple…. the token teacher mug. These days the sky is the limit with teacher appreciation gift ideas and they are so creative!
Teachers work so hard, so tirelessly, so selflessly… they deserve the world. Most of us can't deliver that, but we can whip up a great handmade gift to show them how important they are in the lives of our children, our family and in our community.
I can't wait to share with you these amazing homemade teacher appreciation ideas that any teacher will go ga ga over!
Let's see those teacher appreciation gift ideas…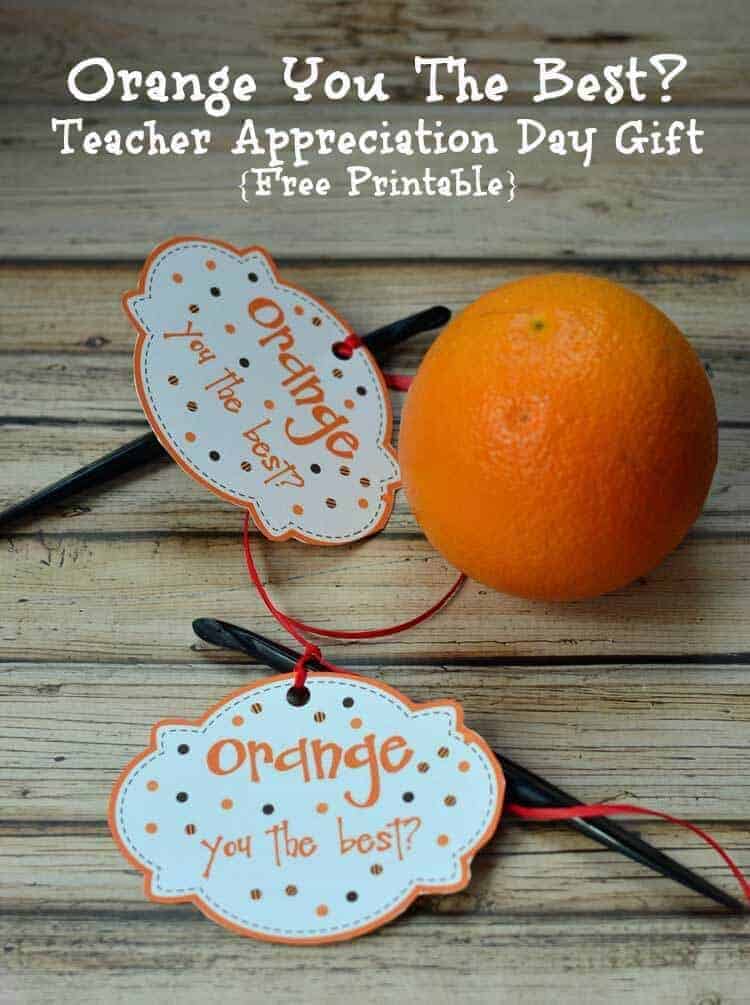 I love this simple, but totally sweet idea from Growing Up Gabel. This Orange you the Best free printable can simply be attached to an orange. This idea won't break the bank, but will be such a kind gesture for your special teacher.
Skip to My Lou has so many adorable ideas for DIY Teacher Gifts. Here is just a small sampling, but check out their site for tons more and free printables!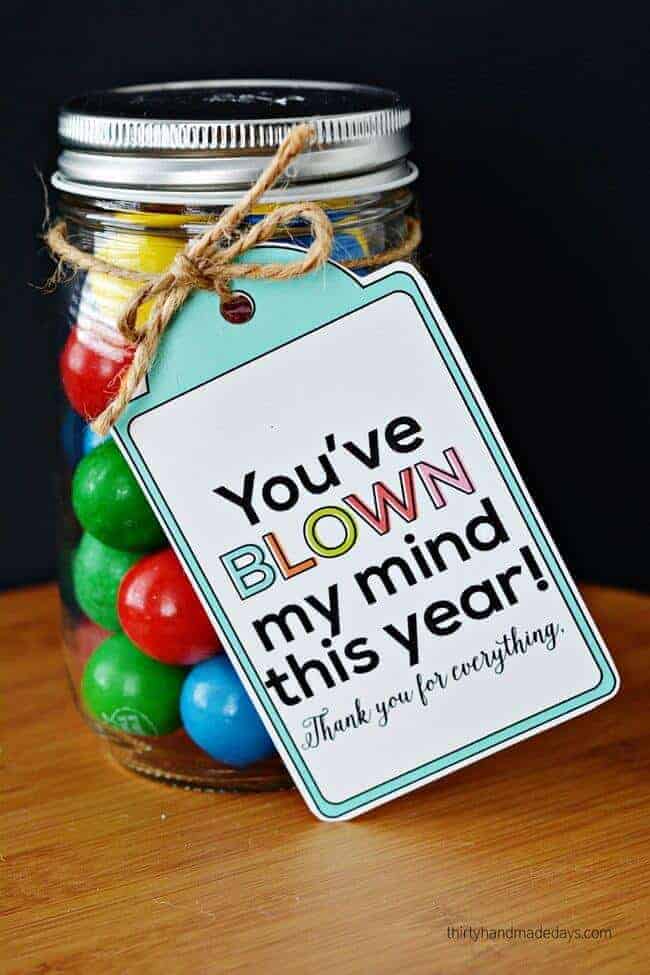 What a cute and easy DIY Teacher gift this is from Thirty Homemade Days! Check out their site for the FREE PRINTABLE!!
Break out the craft supplies and let them have a blast making these personalized rosettes by Kids Craft Room for their teachers. They can tell them what they love best about them and these are so cute they are sure to melt your teacher's heart.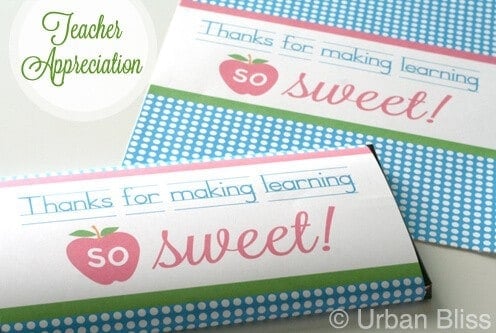 If one thing is certain, almost everyone loves a delicious chocolate bar. I'm sure that this free printable candy bar by Urban Bliss will please just about anyone I've ever met and the printable is so classic and creative.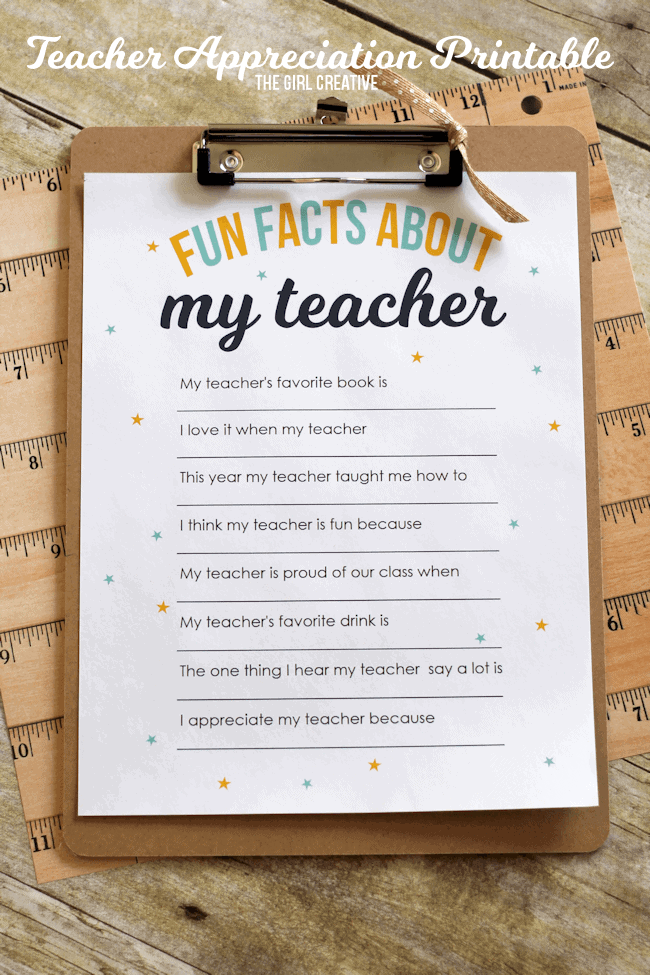 I think this might be one of my favorites. The Girl Creative created a fun free printable that your child can fill out and give to his or her teacher. Not only will the answers be sweet, they'll be so honest. Don't you love it when kids can't hide their honesty… the answers will be hysterical and heartfelt. My favorite kind.
Teachers always can use more post it notes and I love this rainbow of post it gift idea. The Educator's Spin On It simply tied ribbon around a stack of post it notes and her child signed the ribbon. Simple, useful and one that anyone can pull off!
Based on her own classroom experience, Wonder Mom Wanna Be created a tote full of supplies. Her favorite gift for teachers is to help ease the financial burden of supplying a classroom out of their own pockets (this is a common occurrence). I think this is such a great idea!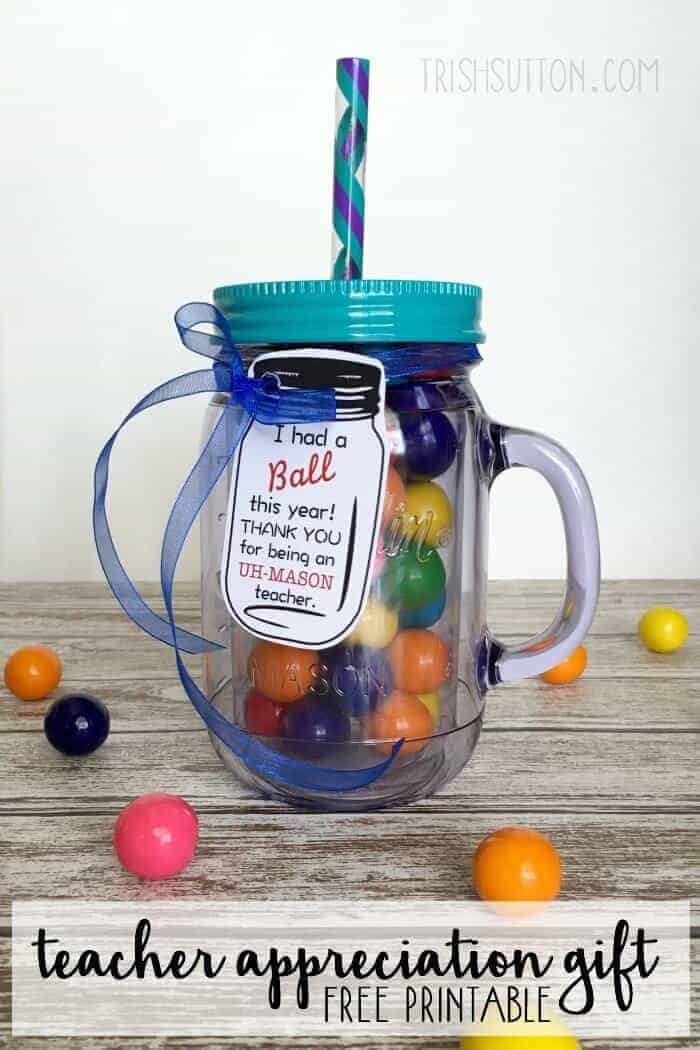 I love, love, love this idea! Trish Sutton came up with the absolute cutest idea for a mason jar gift and free printable. I definitely will be using this one with one of our favorite teachers this year.
This DIY Pencil Vase is THE perfect project to make with your little one for their teacher. You can find the easy how-to instructions at Cincy Shopper (they have a ton of other adorable crafts too!!)
I know many a teacher who would think this is the finest gift idea around. A bottle of wine or their favorite beverage with this precious free printable. I love it! The Make and Do Crew did good. Do they make a printable for moms? Wink, wink 😉
The Idea Room came up with such a unique gift idea for teacher appreciation. She gave a set of erasers a face lift and combined it with a great printable. Even the wrapping is adorable. You just have to check it out!
I love this idea from Oh My Creative. A jar full of kisses and adorned with keys. "You are the Key to My Success" . It even includes a free printable tag for download. Like I've said before… everyone loves a little chocolate!
Speaking of Chocolate… Skip to My Lou came up with the best idea to give a special teacher chocolate covered strawberries with tags that say " I'm berry happy to have a teacher as sweet as you" Who wouldn't want to receive that? I love chocolate covered strawberries.
At the end of the year… teachers have one thing on their mind… Summer! Mommy Moment really knows how to give a good gift of fun, refreshment and relaxation all in an adorable bucket. I love it and I know any teacher would, too!
Tatertots and Jello is warming the heart of the movie-loving teacher. This gift is so smart and comes with a free printable tags and fry box. You could use the fry box for so many things! Here she filled with a movie gift card and favorite movie theater treats.
This is such a cool idea for a teacher gift. Amy from DIY Candy made this dual dry erase board and chalkboard. Perfect for the favorite teacher in your life. They could use it at home or at school. I have a feeling you are going to want one of these for yourself! Head on over to see how to make it… you won't believe how simple it is!
Here are a few of my favorite handmade gift ideas found on ETSY! No work on your part, but you'll be bringing all the creativity and magic in these gifts!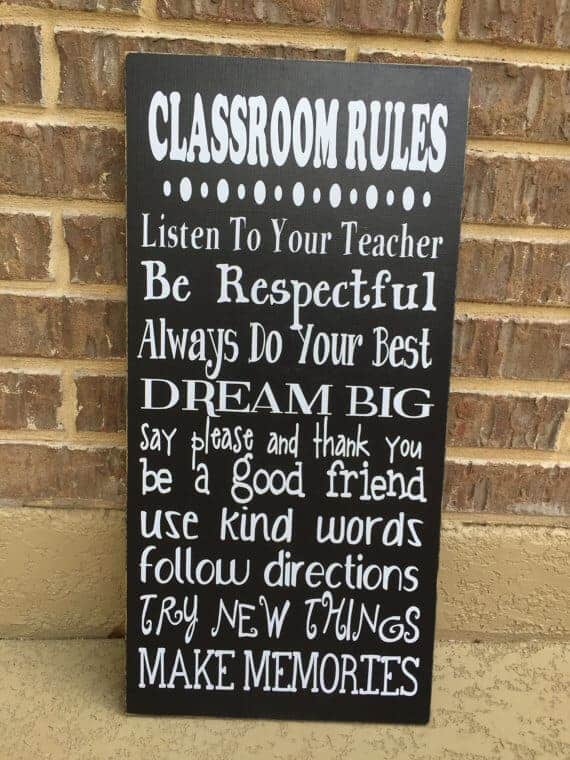 I bought this sign for my son's fifth grade teacher last year – she loved it! They can even personalize it with your teacher's name and any sayings you would like!! Colors too!! Find it here: Customized Teachers Classroom Sign
Does your child's teacher love candles – what is better than this CUSTOM CANDLE for a great and personal teacher's gift?
Personalized Teacher Water Bottles
Personalized Teacher Stationary with Polka Dotted Apples
Merci Beau Coup Personalized Candle Teacher Gift
If you'd like to see even more teacher appreciation gift ideas you've come to the right place. Head on over to my DIY Teacher Appreciation Gift Ideas Post for more ideas!