The Best Christmas Gifts for Dad! The days of getting dad socks or a tie are over! This variety of gift ideas will have you set for a long time with great gift ideas for dad.
Be it for the holiday season, Father's Day, birthday or even a "just because" gift, check these out – you'll find something that'll make you think of your dad! Looking for something for others too… see our Great Gift For Mom and our Great Gifts for Teens
Great gifts for Dad! What do you get for the dad who has everything? Well, we have found some great gift ideas for you! For the dad that loves to be pampered, to the dad that loves to cook, we have great gifts for dad that he will love!
(This article contains affiliate links, but all opinions are 100% my own)
You guys…. I sat in this chair and was obsessed! This is the Nemo Stargaze LUXURY recliner. They are not kidding when they say luxury.
The first ever swinging and reclining camp chair, Stargaze chairs take relaxation to a new level. When you're ready to recline, simply lean back to activate the auto-reclining mechanism and enjoy a great view of the stars.
Unlike rocking chairs, this chair is designed for use on any surface, including rocky, sandy or uneven ground, bringing the relaxation of motion to a host of new environments.
But wait, it has all the little comforts you love, including an adjustable headrest, a no-spill cupholder and a stash pocket to keep your little things close at hand. This is the chair you'll want to take to camp, the beach, tailgating, your backyard or even your kid's soccer game sidelines. The chair set-up is intuitive and easy, with just three quick steps so you can set it up and pack it up into the included padded carrying case quickly. The case comes with a shoulder strap and has room for you to stash your phone and keys. You'll never think of sitting in the same way!
There is not a dad (or mom, or man, woman or child) on this planet that wouldn't love this gift! There are three versions of this chair, but I am telling you, go for the Luxury edition – you will not regret it! See more about it here!
Don't let anyone tell you that all ice is created equally! This Opal Nugget Ice Maker was hands down my husbands favorite gift ever! It soon became our family favorite as well!
There is something irresistible about this chewable, crunchable, flavor saving ice (you know you go out of your way to those restaurants that use it). The best part is that you will never be left short on ice with this ice make – it takes only 20 minutes until "first ice". (just don't be surprised when you neighbors start showing up needing to "borrow" some ice!
The GoBe2 takes the fitness tracker to the next level. This baby does it all! No more counting calories or points in an app, the GoBe2 does it for you. It's really cool! This is how it works – 1) After you eat, your body starts converting food into glucose. 2) Insulin triggers your cells to absorb glucose and release water. 3) The GoBe 2 measures these changes by sending high and low frequency signals through your tissue to determine the fluid volume of your cells.
It will tell you the number of calories you have consumed and burned. It will tell you your heart rate, number of steps, water consumption, sleep quality and so much more!
The GoBe2 is the perfect gift for those that are trying to get a better handle on getting in shape or for those already on a good fitness path, but want to optimize their fitness monitoring.
So I am about to win the Best Wife in the World award! That's right, I literally won! Hopsy developed the SUB Home Draft System.
It's a plug-and-pour appliance that sits right on your countertop and brings the taproom or beer bar experience into your home. The SUB is the only way to enjoy beers from Hopsy's award-winning brewery partners on draft, in your home.
Say goodbye to dusty bottles and cans and drink your beer the way the brewers wanted you to: fresh and on tap. For a limited time, Princess Pinky Girl readers can get it for $99 (and FREE SHIPPING) Regular price is $239! www.hopsy.beer/pinkygirl use code "pinkygirl"
This portable espresso maker is a compact and handheld mini espresso coffee maker for the coffee obsessed. Now, he can enjoy a fresh cup of quality espresso in the office, on camping trips, basically anywhere! It is powered by a USB cable, simply fill it with water and add espresso!
Is it time to take that coffee habit to the next level? Do you have a barista wannabee that needs to be unleashed! This Breville Barista Express Espresso Machine is the Cadillac of espresso machines. They don't get better than this, and you won't get a better cup of coffee anywhere (and made with love too!)
Celebrate dad with this stainless steel, etched mug that he can drink out of while taking some time to relax. It'll remind him of you every time he drinks out of it!
These monogram cuff links are the perfect gift under $50 for your dad! They're beautiful and a set he'll treasure.
With this portable speaker, dad can take his favorite songs on-the-go with him and be able to hear it even from far away thanks to it's incredible sound! Whether it's a Father's Day gift or to give to dad for the holidays, he'll be thrilled with this speaker the size of his palm.
This slim, stylish phone case is super protective for dad's iPhone and doubles as a wallet! It has multiple card slots inside and a spot for cash, along with an elastic strap to keep it closed and is great for safe keeping.
A classic turntable takes a modern twist – with this beautiful turntable, dad can listen to all of his records that he's kept for years with the ease of Bluetooth.
It comes in a large variety of colors, is well under $100 and will be the perfect gift for dad.
These classic UGG slippers are leather and made of the best quality! They are great for indoors and outdoors for dad, and the wool lining keeps dad's feet extremely warm and cozy inside.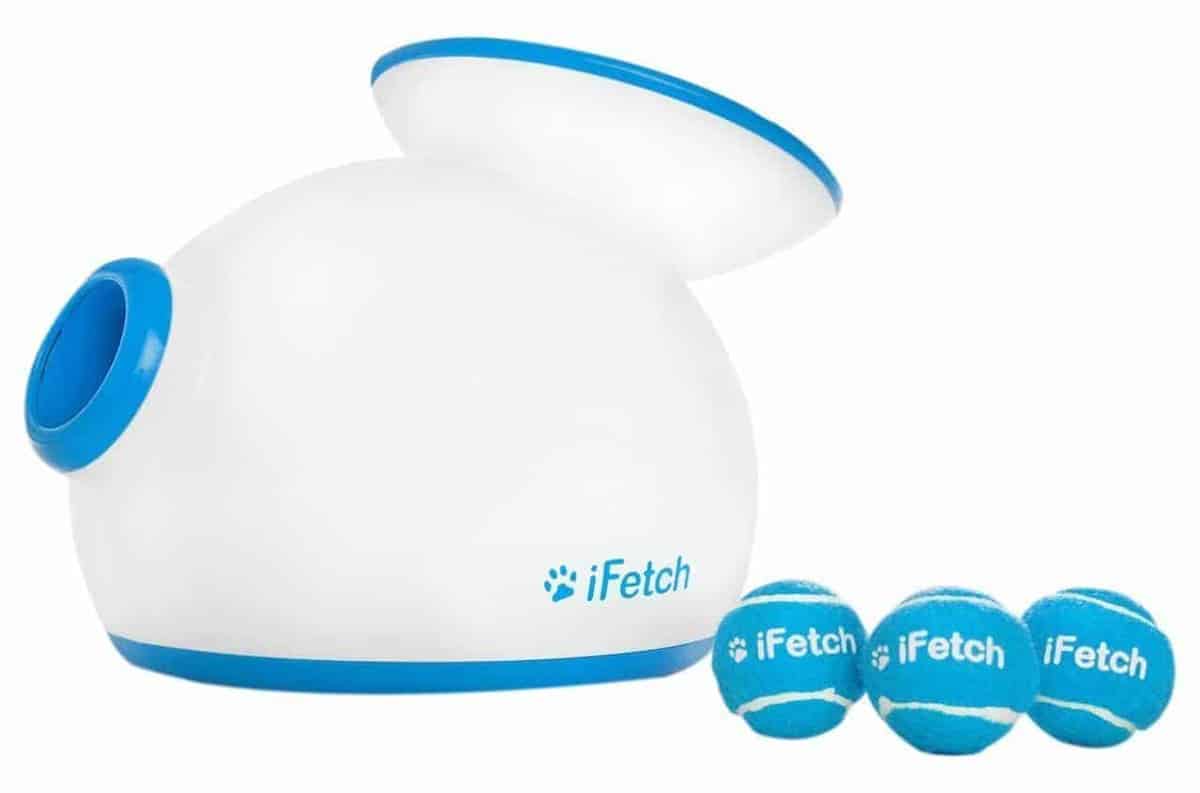 When it comes to great gifts for dad, just remember… Happy Dog, Happy Dad! The iFetch may be the most genius thing ever! Sure, it may be more of a gift for the dog rather than for the dad, but if your dog is like ours, she never gets tired of fetch.
Now she can play for hours, and hours, and hours!! (My husband loves it as much as the dog)
Get one of the sleekest watches out there for dad this holiday season! Its leather strap and rose gold face and hardware balance out beautifully for a bold look to go with anything dad wears. He'll love wearing this watch!
This beautifully packaged gift set from Burt's Bees is a great gift for dad year round! It comes with shaving cream, after shave, body wash, hand salve and lip balm. All are soothing, great for dad to get some R+R and re-energize himself.
This tabletop calendar quite literally celebrates dad every single day of the year! There's 365 pages and every time that dad sits down at his desk or in his favorite chair, he can flip to the next page of this calendar and gives a bit of daily inspiration for dad. He can use it year after year unlike a normal calendar and it's a great "just because" gift for dad, too.
This is a fun one! Ancestry.com will provide you amazing insight as to your family history. Find out detailed genetic ethnicity and new family connections! This is an incredible gift of history (his history!!) that dad will love!
A four-piece grill set that's perfect for the grilling dad in your life! It comes in a sleek carrying case, and dad will love to grill even more with this set. At only $26, it's perfect for when you need a gift for dad!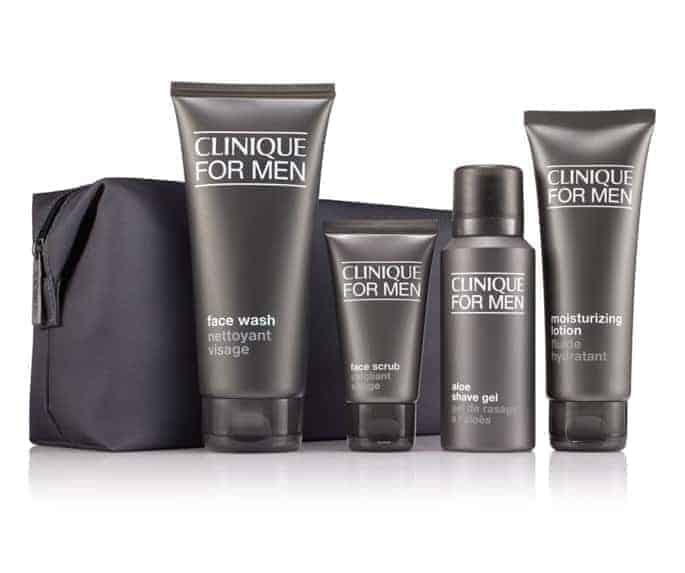 Give dad the gift of great, soft skin with this Clinique gift set! It comes in a beautiful travel bag (great for gift giving!) and comes with the best of Clinique's skincare.
These pants come in 5 different colors and are a perfect gift for dad under $20! They're extremely cozy and a must have for all dads – you can't go wrong with pajamas!
A luxurious cologne duo makes for a great gift year after year. This set smells wonderful and is essentially like buying one and getting the other free! A great value and perfect gift!
If dad loves to workout, this is for him! If dad isn't big on working out – still for him! It may be from Nike's Dri-Fit line, but it's comfortable and a great quality gift for any dad.
Let dad remind everyone that he IS the best dad ever with this $15 baseball cap! You can't beat the price and it's a gift for the men in your life that can't be beat.
Dad can make tons of memories with the family with this Canon Powershot camera! It takes great quality pictures without being too advanced or having too many settings, and is a great price as well.
Looking for some other Great Gift Guides – check out gifts for everyone!