Modern crochet ideas are fun and so cool! These unique crochet ideas are for beginners, intermediate and experts. Crochet something for a gift or crochet to sell! Whatever you do, check out these adorable crochet patterns and ideas!
We all love our heirloom baby blankets hand-made by Grandmother; and you will agree that the art of crocheting is a time-honored, multigenerational labor of love. But this week we're diving hook-first in to the fresh and exciting world of modern crochet. This is not your grandma's afghan collection.
Think Crochet Couture. Think "Wow! Where'd you get that!" Think stylish stitching and inspiring ideas that express your personality and skill. Journey to a whole new community of fiber artists, fun designers, and festive expression. Grab your hooks and check out the new threads. You'll get hooked on this modern spin to a classic skill!
Let's see those modern crochet ideas…
This metallic gold crochet ottoman would look stunning with any decor, but I do love it in this chic nursery.
So much gorgeous texture!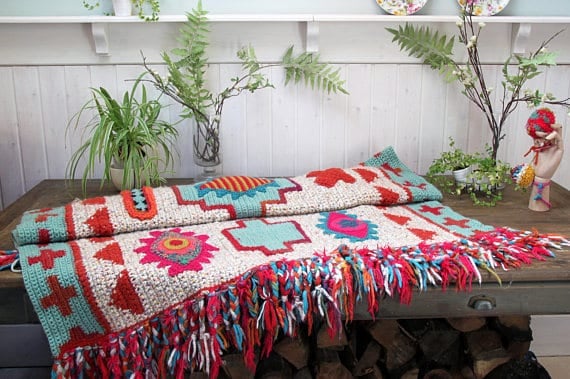 Liven up any room with this brightly colored vintage crochet blanket.
There is so much fun in just this one piece!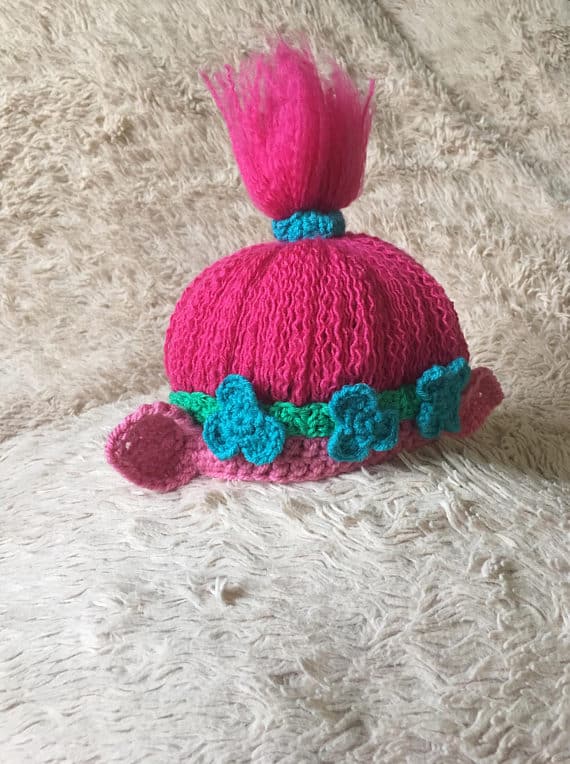 Get ready for winter or even just for Halloween with the cutest ever troll crochet hat. This is the most precious thing I have seen in ages. This is a pattern that is an instant download, so grab your pink yarn!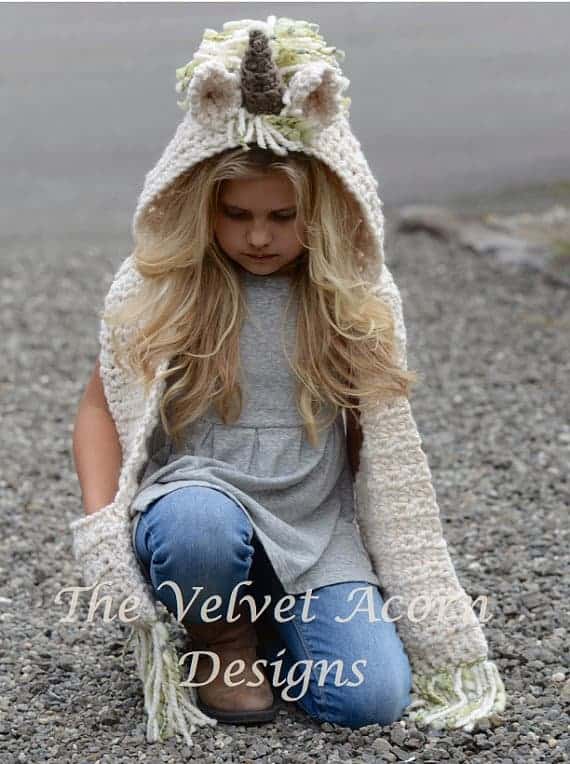 I wish that I could crochet. If I could, this would be the first thing I would make… a unicorn hood! Isn't she lovely?
Download the pattern and get crafting!
These crochet high top booties will push you to learn the art of crochet. They are the tiniest, most sporty and ultra fun bootie around.
I love that you can download and start crafting. They even include a printable of the box that you can use to gift these bits of fabulous. Love!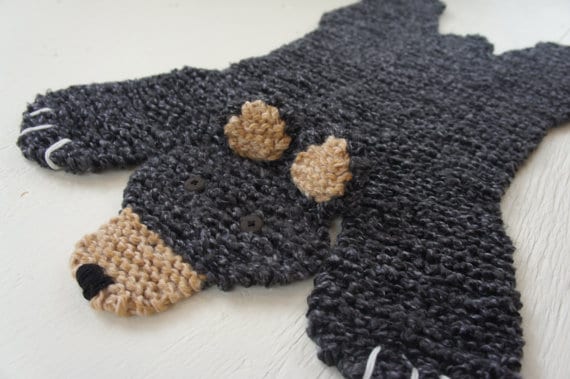 This Knitted or Crochet Bear Rug is perfect for a kids room or cabin or cottage. You can purchase the pattern and make it yourself (or have someone make it for you!) or buy it already made!
This easy Chunky Sweater Pattern from Make & Do Crew is going to have you stylish and comfy in no time.
This pattern uses a rectangle as the basic shape… so simple!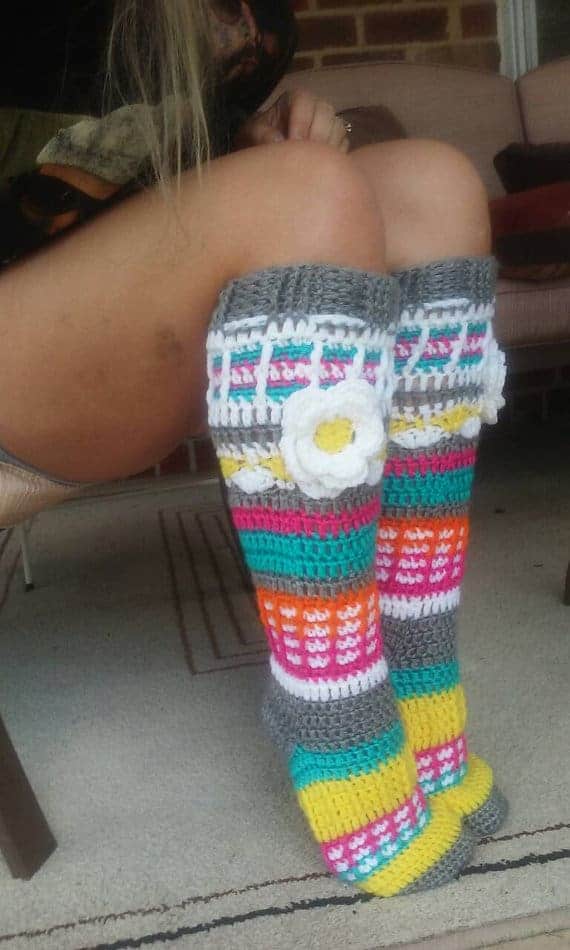 These Crochet Knee High Sock Slippers make the PERFECT holiday or birthday gift for that friend who is always cold! They are warm, cozy and super cute!!!
Who says organization has to be boring? Add design and texture with this gray crochet storage basket.
I don't know about you, but I can think of a million things to organize with these babies!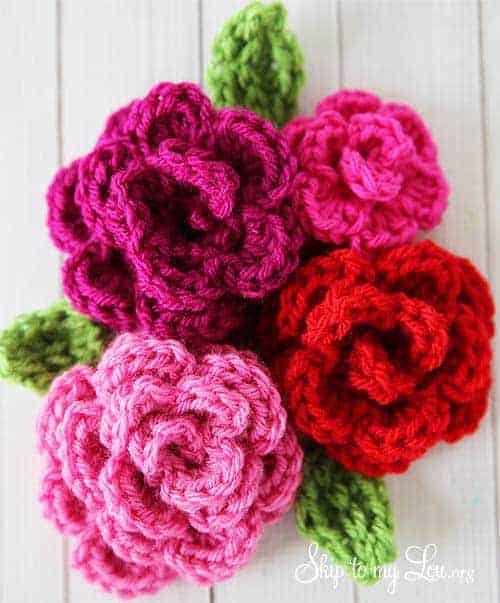 Make a bouquet of crochet roses with this super simple to follow tutorial by Skip to My Lou.
I love a rose that doesn't wilt!

There is just something so special about a unicorn that makes me happy. That is why I love this Crochet Unicorn Stuffed Animal. It is such a wonderful keepsake!
How about some adorable crochet bead earrings to go with all of your outfits.
These are so affordable you can get every color! You could wear a new color every single day if you wanted to!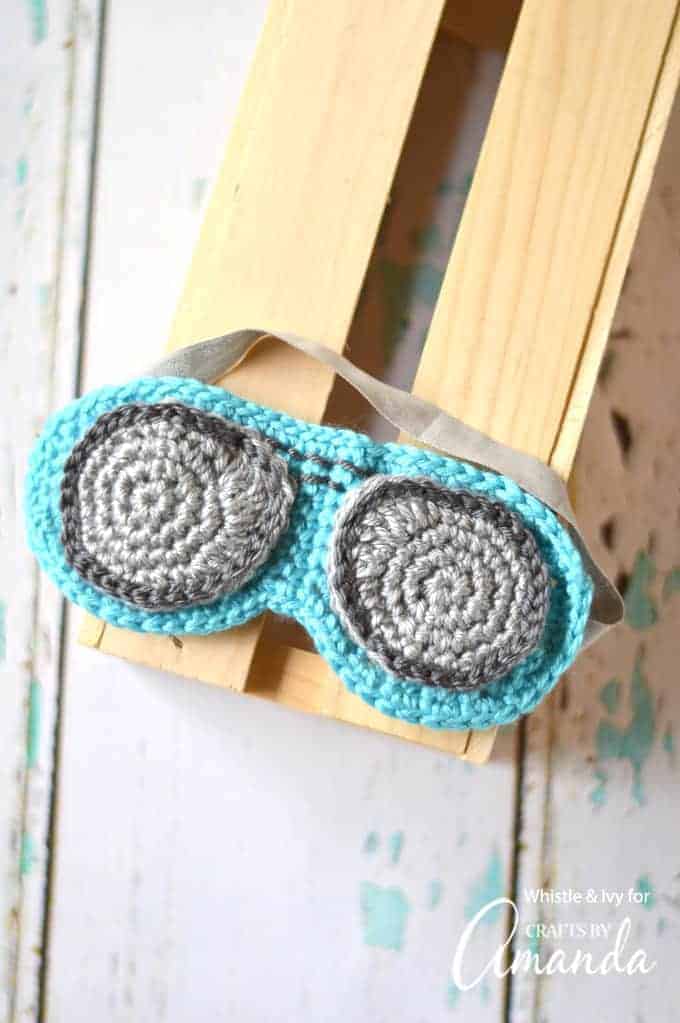 Get ready for a crazy cute gift idea for your little one… these aviator glasses sleep masks by Crafts by Amanda. I think this would be such a nice gift idea for a little guy.
I love this idea and it looks pretty simple to make for a beginner.
How sweet would this be in a newborn baby room! I love the sweet look on the elephants face in this Crochet Elephant Rug! Such a lovely addition to a room!
And of course, how can you have an elephant rug, without an elephant pillow??
These alpaca/llama crochet hats are so sweet! I love the detail and you just can't go wrong with a friendly llama. Am I right?
The best part is, they are great for boys and girls! This would make such a great baby gift. Do you know anyone who is expecting? I have a feeling they will love this!
How about this intensely colored Crochet Bauble Christmas Ornament? It looks like fun in one little ball. This is sure to brighten any tree and would be the perfect addition to your holiday decor this year.
There are so many fun colors, it will certainly match your tree! I am thinking this would go perfectly when I give gift cards this year. I always like to include a little something handmade to go along with it.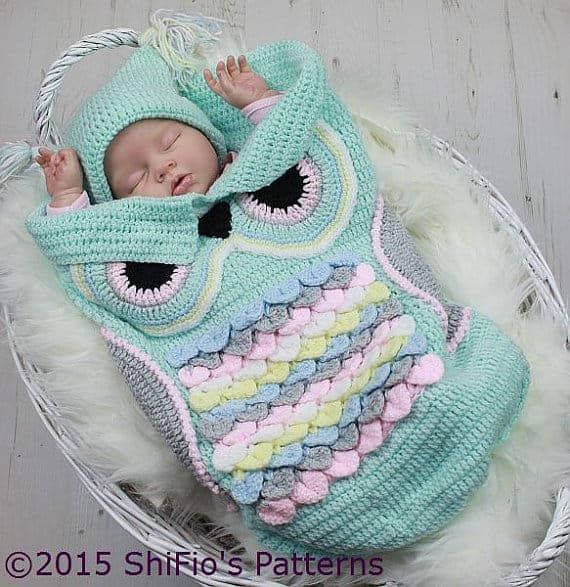 What a great baby gift this adorable Crochet Owl Baby Blanket would make! It cocoons your little one in and helps them feel safe and secure. Adorable!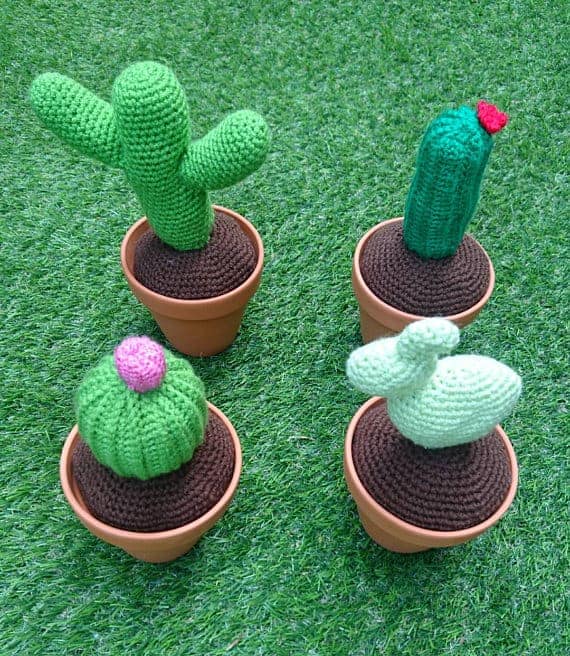 These crochet cactus plants are fabulous if you weren't born with a green thumb. They are retro and fab and are fun for play or display.
Can't you see this in a playroom? They won't prick anyones fingers and they never require watering. I think even I could keep these guys alive. That tiny flower is just the cherry on top!
Love crochet plants! How about this Crochet Sunflower!! Sunflowers are my favorite and now I have one I cannot kill!!
You may also like these fun project ideas…
Gift Ideas for Everyone on Your List
These great gift ideas are perfect for teachers, mothers, sisters and just about anyone you can imagine. You are going to love these fun recommendations and tutorials for beautiful handmade gifts. They are all so creative and trust me, they will be appreciated!
Want to have the prettiest presents under the tree? How about all of your gift wrap streamlined and organized. This article will have you ready for both and you will actually enjoy wrapping all of those gifts. You will even be able to use those presents as holiday decorations they are so pretty!
Be sure to pin this post for later…
I hope you've enjoyed these fun crochet ideas. I never tire of all of the creativity that is out there. If you like to purchase handmade items or just love to make them, I encourage you to pin this post for later. It is filled to the brim with holiday ideas that everyone will love.
Which one was your favorite? I have a hard time choosing!