I am always being asked about what are my favorite baking tools and my must-have kitchen gadgets! So, I thought I would create a list to share with you!
Each of these items is essential in my kitchen. They are in no particular order, because like my grandmother, I could never pick a favorite!
I participate in the Amazon Affiliate Program. If you click on the links below, I may earn a commission, but the good news is that it won't cost you anything more!! Did you know that I have an Amazon Shop! All of my favorite products can also be found there!! Click here to go directly to my Amazon Shop!! Enjoy!
The Best Kitchen Tools & Must Have Gadgets
Hope you love all of these kitchen tools and gadgets as much as I do! Visit my Amazon store to see all of these and more!
This indoor grill is perfect when you cannot grill outside (or even if you can!) I love that it has smoke control so no smelling up the house. It also has 8 preset cooking functions and a large enough grill to cook for up to 5 people! BUT... my favorite part is the shake reminder! It will notify you to shake or flip your food!
These silicone baking mats are a must-have in my house! I use them for everything! You're cookies will never stick to the baking sheet again! They have tons of different sizes or you can trim them to fit your items!
These cookie scoops are, of course, great for scooping out the perfect-sized cookie, but I use them for so much than that! They make the perfect Monster Cookie Energy Ball and I love them for filling my mini muffin pan for my Pancake Bites!
I love my salad finely chopped but I hate the time to do it. This salad chopper is used every day in my house. Just throw everything in the chopper friendly bowl and you will have a perfectly chopped salad!
These magnetic measuring spoons can all be nested together neatly, saving space and avoiding a mess. You won't waste time to looking for your spoons in your messy drawer. Without a ring holding them together, you can grab the spoon quickly and easily!
This is the kitchen tool you've always needed but didn't know existed! This meat chopper easily breaks up ground beef, turkey, chicken, hamburger, and sausage for fast, even cooking. It works great for separating frozen ground meat. Use it as a spatula to mix in your favorite spices while cooking. There is no other kitchen tool like this!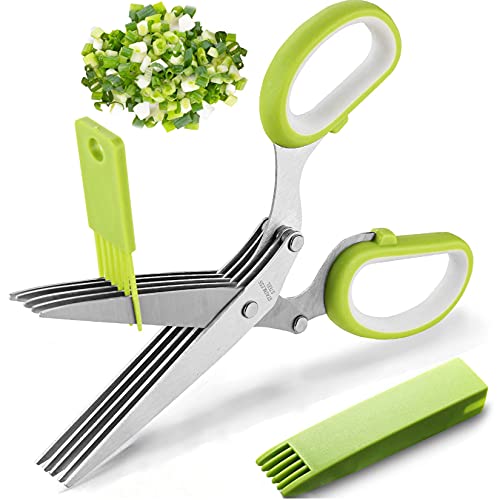 Trust me when I tell you, you will wonder why in the world you waiting so long to get these herb scissors. Cutting herbs can be a long and tedious process, but not with these scissors. Your herbs will be chopped to perfection in a matter of no time.
With a simple twist, the Cob Corn Stripper easily strips kernels off corn cobs, making your next summer salad or salsa fast and easy.
The fastest, easiest way to make smooth batters for pancakes, waffles, crepes, and more. Simply add ingredients, toss in the BlenderBall, and shake!
Literally the best coffee mug in the world. Your coffee will stay hot for hours!! Copycats are not nearly as good as the original
I will never drink my coffee without my milk being frothed again. This kitchen tool is a game changer. Adding the milk will no longer make my coffee cold! Better than going to your used-to-be favorite coffee shop.
Everything tastes better as a mini....right!! Now you can make a full 48 mini muffins or cupcakes in one pan. One and done! I couldn't bake without this pan!
This vegetable chopper is quick and easy making chopping veggies a piece of cake. It has 4 interchangeable blades that let you julienne, chop, and slice vegetables with ease.
This handheld bag sealer is very easy for you to seal bags with no need to preheat. When you press the upper cover, the heating element instantly seals your bags. It even has a blade to cut the not needed portion of the bag you are sealing.
So there you have it. These are just some of my favorites! I would love for you to message me and tell me what your favorite kitchen tool is so I can give it a try!!!