This post may contain affiliate links. Read my disclosure policy here.
If you take a sugar cookie and a silicon spoon mold and put them together what do you get? OMG you get these adorable Sugar Cookie Spoons!
Sugar Cookie Spoons – taking Cookies and Milk to a whole new level!
So whenever anyone asks me what I do, I say I am a blogger. "What kind of blogger?" is always the next question. Believe it or not, I have always struggled with this question.
As I have often said, I am not really a cook, I assemble more than cook. I don't really craft, I do easy DIY's that anyone could do.
However, this past week while I was making my latest creation, I figured it out – I am a FOOD CRAFTER! I love to craft with food – and this is where my latest food craft came from – Sugar Cookie Spoons!!!
(Also inspired from my Edible Peppermint Candy Spoons!)

Imagine this – a spoon you can dip in milk and then eat! Well, good news friends, you don't have to imagine this any longer – it exists!!!!!!
A Sugar Cookie Spoon is the only way to now enjoy cookies and milk! Take you cookie dipping to a whole other level with Sugar Cookie Spoons!!
See the how-to video and recipe below:
Here is what you need:
Your favorite sugar cookie recipe (this is now my absolute favorite, go to sugar cookie recipe! They are perfect for this sort of food craft because they don't spread – Wholefully.Com.
Wax paper
Sugar Cookie Spoons
If you take a sugar cookie and a silicon spoon mold and put them together what do you get? OMG you get these adorable Sugar Cookie Spoons!
Prep Time: 30 minutes
Cook Time: 12 minutes
refrigerate dough: 2 hrs
Total Time: 42 minutes
Course: Dessert
Cuisine: American
Servings: 16 spoons
Ingredients
Sugar Cookie Dough
Melting Chocolate
Sprinkles
Instructions
Separate dough into quarters and wrap it in plastic wrap. Place cookie dough in refrigerator for 1-2 hours (this prevents it from getting too sticky when you are working with it)

Preheat the oven to 400 degrees

Remove the dough from the refrigerator and fill the spoon molds with the cookie dough. Pack the dough firmly in the molds, especially around the head and neck of the spoon. (make sure you have enough dough around those areas)

Place the mold on a cookie sheet and place in the oven for 10-12 minutes (note: all ovens vary. you want to see the edges of the spoons just starting to get a golden brown)

Remove from oven and let cool COMPLETELY!

Carefully remove the spoon from the mold and let sit until they are totally cool all over

Melt the chocolate according to directions on the packaging

Place sprinkles in a small bowl that you can use for dipping

Carefully dip the spoons head in the chocolate and let the excess drip off

Immediately dip the chocolate spoon in the sprinkles and place on wax paper

Let dry completely (you can put them in the refrigerator for a few minutes to set

Serve with milk and enjoy!
Nutrition per serving
Calories: 264kcal |
Look at some of the other great food crafts I did with silicon molds! These Peppermint Candy Spoons are a huge hit!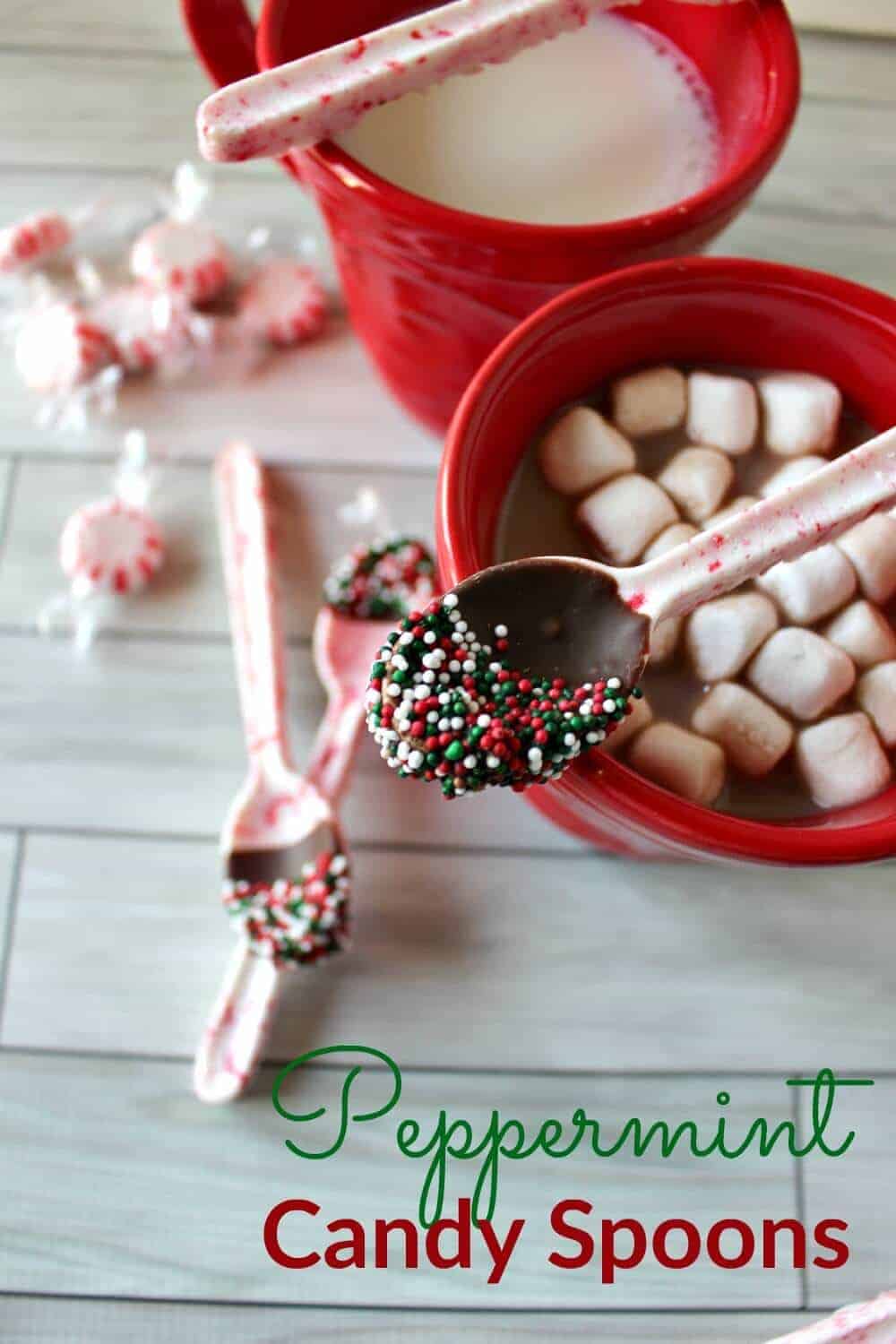 Need a great idea for a fun party? How about our Jolly Rancher Shot Glasses!
Sign up for the Princess Pinky Girl Newsletter and automatically receive our latest & greatest delivered right to your inbox! Follow Princess Pinky Girl on Facebook, Twitter, Pinterest and Instagram for all of the newest recipes, crafts, travels and updates!
If you make a Princess Pinky Girl creation make sure you take a picture and share it on Instagram with @princesspinkygirl ! I love seeing your masterpieces!