Slow Cooker Italian Sausage – Only includes six ingredient and easy to put together and extremely tasty.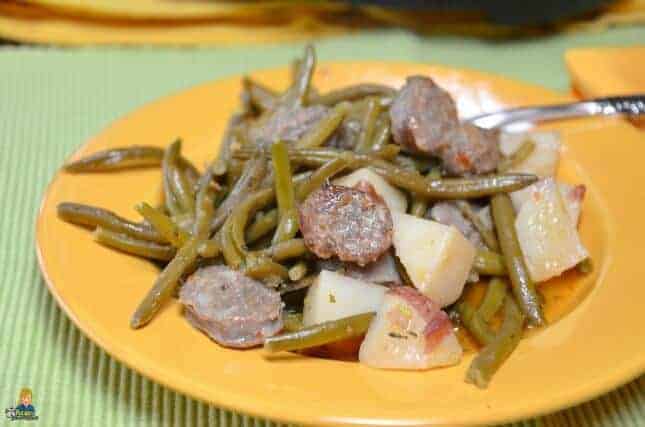 Hello, Everyone! Thank you for stopping by Princess Pinky Girl. My name is Diane Roark, and I blog at Recipes For Our Daily Bread. I love sharing easy recipes that your entire family will enjoy.
Today, I am sharing an easy slow cooker recipe, Italian Sausage, Green Beans & Potatoes. This recipe only includes six ingredients; Italian Sausage, potatoes, green beans, Italian seasoning, Italian dressing, and onion. It is truly easy to put together and extremely tasty.
How did I make this Slow Cooker Italian Sausage recipe so flavorful but easy to make? I have several secrets.
Red potatoes are my potato of choice in this recipe. To make it simple, I wash them well and cut off the bad places but left the skin on the potatoes. Next, I cut the potatoes into bite size pieces.
I used Olive Garden Creamy Italian Dressing. Olive Garden Dressing is delicious and seasoned this recipe well.
I used Hot Italian sausage. It is not very hot, but it is full of flavor.
I used Paul Prudhomme's Pizza Pasta Magic. I use this Italian seasoning in all my pasta, pizzas, and any other Italian recipes. It is so much better than simply adding Italian seasoning.
I used three pounds of frozen green beans to make this recipe easy.
How did I come up with this recipe?
I make a similar recipe using Cajun Sausage, Cajun Seasoning, potatoes, and green beans. It is so easy to make, and my family loves it. I decided to try using the same basic ingredients but substituted the Cajun sausage for Italian sausage. I also switched the Cajun seasoning for Italian seasoning. Now, this Slow Cooker Italian Sausage recipe is one of our favorite slow cooker dishes.
Ingredients:
2 – 14 ounce packs Italian Sausage – I use Hot Italian sausage.
1 large onion, finely chopped
2 – 1/2 pounds (1/2 of 5 pound bag) Red or New Potatoes
2 – 24 ounce bags of frozen green beans
1 cup Italian Dressing
1 tablespoon Paul Prudhomme's Pizza Pasta Magic OR your favorite Italian Seasoning.
Instructions:
Wash and remove the bad places from the potatoes
Place the potatoes in the bottom of a 6 quart slow cooker. This recipe will not fit in anything smaller.
Slice Sausage into bite size pieces and add it to the slow cooker on top of the potatoes
Add the onion, pepper, and Italian seasoning
Add the frozen green beans and Italian dressing
Cover and cook on high for 5 hours until potatoes are fork tender.
Do you love slow cooker recipes – check out some of these other great recipes (just click on the pictures below)