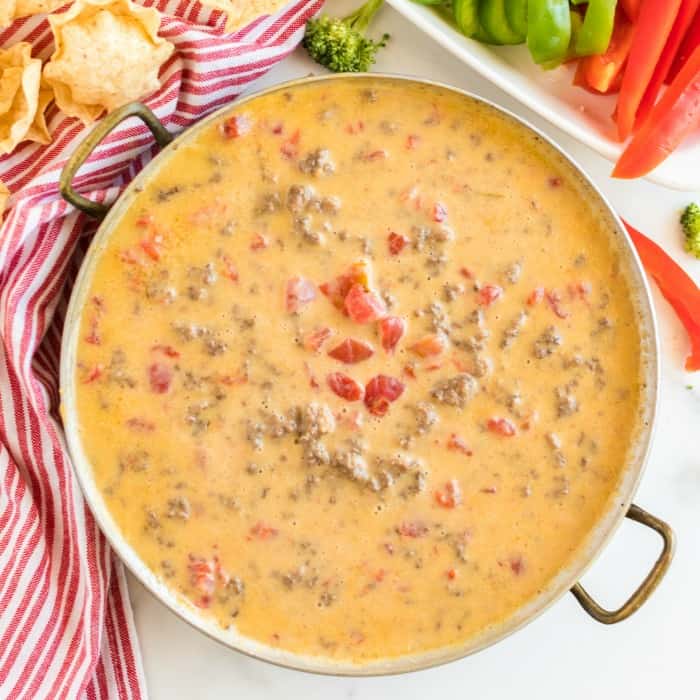 The classic recipe for Rotel Dip is a delicious smooth queso dip made with ground beef, Rotel, and Velveeta cheese. This cheese dip is ideal for a gathering!
Jump to Recipe
Table of Contents
Rotel Dip is a mouth-watering smooth queso dip recipe with ground beef, Rotel, and Velveeta cheese! This cheese dip is the perfect party food to bring to the big game day!
Planning a party? My crowd also loves this Buffalo Chicken Dip and our famous Queso Dip.
What is Rotel Dip
I'm sure you can guess what all of the dips I mentioned above are (if not, check them out!) but I'm guessing that some of you are wondering what the heck Rotel dip even is.
Rotel dip is a quick and easy recipe very similar to a queso dip or nacho cheese dip, and can be made with just three simple ingredients!
For those of you who don't know what "Rotel" is- it's just a can of diced tomatoes packed with a little heat (green chilies)!
If you're also a lover of all different types of dips, be sure to check out my other dip recipes.
I've got a dip recipe to please everyone! Beer lovers check out my Beer Cheese Dip! If you favor Southwest flavors, check out my 7 Layer Dip or Taco Dip! For people who are after the classic party dips, check out my Spinach and Artichoke Dip
Rotel Dip Ingredients
1 pound of ground beef
1 can of Rotel tomatoes (10 oz) – Rotel tomatoes are petite diced tomatoes with spices and green chilis.
1 box of Velveeta cheese (16 oz) – if you don't have Velveeta cheese, you can substitute any type of processed cheese)
Salt and pepper to taste (OPTIONAL)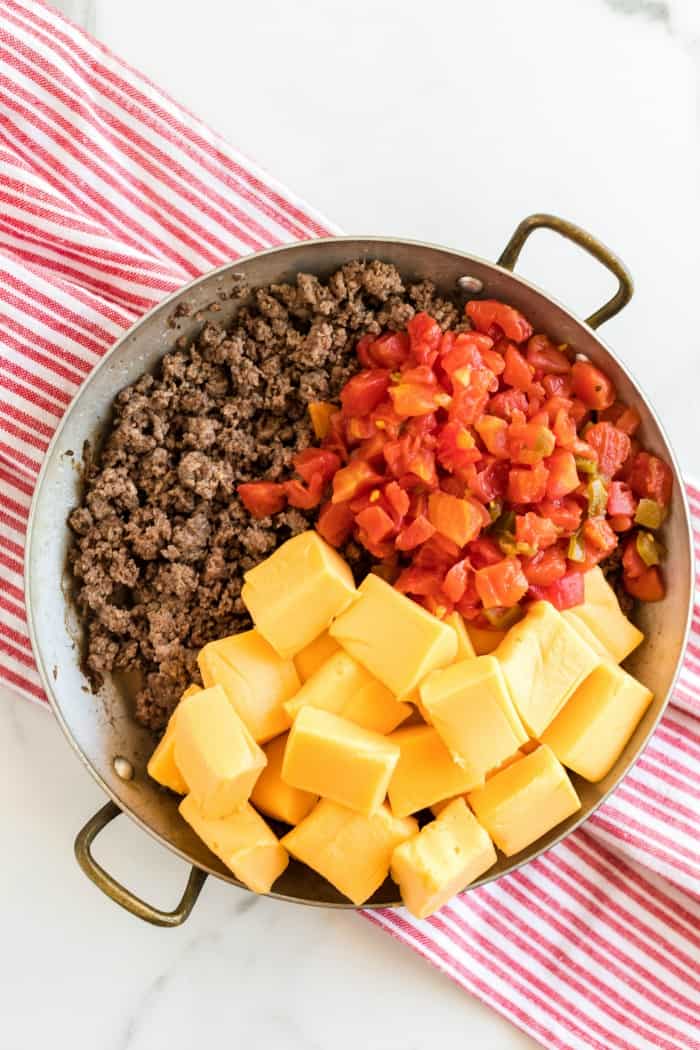 Substitutions & Additions
Meat: Sometimes I make this recipe with ground chicken or ground turkey instead of ground beef. I have also made this into a Rotel sausage dip by using ground hot sausage or spicy sausage.
Canned Rotel Tomatoes: If you don't have a can of Rotel on you, you can also substitute a jar of salsa. You won't get the exact same flavor, but it will be pretty close!
Spice: If you like a little heat in your dip, I suggest adding some additional green chiles!
Cheese: You can add an 8-ounce block of cream cheese if you want to make it extra creamy. If you don't want to use Velveeta cheese, you can use a Mexican blend or cheddar cheese.
How to Make Rotel Dip
Grab a large pot and get it heated on the stove. Add the ground beef and let it brown on medium heat.
When that's done, dump in the whole can of Rotel tomatoes. Stir it up and then add in the Velveeta! I usually cut the Velveeta into chunks first so it melts faster, creating that gorgeous liquid gold queso dip we all know and love. (Cue the drooling!)
Once the Velveeta is completely melted, your dip is ready!
Serve warm along with your favorite dipping foods!
At my house, tortilla chips are always our favorite go-to, but I also make sure to cut up plenty of veggies to serve alongside this dip too (carrots, celery, snap pea pods, etc.) Other favorites include pretzels, crackers, or any flavor of potato chips!
Crockpot Variation
Making this dip in your crock pot is easy and practical!
I love making this in my crock pot so I can keep it warm during parties or the big game!
To make it in the crockpot, just brown the ground hamburger meat in a frying pan then dump it in your slow cooker along with the can of Rotel tomatoes and the Velveeta cheese.
Let it sit on low heat until the cheese is completely melted and give it a stir to combine through.
Your guests won't be able to get enough of this yummy dip!
Rotel Dip with Cream Cheese
If you are not a fan of Velveeta cheese, feel free to swap it out for an 8-ounce bar of cream cheese (use the full-fat version). I would recommend also adding in 1/4 – 1/2 cup cheddar cheese as well.
Storage Tips
In Fridge: Cover and store in your fridge for up to a week.
In Freezer: Store in an airtight container for up to three months.
Frequently Asked Questions
How do I make my Rotel dip thicker?
Whish together 1-2 tsps of flour or cornstarch with 1/2 cup of cold water. Stir it into the cheese sauce 1 tsp at a time. Simmer the dip for a few minutes to thicken until desired thickness is achieved.
How to make my dip thinner?
While your dip is still on the stove or in the crockpot, add in small amounts of milk over medium-low heat until you get the desired consistency you're looking for.
What is the difference between Rotel and queso?
Rotel dip is basically a queso dip shortcut. By using a can of Rotel, it takes the labor out of making authentic queso. Part of making queso includes roasting, peeling, and chopping the chiles.
After that they need to be sauteed with tomatoes and onions and then mixed with cheeses! Carl Roettele, "Rotel", perfected and canned this process! Thank you Carl for making our lives so much easier!
How long can you keep Rotel dip in the refrigerator
Keep dip in the refrigerator for 3-4 days in an airtight container.
More Easy Dips
Serve this delicious dip alongside our Sherbet Punch Recipe – also perfect to serve a big crowd!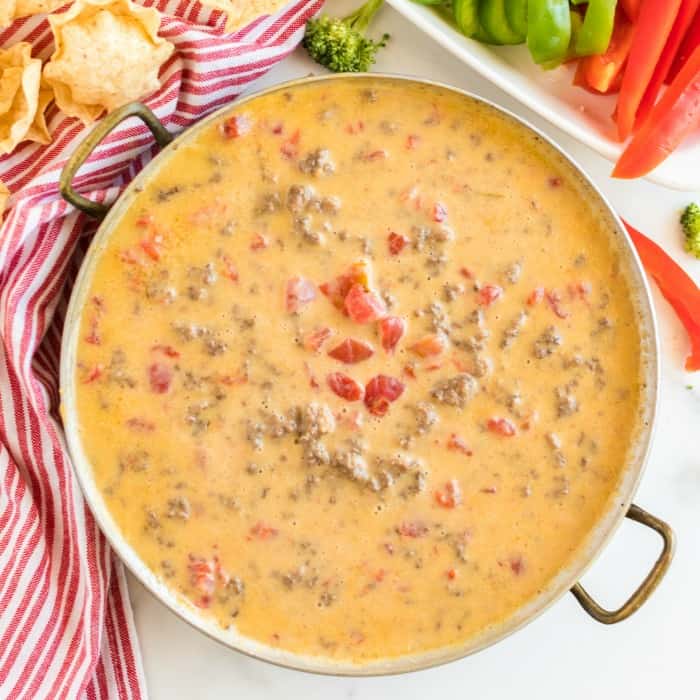 Rotel Dip
The classic recipe for Rotel Dip is a delicious smooth queso dip made with ground beef, Rotel, and Velveeta cheese. This cheese dip is ideal for a gathering!
Ingredients
1

pound

ground beef

1

10-ounce can

Rotel tomatoes

10 oz

1

16-ounce box

Velveeta cheese

16 oz
Instructions
Place the ground beef in a large pot on the stove over medium heat. Brown the beef until no longer pink.

Cut the Velveeta into chunks (this will help it melt faster)

Add the whole can of Rotel tomatoes and stir in the Velveeta cheese. Stir frequently until the cheese is completely melted.

Transfer to a serving bowl and serve warm along with your favorite dipping foods!
Nutrition Info
Calories:
78
kcal
|
Carbohydrates:
1
g
|
Protein:
12
g
|
Fat:
3
g
|
Saturated Fat:
1
g
|
Cholesterol:
35
mg
|
Sodium:
39
mg
|
Potassium:
196
mg
|
Sugar:
1
g
|
Calcium:
5
mg
|
Iron:
1
mg
Make your next party a success with this awesome Rotel dip recipe!