A star has been born…. Rice Krispie Treat Stars to be exact! The Fourth of July is coming up right around the corner!! I love everything about Independence Day – the warm weather, the fireworks, the parties and, of course, the food! This year I decided to get a little more creative. I love playing around with Rice Krispie Treats – there are so many things you can do with them. Well, this time, I decided to layer my Rice Krispie Treats and make the red, white and blue in honor of the 4th of July AND make them star shaped. There ya have it…. Patriotic Rice Krispie Treat Stars were born!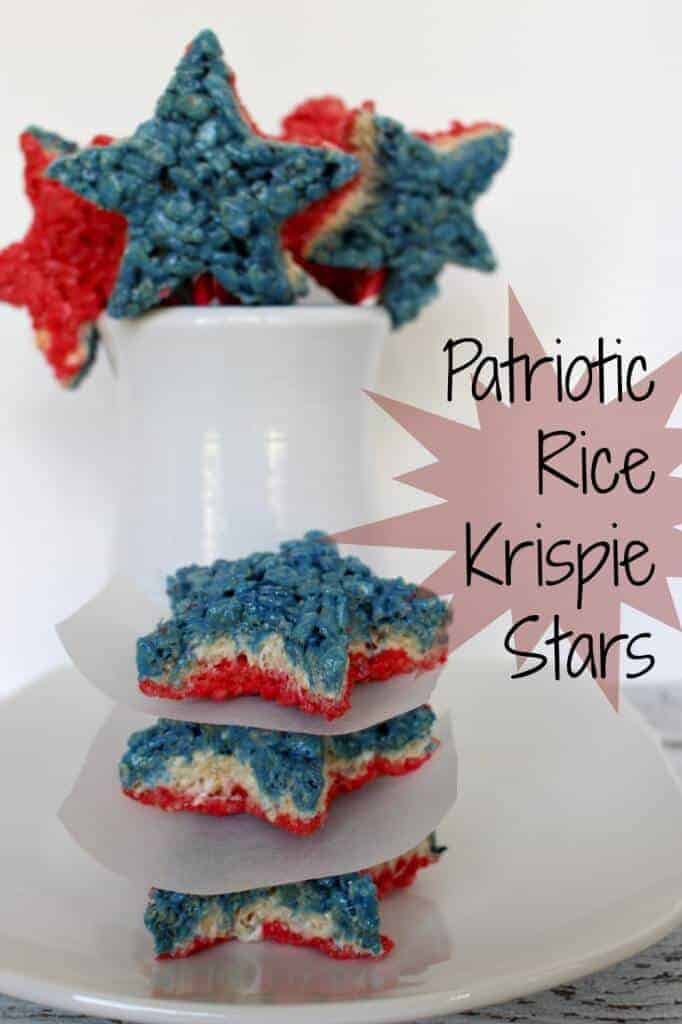 Patriotic Rice Krispie Treat Stars
Full disclosure – these were super easy to make – but my kitchen looked a little like a war zone. If my hands were not completely covered in red and blue marshmallows and Rice Krispies, I for sure would have taken some pictures, but Adam would have had a fit when I made "his" (whisper voice… my) camera all sticky and multicolored. You need to be prepared and not be afraid to use some non-stick butter flavored cooking spray to keep the sticky marshmallows from attacking you (still pulling some out of my hair as we speak.) BUT, if you are prepared, you can do it… I promise…. scouts honor!!!
Here is what you need:
6 Cups Rice Krispies
6 Cups mini marshmallows
3 tsps butter
Food coloring – red and blue
Non-stick cooking spray
A hair band to tie back your hair…..trust me
Here is what you do:
Separate the marshmallows into 3 microwavable bowls with 2 cups of marshmallows in each bowl (you can use the same bowl and keep reusing it but it is a bit of a pain to clean.)
Add 1 tsp of butter into the bowls and microwave about 1:30 – 2:00 minutes. Watch it very carefully or you will have a big, giant mess in your microwave (you can also cook these on the stove top, but I decided to try the microwave version.
Have 2 cups of the Rice Krispies measured out and ready to go.
When the marshmallows are melted completely, mix in your first color. The more you put in, the more vibrant the color will be.
Pour the Rice Krispies into the melted marshmallow and mix well.
Scoop the mixture into a well greased pan (I would spray a little non-stick spray on the spoon or spatula to keep it from sticking). I used 8×12, but you can really use whatever size you want. It depends on how thick you want your treats. Use wax paper to press the mixture flat.
Repeat steps with the other colors (for the white, you just don't add any food coloring – if I don't say it, someone will ask!) and layer them on top of each other.
Let cool and remove from the pan and place on a sheet of wax paper.
Use cookie cutters to make them treats into stars!
A STAR IS BORN!
Looking for some other great 4h of July desserts – check these out: