Table of Contents
We love our weekends – especially the lazy days when we can lounge around and relax. One of my kids favorite weekend breakfast treats are waffles. Well, with Valentine's Day around the corner and my kids love for red velvet anything (see this delicious Red Velvet Milkshake), I thought I would try a Red Velvet Waffle!
Here's what you need:
2 cups Bisquick (or other pancake/waffle mix)
2 tablespoons Red Velvet Cake Mix (if you want a stronger red velvet taste, use more cake mix and less Bisquick)
1 1/3 cups milk
2 tablespoons vegetable oil
1 egg
Here's what you do:
Heat waffle maker
Stir all ingredients together
Pour mix (I use 1/2 cup) into the center of the waffle maker
Bake about 3-5 minutes or until steam stops escaping the sides of the waffle maker
Want to make the waffles heart shaped? Use a heart shaped cookie cutter!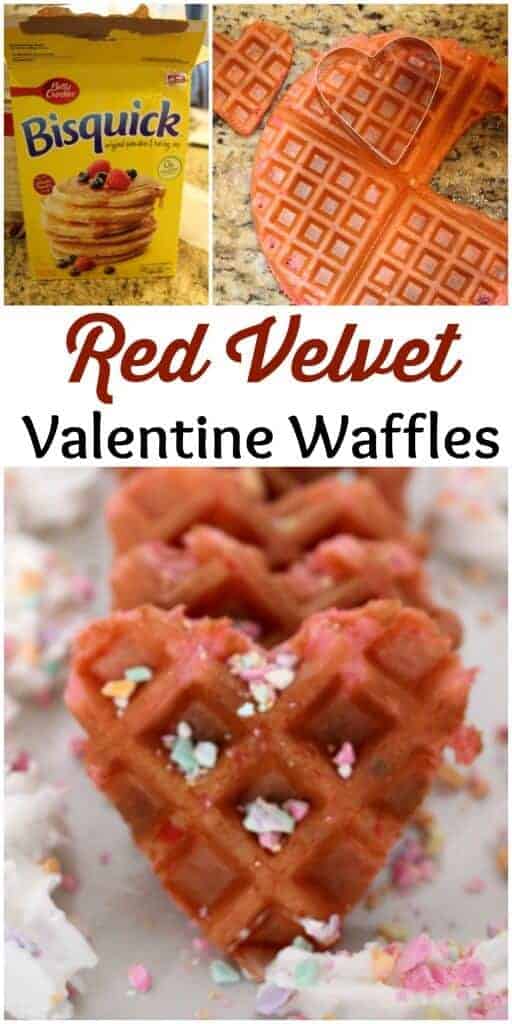 Looking for some other easy breakfast treats? Click on the pictures below: