This post may contain affiliate links. Read my disclosure policy here.
These Deep Dish Meaty Pizza Muffins are super easy because they are made with frozen yeast rolls. Making individual pizza muffins are an easy way for everyone to get the toppings they enjoy on their pizza.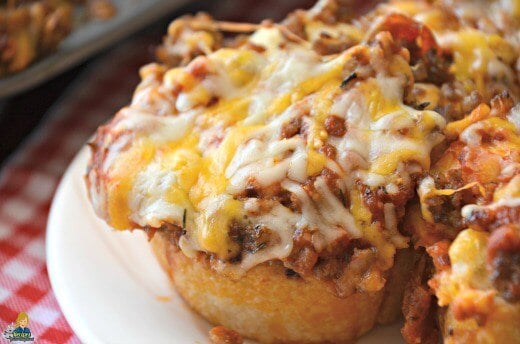 Hello! My name is Diane Roark. I blog about quick and easy recipes at Recipes for our Daily Bread. I also have a travel blog at Our American Travels where I blog about family fun places to visit in America. I am thankful for a chance to share this recipe for easy pizza muffins with you today.
Our family looks forward to Friday nights and spending time together. Making an effort to spend time together is more difficult now my kids are young adults and teenagers but just as important. They have extremely busy schedules, and it can be difficult to get everyone together. My oldest daughter is in her third year of medical school studying to be a doctor. My oldest boys are twins. One started college this year, and the other one is home with me, Caleb, my special needs son. I also have a sixteen-year-old son and a thirteen-year-old daughter.
We have always tried to make Friday nights pizza and game night. Now that my kids are older, we play cards on Friday nights after pizza. It is a great way to spend time with my family learning about their week.
I often try different types of pizza recipes. I have made deep dish skillet pizzas, slow cooker pizzas, tortilla pizzas, and more. My family seems to enjoy these pizza muffins because they can make their pizza the way they like it. I used frozen yeast rolls to make these pizza muffins. The frozen yeast dough tastes more like homemade pizza dough. The bottoms and sides of these pizza muffins remind me of Pizza Hut deep dish pizza. They are delicious with a buttery and crispy crust. These pizza muffins are easy to make, but they do require time for the dough to rise. If you enjoy a thick crust that is buttery and crispy, you will love these pizza muffins.
How to make muffin pizzas?
I thawed out twelve Rhodes frozen dinner rolls. One in each cupcake tin. After the rolls begin to thaw in about 30 minutes, I cut them into four equal pieces and placed the rolls back into the pan to rise. After they double in size, about three hours, brush six tablespoons of melted butter evenly all over the rolls. I added our favorite ingredients for a meat lovers pizza in this recipe. Sometimes, I make a pizza topping bar where everyone can make their own. I used a tablespoon of each cooked ground sausage, cooked crumbled bacon, and chopped ham. To make it gooey and tasty, I topped these pizza muffins off with a tablespoon pizza sauce, and cheese. Before placing the pizza in the oven, I season it well with Paul Prudhomme's Pizza Pasta Magic. This seasoning is my favorite Italian seasoning. It will make even a frozen pizza seem extremely delicious.
Pizza Muffins
12 frozen dinner rolls, I used Rhodes
6 tablespoons butter, melted
12 tablespoons each cooked ground sausage, crumbled bacon, and chopped ham. One tablespoon of each per muffin tin.
12 tablespoons pizza sauce, one tablespoon for each muffin tin.
12 tablespoons grated cheese, one tablespoon for each muffin tin.
Pizza seasoning, I used Paul Prudhomme's Pizza Pasta Magic
Instructions:
Preheat the oven 375 degrees.
Lightly spray the muffin tins with a cooking spray.
Add one frozen dinner roll to each muffin tin.
After they begin to thaw, about 30 minutes, cut the dinner rolls into four equal parts. I cut them lengthwise and then across.
Allow the rolls to double in size about three hours.
Brush the melted butter equally on the twelve rolls.
Add one tablespoon of each sausage, bacon, ham, pasta sauce, and cheese.
Top with a pizza seasoning like Paul Prudhomme's Pizza Pasta Magic.
Bake 375 degrees for about 22 minutes.
Makes 12 cupcake size pizza muffins.
Your Turn: Do you have a pizza night? If so, please share any ideas you have for pizza or family fun.
Sign up for the Princess Pinky Girl Newsletter and automatically receive our latest & greatest delivered right to your inbox! Follow Princess Pinky Girl on Facebook, Twitter, Pinterest and Instagram for all of the newest recipes, crafts, travels and updates!
If you make a Princess Pinky Girl creation make sure you take a picture and share it on Instagram with @princesspinkygirl ! I love seeing your masterpieces!