This post may contain affiliate links. Read my disclosure policy here.
This Pecan Pie Bar is the perfect laid-back version of it's cousin the pie. Pecan Pie filling on top of a flaky, sugar cookie type crust.
The vanilla and brown sugar give this pecan pie bar a hint of a butterscotch taste. Another great dessert that uses this combination is our M&M Blondie Recipe! The are soft and delicious and only take about 15 minutes to make!

The Best Pecan Pie Bars
These Pecan Pie Bars taste just like the pie, but in a laid-back sorta way. Making the bars are a lot easier than making a pie. Just less fuss and less frustration.
Pie crusts and I have a love/hate relationship. They just never look the way I want them to look! One day I will master the pie crust.. Until then. Pie bars all the way!
Another great pie hack is the dump cake! Dump cakes give you that great pie taste without the work! Our favorites are our Apple Dump Cake and our Pumpkin Dump Cake! They are both super easy to make and even better with a big scoop of vanilla ice cream loaded on top!
Hi! Serene from House of Yumm again. Is everybody feeling the Fall love? Pumpkin, apple, caramel…pecans! One of my favorite treats is Pecan Pie.
Good thing I only make it once or twice a year because it's one of those desserts that crushes my willpower. No joke. I will grab a fork and just dig in. These Pecan Pie Bars had the same effect. Zero willpower. But I'm ok with that.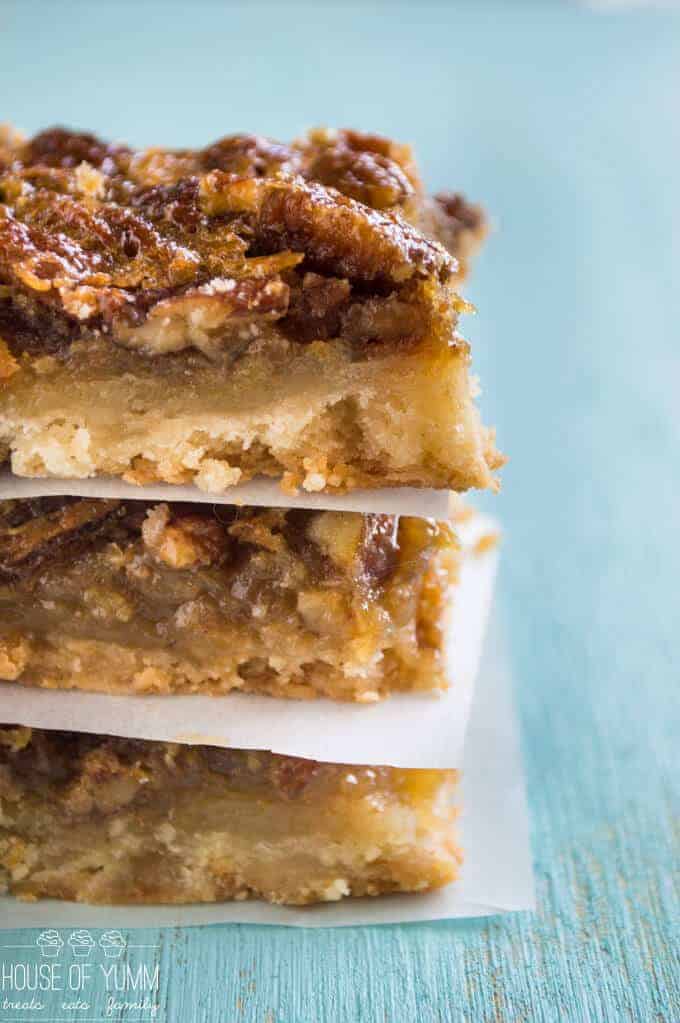 Pecan Pie Bars Ingredients
Flour
Sugar
Salt
Butter
Milk
Eggs
Chopped pecans
Light brown sugar
Corn Syrup
Vanilla extract
How to make Pecan Pie Bars
The crust on these remind me of a sugar cookie bar, but slightly flaky..like a pie crust should be.
It's the best of both worlds. When you make the dough it will seem a little dry, and you're going to think to yourself, "She's nuts! This needs more moisture, this just can't work."
This is the point where you just have to trust me. I myself had those same thoughts. Just mix the dough together the best you can, I don't have a pastry blender, so I cut the butter into my flour mixture with a butter knife.
Then added the milk. Mixed it together. Then just had to dig in with my hands to press it together to get the moisture as dispersed as possible.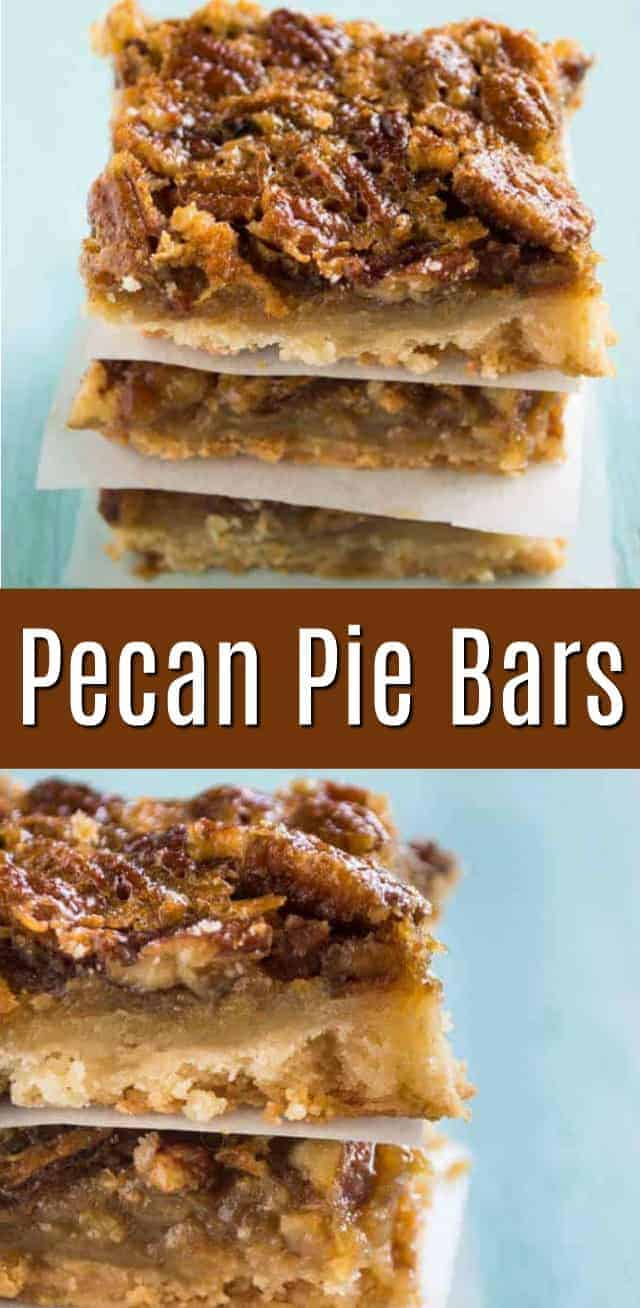 Press the dough into a well-greased pan. Press it down nice and firm. Then we bake it by itself first. Pour the topping on and bake it again.
Trust me. Have faith in the pie crust/sugar cookie mixture. It will work.
And the topping. Oh, the topping. It's pretty much just a traditional pecan pie filling poured over the top of the bars. My favorite pieces were the corners.
The sugar basically caramelized. It was spectacular. It's possible I ate all of the corner pieces myself and didn't offer to share those with others. But it's ok because they didn't know what they were missing.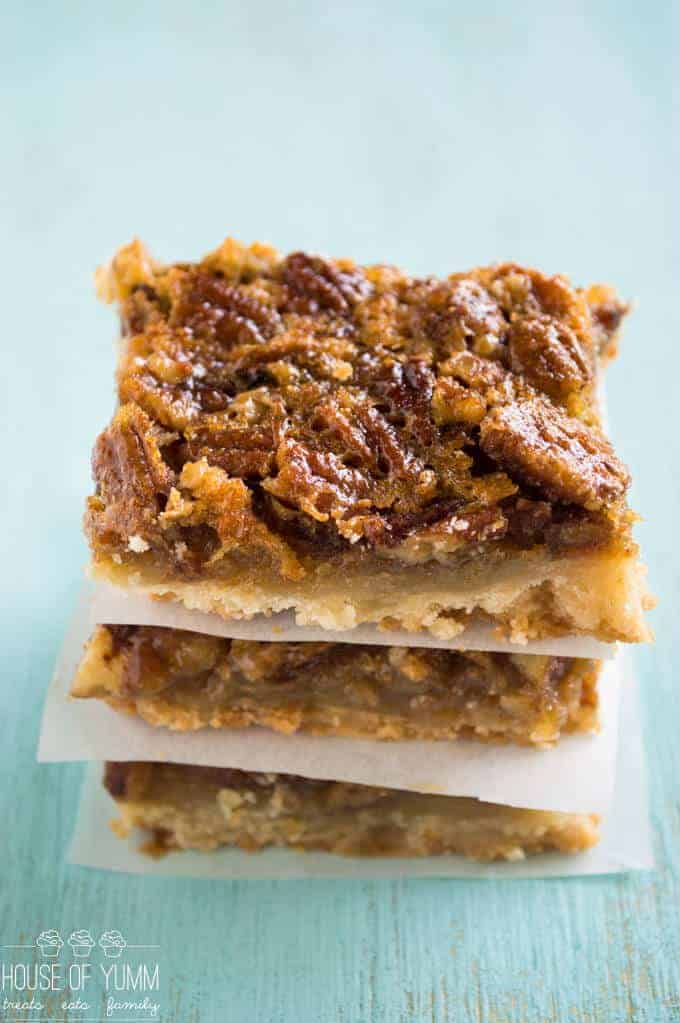 More Fall Desserts
Pecan Pie Bars
This Pecan Pie Bar is the perfect laid-back version of it's cousin the pie. Pecan Pie filling on top of a flaky, sugar cookie type crust.
Prep Time: 30 minutes
Cook Time: 40 minutes
Total Time: 1 hour 10 minutes
Course: Dessert
Cuisine: American
Servings: 15
Ingredients
2 cups all purpose flour
1/2 cup granulated sugar
1/4 teaspoon salt
3/4 cup butter (cold)
4 tablespoons milk
4 large eggs
2 cups chopped pecans
3/4 cup packed light brown sugar
1 cup light corn syrup
4 tablespoons butter (melted)
2 teaspoons vanilla extract
Instructions
Preheat oven to 350 degrees F. Grease a 13x9 inch baking pan. Set aside.

In small mixing bowl stir together the flour, sugar and salt. Using either a pastry blender, fork, or butter knife cut in the 3/4 cup butter (slice the butter into tablespoon size slices, add it to the flour mixture, and mash it up until the mixture resembles crumbs)

Pour in the milk and mix with fork, then with hands to ensure the moisture is evenly distributed in the flour mixture.

Press the dough into the greased baking pan. Bake at 350 for 20 minutes, the top of the crust will be a light brown color.

While the crust is baking, prepare the pecan pie topping. In a medium size bowl lightly beat the eggs. Add in the light brown sugar, light corn syrup, melted butter, vanilla extract, and chopped pecans. Stir to combine. Spread this over the hot crust after it's baked for the 20 minutes.

Bake again for another 20 minutes, or until the pecan pie filling has set (when you wiggle the pan the filling will no longer jiggle). Remove from oven and allow to cool. Cut into bars.
Recipe Notes
*I found it easier to slice into bars when the bars were cold. Just place in refrigerator for about 20 minutes or until cold and slice.
*I also loved eating them when they were cold! These can be stored in a sealed container at room temperature or in the fridge for 3-4 days.
Nutrition per serving
Calories: 421kcal | Fat: 24g | Saturated fat: 9g | Cholesterol: 76mg | Sodium: 182mg | Potassium: 116mg | Carbohydrates: 49g | Fiber: 1g | Sugar: 35g | Protein: 4g | Vitamin A: 455% | Vitamin C: 0.2% | Calcium: 39% | Iron: 1.4% |
Keyword: cookies
I hope you enjoyed the recipe! You can follow along with me and never miss a recipe at House of Yumm.
Originally published on October 30, 2015
Sign up for the Princess Pinky Girl Newsletter and automatically receive our latest & greatest delivered right to your inbox! Follow Princess Pinky Girl on Facebook, Twitter, Pinterest and Instagram for all of the newest recipes, crafts, travels and updates!
If you make a Princess Pinky Girl creation make sure you take a picture and share it on Instagram with @princesspinkygirl ! I love seeing your masterpieces!