This post may contain affiliate links. Read my disclosure policy here.
Decadent, warm chocolate cake with an oozing melted chocolate filling! Carnival Cruise Line isn't just famous for their giant ships and fun getaways, they also have the most delicious Melting Chocolate Cake ever.
Now you can make this gooey molten lava cake at home!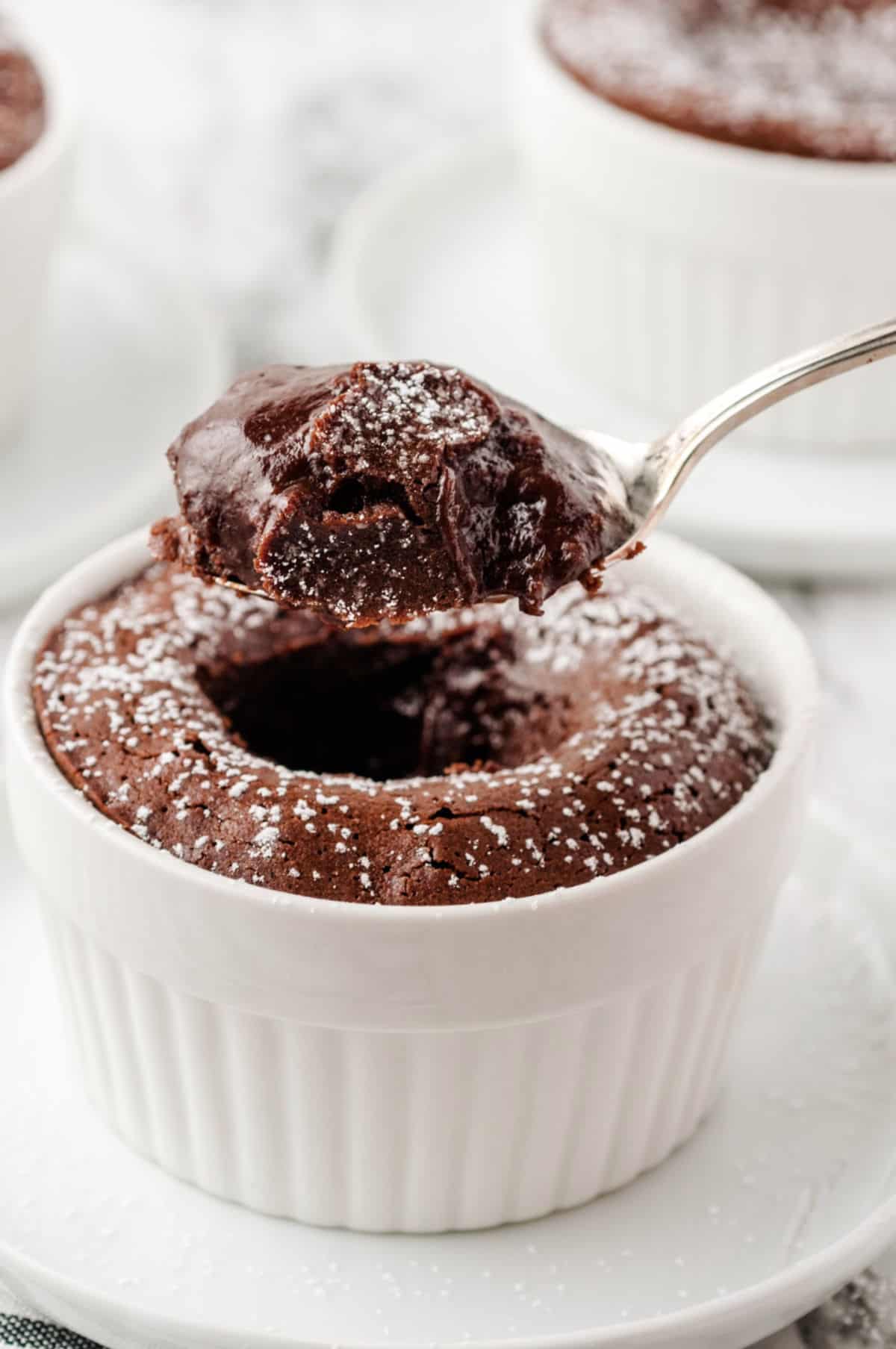 Melting Chocolate Cake Recipe
If you have ever had the pleasure of going on a Carnival Cruise, then I know you've had their molten lava cake, but you've likely been left dreaming of the insane gooey chocolate dessert ever since!
Well, you're in luck. With this copycat recipe, you'll be making your own decadent lava cake in no time, right from the comfort of home!
If you have yet to experience these epic molten cakes, then you are in for a total treat. This is every chocolate lover's dream dessert, and it's sure to satisfy even the craziest of sweet tooths. It's full of gooey chocolate, rich, and delicious!
This copycat carnival molten lava cake allows you to have a homemade chocolate lava cake that's just as good as the real thing. This easy recipe makes the best melting cake that is pooling with chocolate hot lava. You won't believe your taste buds when you see how incredible this dessert is.
What is the Carnival Cruise Line Lava Cake?
If you've ever been on a Carnival cruise, then you've likely indulged in the deliciousness of a chocolate molten cake, and you know just how good they really are.
This dessert is served warm in a mini-ramekin. The outside looks like a typical chocolate cake, but the inside is filled with warm, gooey, melting chocolate.
What is a Ramekin?
A Ramekin is like soufflé dish, but smaller and deeper. It is a small baking dish that is used for preparing and serving individual portions and can be baked at high heat.
Looking for a set of ramekin bakeware? There is a very nice selection here!
Ingredients Molton Lava Cake
6 oz of Dark Chocolate
6 oz of butter
4 eggs
3 oz sugar
2 oz flour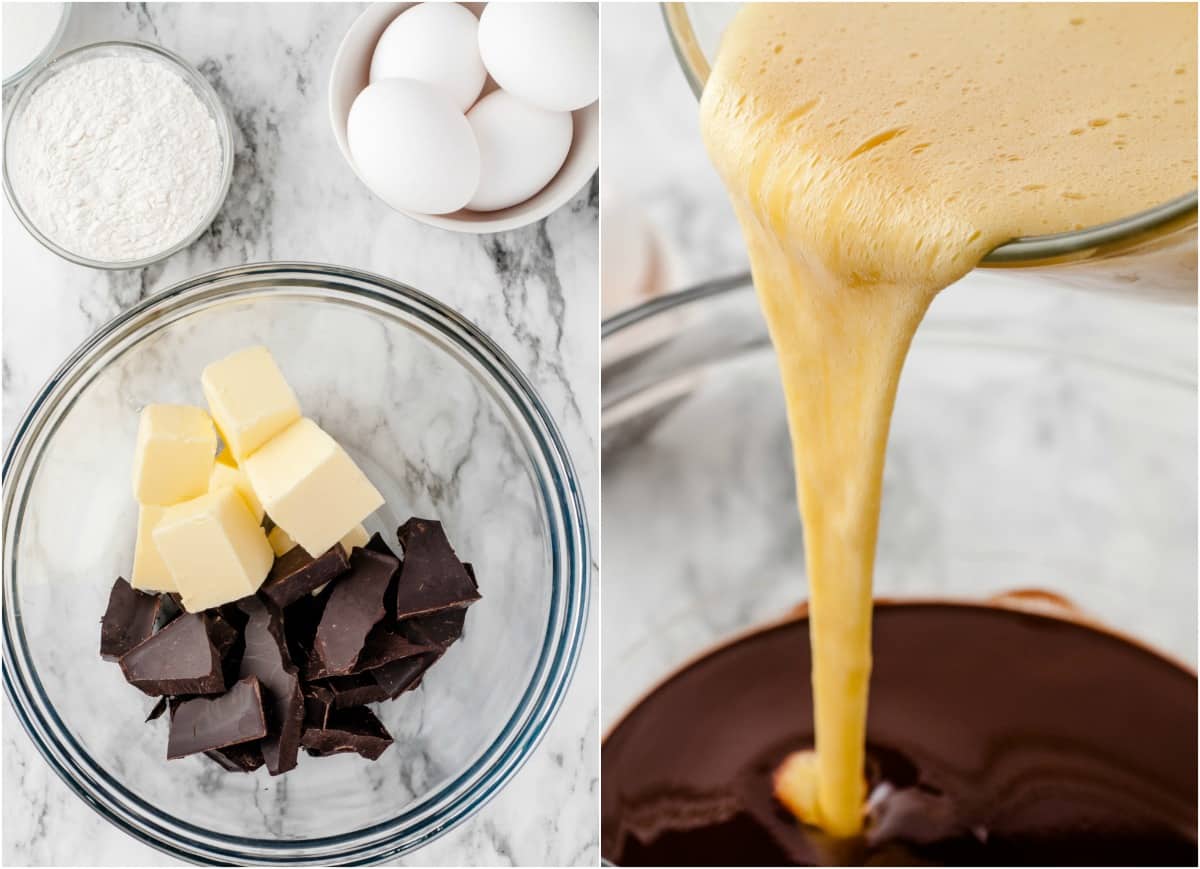 The Best Topping for Lava Cake
To keep it simple, sprinkle a bit of powdered sugar over your finished molten cake.
But, feel free to get a little creative and add nuts, like pecans or peanuts for a bit of crunch.
To make it even more decadent, you could add caramel, Nutella, or chocolate sauce to the top.
My all-time favorite is to top off a molten cake with some fresh berries like strawberries or raspberries.
How to Make the Carnival Cruise Melting Chocolate Cake at Home
Preheat the oven to 390 degrees.
Melt the chocolate and butter together in the microwave or on the stovetop.
Mix eggs and sugar together, whisk them for a few minutes, then add in the flour.
Add the egg mix to the melted chocolate mix and combine them.
Pour the mix in a greased mini ramekins.
Place them on a baking sheet with a few inches apart. Put a little water on the bottom of the baking sheet (this will help keep the cake moist and the center melted.)
Bake in the oven at 390 degrees for 18 minutes.
Serve immediately, while they are still warm. If desired, top them with a dusting of powdered sugar.
Tips for Making Melting Chocolate Cake
Tip 1: I use mini-ramekins to make them individual-sized servings, just like they do on the cruise.
Tip 2: If you're baking them in individual ramekins, you can line them up on a baking sheet, placing them in rows a couple of inches apart to bake them all together.
How to Store
In the fridge: You can keep your molten cake in the fridge for up to 3 days. When storing molten cake, it is best if you can store them as batter, uncooked. This will make for fresh-baked molten cakes. When you're ready to bake them simply pop them in the oven and bake as directed above.
If storing molten cakes that you have already baked, you can reheat them in the microwave. Be sure to only heat them enough to make them warm, you do not want them to cook more. Be aware that the end result will not be quite the same as if baked fresh.
In the freezer: I don't recommend freezing your molten cakes, they are best served fresh out of the oven to enjoy the gooey chocolate. However, if you have extra and would like to freeze them you can do so.
To freeze, bake the molten cakes as directed. When finished, let them cool completely and remove the cakes from the ramekins. Next, wrap the cakes individually in plastic wrap and place them in a freezer Ziploc bag. They will keep in the freezer for up to 3 months.
When reheating, be sure to let the lava cake thaw completely in the fridge, usually overnight. Then place in the microwave just long enough to heat.
More Great Chocolate Desserts
Chocolate Lasagna Recipe | Chocolate Chip Banana Bread Recipe | Chocolate Chess Pie Recipe | Chocolate Cherry Dump Cake | Ding Dong Cake
You are going to love this homemade chocolate lava cake, inspired by the carnival cruise molten cake. This copycat recipe is so easy to make, and creates the best lava cake that is oozing with gooey rich chocolate. This decadent dessert is always a crowd pleaser.
Sign up for the Princess Pinky Girl Newsletter and automatically receive our latest & greatest delivered right to your inbox! Follow Princess Pinky Girl on Facebook, Twitter, Pinterest and Instagram for all of the newest recipes, crafts, travels and updates!
If you make a Princess Pinky Girl creation make sure you take a picture and share it on Instagram with @princesspinkygirl ! I love seeing your masterpieces!