This post may contain affiliate links. Read my disclosure policy here.
Breakfast doesn't have to be a chore when you make these easy and delicious Maple Pancake Poppers. Easy to make breakfast in a cupcake pan! I guess you could call them Pancake Muffins!
Maple Pancake Poppers
There's nothing like a fresh stack of pancakes for breakfast, but honestly who has time to make a batch of pancakes every single day? Definitely not me!
Hi! It's Michelle from Thrifty DIY Diva! When I found these maple pancake poppers I fell head over heels in love with them!
Not only are they incredibly delicious (the melt in your mouth, super fluffy kind of delicious) but they are also incredibly easy and quick to make, making them busy mornings approved, oh and you can freeze them so that's pretty awesome as well.
And while they go deliciously awesome with every topping you can think of:
bananas
berries
more maple syrup
whipped cream
peanut butter
the sky is the limit!
They are so packed with flavor that you can actually have them without any additional toppings. The batter is filled with drizzles of maple syrup so you get all that maple flavor.
You know what that means? These maple pancake poppers make an incredibly good breakfast on the go or snack for the little ones!!
Do you love maple syrup? Me too. If you get a minute, check out Jenn's Gingersnap Cookies with Cinnamon Maple Icing. They are amazing and will also get you your maple syrup fix!
How to make pancakes in a muffin pan
Did you even know that you could make pancakes in a muffin pan? Well you can and they come out delicious!
These pancake poppers don't rise a lot but that doesn't mean they aren't fluffy, quite the opposite they are even more fluffy than your traditional pancake and trust me when I say that every single person that tries them RAVES about them!
While I love to make them simple and let everyone pick their own toppings, you can also add to the batter some chocolate chips, banana coins, strawberry slices, peanut butter swirls or even bacon (the maple + bacon combo is to die for!) or you can even go full pancake popper queen and make a batch of different flavors to mix and match.
Have leftovers? Pop them all into a freezer bag and freeze for up to 3 months. Frozen breakfast options were never this tasty!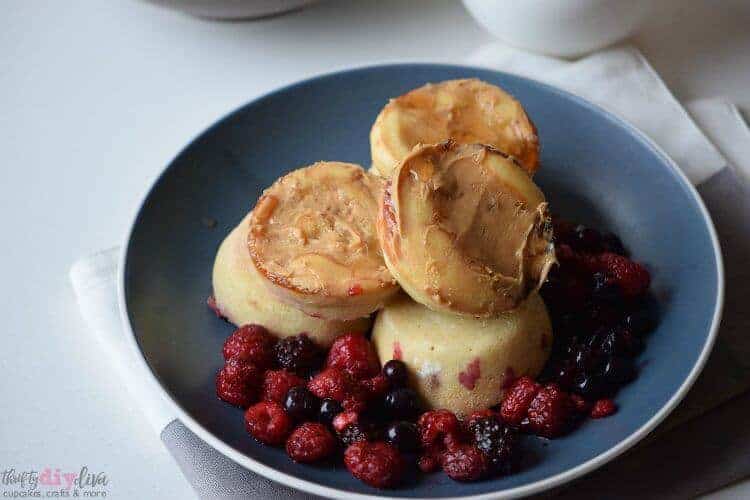 Maple Pancake Poppers
Breakfast doesn't have to be a chore when you make these easy and delicious Maple Pancake Poppers. Easy to make breakfast in a cupcake pan! I guess you could call them Pancake Muffins!
Prep Time: 5 minutes
Cook Time: 20 minutes
Total Time: 25 minutes
Course: Breakfast
Cuisine: American
Servings: 6
Ingredients
2 Eggs
2 Cups milk
½ Cup maple syrup
2 Tbsps sugar
2 Cups flour
2 Tbsps baking powder
Instructions
Preheat oven to 350F.

In a bowl beat the eggs, milk, and maple syrup.

Add the sugar and baking powder.

Slowly incorporate the flour while mixing.

Mix until the batter has no lumps left.

Pour the batter into a greased cupcake pan and place in the oven.

Bake for 20 minutes or until done.
Nutrition per serving
Calories: 314kcal | Fat: 4g | Saturated fat: 2g | Cholesterol: 62mg | Sodium: 62mg | Potassium: 636mg | Carbohydrates: 59g | Fiber: 1g | Sugar: 24g | Protein: 8g | Vitamin A: 210% | Calcium: 309% | Iron: 2.5% |
Keyword: brunch, muffin pan
If you enjoyed this easy breakfast recipe, then you'll definitely want to check out Michelle's Bacon, Egg, Cheese and Hashbrown Breakfast Casserole for another yummy breakfast idea!
Originally published July 6, 2016
Sign up for the Princess Pinky Girl Newsletter and automatically receive our latest & greatest delivered right to your inbox! Follow Princess Pinky Girl on Facebook, Twitter, Pinterest and Instagram for all of the newest recipes, crafts, travels and updates!
If you make a Princess Pinky Girl creation make sure you take a picture and share it on Instagram with @princesspinkygirl ! I love seeing your masterpieces!